Store-bought marinara sauce is given a boost in flavor and protein by adding nutrient-rich red lentils. This recipe for Instant Pot turkey meatballs with red lentil marinara sauce is so good, and so easy to make in your Instant Pot.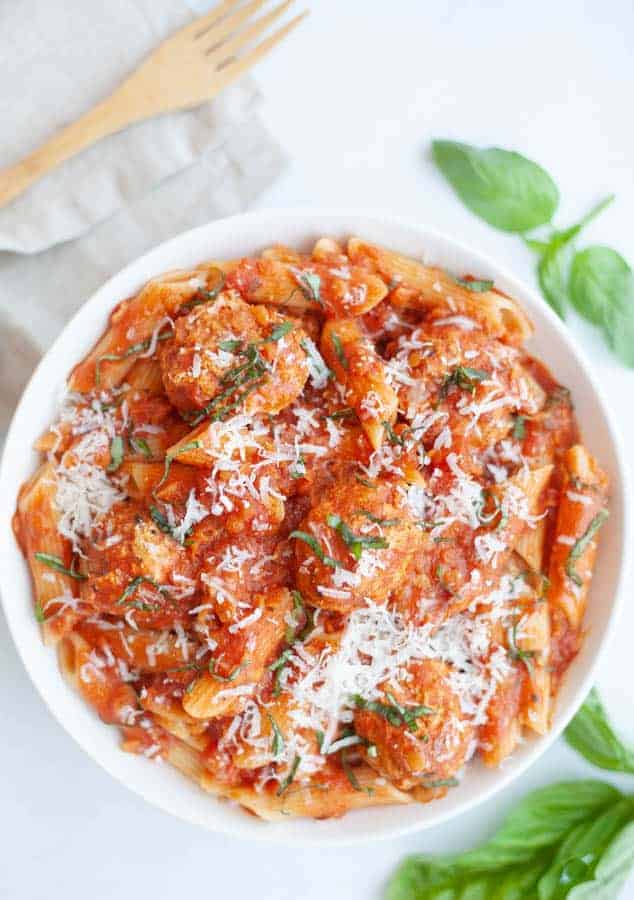 Like many families, pasta with red sauce is on fairly regular rotation at our house. While I aspire to make homemade marinara, I'm still in a jarred sauce phase of my life. Say what you will about jarred sauce, but personally, I'm grateful for how many times it has helped me get dinner on the table in 20 minutes or less.
Sometimes, though, I like to feel like a super-parent and that's when I slip this meal into our pasta rotation.
Adding nutrient-rich, protein-rich, high -fiber red lentils to store-bought sauce feels like a win, especially since I genuinely love the way this sauce tastes.
The red lentils in this marinara are noticeable, but subtle. The lentils keep their shape and don't break down completely, which I like. It gives the sauce texture and a little flavor.
Make Red Lentil Marinara in 4 easy steps
Pour jarred pasta sauce and water into Instant Pot
Stir in red lentils
Add meatballs (if using)
Cook 8 minutes at high pressure
How to Serve Red Lentil Marinara
You can definitely serve red lentil marinara over any type of pasta. However, the addition of the red lentils turns this marinara into a versatile sauce that can be served many different ways. Serve red lentil marinara over:
Rice
Roasted vegetables like squash, zucchini and cauliflower
Baked Potatoes
Gnocchi
However you serve this red lentil marinara, don't forget that grating a lot of parmesan over your bowl is always a good thing!
Not sure which jarred sauce to buy? Cup of Jo did a taste test. Or, Sylvia over at Feasting at Home recommends Trader Joe's organic marinara.
With or Without Meatballs
You can make red lentil marinara with or without meatballs.
However, this meal is even more satisfying with turkey meatballs thrown in, and you can make the red lentil sauce and the meatballs at the same time in your Instant Pot. Instant Pot turkey meatballs are moist and tender, always flavorful, and delicious leftover the next day.
Can I Make This Recipe with Vegetarian or Beef/Pork Meatballs?
Yes! Follow the same cooking instructions no matter what type of meatball you're adding or if you choose to omit the meatballs. Try these amazing pork and ricotta meatballs!
Can I Make this Recipe with Frozen Meatballs?
Yes! You can use frozen, already cooked meatballs and follow this recipe as written. The Instant Pot will probably take longer to come up to pressure, but you don't need to change the cooking time.
How Long to Cook Red Lentils?
I have a complete guide for how to cook red lentils. Red lentils cook quickly and are a type of lentil that breaks down and becomes soft (and mushy) quite easily. The best cooking time for red lentils is based on personal preference and the type of texture that you like.
In the Instant Pot, red lentils are often cooked for 3 to 5 minutes, which should make the lentils tender but not completely mushy. If you prefer softer red lentils, then cook the red lentils in the Instant Pot anywhere between 5 to 10 minutes.
In this recipe, red lentils cook for 8 minutes and the lentils are tender but not mushy. The red lentils don't become completely mushy in this recipe even though they're cooked for 8 minutes because the acidity in tomato sauce prevents beans from softening quite as much.
More Lentil Recipes You'll Love
Print
Instant Pot Turkey Meatballs with Red Lentil Marinara
---
Author:

Prep Time:

5

Cook Time:

8

Total Time:

13 minutes

Yield:

6

servings

1

x
Description
I love this healthier twist on jarred marinara sauce. In this recipe, store-bought marinara sauce is given a boost in flavor and protein by adding nutrient-rich red lentils.
Add meatballs, and the meal is even better! Add homemade meatballs or your favorite store-bought meatballs.
Total Instant Pot Cooking Time: 10 to 15 minutes to reach pressure + 8 minutes cooking time + instant release
If making homemade meatballs, take into account that the prep time for this recipe will be longer.  
---
*You can put raw or precooked meatballs in the Instant Pot with the red lentil marinara - follow the same cooking instructions and cooking time for all of them. You can even use precooked frozen meatballs; the cooking time is the same but the Instant Pot will take slightly longer to come up to pressure.
---
Instructions
Combine the marinara sauce, water and red lentils in the Instant Pot. Stir to evenly distribute the lentils. 
Tip: I put the 1 ½ cups of water in the empty marinara jar and shake it well before pouring the water into the Instant Pot, so every last drop of marinara is rinsed out of the  jar. 
If adding meatballs, drop the meatballs into the Instant Pot, evenly spread out in the marinara sauce. 
Secure the lid. Make sure the steam valve is in the sealed position. Press the Manual button and program the Instant Pot to cook on high pressure for 8 minutes. The Instant Pot will take 10 to 15 minutes to reach pressure. 
When the cooking time is done, manually move the steam release handle from "sealing" to "venting" to immediately release the pressure. 
Serve the red lentil marinara sauce as is, or stir in a few handfuls of baby spinach or fresh chopped herbs. 
Notes
If you really like red lentils, you can add more to the sauce (up to ½ cup). This recipe is based on what my kids have given a thumbs-up to (they like fewer lentils) and sometimes I let the kids be the boss. 
Category:

Pasta Sauce

Method:

Intant Pot

Cuisine:

American
Keywords: Intant Pot , red lentils, marinara