Perfectly cooked, buttery egg noodles! Instant Pot egg noodles cook in just 2 minutes and can be turned into a comforting, flavorful meal.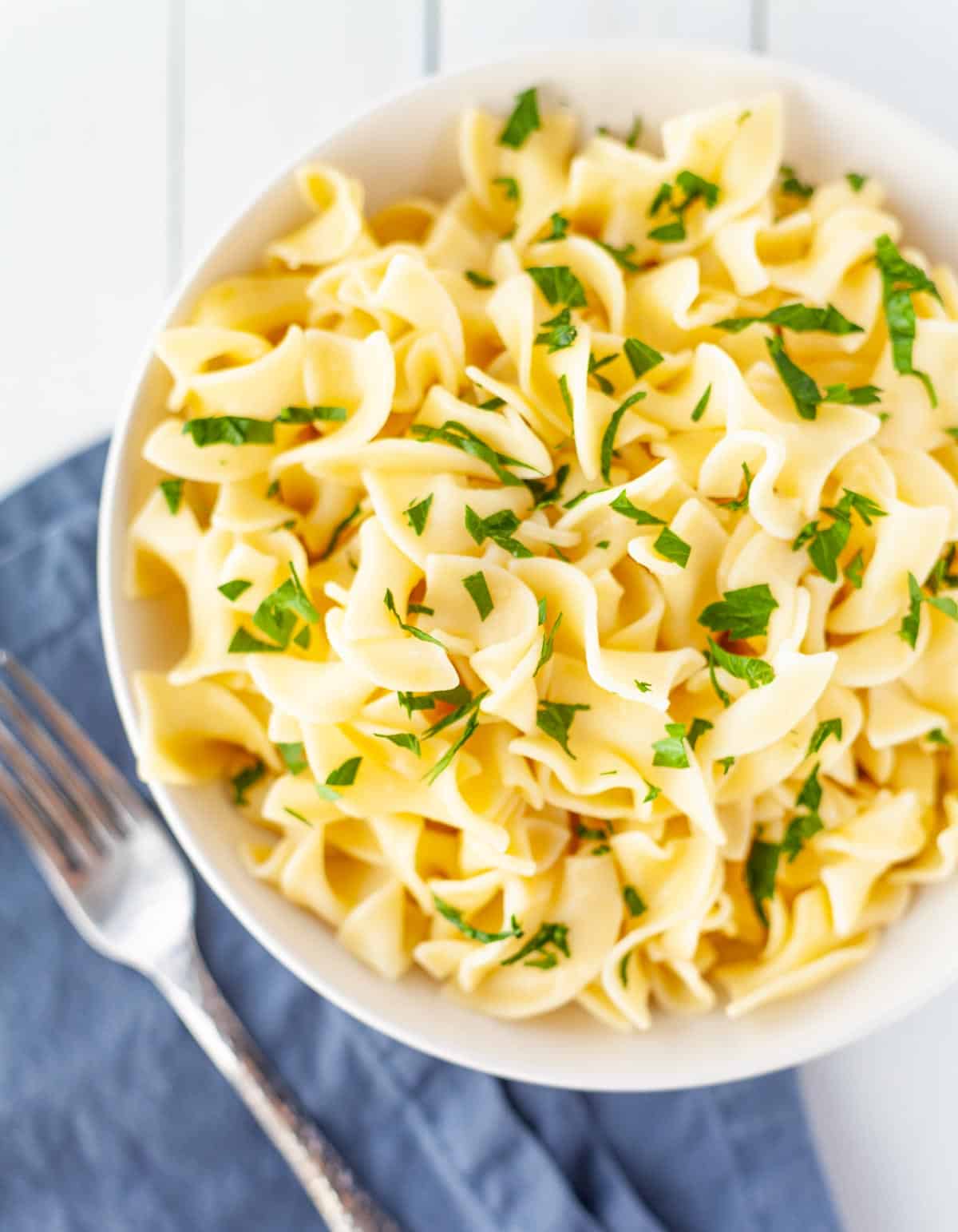 When I was a kid, I loved egg noodles with butter and breadcrumbs on top. My mom usually served the noodles with fish on the side, similar to this baked panko cod. She boiled egg noodles on the stove, but this recipe for Instant Pot egg noodles is really easy and fast.
I often serve egg noodles with creamy chicken paprika. I use them to make Instant Pot Tuna Casserole. Egg noodles are also great with beef stroganoff, chicken breasts, salmon and steamed veggies.
Jump to:
Ingredients
8 ounces egg noodles (wide or extra wide)
2 cups water
¼ teaspoon salt
After the noodles are cooked, I always add a generous pat of salted butter. For even more flavor, first melt the butter in a skillet over medium heat for about 5 minutes until the butter turns golden brown.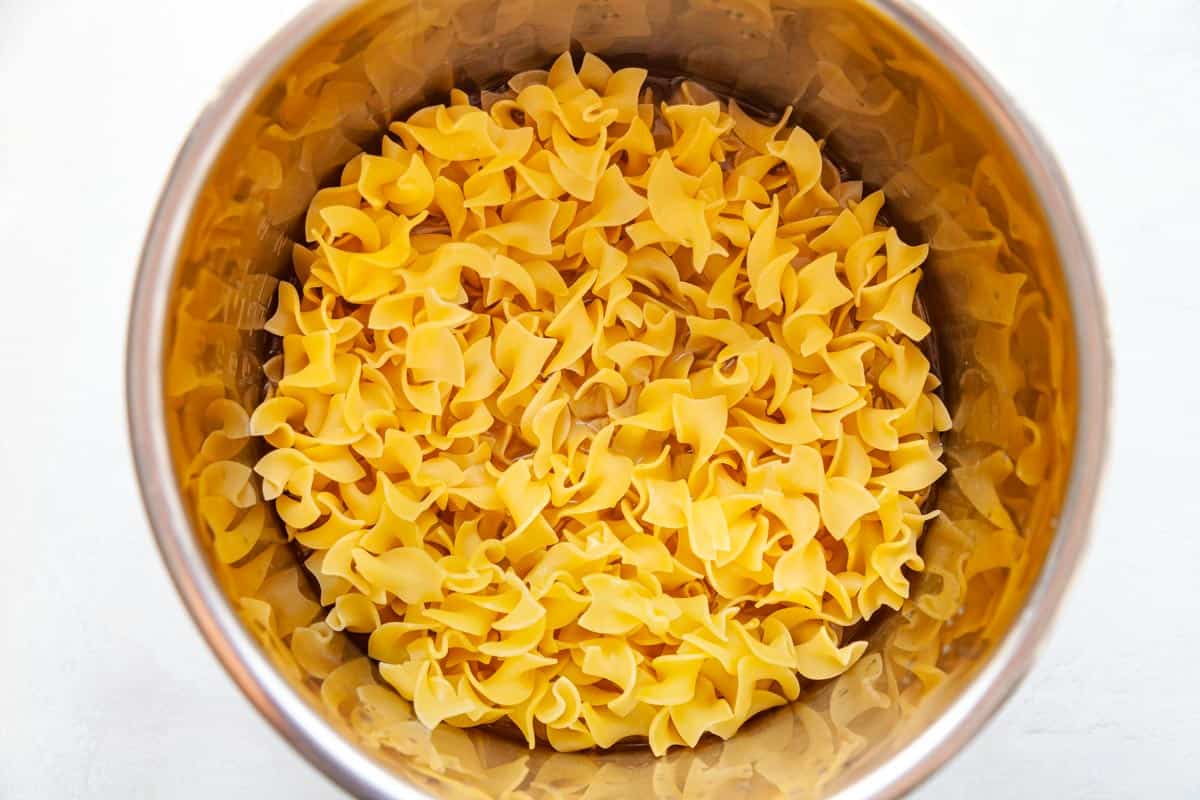 Instructions and cooking time
Egg noodles cook very quickly in a pressure cooker. The greatest risk is overcooking the noodles, making them very soft or even mushy.
After cooking many batches of noodles, I've settled on the best way to make Instant Pot egg noodles.
Combine the water and salt in the Instant Pot.
Add egg noodles. Mix gently, so all of the noodles are wet, even though they aren't submerged in water.
Cook on high pressure for 2 minutes, with a quick release. If you prefer noodles that are truly al dente, then cook on high pressure for 1 minute with a quick release.
After the quick pressure release, stir the noodles.
If the noodles aren't as soft as you'd like, set the lid back on the pot and let the noodles rest for a few minutes. They will continue to soften in the residual heat. They will also soften as they absorb any remaining water in the pot. After a few minutes, stir and taste again.
When the egg noodles are done to you liking, add a pat of butter for flavor. Remove the egg noodles immediately from the hot pressure cooker into a serving dish.
Water to noodle ratio
The amount of water used when cooking Instant Pot noodles can vary, depending on the recipe. But as a general rule, use 2 cups water for every 8 ounces of noodles.
This won't be enough water to completely cover the noodles. That's okay! You don't want too much water in the pot - it defeats the whole purpose of using a pressure cooker for pasta.
The purpose of a pressure cooker is that it helps pasta absorb the salty, starchy water that it cooks in. This gives the pasta flavor and also help sauce cling to the noodles.
What's the best way to cook noodles in a pressure cooker?
Here's the best method:
Cook the noodles for a short amount of time (time varies, depending on the noodle)
Use a quick release
Stir the noodles well
Let the noodles rest as they finish cooking in the residual heat and softening as they absorb any remaining liquid in the pot.
Depending on the type of noodle, the pasta might need to rest for just a few minutes, or up to 10 minutes.
This method gives you a lot of control and makes it less likely that the noodles will be soft and mushy. As soon as they reach the perfect texture, transfer the noodles to a serving dish.
Pro Tip: As a general rule, the cooking time for Instant Pot pasta can be estimated by taking the cooking time on the pasta package, dividing it in half, then subtracting 2 minutes. This is a general rule that usually works well, although it doesn't work perfectly every time.
For tried and true pressure cooker pasta recipes, try these favorites:
Egg noodles vs pasta
Egg noodles are different than regular pasta, because more eggs are added to the dough. Some types of regular pasta also contain eggs, but many types of dried pasta don't contain any egg at all.
Eggs give the pasta a slightly thicker, chewier texture. Egg noodles are wide and short, usually with a slight twist.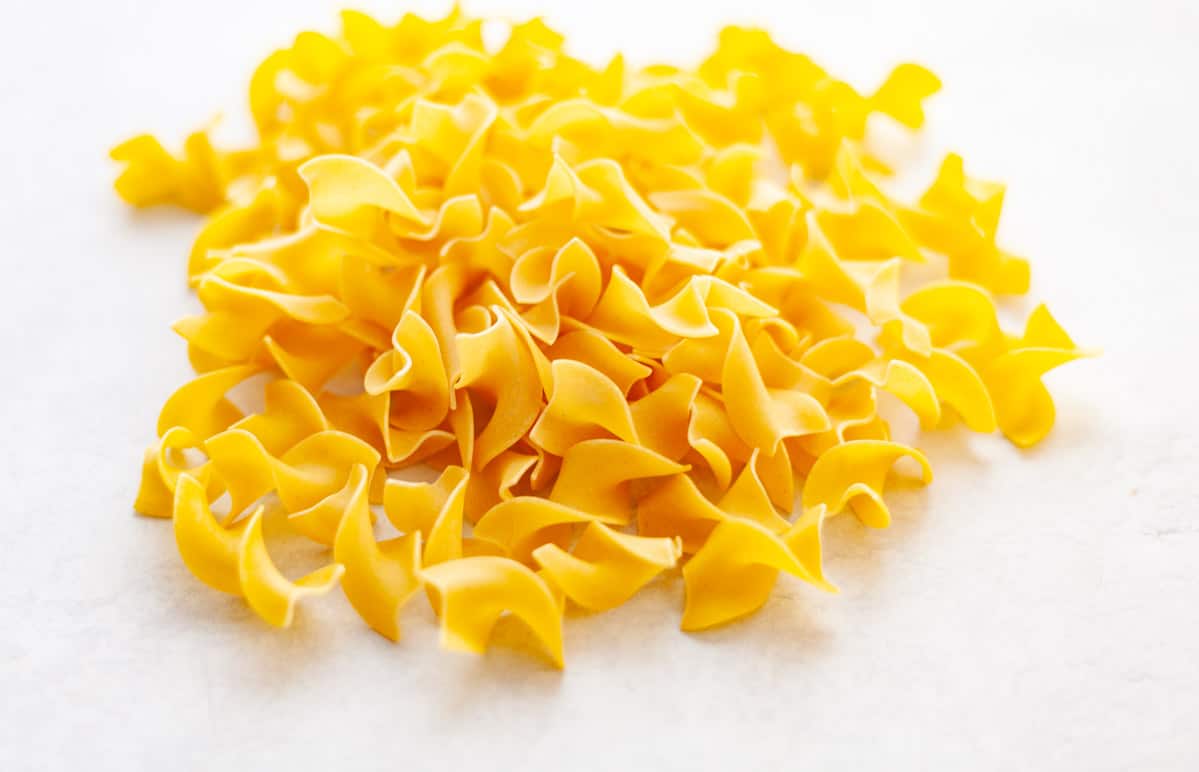 Does this recipe make you hungry?
SUBSCRIBE
for helpful tips and easy recipes
FAQs about egg noodles & pressure cooker pasta
Can I freeze cooked egg noodles?
I don't recommend it. After being frozen, the defrosted noodles have a mushy texture.
Are these the same noodles used in pho?
No. For the Vietnamese soup called pho, rice noodles are usually used.
Are these noodles the same as Chinese egg noodles?
No. Chinese egg noodles are longer, like spaghetti. If you'd like to learn more about Chinese egg noodles, check out this recipe for homemade Chinese egg noodles on The Woks of Life.
Does this cooking method work for homemade egg noodles?
No. Homemade or fresh noodles cook faster than store-bought dried pasta. I wouldn't use a pressure cooker to cook homemade egg noodles.
Can I use the same water ratio and cooking time for other types of pasta?
The cooking time varies depending on the type of noodles that is being cooked in the pressure cooker. But the ratio of 2 cups water for every 8 ounces dried pasta generally works well.
More pasta recipes
Print
📖 Recipe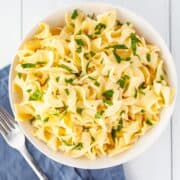 Instant Pot Egg Noodles
---
Author:

Prep Time:

1 minute

Cook Time:

2 minutes

Total Time:

3 minutes

Yield:

4

servings

1

x

Diet:

Vegetarian
Description
Perfectly cooked, buttery egg noodles! Instant Pot egg noodles cook in just 1 or 2 minutes and can be turned into a comforting, flavorful meal.
Total Instant Pot Cooking Time: 10 minutes to reach pressure + 1 or 2 minute cooking time + quick release
---
8

ounces

egg noodles

(wide or extra wide)

2

cups

water

¼ teaspoon

salt, plus more to taste

1

to

2

tablespoons butter
---
Instructions
Combine water and salt in the Instant Pot
Add the egg noodles. Stir the noodles so they get wet. The noodles won't be completely submerged in water. That's okay. 
Secure the lid, making sure the steam release valve is in the sealed position
Cook for 2 minutes on high pressure. For more al dente noodles, cook for 1 minute on high pressure.
Do a quick release when the cooking time is complete. Watch out for steam and starchy liquid that will spew from the steam release valve. (I often drape a towel loosely over the valve, although this isn't officially recommended) 
Remove the lid and stir the noodles well. 
Let the egg noodles rest. At this point, the noodles are mostly cooked, but might need a few more minutes to reach the perfect texture. Set the lid back on the pot for another minute or two, the mix again and try the noodles. Keep doing this until they're cooked to your liking.
Add butter and gently mix. 
Transfer the noodles to a serving dish. 
Notes
Use the same cooking time for 12 or 16 ounces of noodles, but adjust the amount of water and salt. 
12 ounces = 3 cups water, ½ teaspoon salt
16 ounces = 4 cups water ¾ teaspoon salt
Be careful when releasing the steam - because the pot is so full, more starchy water will spew out. 
This recipe is for regular, wide or extra wide egg noodles, not fine egg noodles (which are more similar to angel hair pasta)
This recipe was tested in a 6 quart Instant Pot
Category:

Instant Pot

Method:

Instant Pot

Cuisine:

American
Keywords: egg noodles, instant pot egg noodles, pressure cooker egg noodles