Macaroni salad with chicken tossed in creamy Green Goddess dressing made from yogurt, olive oil and fresh herbs. No mayo!
If you've been looking for a lighter, brighter pasta salad, this macaroni salad with chicken breast is it. It's made with lots of fresh herbs and a creamy bright green dressing made from a base of Greek yogurt & olive oil.
You'll want to pour this Green Goddess dressing over everything! It's delicious on green salads, raw veggies, roasted potatoes, corn...you name it.
Another recipe you'll love is Green Goddess salad, a colorful chopped salad drizzled with creamy dressing made from sour cream, fresh herbs and lemon.
Green Goddess Yogurt Dressing
This versatile dressing is creamy, but not thick and heavy. It has the fresh, bright flavor of lemon and fresh herbs, with a hint of garlic. It's easy to make simply by combining all of the ingredients in a blender.
Greek yogurt
Olive oil
Lemon juice
Basil and parsley (or your favorite fresh herbs)
Dijon mustard
Garlic
Scallions
Salt
Easy Cooked Chicken Breast
This cold chicken macaroni salad calls for 3 cups of cooked chicken breast, either chopped or shredded. The easiest choice is store-bought pre-cooked chicken breast. Look for it at many grocery stores, including Trader Joe's and Costco. The Kitchn has a round-up of the best pre-cooked grilled frozen chicken.
You can cook plain chicken breasts for this salad, but don't hesitate to use your favorite marinade or spice rub. A marinade of olive oil, fresh herbs, garlic and lemon juice would be wonderful with this recipe.
For all three cooking methods, I season chicken breasts with about ½ teaspoon salt and ¼ teaspoon garlic powder per breast. When done, the thickest part of the breast should register 165 F. The middle of the breast will plump up and feel firm if you push it with your finger. Let the cooked chicken rest for 10 minutes before slicing.

Baked Chicken: Preheat oven to 425 F. Brush the chicken breasts with oil or butter. Season. Bake 18 to 22 minutes. Very large pieces can take 25 minutes or more.
Grilled Chicken: It's easiest to grill breasts that have the same thickness. If necessary, put the raw chicken in a Ziploc bag and use a rolling pin or mallet to pound each breast to ½-inch to ¾-inch thickness. Grill 3 to 5 minutes per side. If the breast are thicker than ¾-inch they will take longer to cook. For the juiciest chicken breasts, consider brining the chicken before grilling.
Instant Pot Chicken: Set the metal trivet in the bottom of the pressure cooker pot. Add 1 cup water. Lay chicken breasts out in a single layer on the trivet. Season. Cook at high pressure for 10 minutes with a 5 minute natural release.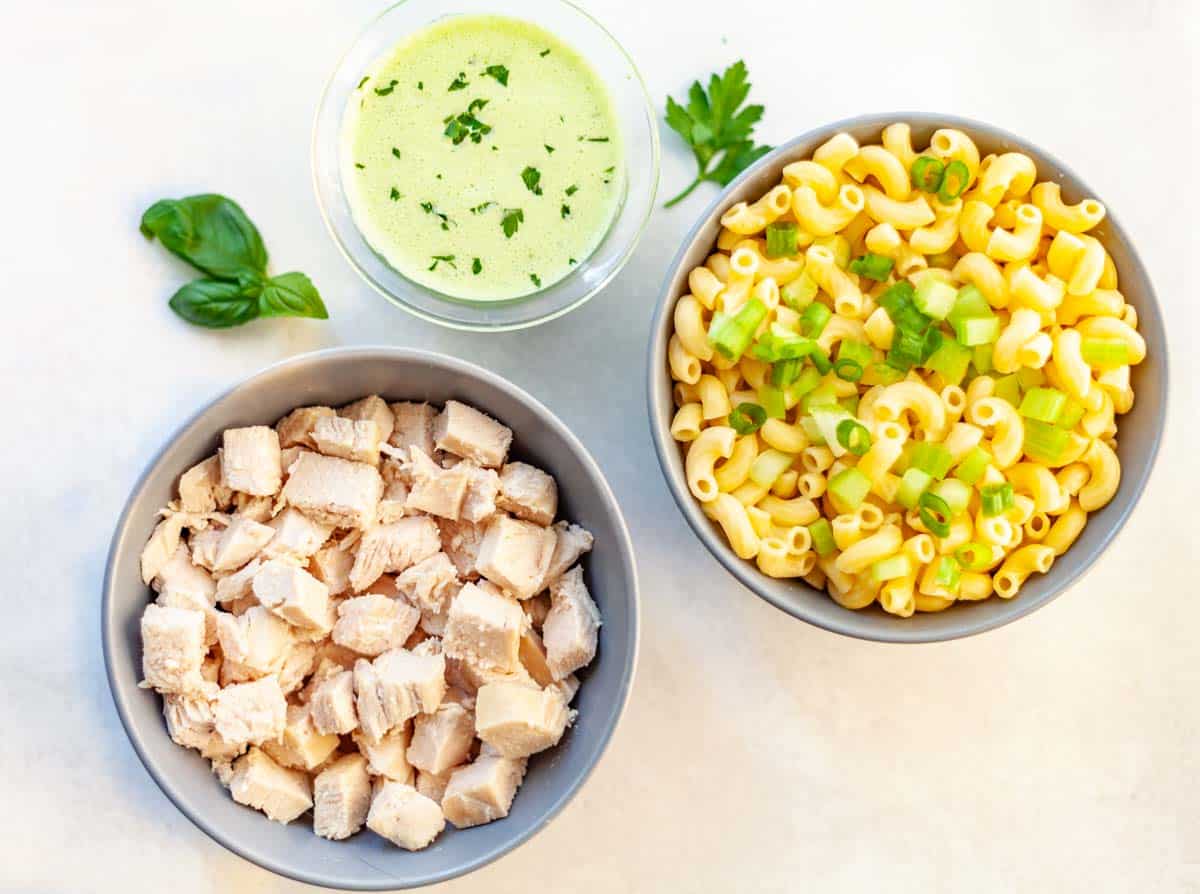 Ingredient Substitutions
This recipe has three main components that are cooked separately then come together into one amazing dish: cold pasta, chicken breast and Green Goddess dressing.
Macaroni noodles: You can use any short pasta shape for this recipe, including small shells, rotini, fusilli, or cavatappi. You can even use tortellini.
Two more macaroni recipes you'll love are Instant Pot mac n cheese and Instant Pot Hamburger Helper.
Protein: Instead of chicken, use salmon (fresh cooked or smoked) or shrimp. You can also leave out animal protein and just add chickpeas.
Greek Yogurt: Use sour cream instead of yogurt. I prefer full-fat versions of both for the best flavor and creamy texture. You can find another version of Green Goddess dressing made with sour cream by checking out my recipe for Green Goddess salad.
Olive Oil: Avocado oil or sunflower oil can be substituted
Fresh Herbs: I like the combination of basil and parsley, but you can use any combination of fresh herbs that you like. Dill and tarragon are good choices. So is a hint of mint!
Ingredient Additions
This macaroni salad has plenty of flavor just the way it is. However, you can add as many additional ingredients as you like.
Avocado: Put half of a peeled avocado in the blender with the salad dressing to make avocado Green Goddess dressing.
Peas: Macaroni salad with chicken and peas is always a hit. Use fresh or frozen green peas, or add snap peas.
Cucumber: Crunch chunks of cucumber add refreshing flavor
Feta: Crumbled feta cheese is always a welcome addition to pasta salad
More Chicken: If you want more protein, then decrease the amount of pasta in the salad and increase the amount of chicken. Or, forget the pasta entirely and pour the Green Goddess dressing over chicken breast in a green salad.
Pro Tips for Making Cold Pasta Salad
How Do I Keep the Pasta from Getting Mushy?
Most importantly, don't boil it for too long. Boil only until el dente (tender but slightly firm). Error on the side of undercooking the pasta slightly, as it will continue to soften while it sits in a bowl soaking up dressing.

Also, rinse the cooked pasta under cold water to cool it down immediately.
How Do I Bring Out More Flavor?

Cold food - like pasta salad - needs a generous amount of salt to bring out flavor. Don't be shy with salt! I like to season my pasta salad multiple times, at different stages.

First, salt the water generously when you boil the pasta. For this recipe using 1 pound of pasta, add at least 1 tablespoon salt to the boiling water. Make it taste like sea water!

Second, after rinsing the cooked pasta, season it lightly with salt so that the pasta has flavor even before you add dressing. Do the same with the chicken; make sure it's seasoned before tossing it with dressing.

Lastly, add more salt and pepper after the entire salad is put together.
Do You Rinse the Noodles When Making Pasta Salad?
Yes, rinsing pasta in cold water cools the pasta down immediately so that the noodles don't get mushy and overcooked. Rinsing also prevents the pasta from sticking together. Last but not least, a little bit of moisture left on the pasta after you rinse it is a good thing; it keeps the pasta from getting stiff and dry and it makes it easier for the noodles absorb the dressing.
Can I Make This Pasta Salad Ahead of Time?
Yes, but don't add all of the dressing ahead of time. Add some dressing when you first make the salad so that the noodles and chicken can soak it up; then add the rest of the dressing right before serving so the pasta has fresh, bold flavor. Adding more fresh herbs and more salt right before serving is also a good idea.

You can freshen up leftover macaroni salad by stirring in a few tablespoons of plain Greek yogurt, which helps bring back the creamy texture.
Does this recipe make you hungry?
SUBSCRIBE
to the Kitchen Skip newsletter
for helpful tips, easy recipes
& good conversation
More Cold Salads
Print
📖 Recipe
Macaroni Salad with Chicken
This is a light and lemony cold macaroni salad with chicken tossed in creamy Green Goddess dressing made from yogurt, olive oil and fresh herbs. No mayo!
This macaroni salad is also delicious without chicken. Read the blog post above for ingredient substitutions and additions. 
Author: Jenny Meier | Kitchen Skip blog
Prep Time:

20 minutes

Cook Time:

7

Total Time:

27 minutes

Yield:

6

servings

1

x
Category:

pasta

Method:

boil

Cuisine:

American
Green Goddess Yogurt Dressing
1

cup

plain Greek yogurt (I prefer full-fat, but you can also use low fat)

¼

cup

olive oil

1 tablespoon

fresh lemon juice

¼

cup

fresh basil leaves, loosely packed

½

cup

parsley leaves (some stem is okay), roughly chopped

2

green onions, roughly chopped

1

garlic clove

1 teaspoon

Dijon mustard

½ teaspoon

salt
Macaroni and Chicken Salad
3

cups

chopped or shredded cooked chicken breast (from 2 to 3 chicken breasts)

12

ounces

elbow macaroni

2

scallions, thinly sliced (I snip the scallions with kitchen shears)

2

celery stalks, sliced or finely chopped

½

cup

finely chopped fresh herbs (parsley, basil, or dill)
Zest from

one

small lemon (optional, but adds flavor!)
Salt and black pepper to taste
Instructions
Combine all of the dressing ingredients in a blender or food processor: yogurt, olive oil, lemon juice, basil, parsley, green onion, garlic, mustard and salt. A blender will make the consistency of the dressing thinner; a food processor will keep the consistency thicker. 
Blend until very smooth, with finely chopped herbs. 
Bring a large pot of generously salted water to a boil (3 to 4 quarts).
Cook the macaroni  until al dente, according to package directions (usually 7 minutes for macaroni).
Drain and rinse the pasta with cold water until the noodles are cool. Give the colander a few shakes to drain off excess water. Pour the cooled pasta into a large bowl. Add a little bit of salt to the pasta so it tastes seasoned, but not overly salty. 
Add the scallions, celery, and fresh herbs to the pasta. Mix well.
Pour half of the dressing over the chicken and toss the chicken well to coat. Taste the chicken and add salt if needed.
Add the chicken to the bowl of pasta.
Add the remaining dressing to the bowl of pasta. Mix well.
Taste and adjust seasonings. Add the lemon zest (if using), more salt and pepper, and more fresh herbs if desired. 
Notes
I use 12 ounces (not a full pound) of pasta for this recipe because if pasta salad has too much pasta and not enough dressing, it will taste a little bland. I also like the balanced amount of pasta and chicken in this recipe when I use 12 ounces of pasta instead of a full pound. 
Don't worry about measuring the herbs exactly. Just add approximately the right amount. Error on the side of adding more, rather than less, fresh herbs. 
This macaroni salad tastes best if eaten within 3 days of making it. You can freshen up leftover pasta salad by stirring in a little bit of Greek yogurt, which brings back the creamy texture.  
Keywords: macaroni salad chicken, macaroni salad, chicken salad, green goddess dressing, yogurt dressing,