Chilled cucumber shrimp salad is perfect for summer! Just toss cold shrimp and sliced cucumber with a creamy, lemony dressing and fresh herbs.
This salad has just two main ingredients: shrimp and cucumbers.
The dressing is both luxurious and light & lemony. It's creamy, but not thick and heavy. Perfect for shrimp salad!
If you like shrimp, then you should also try rice noodles with egg and shrimp, or Instant Pot orzo and shrimp scampi pasta, or shrimp and feta garlic bread or lemon garlic shrimp pasta with basil arugula pesto.
Ingredients
Cucumber: I like using Persian cucumbers for this recipe. The smaller size makes it easy to slice bite-sized pieces.
Dressing: Mayo, sour cream, Dijon mustard, lemon juice and fresh herbs make a creamy dressing that still has a light and lemony flavor. Fresh dill and chives are my favorite herbs to add. You can add one, or both herbs.
Shrimp: Cooked, chilled shrimp is used in this recipe. You can buy cooked shrimp at the grocery store (either fresh or frozen) or you can buy raw shrimp and cook it yourself. I buy shrimp that is already peeled, and then I pull the tail off after the shrimp is cooked so that it's easier to eat in a salad.
Looking for an easy way to cook shrimp? Try this recipe for Instant Pot frozen shrimp or pan seared shrimp.
Or, read below for instructions to boil shrimp.
How to Boil Raw Shrimp
Bring 4 quarts/16 cups water to a gentle boil. Turn the heat down to a simmer, add the shrimp and boil gently for about 3 minutes until the shrimp have just turned pink/orange. Remove with a slotted spoon.
To immediately stop the cooking process, plunge the cooked shrimp into a bowl of cold water for a minute or two. Drain the shrimp, pat dry, then proceed with this recipe if the shrimp are no longer warm. If the shrimp are still slightly warm, chill them in the refrigerator first.
Shrimp Size and Packaging
Shrimp is packaged and sold according to the size of the shrimp. For this recipe, I buy shrimp that is labeled as "21/30" which means there are between 21 to 30 shrimp per pound. This size of shrimp is easy to eat in one or two bites.
Shrimp labeled as 31/35 are smaller in size and you'll get between 31 to 35 shrimp per pound.
Colossal shrimp, which are very large, are labeled as U-10 because there are under 10 shrimp per pound.
Step-by-Step Instructions
Step 1: Make the dressing by combining mayonnaise, sour cream, Dijon mustard, lemon juice and dill or chives.
Step 2: Whisk together the dressing ingredients. Pour dressing over the shrimp and cucumber. Mix gently.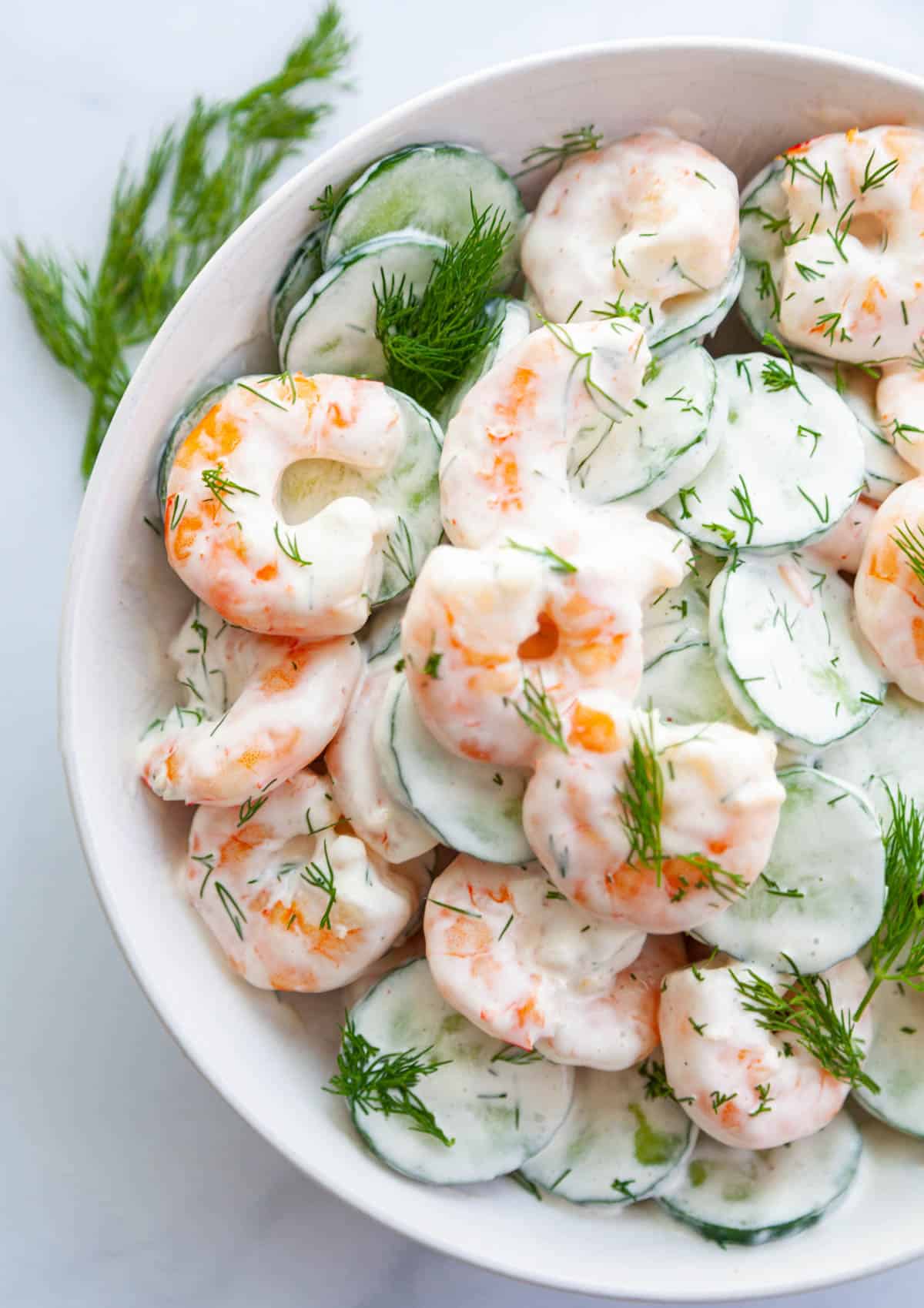 FAQ About Cooking Shrimp
How long does raw shrimp last in the fridge?
The FDA recommends that fresh, raw shrimp be kept in the refrigerator for only 2 days before it's cooked.
What's the best way to defrost frozen shrimp?
You can cook frozen, raw shrimp in an Instant Pot without defrosting it. But if you need to defrost shrimp, the best way is defrosting in the refrigerator overnight. If you have to thaw seafood quickly, you can immerse the sealed bag of seafood in cold water.
How long does it take to cook raw shrimp?
Raw shrimp usually cook in 3 to 5 minutes, or slightly longer if the shrimp are large. This is true whether you are boiling, sautéing or broiling shrimp.
What is the best way to reheat cooked shrimp?
There are several ways to reheat cooked shrimp without drying it out. Read my article How to Reheat Shrimp for the best methods.
More Salad Recipes
Does this recipe make you hungry?
SUBSCRIBE
to the Kitchen Skip newsletter
for helpful tips, easy recipes
& good conversation
Print
📖 Recipe
Cucumber Shrimp Salad
Chilled cucumber shrimp salad is perfect for summer! Just toss cold shrimp and sliced cucumber with a creamy, lemony dressing and fresh herbs.
Author: Jenny - Kitchen Skip
Prep Time:

15

Total Time:

15 minutes

Yield:

6

servings

1

x
Category:

salmon and seafood

Method:

mix

Cuisine:

American
2

pounds

cooked shrimp, chilled (peeled, tails off)

2

cups

sliced cucumber (I use Persian cucumbers for this salad, sliced ¼ to ½ inch thick))

½

cup

mayonnaise

¼

cup

sour cream

1 teaspoon

Dijon mustard

2 tablespoons

fresh lemon juice

¼

cup

chopped fresh dill or chives
Salt and pepper to taste
Optional additions: celery and/or red onion
Instructions
In a large serving bowl, combine shrimp and cucumber. 
In a smaller bowl, whisk together mayo, sour cream, dijon, lemon juice and dill or chives. 
Pour the dressing over the shrimp and cucumber and mix well. 
Add salt and pepper to taste. 
Serve chilled.
Notes
See the blog post above if you need instructions for cooking raw shrimp. 
This shrimp salad tastes best if eaten within 3 days. Keep in a covered container in the refrigerator. 
If transporting this salad to a picnic, carry it in a cooler with ice or ice packs. If possible, keep the cooler in the shade with the lid closed. When serving, don't leave a shrimp salad with mayo dressing setting out at a picnic for more than 1 hour.
Keywords: Cucumber Shrimp Salad. shrimp salad, cucumber salad