Transform bagged kale salad into an impressive and delicious salad with homemade creamy poppyseed dressing, nuts and dried cranberries.
This kale salad is so easy to make and so delicious! Simply combine a bagged kale salad with homemade poppyseed dressing and a sprinkle of nuts and dried cranberries. In just 10 minutes you'll have a gorgeous salad for parties and holidays.
The flavors in this salad are earthy and nutty with a perfect balance of sweet and tangy flavor. It's healthy but tastes so indulgent! The homemade creamy poppyseed dressing is better than anything you can buy at the store, and it's so easy to make.
Love kale salad and poppy seed dressing? You should also try my kale apple slaw with lemon poppy seed dressing, which is dressed in a lighter vinaigrette.
Other salads you'll love include black lentil salad with sweet potatoes and maple dijon dressing and broccolini slaw with honey mustard yogurt dressing and Green Goddess salad.
Ingredients
Bagged Kale Salad: You'll have enough salad dressing to cover a large bag of kale salad. Some kale salad kits also include dried fruit and nuts.
Nuts: Pecans are amazing in this salad, but so are slivered almonds, walnuts, hazelnuts and pistachios. Roasted nuts have more flavor and more crunch than raw. You can buy dry-roasted nuts at the store or roast your own.
Dried cranberries: Affordable and easy to find, dried cranberries add color and sweet, tart flavor to the salad. Dried cherries are also really good. Or, you can use fresh fruit instead like chopped apple, pear or pomegranate.
Creamy poppyseed dressing
Greek yogurt gives this poppyseed dressing a rich and creamy texture. Whisk in apple cider vinegar, Dijon mustard, honey, olive oil, shallot and poppyseeds for flavor. The flavors are a perfect balance of sweet, tangy and savory.
This dressing is also perfect for any type of coleslaw and chicken salad.
Poppyseed substitute
Though the flecks of dark color are very pretty, this salad dressing is still delicious without poppyseeds. If you don't have any poppyseeds, just leave them out.
For other poppyseed recipes, you can use black sesame seeds as a substitute for poppyseeds.
Tender Kale
I've massaged many kale salads in my life and I have to be honest, I don't think it does a whole lot (except make extra work for you!)

To make kale more tender, here are two easy strategies:
Dress the kale salad and let it sit for 30 minutes or so before serving. Acidic ingredients like vinegar and yogurt can help tenderize and soften greens.

Chop full stalks of kale into thin ribbons. If you've bought bagged kale salad, pulse the kale leaves in a food processor for 30 seconds or so until finely chopped. Smaller pieces of kale are easier to chew!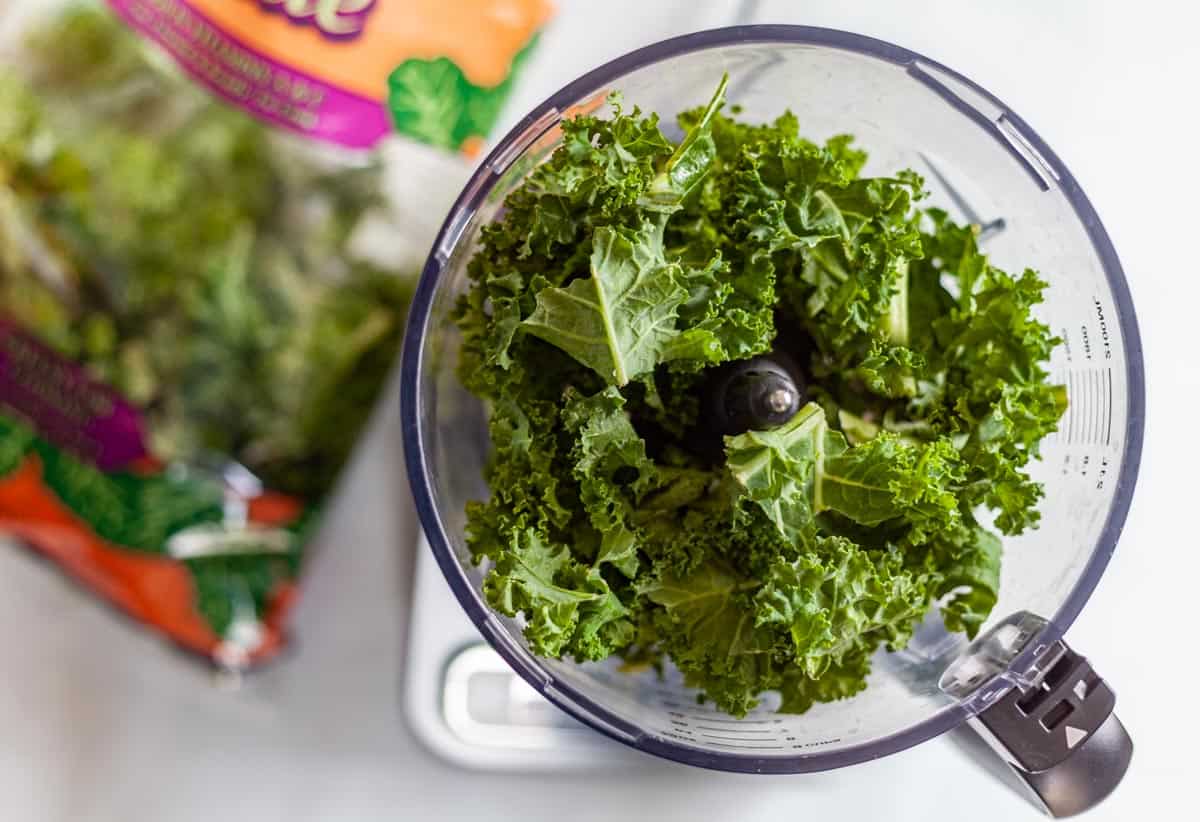 FAQs About Poppyseed Dressing
Can I use non-fat Greek yogurt?
You can, but the salad dressing won't be quite as creamy and the flavor will be more tart and tangy.
Can I use regular plain yogurt?
I really prefer Greek yogurt for this salad dressing.
How long does this dressing stay fresh?
It's best to use this poppyseed dressing within 5 days. It can also be used for chicken salad or coleslaw.
What can I use in place of apple cider vinegar?
You can use fresh lemon juice in place of apple cider vinegar.
What are poppyseeds?
Poppyseeds are tiny dried seeds that come from the poppy plant. They have a crunchy texture and mild nutty flavor. Poppyseeds have a high oil content and won't stay fresh forever. Keep them in a cool location and try to use up poppyseeds within 6 months.
Does this kale salad get soggy overnight?
Although kale is a hearty green, leftovers of this salad do get a little bit soft if kept overnight. The nuts will lose a little bit of their crunch too. Ideally, add dressing either immediately before eating the salad or up to a few hours before.

Can I make the dressing thinner and easier to pour?
This dressing is deliciously thick and creamy. I spoon it over kale, then toss the salad well. If you want a thinner dressing that's easier to pour, just whisk in a little bit of water until it has the consistency you want.
Does this recipe make you hungry?
SUBSCRIBE
to the Kitchen Skip newsletter
for helpful tips, easy recipes
& good conversation
More salad recipes
Print
📖 Recipe
Bagged Kale Salad with Creamy Poppyseed Dressing
Transform bagged kale salad into a delicious salad with homemade creamy poppyseed dressing, nuts and dried cranberries. 
Author: Jenny Meier | Kitchen Skip blog
Prep Time:

10

Total Time:

10 minutes

Yield:

4

to

6

servings

1

x
Category:

Salads and Bowls

Cuisine:

American

Diet:

Vegetarian
Kale Salad 
Bagged kale salad (any size)

1

cup

nuts (dry roasted are crunchier) Try pecans, slivered almonds, hazelnuts or pistachios

½

to

1

cup

dried cranberries
Creamy Greek Yogurt Poppyseed Dressing
¾

cup

full-fat Greek yogurt

¼

cup

olive oil

1

small shallot, finely chopped

1 tablespoon

plus 1 teaspoon Dijon mustard

1 tablespoon

plus 2 teaspoons apple cider vinegar

1 tablespoon

honey

1 tablespoon

poppy seeds

¼ teaspoon

salt
Instructions
Quick Tip: If the bagged kale salad has large pieces of leaves or tough chunks of stem, you can pulse the greens in a food processor for 30 seconds or so to chop them up.  This helps make the kale more tender and easier to chew. 
Kale Salad Instructions
In a small bowl, whisk together the dressing ingredients: Greek yogurt, olive oil, shallot, Dijon mustard, apple cider vinegar, honey, poppyseeds and salt
In a large bowl, combine kale salad with as much dressing as you like. Toss well to coat the kale.
Top the salad with nuts and dried cranberries. 
Notes
If you'd like the salad dressing to have a runnier consistency, you can thin it out with a little bit of water. Start by whisking in just a teaspoon of water and add more as needed. 
If you prefer a sweeter or more tangy dressing, simply add more honey or more vinegar. 
This salad dressing stays fresh in the refrigerator for up to 5 days. 
Keywords: bagged kale salad, kale salad, creamy poppyseed dressing, Greek yogurt dressing,