This is a colorful, healthy and easy black lentil salad made with roasted sweet potatoes and maple dijon dressing. Red onion and parsley add a pop of color and flavor to every bite.
Lentils are truly a super food. Super healthy, super versatile and super easy to cook!
Black, beluga lentils are also gorgeous in a salad. The shiny black color paired with red onion and orange sweet potatoes is really eye-catching.
You'll need a batch of cooked lentils to make this black lentil salad. They're easy to make on the stovetop, which is the method I prefer for cold salads. But your Instant Pot is also a great option.
Everything you need to know about cooking beluga black lentils is found in my recipe How to Cook Black Lentils (Instant Pot & Stovetop).
Looking for more salad recipes? Try kale salad with creamy poppyseed dressing or easy and healthy quinoa salad.
Ingredients
Lentils: Black lentils hold their shape and have a glossy black color that's really pretty in salads. But, brown or green lentils will work too as long as they're not overcooked and mushy. Red lentils, which break down and become mushy, don't work for this recipe.
As a shortcut, you might be able to find canned black lentils at the store but not all grocery stores carry them.
Sweet Potatoes: Roasted cubes of sweet potato add color and sweetness to the salad. Any type of roasted squash can be substituted.
Maple syrup: Make sure to use pure maple syrup (the only ingredient is maple syrup). Honey will do in a pinch.
Olive Oil: A neutral-flavored oil (like sunflower) can be substituted.
Dijon: The strong flavor of Dijon mustard works really well in salad dressing. But this salad dressing uses only a teaspoon of mustard, so it's fine to substitute whatever type of mustard you have on hand, if necessary.
Red onion: The sharp flavor of red onion adds a necessary pop of flavor. But you can substitute chopped green onion or shallot, which also add big flavor.
Apple cider vinegar: This is the perfect vinegar for this salad! I don't recommend substituting another type.
Parsley: Either curly or flat-leaf parsley is fine.
How to Make Black Lentil Salad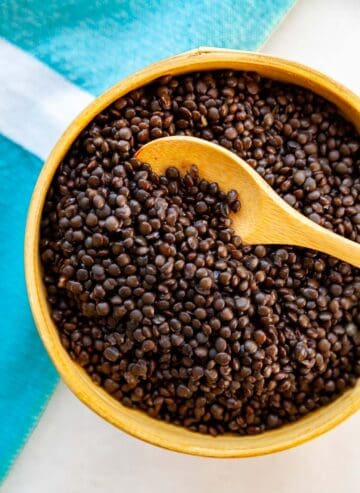 Step 1: Cooking 1 cup of dried lentils will give you the perfect amount of lentils for this salad. If you need a recipe for cooking black lentils, my recipe "how to cook black lentils" will tell you everything you need to know.
Step 2: Roast small chunks of sweet potatoes at 350F for about 40 minutes. Cooking sweet potato chunks at 350F degrees takes a little longer than higher temperatures, but sweet potatoes burn easily at higher temps.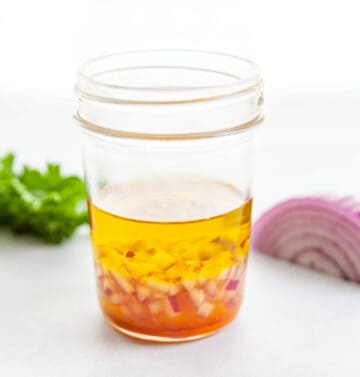 Step 3: Whisk together the maple dijon dressing (olive oil, apple cider vinegar, maple syrup, dijon mustard, red onion or shallot, salt)
Step 4: Combine the black lentils and roasted sweet potatoes. Pour the maple dijon dressing over the salad and lightly mix. Add plenty of salt and pepper. Add parsley and more red onion to taste.
Maple Dijon Dressing
Maple Dijon dressing is a tangy and just slightly sweet vinaigrette that can be used on all sorts of salads, not just this one. Add it to your green salads or drizzle it over roasted vegetables.
If you like maple dijon dressing, you'll also love roasted Brussels sprouts and sweet potatoes with maple dijon dressing
What to Serve with Lentil Salad
This salad is a healthy, flavorful side dish for any dinner you're serving, like Instant Pot Jerk chicken or sheet-pan honey mustard chicken and cauliflower.
It's a perfect high- protein salad for lunches and meal prep. And it's also lovely for holiday meals.
Storage
This salad taste best if eaten within 3 to 5 days.
More Lentil Recipes
Does this recipe make you hungry?
SUBSCRIBE
to the Kitchen Skip newsletter
for helpful tips, easy recipes
& good conversation
Print
📖 Recipe
Black Lentil Salad with Sweet Potatoes Recipe
A healthy and easy black lentil salad made with roasted sweet potatoes & maple dijon dressing, plus red onion and parsley. 
Although this recipe is really easy, it does take time to roast the sweet potato chunks and simmer the black lentils. This salad keeps really well for several days, so consider making it on the weekend to enjoy during the week. 
Author: Jenny Meier - Kitchen Skip blog
Prep Time:

10

Cook Time:

40

Total Time:

50 minutes

Yield:

4

to

6

servings

1

x
Category:

Salads

Method:

Roast

Cuisine:

American

Diet:

Vegetarian
1

to

1 ½

pounds

of sweet potatoes, peeled and cut into ½ inch chunks*

2 tablespoons

oil (vegetable, olive, or avocado oil)

¼ teaspoon

salt

3 cups

cooked black lentils

¼

cup

chopped parsley, plus more to taste
*Aim for small, bite-sized chunks. Most importantly, try to cut all of the chunks close to the same size so they roast evenly
Maple Dijon Dressing
¼

cup

olive oil

2 tablespoon

apple cider vinegar

1 teaspoon

pure maple syrup

1 teaspoon

Dijon mustard

2 tablespoons

finely chopped shallot or red onion, plus another ¼ cup or so to sprinkle over the salad

¼ teaspoon

salt
Instructions
Heat your oven to 350F degrees
Toss sweet potato chunks in oil and spread out evenly on a baking sheet (lining with parchment for easier cleanup is optional). Season with salt.
Roast for about 40 minutes, until the chunks are easy to pierce with a fork and lightly browned. Mix the sweet potato every 15 minutes or so. Taste the potatoes, and add more salt if needed.
If you don't already have cooked black lentils, follow this recipe: How to Cook Black Lentils
In a large bowl, combine the cooked black lentils and roasted sweet potatoes with parsley.
In a small bowl, whisk together the maple dijon dressing ingredients: olive oil, apple cider vinegar, maple syrup, Dijon mustard, red onion or shallot, and salt.
Pour the maple vinaigrette over the salad and gently mix. Add salt and pepper to taste - don't skimp! Lentil salads need a generous amount of salt. 
Add more chopped parsley and red onion/shallot to taste.
Notes
This lentil salad stays fresh and delicious for 3 to 5 days. It can be made ahead of time for parties and holidays. It's also perfect for meal prep - make a batch to enjoy all week! 
Brown or green lentils can be substituted for black lentils. Just make sure not to overcook them. 
Keywords: black lentil salad, maple dijon dressing, sweet potato lentil salad, black lentils recipe