This easy, healthy Instant Pot red lentil soup has a mild, comforting flavor. Don't skip the crispy baked chickpeas on top!
This humble Instant Pot red lentil soup isn't sexy, but it has so much to offer. It's flavorful, easy, healthy, affordable and tastes even better for lunch the next day.
The crispy parmesan chickpeas are addictive! They're meant to be sprinkled over your bowl of soup, but my kids often gobble them up as a pre-dinner snack.
Lentil soup lovers will also want to try crockpot lentil soup and homemade stovetop lentil soup or Instant Pot sausage and lentil soup, which are all made with brown lentils.
Looking for another red lentil soup recipe? Try Instant Pot red lentil soup with coconut milk.
Also, learn how to cook red lentils and how to cook black lentils for a wide variety of recipes.
Ingredients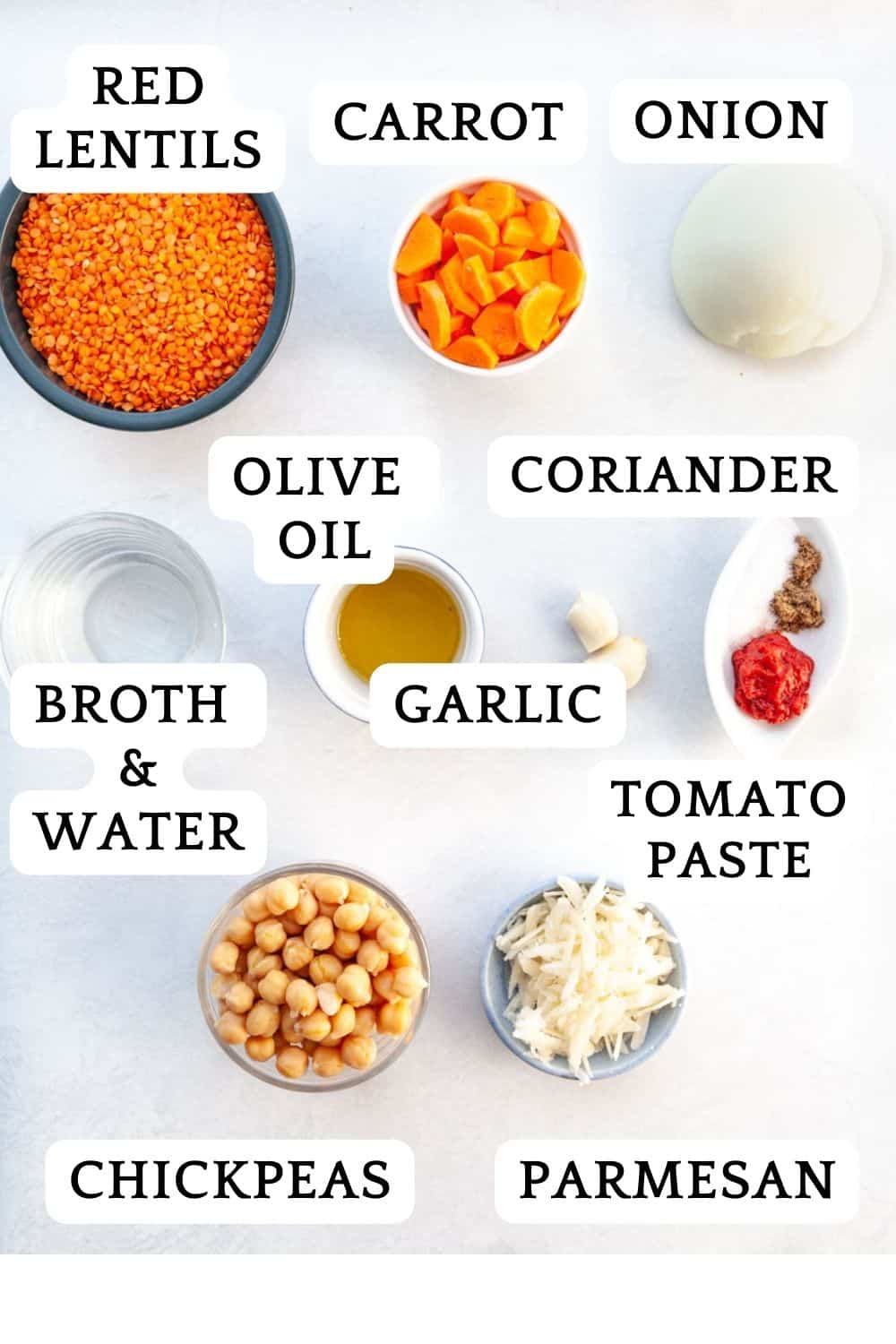 Add More Flavor
I kept the seasoning for this lentil soup on the subtle side, so it will appeal to even the youngest eaters in your house.
You can add more flavor by adding one or more ingredients.
Spices: Turmeric, cumin, smoked paprika or curry powder are all great choices. Add around a half or full teaspoon.
Ginger: Thinly slice or finely chop ginger and add it with the onion and garlic.
Fresh herbs: Sprinkle fresh parsley or cilantro over the cooked soup
Heat: Red pepper flakes, aleppo pepper flakes, chili oil, or chili garlic crisp all add flavor and spiciness
Step-by-Step Instructions
Briefly saute onion, carrot and garlic in olive oil. Celery is optional.
Add tomato paste, coriander, salt, broth, water and red lentils. Mix well.
Cook for 10 minutes at high pressure, natural release. Add salt to taste.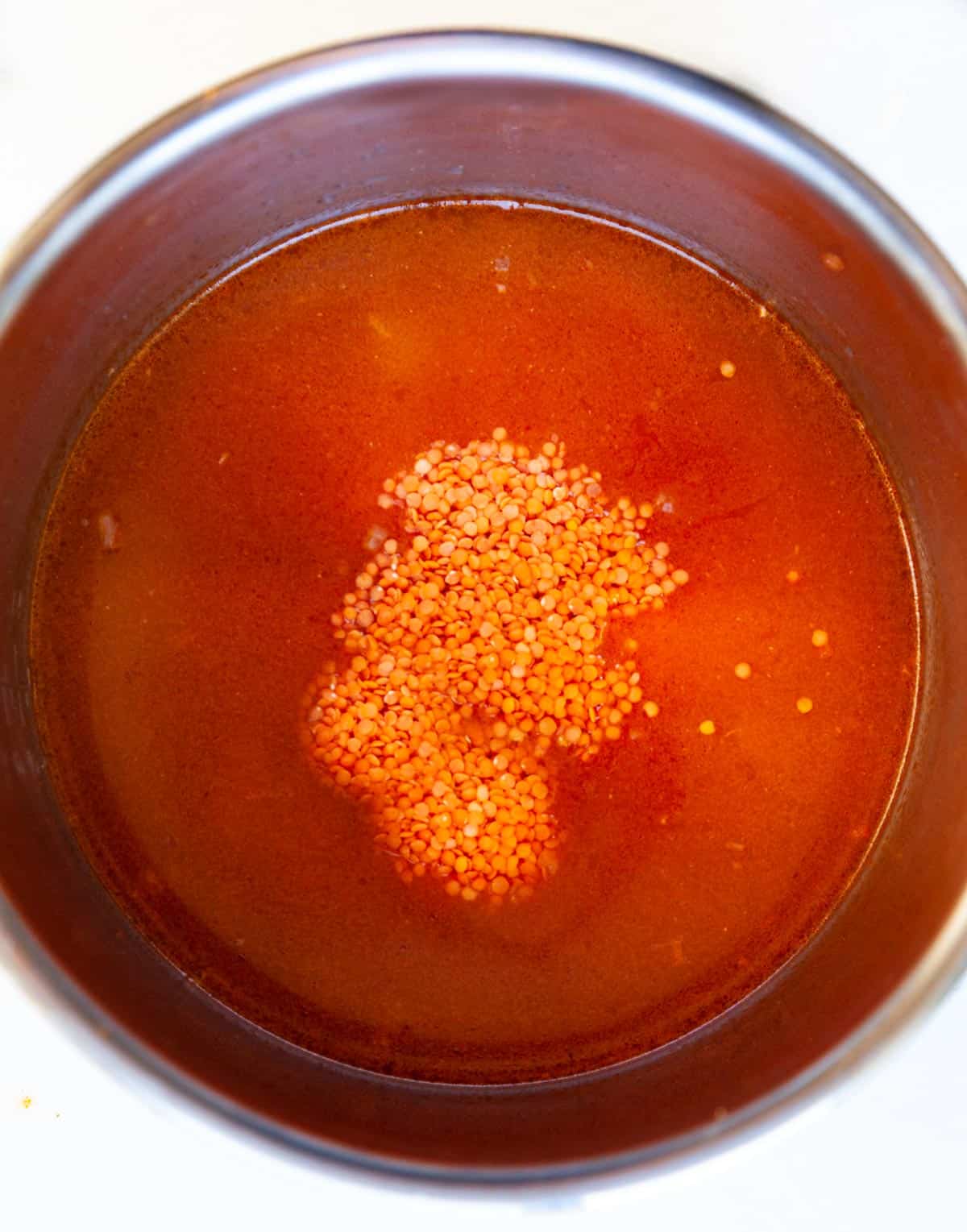 I like my soup to have texture, so I leave chunks of carrot and onion and don't puree the cooked lentils. For a smoother soup, blend the soup when it's done cooking.
Mom tip: Let your kids sit outside and eat their soup out of a thermos or big mug. Something about this set-up makes soup more appealing to little ones!
Roasted Chickpeas
The chickpeas are creamy on the inside and crispy on the outside, with salty bits of crunchy melted parmesan cheese clinging to the edges. They taste best right out of the oven, although leftovers are also good on salad the next day (though less crispy).
Recipe Questions
Can only water be used?
Without vegetable broth, this soup doesn't have enough flavor. It's best to use 1 quart of vegetable broth, plus just 1 cup water.
Can other types of lentils be used for this soup?
This recipe turns out best with red lentils. If you'd like to use brown or green lentils, try this recipe for crockpot lentil soup.
More Soup Recipes You'll Love


Print
📖 Recipe
Instant Pot Red Lentil Soup with Crispy Parmesan Chickpeas
Instant Pot red lentil soup is a simple, cozy soup with mellow kid-friendly flavor. 
Total Instant Pot Cooking Time: 10 minutes to reach pressure + 10 minute cooking time + 15 minute natural release 
This recipe was updated on 5/12/22 to decrease the cooking time and improve the instructions
Author: Jenny Meier | Kitchen Skip blog
Prep Time:

10 minutes

Cook Time:

10 minutes

Total Time:

45 minutes

Yield:

4

to

6

servings

1

x
Category:

soup

Method:

Instant Pot

Cuisine:

American

Diet:

Vegetarian
2 tablespoons

olive oil

1

small onion, finely chopped (about

1 cup

diced)

2

garlic cloves, finely chopped

2

celery stalks, thinly sliced (optional)

2

carrots, cut into half-moons that are ¼-inch thick

1 tablespoon

tomato paste

½

teaspoon ground coriander

½ teaspoon

kosher salt or

¼ teaspoon

table salt, plus more to taste

1

cup

split red lentils

4

cups

/1

quart

vegetable broth

1

cup

water
Crispy Parmesan Chickpeas
2

cans chickpeas, drained, rinsed and patted dry

3 tablespoons

olive oil

1

cup

grated parmesan cheese*

¼ teaspoon

salt
*Finely grated parmesan cheese works best. However, if necessary you can grate the cheese on a regular cheese grater, the cheese will just tend to clump together more as it melts.
Instructions
Crispy Parmesan Chickpeas
Preheat oven to 425 F
Use a large (4 quart) baking dish or large rimmed baking sheet so the chickpeas are in one even layer. Toss the chickpeas with olive oil, parmesan cheese and salt.
Roast for 20 minutes, until the chickpeas and cheese are crispy. The cheese will stick to the pan just a little bit as the chickpeas cook; a flat-edged spatula works well for scraping it off.  
While the chickpeas bake, make the soup. 
Instant Pot Red Lentil Soup
Push the Saute button on the Instant Pot and add the olive oil, onion, garlic, carrot and celery. Saute for about 5 minutes, until the onion is soft. 
Add tomato paste, coriander, salt, red lentils, broth and water. Stir well.
Secure the lid. Press Cancel to stop the saute function, then press the Manual or Pressure Cook button and program the cooking time for 10 minutes at high pressure.
When the cooking time is finished, let the pressure release naturally (or at least 15 minutes)
Mix well and add more salt to taste. Some store-bought vegetable broths are quite salty, but some aren't, so you might need to add a fair amount of salt. 
The soup will appear quite brothy at first, but will start to thicken up if you let it sit for at least 10 minutes before serving. 
If you prefer a smoother soup, then blend half or all of the soup before serving.
Serve the soup with the parmesan chickpeas and other garnishes sprinkled over your bowl. 
Notes
This soup freezes well or will keep in the refrigerator for up to 5 days. The soup gets very thick overnight. When reheating on the stove or in the microwave, you'll need to add more water or broth to thin out the soup.
The chickpeas can be made without parmesan cheese. Plain, crispy baked chickpeas are delicious too! You can also sprinkle curry powder or other spices over the chickpeas. 
The crispy parmesan chickpeas taste best right out of the oven. They keep overnight on the counter, but will have a softer texture. 
Stove Top Instructions: Follow the same instructions, then simmer the soup partially covered for 30 minutes, or until lentils are soft. 
Add More Flavor & Garnishes: The seasoning for this lentil soup is on the subtle side. If you'd like to add more flavor, here are some suggestions.
Spices: Turmeric, cumin, smoked paprika or curry powder are all great choices. About  a half or full teaspoon should be the right amount.
Ginger: Thinly slice or chop ginger and add with the onion and garlic
Fresh herbs: Sprinkle chopped parsley or cilantro over the cooked soup
Spiciness: Red pepper flakes, aleppo pepper flakes, chili oil, or chili garlic crisp 
Keywords: red lentil soup, lentil soup, red lentils, instant pot red lentil soup