Instant Pot Mushroom Barley Soup is incredibly flavorful soup perfection! Vegan and easy-to-make in your Instant Pot. You'll love this cozy barley soup!
Gosh, I love this soup!
This Instant Pot mushroom and barley soup is so incredibly flavorful! It's rich and satisfying without feeling heavy. It's soup perfection. And I'll tell you right up front what the secret ingredient is.
Miso! Salty, umami-packed, magical miso.
Miso paste whisked into the broth gives this mushroom barley soup amazing flavor. The salty, slightly sweet umami flavor of white miso pairs perfectly with the earthy mushrooms and pearl barley. This mushroom barley soup is vegan, but just as satisfying as any beef stew recipe I've eaten.
Looking for more vegetarian Instant Pot recipes? Try Instant Pot vegetable stew.
Why you'll love this soup
Easy to make in your Instant Pot - very little prep
So flavorful! With just 9 simple ingredients
Vegetarian/Vegan
The rich flavor and texture will satisfy meat lovers too
Ingredients and substitutions
Mushrooms: A mix of different mushrooms will give this soup the most flavor. (Although you can just use button mushrooms if that's what available). I like a blend of cremini/button mushrooms and shiitake.
Pearl Barley: The cooking time for this soup is based on pearl barley (learn how to cook barley). You can substitute pearled or semi-pearled farro and keep the same cooking time.
Here are some tasty ways to use up the rest of the barley in the package you buy: Crockpot Beef & Barley Stew, Barley with Eggs and Spinach, and Barley and Egg Fried Rice.
Miso: White or yellow miso paste are the best choice for this soup. They both have a mild, slightly sweet and savory flavor that blends in wonderfully with the mushrooms and barley. You really need miso for this soup, or the flavor just won't be the same. Many grocery stores sell miso in the refrigerated section. You can also buy miso from Japanese markets and many online sources.
Soy Sauce: Soy sauce flavors the mushrooms instead of salt and adds more umami flavor to the soup. You can substitute tamari, Bragg liquid aminos, or Coconut Aminos. If you absolutely don't have any of these in your kitchen, you can skip this ingredient without drastically changing the soup. Just season the mushrooms with a pinch of salt and pepper.
Onion and Celery: Just a little bit, finely chopped, adds flavor to the soup.
Oil: I use olive oil. You can substitute canola/sunflower oil, avocado oil or unsalted butter.
Broth and Water: A combination of both vegetable broth and water creates the right balance of flavor. Don't use only vegetable broth, or the soup will be too salty. You can substitute in chicken broth if you like.
How to add miso paste to soup broth
The main thing to know about adding miso paste to soup broth is that it should NOT be added directly to a simmering pot of soup. For the best flavor, texture and health benefits, miso should be added when the soup has basically finished cooking and is no longer boiling or simmering.
First of all, miso paste doesn't blend well when dropped into boiling liquid. You might end up with chunks of miso that don't dissolve. Also, miso is a fermented food with micoflora and enzymes that would be destroyed in boiling water.

Here's how to add miso to soup:
Scoop out a ½ cup of hot broth into a bowl. You can also use hot water.
Add the miso paste (1 to 3 tablespoons - if adding more, you'll need more broth)
Whisk until very smooth
Slowly pour the miso back into the soup, stirring or whisking as you pour
For more helpful tips about cooking with miso, check out Five rules for cooking with miso paste from misotasty.com. You can also read Bonnie Chung's cookbook, Miso Tasty.
Step-by-step instructions
Roughly chop the mushrooms into small pieces.
Saute the onion and celery, then add and saute the mushrooms.
3. Drizzle soy sauce over the mushrooms and mix well
4. Add water, broth and barley. Cook the soup for 15 minutes on high pressure, with a 10 minute quick release.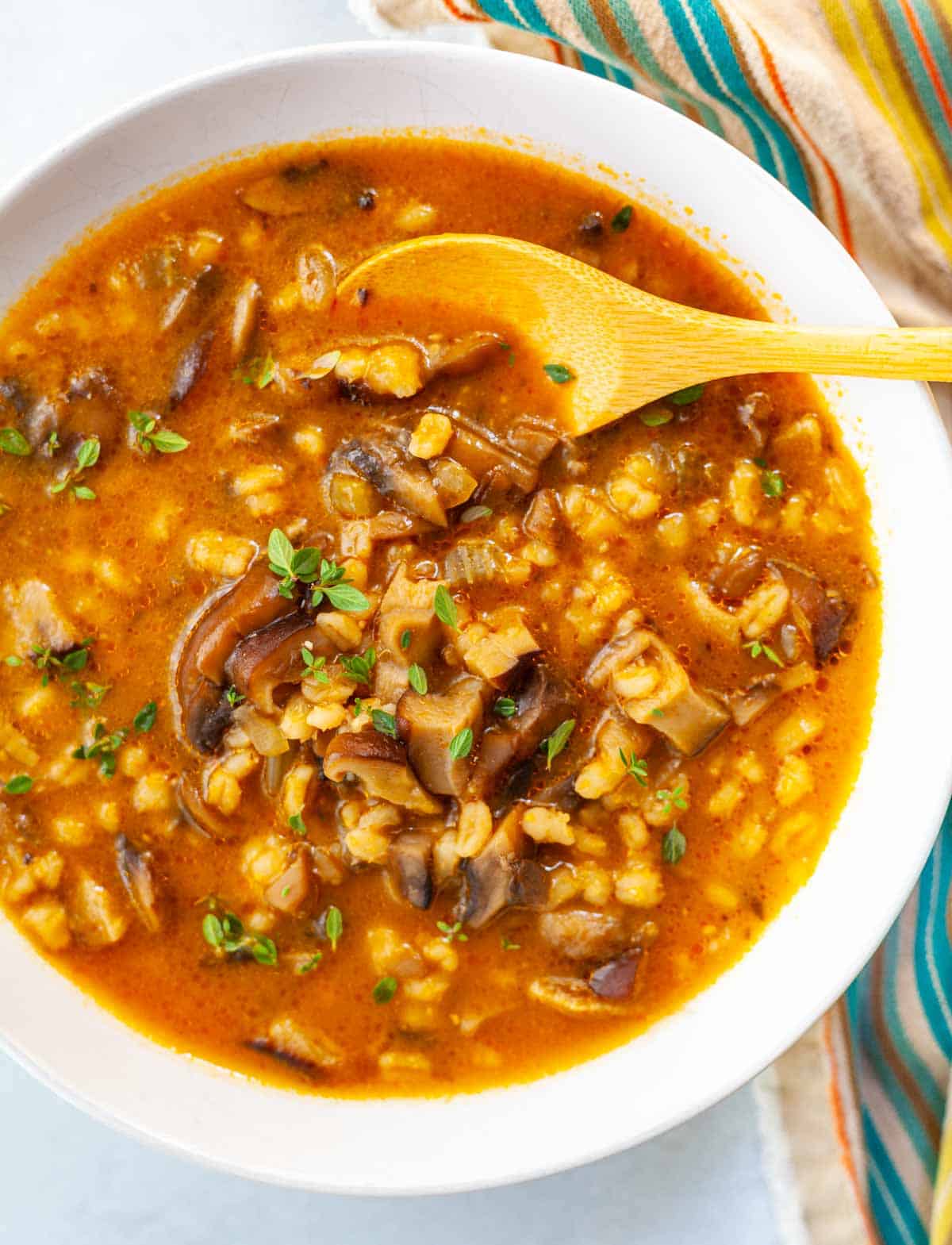 5. When the soup is done, combine 2 tablespoons of miso with ½ cup hot soup broth. Whisk well until smooth, then pour the miso back into the soup.
6. Let the soup sit for 5 to 10 minutes while the barley plumps up. Add more miso or salt to taste.
Answers to all your questions about miso
What is in miso?
Miso is a soybean paste that is made by fermenting soy beans with a culture called a "koji." Most fermented foods require a culture that comes from yeast, mold or good bacteria to jump start the fermentation process. The "koji" culture is derived from a grain, usually rice or barley. Salt is also added, which adds flavor and helps preserve miso.

The ingredient list for miso is usually soybeans, a rice or barley culture (koji), salt and water.
What are the different types of miso?
There are many versions of miso, but the three most common types of miso that you'll see in US supermarkets are white, yellow and red miso.

White and yellow are fermented for shorter periods of time and have a lighter, more delicate flavor. They are less salty than red miso and fairly interchangeable in recipes.

Red miso is fermented for a longer amount of time. It has a saltier, more assertive flavor.
Is there a miso paste substitute?
Miso is a unique product that has been made in Japan for at least a thousand years. There is no equal substitute. Products that come close to replicating the salty, umami flavor of miso are soy sauce, fish sauce and mushrooms. Miso Master also sells chickpea miso which is soy-free.
How long does miso stay fresh?
A long time! The high salt content helps preserve miso and keep it fresh for a year or more after it is opened. The best way to store miso is in a covered container in the refrigerator.

FYI: I just bought a container of miso in September 2021, and the best buy date is April 2023. The manufacturer says that even after being opened, the miso will stay fresh through that date.
What else can I use miso for?
Miso is a great flavor booster. It can be used to make salad dressing, flavor soups (especially miso soup) and add extra flavor and tenderizing properties to marinades.
Is miso vegan?
Yes, miso that is made from soybeans, salt and a grain-based culture is vegan.

However, be aware that some miso products also add dashi stock for flavor and dashi is not always vegan. Dashi can be made from kelp, but traditionally dried fish flakes (bonito) are also added.
More comforting soup recipes
Does this recipe make you hungry?
SUBSCRIBE
to the Kitchen Skip newsletter
for helpful tips, easy recipes
& good conversation
Print
📖 Recipe
Instant Pot Mushroom Barley Soup
Instant Pot Mushroom Barley Soup is incredibly flavorful. The secret ingredient is white miso paste, which adds rich flavor.  This barley soup is vegan and easy-to-make in your Instant Pot. 
Total Instant Pot Cooking Time: 15 minutes to reach pressure + 15 minute cooking time + 10 minute quick release
Author:
Prep Time:

15 minutes

Cook Time:

15 minutes

Total Time:

30 minutes + 10 minute quick release

Yield:

6

servings

1

x
Category:

Soup

Method:

Instant Pot

Cuisine:

American

Diet:

Vegan
¼

cup

olive oil

½

cup

finely chopped onion

¼

cup

finely chopped celery

8

to

12

ounces

mushrooms*, roughly chopped into small pieces

1 tablespoon

soy sauce

3

cups

water

3

cups

vegetable broth

½

cup

uncooked pearl barley

2

to

3

tablespoons white miso
*You can use one type of mushroom or a mix of your favorite types. I use a mix of button/cremini mushrooms and shiitake when I make this soup. 
Instructions
Use the saute setting on the Instant Pot to warm the olive oil. I like to use the "normal" heat level  because the onion is less likely to burn and stick. To adjust the saute heat level, press "Saute" and then "Adjust" to toggle between "less" "normal" and "more."
Add the onion and celery. Saute until soft, about 5 minutes. Keep an eye on the onion so it doesn't burn or stick to the pot. 
Add half of the mushrooms and cook for about 1 minute, stirring frequently, until the mushrooms have cooked down and decreased in size. 
Add the remaining mushrooms and saute several more minutes, stirring frequently, until the mushrooms are very soft. 
Drizzle the soy sauce over the mushrooms and mix well.
Add water, broth and pearl barley.
Secure the lid and cook the soup for 15 minutes on high pressure.
When the cooking time is complete, wait 10 minutes then do a quick release of steam.
In a small bowl, whisk together 2 tablespoons of miso paste with ½ cup of the hot soup broth until very smooth.
Slowly pour the miso into the pot of soup, stirring or whisking as you pour. 
Taste the soup. I usually add 1 more tablespoon of miso (make sure to whisk it in a small bowl with broth before pouring it into the soup). You can add another tablespoon of miso, or just add salt to taste. 
Notes
Right when you open the lid, you might not think that the soup has enough barley. Just wait 10 minutes. As the soup sits, the barley absorbs the broth and plumps up, becoming more noticeable in the soup. 
Stovetop Instructions: You can also cook this soup on the stovetop. Follow the same instructions to saute the veggies in a soup pot, then add water, broth and barley. Simmer gently with a lid, stirring occasionally, for about 30 minutes until the barley is tender. Then follow the instructions above for adding miso.
Storage: This soup will stay fresh for up to 5 days in the refrigerator. You can also freeze the soup if necessary, but the barley gets softer after being frozen and defrosted.
This recipe was tested in a 6-quart Instant Pot
Keywords: instant pot mushroom and barley soup, barley soup, pearl barley, mushroom soup, miso