Farro is a grain with a nutty, earthy flavor and hearty, slightly chewy texture. This recipe will answer all your questions about how to cook farro, using a stovetop or Instant Pot.
Farro is a grain that's similar to barley and wheat berries in taste and texture. It's filling and satisfying, and the mild earthy flavor is like a blank canvas.
You can add pretty much anything to a batch of farro and turn it into a quick salad or grain bowl. For dinner or lunch, I love farro bowls with salmon, sweet potato and parsley-lime dressing.
It's also a wholesome addition to soup and stew. Instant Pot Farro Soup with Lemon Ginger broth is a healthy, filling dinner. You can also swap out the barley and use farro in this recipe for Crockpot Beef & Barley Stew.
Jump to:
Farro Cheat Sheet
Most Common Type of Farro Sold in Stores: Pearled or Semi-Pearled
Farro Water Ratio: 3:1 (water:farro)
Instant Pot Cooking Time for Pearled/Semi-Pearled: 10 to 12 minutes, high pressure and quick release
Stovetop Cooking Time for Pearled/Semi-Pearled: 20 to 30 minutes, simmered in water
How Much Should I Cook? 1 cup dry = 3 cups cooked
Types of Farro
Whole Grain Farro: Contains the germ and the bran, which means it retains more nutrients and takes longer to cook, anywhere from 40 to 60 minutes on a stove top. This is the most hearty type of farro, and is less likely to become mushy when cooked.
Pearled and Semi-Pearled Farro: The most common type of farro sold in grocery stores. Often the package will just say "farro" on the front and you'll have to look at the back ingredient list to see "pearled farro."

Semi-pearled farro has part of the bran removed and pearled farro has all of the bran removed, so neither one is considered a whole grain. Pearled and semi-pearled farro cook faster than whole grain farro. The texture is slightly softer than whole grain farro.
Quick Cook Farro: Quick cooking farro cooks in just ten minutes, which is really convenient! It has been partially cooked and dried, so it's considered the most processed.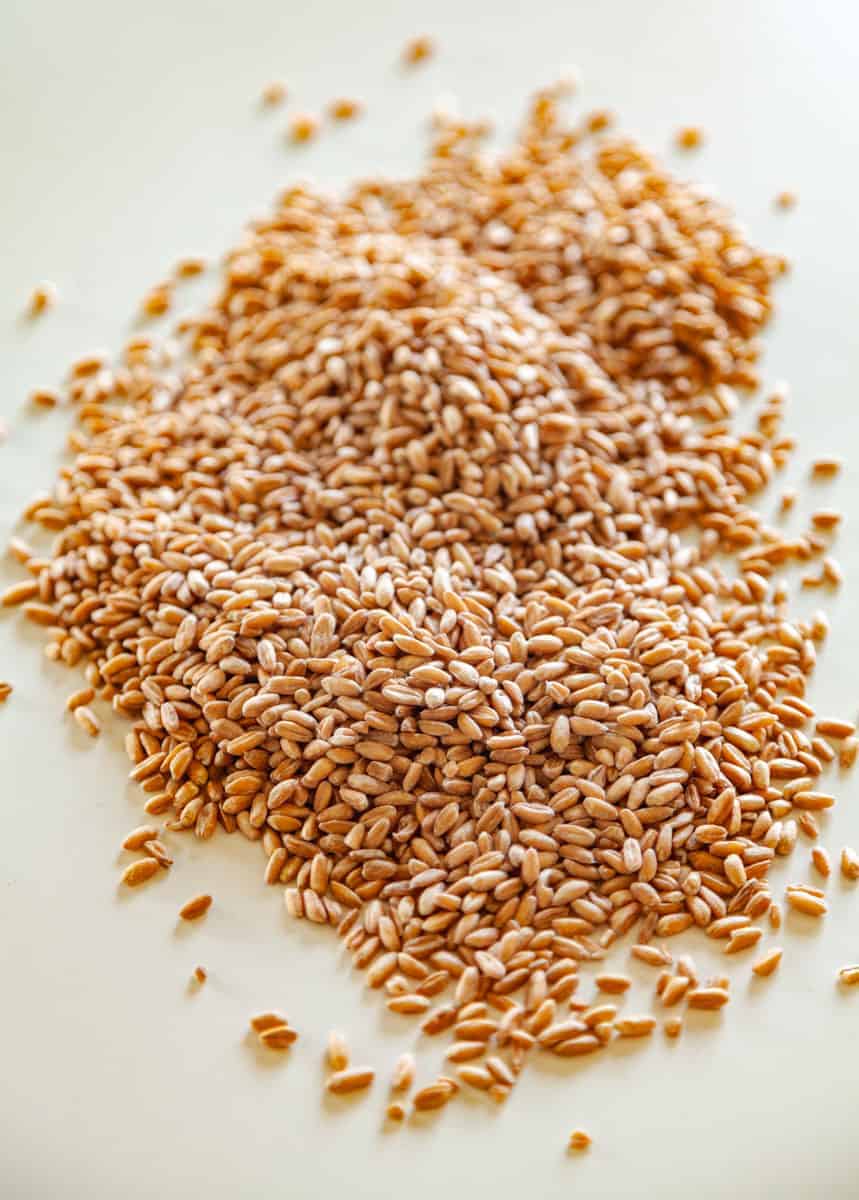 Should I Rinse Farro Before Cooking?
It's a good idea. Before cooking, give it a quick rinse in a fine mesh strainer under water to remove dust and debris.
Does Farro Need to Be Soaked Overnight?
No. The only reason to soak overnight is to speed up the cooking time. However, I never bother to soak semi-pearled farro the night before.
However, if you're cooking whole grain farro, which takes the longest amount of time to cook, it will be easier to cook if you soak it overnight. Soaking whole grain farro in cold water overnight can cut the cooking time in half.
Farro Water Ratio
Honestly, there isn't an exact ratio that's correct. It's easiest to cook farro using "pasta method" which means cooking farro like pasta in a lot of water, then simply draining off any remaining water in a colander when the grain is cooked.
If you'd like an exact measurement, then a 3:1 ratio is about right (3 cups lightly salted water + 1 cup farro), for both the stove top or in a pressure cooker.
No matter how much water you use, don't let the cooked farro sit in the extra water when it's done cooking, or it will continue to absorb the water and get mushy.
Farro Cooking Times
Farro is cooked when the texture is tender but still chewy. Undercooked farro is very firm or hard and overcooked farro is mushy.
Use the cooking times below as a starting point and a guide. Farro doesn't have an exact cooking time. Rather, it has a range of cooking times depending on the type of farro and your own preference for how soft or firm you like it. This is why you'll see a wide range of cooking times when you read different recipes.
I recommend always buying the same brand of farro, or getting it from the same bulk bin, so you can find exactly the right cooking time for "your" farro. The brand of pearled farro I use with these cooking times is Bob's Red Mill.
Farro can be cooked on the stove top or in a pressure cooker. I usually cook it in my Instant Pot because it's the most convenient method.
Farro can also be cooked in a slow cooker, but the only real reason to do this is if you're making slow cooker soup with farro in it.
Quick Cooking
This will be labeled "quick cooking" or "10-minute" farro on the package. I always simmer this type of farro on the stove top, for 10 minutes.
Instant Pot Pearled/Semi-Pearled
10 to 12 minutes, high pressure and quick release

Stovetop Pearled/Semi-Pearled
Simmer about 20 to 30 minutes

Whole Grain
This is the trickiest farro to cook and the most likely to come out undercooked. Soaking whole grain farro overnight will reduce the cooking times below.

Instant Pot Whole Grain Farro
About 25 minutes

Stovetop Whole Grain Farro
About 40 to 60 minutes
Boosting Flavor
Farro has a mild flavor that's earthy and nutty. You can boost the flavor by adding flavorful ingredients when it's cooking.
Simmer farro in broth or apple cider
Add whole spices to the simmering water, like bay leaf, peppercorns, coriander seeds or fennel seeds
Add fresh herbs to the simmering water, like sprigs of parsley and thyme
Add garlic and onion to the simmering water
Before simmering farro, toast the grains in a dry skillet for 3 to 5 minutes until the grain is lightly browned and fragrant
How to Serve Farro
Make a Salad: I often add farro to a green salad or toss farro with any vinaigrette (or just lemon and olive oil) to make a quick grain salad. Add your favorite raw or roasted veggies, beans, nuts and seeds, cheese, olives... whatever you like!
As a Side Dish: Serve farro with Mediterranean grilled chicken with cucumber yogurt sauce, or vegetarian shawarma sheet-pan dinner, or chickpeas and spinach, or easy weeknight tofu.
Frequently Asked Questions About Farro
Is Farro Gluten-free?
No. Farro is an ancient strain of wheat and is not gluten-free
Are Emmer and Farro the Same Grain?
Yes, Emmer is a variety of farro. There are actually three varieties of farro: emmer, spelt and einkorn. Emmer farro is what we're talking about here and the most common type found in grocery stores. In grocery stores, it's simply labeled as "farro."
Is Farro Nutritious?
Farro is considered an ancient grain, which means it hasn't been modified or crossbred extensively. It's high in protein and fiber.
Cooking with Grains
Cooking Batches of Beans
Print
📖 Recipe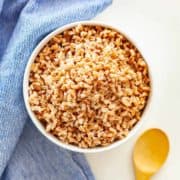 How to Cook Farro (Pearled and Semi-Pearled)
---
Author:

Prep Time:

5

Cook Time:

25

Total Time:

30 minutes

Yield:

3 cups

1

x

Diet:

Vegan
Description
Farro is a grain with a nutty, earthy flavor and hearty, slightly chewy texture. Farro can be cooked on a stovetop, but my favorite way to cook farro is in a pressure cooker. 
This recipe is for the most common type of farro sold in stores, pearled or semi-pearled. See the blog post above for information about cooking whole grain farro. 
---
1 cup

rinsed farro (pearled or semi-pearled)

3 cups

water

½ teaspoon

salt
Add More Flavor: Read the blog post above for ingredients that can be added to the pot for more flavor, such as using broth or adding onion and garlic.
---
Instructions
Instant Pot:
Combine farro, water and salt in the Instant Pot.
Secure the lid. Make sure the pressure release valve is in the "sealed" position.
Cook on high pressure for 12 minutes. The Instant Pot will take about 8 minutes to reach pressure.
Quick release the pressure, when the cooking time is done.
Drain the farro immediately in a colander. 
Stovetop:
Bring water and salt to a boil in a pot.
Add farro.
Bring the water back to a boil then reduce heat to medium or medium-high to keep the water at a rapid simmer
Simmer the farro for about 25 to 30 minutes, leaving the pot uncovered 
Immediately drain the farro in a colander. 
After farro is cooked, it's best to spread it out in a thin layer to cool (on a plate or baking sheet) rather than keep it in a bowl. When farro is spread out, it cools faster and is less likely to keep steaming itself and cooking, becoming mushy. 
How Do I know When Farro is Ready? Cooked farro should be tender and slightly firm (but not hard). It should not be super soft and mushy (that means it's overcooked).
Notes
Some recipes cook farro on high pressure for a shorter amount of time (7 to 10 minutes) and then let the pressure release naturally before opening the Instant Pot. The farro continues to cook a bit while the pressure releases. I prefer a long cooking time and quick release because I find it to be faster and easier.
Cooked farro can be kept in the refrigerator for up to 5 days. 
Freeze cooked farro in a sealed freezer bag for several months. Defrost overnight in the refrigerator. 
Category:

grains

Method:

Instant Pot and Stovetop

Cuisine:

Italian
Does this recipe make you hungry?
SUBSCRIBE
for helpful tips and easy recipes