Instant Pot millet can be cooked like pilaf or like porridge, turning this mild-flavored gluten-free grain into a variety of sweet and savory millet recipes.
Millet is a whole grain that's less well-known in the U.S, although gaining in popularity because it's gluten-free. It has a mild flavor that's sometimes described as nutty, although I think it's very similar to cornmeal.
Millet is hearty and filling. The tiny grains plump up into small pearls with a texture that is similar to, but slightly more coarse than rice and couscous. (If you'd like to make couscous, try this Instant Pot couscous recipe).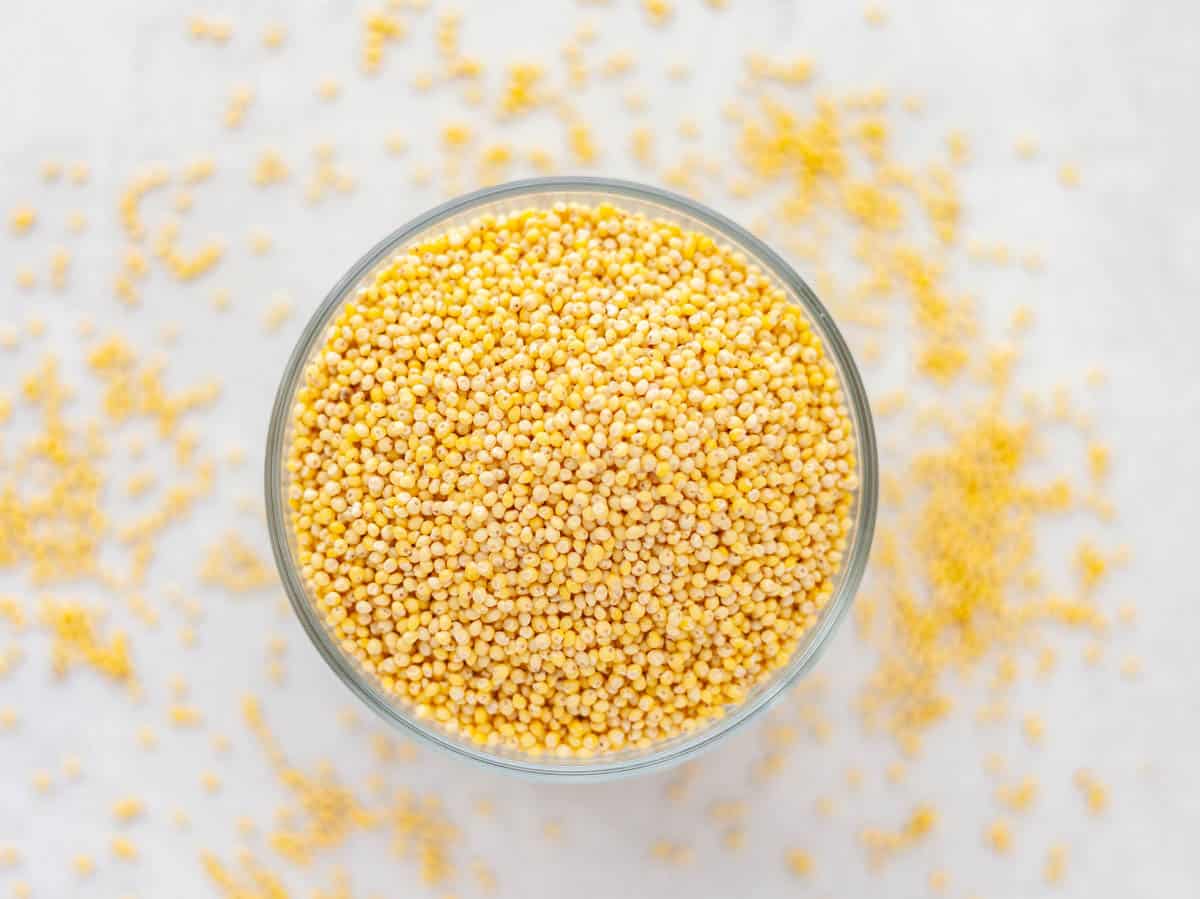 Two Instant Pot Cooking Methods for Millet
There are two ways to make millet in a pressure cooker - like pilaf or like porridge. The recipe card at the bottom of this post includes instructions for both.
Pilaf Method: This means adding just enough water so that the cooked millet has a fluffy texture, similar to the texture you'd want for rice. Although regular pilafs use aromatics and broth to add flavor, both are optional here. You can make Instant Pot millet with just water, millet and salt. Or, you can saute onion, garlic and spices in the pot and use broth instead of water.
When cooked like a pilaf, millet can be served as a replacement for rice or other grains. It can also be turned into cold salads or added to soup for texture, and it can be baked into squares that are cut and served like firm polenta.
Pilaf Method Cooking Instructions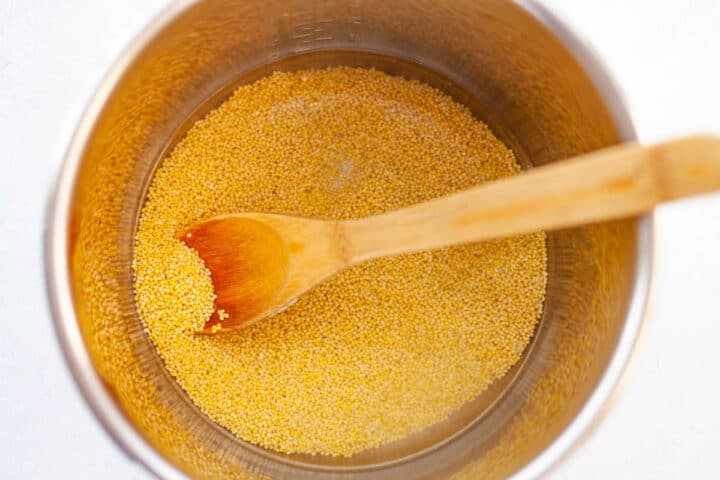 Porridge Method: This method adds more water and a longer cooking time so that the millet is softer. Millet porridge still has some texture (similar to steel cut oats) but when milk is added after the cooking time, the porridge becomes looser and creamier.
Millet porridge can be served sweet or savory. I love adding cream or oat milk to my porridge with maple syrup and peaches. Yum!
For sweet porridge, add milk, cream, nut milk, oat milk or coconut milk. Add toppings like cinnamon, maple syrup or jam, dried fruit, or fresh fruit like berries, mango, papaya, peaches or figs.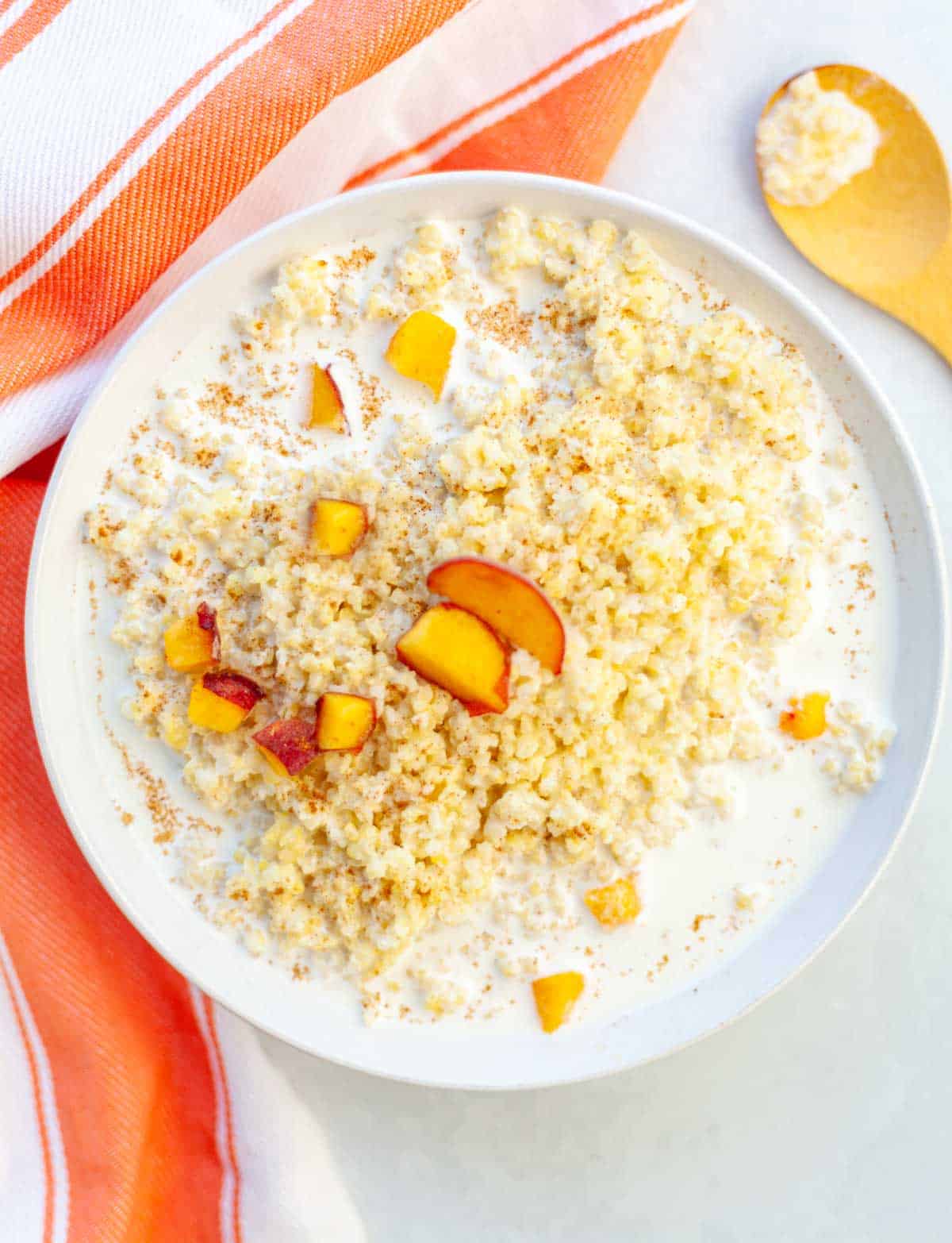 For savory porridge, add cream or broth to the cooked millet plus toppings like grated cheese, sour cream, chives, bacon, mushrooms or soy sauce. You can also make a soupy millet porridge called millet congee, by cooking the millet for almost twice as long with twice as much liquid.
Why This Recipe Works
This recipe makes millet that is less dry than other recipes, but still has a fluffy texture. By adding slightly more water, the texture becomes softer and less coarse. It's a matter of personal preference, but I like this grain with a slightly softer texture.
Most recipes for Instant Pot millet use 1 ¾ cups water for every 1 cup millet. This recipe is different, and uses a 2:1 ratio of water and millet, adding 2 cups water for every 1 cup of millet.
To make millet porridge - which has a softer, looser texture - the amount of water increases to a 4:1 ratio of water to millet.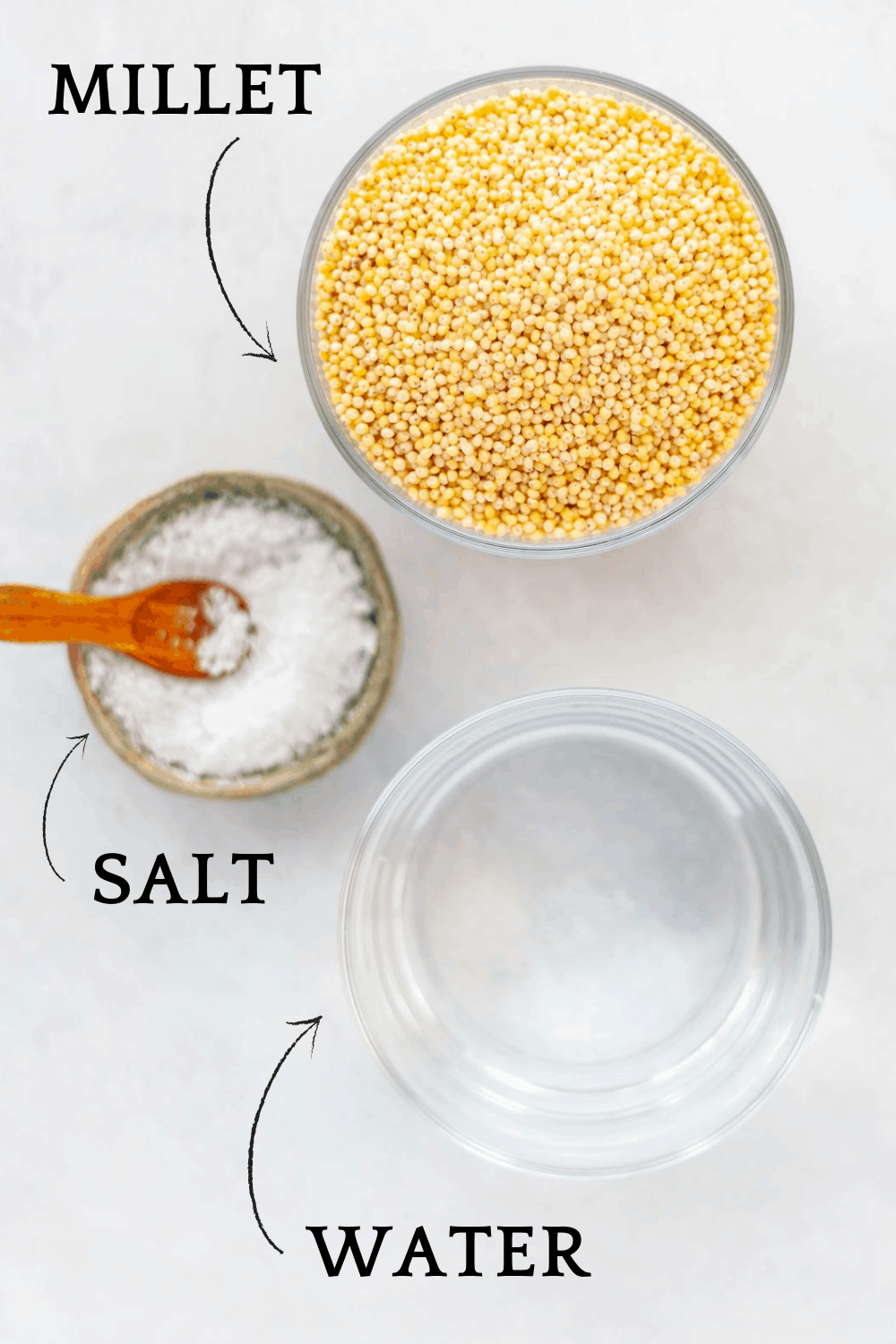 Millet FAQ
Is Millet Gluten-Free?
Yes, millet is a naturally gluten-free cereal grain.
Is Millet a Whole Grain?
Yes, millet is a whole grain. According to the Whole Grains Council, there are several related grains that are all called millet, including pearl millet, foxtail millet, proso millet, finger millet and fonio.
Where Can I Buy Millet?
Although millet is a staple for a large portion of the world's population, it can be harder to find in the United States. It can be bought online or in the grain/rice aisle of some grocery stores. It's easiest to find in speciality or health-food stores, and in markets like Whole Foods.
Can Millet Be Added to Bread and Muffins?
Yes, in two different ways. Uncooked millet grains add crunch to bread or muffins. Secondly, you also have the option of baking with either millet flour or flakes, which are versions of ground millet used to make gluten-free baked goods.
Can I Use the Instant Pot Porridge Setting to Cook Millet?
No, use the manual setting. The porridge setting is programmed to cook for 20 minute at high pressure, which is too long for millet.
How Do I Reheat Millet Porridge?
This recipe makes a big batch of porridge. Store leftover porridge without milk added, in the fridge for up to a week. The porridge will be quite thick, so plan to add plenty of milk when you reheat it in the microwave.
Does this recipe make you hungry?
SUBSCRIBE
to the Kitchen Skip newsletter
for helpful tips, easy recipes
& good conversation
More Instant Pot Rice and Grains
Print
📖 Recipe
Instant Pot Millet
There are two ways to make Instant Pot millet, like a pilaf or like porridge. The pilaf method makes drier, fluffier millet and the porridge method makes millet that is softer and creamier.
Author: Jenny Meier | Kitchen Skip blog
Prep Time:

5

Cook Time:

10 minutes

Total Time:

15

Yield:

3 cups

1

x
Category:

Instant Pot

Method:

Instant Pot

Cuisine:

Asian

Diet:

Vegetarian
Pilaf Method (for fluffy millet that works well for salads, pilafs and baked recipes)
1 cup

millet

2 cups

water

½ teaspoon

salt
Porridge Method (for softer millet that can be turned into creamy porridge)
1 cup

millet

4 cups

water 

½ teaspoon

salt (if making sweet porridge, you might want to reduce salt to

¼ teaspoon

)
Milk, to taste, added after cooking is complete (dairy or non-dairy)
Toppings (fruit, nuts, cinnamon, etc) and sweetener (syrup, brown sugar, honey, etc..)
Instructions
Pilaf Method
Combine millet, water and salt.
Secure the lid, making sure the steam release valve is in the "sealed" postiion
Cook on high pressure for 10 minutes
Let the pressure release naturally for at least 10 minutes
Fluff the millet with a fork
The millet is cooked but unseasoned, and ready to use in a millet recipe. Or, turn it into a quick side dish by adding butter or olive oil, fresh herbs, crumbled cheese, roasted vegetables, etc...
Porridge Method
Combine millet, water and salt.
Secure the lid, making sure the steam release valve is in the "sealed" postion
Cook on high pressure for 15 minutes 
Let the pressure release naturally for at least 10 minutes
Serve sweet millet porridge in individual bowls, immediately stirring in your milk of choice. You can add any amount of milk you want, depending on how creamy and loose you like your porridge. 
Add sweetener (syrup, honey, sugar, etc) and other toppings like cinnamon, fruit and nuts
Notes
Don't Forget the Milk and Toppings! Millet porridge has a very mild flavor and thick texture. Milk (dairy or non-dairy) adds delicious creaminess and flavor comes from the toppings (I love fresh fruit, maple syrup and cinnamon) 
If you want very smooth and creamy millet porridge, this stove-top creamy millet porridge recipe from Naturally Ella used millet that is first ground up in a coffee grinder. 
How to Store Millet Porridge: I store leftover millet porridge in the refrigerator without any milk added because it keeps longer (up to a week). I add milk before reheating individual portions in the microwave. 
Add More Flavor to Millet Pilaf: You can saute onion, garlic and spices before adding the millet, water and salt to the pressure cooker. 
Keywords: instant pot millet, millet, millet porridge