Toss this colorful veggie chicken salad with Creamy Lemon Herb dressing or Toasted Sesame Soy Sauce dressing. Your choice, both are delicious!
Packed with protein and healthy, colorful vegetables, this veggie chicken salad is a feel-good lunch or dinner.
Grating, instead of chopping, the veggies gives this salad a texture that similar to coleslaw. And you can change up the type of veggies you put in the bowl, depending on what you love.
And the dressing! Have I mentioned that there's two salad dressings to choose from? A lemony mayonnaise dressing for traditional chicken salad flavor or a toasted sesame and soy sauce dressing if you crave something lighter.
If you're in the mood for salad, you might also want to try Broccolini Slaw with Honey Mustard Yogurt Dressing or Tuna Orzo Pasta Salad.
Ingredients & substitutions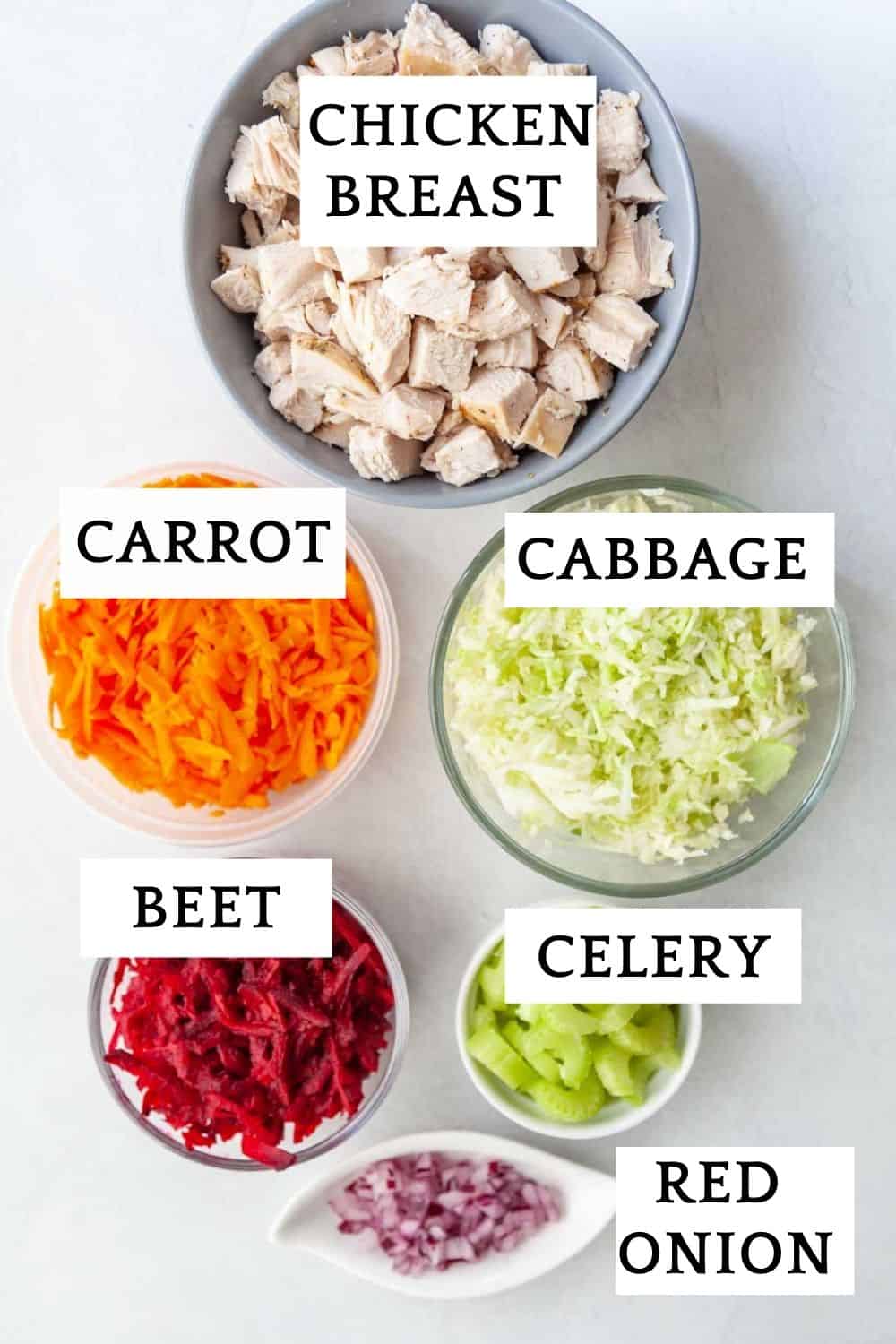 Chicken: I've always loved white meat for chicken salad, but you can make this recipe with any type of leftover, cooked chicken (breast or thigh). If you don't have leftover cooked chicken, you can follow my recipe for Instant Pot chicken breasts.
Store-bought Coleslaw: I've grated my own mix of veggies for this veggie salad, but buying a bag of coleslaw at the grocery store is always an option for this salad. Go ahead, make your life easier! You won't regret it.
Cabbage or Greens: Slice the cabbage for a crunchier salad, or grate it for a softer texture. Purple, white/green or Napa cabbage all work. You can also skip the cabbage and use arugula or chopped Romaine hearts instead.
Carrot: I really love grated carrot in salads. Grate a little bit extra for your kids so they can make their own carrot salad.
Beet: Did you know that grated, raw beets are delicious, colorful and a super-healthy addition to salads? Just peel the beet with a vegetable peeler first. Be warned that red beets will give the whole salad a pinkish tone. Use yellow beets if you want to avoid this.
Celery: It's there for crunch! Plus, it just tastes so good with chicken.
Red onion: Onion adds more flavor to the salad. You can use green onions (scallions) instead of red onion.
Other Veggies: Mix and match whatever type of veggies you love. Many different types of vegetables go with chicken salad. The veggies in this recipe are some of my favorites: cabbage, carrots, beets and celery. You can also add cucumbers, cherry tomatoes and green beans. Sprouts are also a nice "veggie" for chicken salad.
Don't forget fresh herbs! Adding fresh herbs always adds more flavor. Try parsley, dill, mint or cilantro.
Make it vegan or vegetarian
Veggie chicken salad can also be vegan or vegetarian! Use chicken substitutes and change a few of the salad dressing ingredients to make it happen. Vegan chicken salad can be made of jackfruit, chickpeas or baked tofu.
Canned jackfruit: Canned jackfruit has a very similar texture to shredded meat. At my house, it's often used as a filling for burritos. In sandwiches, it's often a vegan substitute for pulled pork or shredded chicken. Workweeklunch.com has a jackfruit 101 article that's helpful if you haven't cooked with jackfruit before.
Chickpeas: Instead of meat, used canned chickpeas (drained and rinsed) to make vegan veggie "chicken" salad.
Tofu: Look for baked tofu at the grocery store. Baked tofu has a firmer, drier texture than regular tofu and is ready to chop up into salads.
Dressing choices
You have two salad dressing choices for veggie chicken salad:
Creamy Lemon Herb Dressing: Similar to traditional chicken salad with mayo, this dressing is slightly creamier and tangier, with lemon, Dijon and herbs added.

Toasted Sesame Soy Sauce Dressing: A mix of canola oil, toasted sesame oil, soy sauce, rice vinegar and optional ginger dress the salad with Asian flavors. Light and flavorful!
Add crunchy toppings
The more crunch, the better!
Nuts: Roasted nuts have the most crunch. Try slivered, toasted almonds or pecans and cashews in chicken salad. For a mild, nutty flavor try hemp hearts.

Seeds: Pumpkin seeds, sunflower seeds and sesame seeds are all tasty.

Fried wonton strips: This topping is especially good with the toasted sesame dressing (fried wonton strips are found in the grocery store, usually near the croutons)

Crispy fried shallots: An addictive, crunchy addition to salad (found at the grocery store, usually near the croutons or salad dressing)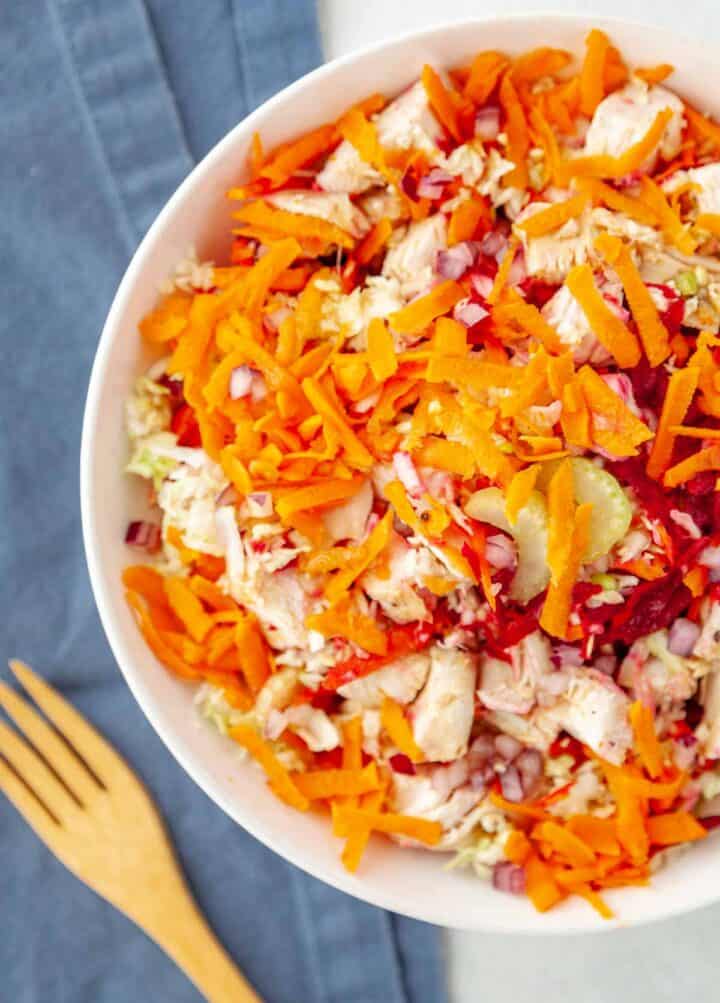 Make a sandwich
You can eat veggie chicken salad in a bowl, or scoop it between slices of bread for a sandwich. I also like it on top of sliced, toasted bread.
When I turn this salad into a sandwich, I usually go heavier on the chicken and lighter on the veggies. But you do you!
Veggie chicken pasta salad
This blend of chicken breast and grated veggies can also be tossed into a cold pasta salad. Orzo, corkscrew or bowtie pasta all work well.
Add plain mayonnaise or the creamy lemon herb dressing below to pull the pasta salad together. You can also toss the chicken and veggies with the toasted sesame dressing and mix it with cold rice noodles.
Does this recipe make you hungry?
SUBSCRIBE
to the Kitchen Skip newsletter
for helpful tips, easy recipes
& good conversation
More chicken recipes
Print
📖 Recipe
Veggie Chicken Salad
You don't have to follow exact measurements for this salad - add a lot of chopped chicken and just a little bit of veggies for color, or make a mostly veggie salad with just a little bit of chicken. 
To grate the veggies, use a hand-held cheese grater or a food processor with a grating disc.
4

cups

cubed or shredded cooked chicken breast (from 3 or 4 chicken breasts)

¼

head purple or white cabbage, grated or thinly sliced

1

cup

grated carrot

1

cup

peeled and grated raw beet

2

stalks celery, sliced

2 tablespoons

red onion, thinly sliced or finely chopped
Optional fresh herbs: parsley, dill, cilantro, mint
Creamy Lemon Herb Dressing
⅓

cup

mayonnaise

1 tablespoon

sour cream

1 tablespoon

lemon juice

1 teaspoon

Dijon mustard

1 tablespoon

chopped parsley, chives, tarragon or dill
Sesame Soy Sauce Dressing
1 tablespoon

canola or sunflower oil

2 tablespoons

toasted sesame oil

1 tablespoon

rice vinegar

1 tablespoon

+

1 teaspoon

lower sodium soy sauce

1

-inch piece of peeled ginger, grated (optional)
Instructions
Toss the cooked chicken breast in a large bowl with all of the veggies: cabbage, carrot, beet, celery and red onion. 
Season lightly with salt and pepper to taste.
Choose one of the dressings from the ingredient list above, either Creamy Lemon Herb dressing (traditional) or Sesame-Soy Sauce dressing.
In a small bowl, whisk together the dressing ingredients.
Toss the veggie chicken salad with the dressing of your choice. 
Add crunchy toppings like nuts and seeds.
Notes
If you're not going to eat the salad right away, keep the dressing separate from the salad and toss before eating. 
Veggie chicken salad will stay fresh for up to 5 days in the refrigerator, but the texture gets softer. 
Keywords: veggie chicken salad, vegan chicken salad, grated veggie salad