Instant Pot lemon garlic chicken breasts cook with soft, buttery potatoes and carrots for an easy one-pot meal. This is healthy home-cooked comfort food.
Here's what I love about Instant Pot Lemon Garlic Chicken Breasts with Potatoes and Carrots: The entire meal cooks in one pot, it's healthy home-cooked comfort food and I usually have leftovers.
Leftover, cooked chicken breast in my refrigerator always make me happy.
Another thing I love about this meal? Melted butter and chives. If you haven't had this combination in awhile, I highly recommend it over potatoes and carrots.
Most of the time I cook chicken thighs in my Instant Pot, because they are much harder to overcook and are a juicier, more flavorful cut of chicken. That's why I use chicken thighs in this recipe for Instant Pot chicken and white rice and for this Instant Pot chicken and brown rice recipe.
It took several tries to make chicken breasts with vegetables in my Instant Pot before I was completely happy with the results. I wanted juicy, flavorful chicken and soft, buttery potatoes and tender, bright carrots.
This recipe delivers all of those things.
Follow this recipe, and you're guaranteed a satisfying home-cooked meal for dinner tonight.

Here's how you do it:
Make Instant Pot Lemon Garlic Chicken Breasts
Pour 1 cup water in the Instant Pot
Put in the Instant Pot trivet and lay the chicken breasts on top
Season chicken breasts
Layer potatoes and carrots on top
Cook for 10 minutes on high pressure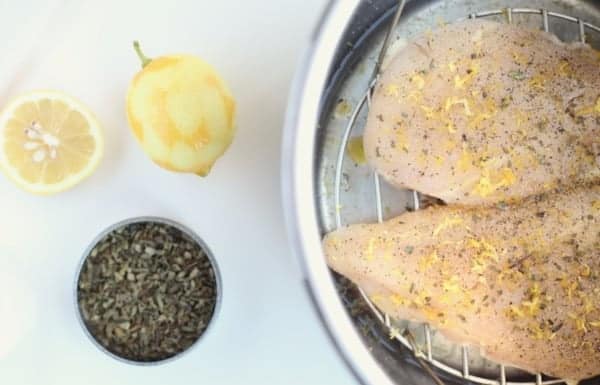 Tips for Cooking Moist and Flavorful Chicken Breasts in the Instant Pot
Buy chicken breasts that weigh no more than 8 ounces. I've found that no matter how you cook really large chicken breasts (over 8 ounces), they almost always turn out dry and flavorless. 
Cook chicken breasts on a trivet setting above water or broth. This steams the chicken breasts and helps keep the meat moist and tender.  Cooking the chicken breasts directly in liquid boils the chicken, which often makes it tough and overcooked. 
Season liberally. Don't be shy with the salt, pepper, herbs and spices! 
Let the chicken rest for 5 to 10 minutes after cooking and before slicing.
How Long Does it Take to Cook Chicken Breasts in an Instant Pot?
Check out a few recipes online and you'll see a wide range of cooking times for Instant Pot chicken breasts, within a range of 5 to 12 minutes. Confusing, right? According to the official Instant Pot booklet that came with my Instant Pot, chicken breasts (fresh, not frozen) take 8 to 10 minutes to cook in an Instant Pot.

Just remember that chicken should always be cooked to an internal temperature of 165 F.

For this recipe, I chose 10 minutes as the cooking time to ensure that all three ingredients - chicken, carrots and potatoes - are cooked to my liking.
Easy Meal Prep
Leftover cooked chicken breasts can be kept in the refrigerator for up to 5 days. As you know, cooked chicken is very handy for lunches, salads and quick dinners. To freeze cooked chicken breast, either whole or sliced, simply put the cooled chicken in a freezer ziploc bag. Seal the bag almost all the way, then squeeze out as much air as possible. To defrost frozen cooked chicken, place in the refrigerator overnight. 
More Instant Pot Dinners
Print
Instant Pot Lemon Garlic Chicken Breasts with Potatoes and Carrots
---
Author:

Prep Time:

15

Cook Time:

10

Total Time:

25 minutes

Yield:

6

servings

1

x
Description
I love this recipe for lemon garlic chicken breasts, potatoes and carrots because the entire meal cooks in the Instant Pot, making a satisfying one-pot meal.  
Total Instant Pot Cooking Time: 15 minutes to reach pressure + 10 minutes cooking time
---
1 cup

water

3

boneless, skinless chicken breasts (

6

to

8

ounces each)

3 tablespoons

olive oil 

1 ½

  teaspoon salt, plus more to taste 

¼ teaspoon

black pepper

¾ teaspoon

granulated garlic 

½ teaspoon

dried oregano
Zest of

1

small lemon (I use a microplane grater to grate off the peel)

2

pounds gold or new potatoes, cut into 1-inch pieces (peeled or unpeeled)

2

to

4

carrots, sliced into ½ to ¾-inch thick pieces (don't slice them thinner, or they'll be mushy)

1

small bunch chives, for garnishing potatoes and carrots before serving 
Butter, for flavoring potatoes and carrots before serving
---
Instructions
Pour the water into the Instant Pot. Set down the Instant Pot trivet and lay the chicken breasts on top of the trivet in a single layer. The chicken can overlap a little bit, but if you pile the chicken breasts on top of each other, the chicken won't cook as well. 
Brush or drizzle 1 tablespoon olive oil on each chicken breast. Season the chicken breasts with salt, pepper, granulated garlic, oregano and lemon zest.
Layer the potatoes and then the carrots on top of the chicken. Season lightly with salt (about ½ teaspoon). Some of the potatoes will fall over the side of the trivet, that's fine.
Secure the lid and make sure the steam release valve is set on "sealed."  Press the Manual button and program the Instant Pot to cook on high for 10 minutes. The IP will take about 15 minutes to come up to pressure. 
When the cooking time is done, turn the pressure valve to venting to instantly release the pressure. When the pressure has released completely,  remove the lid. 
Use a slotted spoon to lift the potatoes and carrots out of the Instant Pot and into a serving dish. I like to lay several thin chunks of butter on top so it melts into the potatoes and carrots.  Use kitchen shears to snip small pieces of chive over the potatoes and carrots. 
Remove the chicken and let sit for 5 to 10 minutes before slicing the chicken. Add salt to taste.
Notes
You can skip the butter if you want, but really, what is better than melted butter over potatoes?
The broth in the bottom of the Instant Pot is flavorful and tasty, so make sure to serve it with the meal.
Category:

chicken

Method:

Instant Pot

Cuisine:

American
Keywords: Instant Pot chicken breasts, Instant Pot, chicken breasts, Instant Pot potatoes and carrots