An easy recipe for Instant Pot potatoes and carrots that makes creamy, tender potatoes and perfectly cooked baby carrots.
Soft, creamy potatoes and tender carrots are such a simple and perfect side dish. Especially if you let butter melt over the top and add fresh chives or parsley.
This recipe is really simple and cooks really quickly, but I tested it many times before I was happy.
The really tricky part of cooking potatoes and carrots in a pressure cooker is that the cooking time is entirely dependent on the size of the vegetable.
This is why you'll see so many different cooking times for Instant Pot potatoes and carrots. Some Instant Pot recipes cook for 3 minutes (like this recipe), some for 5 minutes and some for as long as 10 minutes or more.
Smaller potatoes and carrots cook in a shorter amount of time. Larger chunks of potatoes and carrots take longer to cook. If you want to cook potatoes and carrots together in your Instant Pot, then you need to make sure they are pretty much the same size.
If you combine a bag of pre-cut baby carrots and add small potatoes that have been cut into quarters, then both veggies will cook perfectly in 3 minutes. Hooray!
Looking for more pressure cooker potato and carrot recipes?
Recipes like Instant Pot lemon garlic chicken breast with potatoes and carrots and Instant Pot vegetable stew are delicious examples of larger chunks of potatoes and carrots cooking together for a 10 minute cooking time. You can also make easy Instant Pot mashed potatoes (no drain).
Ingredients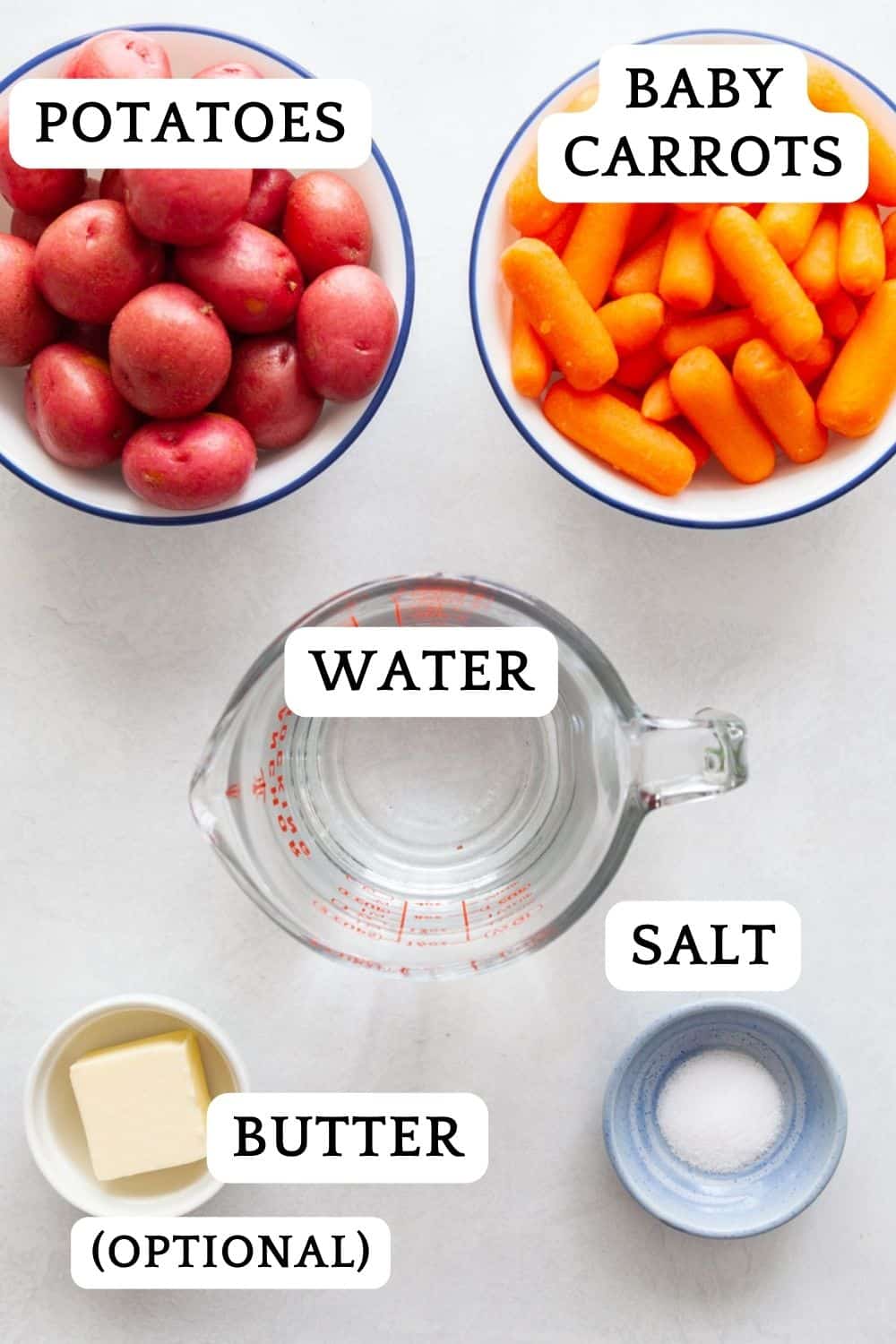 Potatoes:
You can use red, gold or purple potatoes for this recipe. Small potatoes are easiest to cut into uniform chunks because you can simply cut the potato into quarters or halves. If you only have large potatoes, then try to cut them into into 1-inch square or slightly smaller chunks. Anything larger than that won't cook in 3 minutes.
Creamer potatoes are those itsy-bitsy potatoes that aren't much bigger than a cherry. You can leave creamer potatoes whole.
Carrots: Pre-cut baby carrot are perfect for the Instant Pot because every carrot is the same size. If you're cutting whole carrots, aim for rounds that are ½-inch to ¾-inch thick.
Step-by-Step Instructions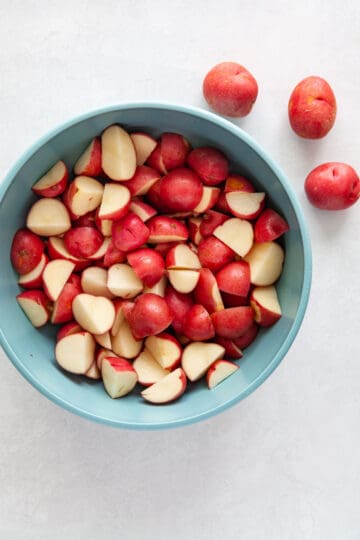 Step 1: Cut small potatoes into quarters to make uniformly sized chunks.
Step 2: Add 2 cups water to the Instant Pot. Add 1 teaspoon salt. Adding a tablespoon or two of butter is optional.
Step 3: Add baby carrots first, so they are submerged in water. Then add the potatoes. Season with ½ teaspoon salt.
Step 4: Cook 3 minutes, quick release.
Step 5: If the veggies were cooked in only salted water, first drain off the water in a colander, then transfer the cooked carrots and potatoes to a serving bowl. If they were cooked in butter + water, then transfer the flavorful broth and the veggies to a serving bowl together. Top with fresh herbs, more butter and salt as needed.
This simple side dish is really versatile and can be served with sausage, chicken, pot roast, pork butt... honestly you can serve buttery potatoes and carrots with just about anything.
Instant Pot Potatoes
When cooking potatoes alone in a pressure cooker, you can use a trivet or put the potatoes directly into water (1 or 2 cups). Putting the potatoes directly in the cooking water boils the potatoes. This method tends to make the boiled potatoes slightly watery and dilutes the flavor a little bit. Putting the potatoes above the water in a trivet steams them.
A 3-minute cooking time will only cook potatoes that are in small chunks. "Small chunks" means cutting potatoes that are about 2 to 3 inches in diameter and/or 3 to 4 inches in circumference into halves or quarters.
If you leave small potatoes whole, you will need to cook them for 6+ minutes.
When larger potatoes are cut into larger chunks, you'll want to cook the potatoes for closer to 10 minutes or so.
Remember, if the potatoes are undercooked you can always seal the lid again and cook the potatoes for another minute or two.
If you'd like to cook sweet potatoes, try this recipe for Instant Pot cubed sweet potatoes.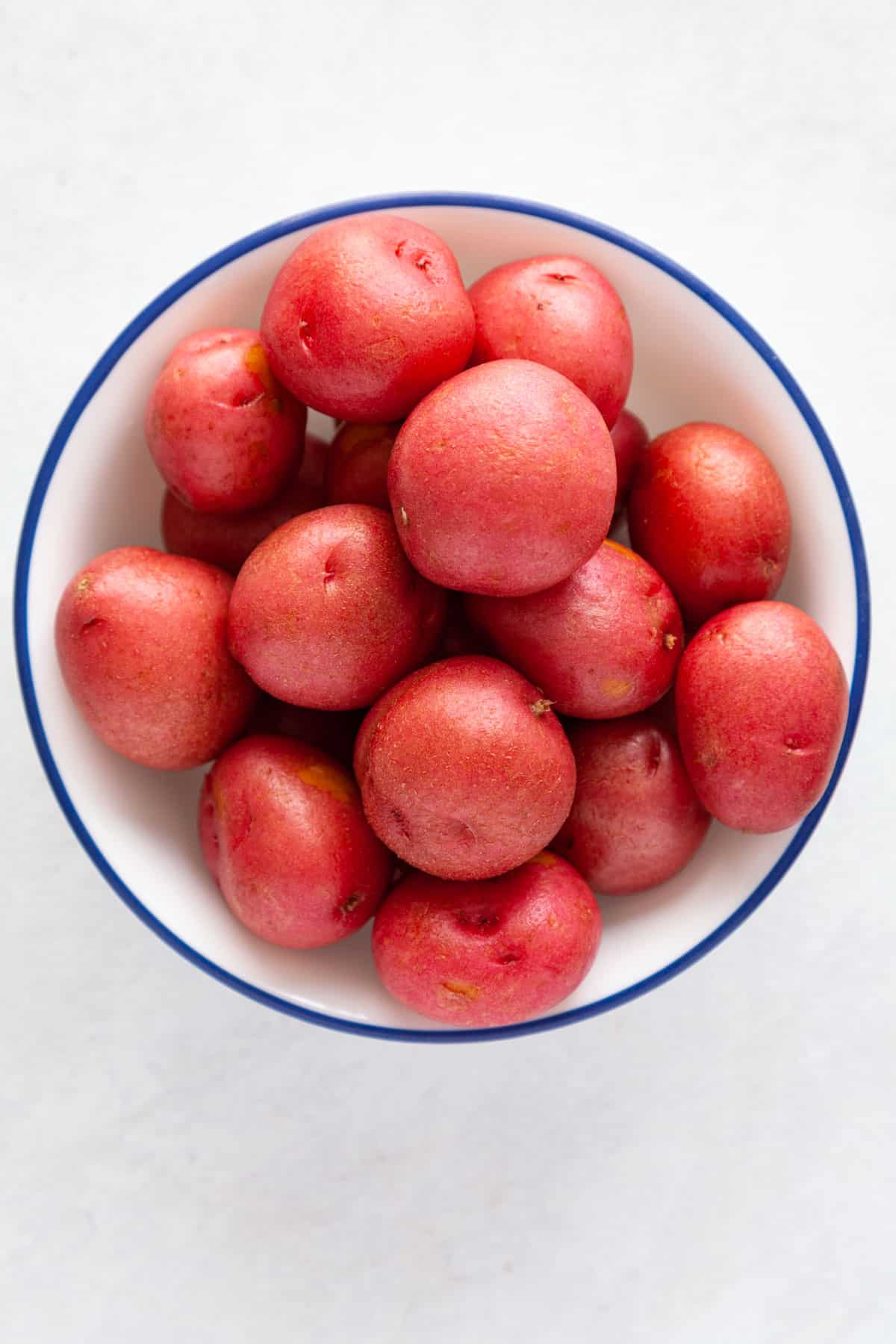 Instant Pot Carrots
Instant pot baby carrots are easy to cook because the carrots are all the same size. If you're only cooking carrots, then 2 minutes is enough if you like tender but not soft carrots. For a slightly softer baby carrot, use a 3 minute cooking time and quick release.
If you're cutting whole carrots, then ½-thick rounds will cook in 2 to 3 minutes. Or, you can cut whole carrots into 2-inch long pieces (so they mimic the size of baby carrots).
The carrots can be cooked directly in water (1 to 2 cups), which keeps them moist. Or, you can steam the carrots by placing them in a trivet above the water. Steamed pressure cooker carrots will have a slightly drier texture.
FAQ for this Recipe
Can I use a trivet for this recipe?
I don't recommend using a trivet for this recipe, which lifts the veggies out of the water. Baby carrots will be more moist and flavorful if they cook directly in the water, which is why this recipe adds them first. Then, the potatoes are layered on top to steam.

To separate the veggies from the water after they cook, gently transfer everything to a colander to drain.
Can I cook only potatoes or only carrots, instead of both?
Yes. See the sections above labeled "Instant Pot Potatoes" and "Instant Pot" carrots for specific instructions.
Can I use this recipe for Sweet Potatoes?
No, sweet potatoes have a different cooking time. Check out my recipe for Instant Pot sweet potatoes.
How should I flavor the potatoes and carrots?
Butter and fresh herbs add wonderful flavor to the cooked potatoes and carrots. You can also add lemon pepper, seasoning salt, or Italian seasoning. If you love garlic, then saute fresh garlic in olive oil on the stove and pour it over the cooked vegetables.
What should I do with leftovers?
Leftovers can be warmed in the microwave. You can also saute leftovers in a pan with garlic and olive oil.
More Instant Pot Vegetables
Does this recipe make you hungry?
SUBSCRIBE
to the Kitchen Skip newsletter
for helpful tips, easy recipes
& good conversation
Print
📖 Recipe
Instant Pot Potatoes and Carrots
An easy recipe for Instant Pot potatoes and carrots that makes creamy, tender potatoes and perfectly cooked baby carrots. 
You can serve pressure cooker carrots and potatoes as a side dish with just about anything, including pork butt, chicken and turkey meatballs. 
Total Instant Pot Cooking Time: 12 minutes to reach pressure + 3 minute cooking time + quick release
Author: Jenny - Kitchen Skip
Prep Time:

5

Cook Time:

3

Total Time:

8 minutes

Yield:

4

to

6

servings

1

x
Category:

Side Dishes

Method:

Instant Pot

Cuisine:

American

Diet:

Vegetarian
2

cups

water

1 teaspoon

salt + ½ teaspoon salt (divided)

2 tablespoons

salted butter (optional)

1

to

2

pounds small red, gold or purple potatoes*, quartered

1

to

1 ½

pounds

baby carrots
Optional: fresh herbs (chives, parsley) or dried seasoning (lemon pepper, Italian seasoning)
*small potatoes usually have a size of 2 to 3 inches in diameter and/or 3 to 4 ½ inches in circumference. See the blog post above for detailed photos and information about potato size
Instructions
First, make sure your small potatoes are cut into quarters (or halves, if the potatoes are really small). Then:
Add water and 1 teaspoon salt to the Instant Pot.
Adding 2 tablespoons of salted butter is optional. If adding butter, press the Saute button to heat the water and melt the butter.
Add the baby carrots. The carrots are added first so that they simmer in the water and stay moist.
Layer the potato pieces on top of the carrots. The potatoes are added second so that they are above the water and steam instead of boil.
Season the potatoes with ½ teaspoon of salt. Add other seasonings if you want, like Italian seasoning or lemon pepper.
Seal the lid and cook for 3 minutes on high pressure.
When the cooking time is done, do a quick release of the pressure.
Pour the carrots and potatoes into a colander to drain off the water UNLESS you added butter, in which case you can serve the veggies in the flavorful broth.
Add more butter and salt to taste. Fresh herbs like chives and parsley are also great!
Notes
The cooked potatoes and carrots can be stored in the refrigerator for up to 5 days. You can reheat the veggies in the microwave or in a saute pan over medium heat with a drizzle of oil. 
 Remember, the right cooking time is entirely dependent on the size of the potatoes and carrots. If the potatoes and carrots aren't soft enough after 3 minutes, you can always seal the lid again and cook them for another minute or two.
Keywords: instant pot potatoes and carrots, instant pot potatoes, instant pot carrots
Does this recipe make you hungry?
SUBSCRIBE
to the Kitchen Skip newsletter
for helpful tips, easy recipes
& good conversation