Turkey ricotta meatballs are amazing with or without sauce. The secret ingredient is ricotta, which makes the meatballs tender and flavorful.
Everyone needs a simple and delicious meatball recipe in their life. As a busy parent, I cannot abide by meatball recipes with ten ingredients or lots of mincing and chopping. I refuse to saute onions or let the meatball mixture chill for 30 minutes before baking.
Which is why I love these turkey ricotta meatballs so much. These meatballs are made from just 5 ingredients that can quickly be rolled into balls, baked in the oven and served.
These turkey meatballs are tender and flavorful and can be served with everything from pasta to mashed potatoes to rice. They're easy for little kids to eat and also quite good served cold in school lunches.
Looking for a cheese-free turkey meatball recipe? Try baked turkey meatballs with zucchini.
Serving Suggestions
These protein-packed turkey ricotta meatballs can be the star of many different dinners.
Serve on the side with Barley with eggs & spinach
Pasta with red sauce or pesto
Mashed potatoes and gravy
Rice
Grain bowls (try the meatballs in a bowl of quinoa)
Roasted vegetables (roast on sheet pans while the meatballs bake)
School lunches (served cold, with ketchup for dipping)
Ingredients
Are breadcrumbs necessary?
This turkey meatball recipe is very moist and needs breadcrumbs to help the meatballs hold their shape. Breadcrumbs also help keep the texture soft and smooth instead of tough and lumpy.
Without breadcrumbs, these meatballs will be harder to roll into balls and they will shrink slightly in the oven instead of holding their shape. They'll come out slightly flat on the bottom too. That being said, they'll still taste good!
Step-by-step Instructions
STEP 1: Whisk together ricotta, egg and panko
STEP 2: Combine ricotta mixture with ground turkey, salt and garlic salt. Mix the turkey and ricotta gently but really well to combine. Use a fork or your hands to mix.

STEP 3: Roll into 16 to 18 meatballs. Bake at 425 F for about 20 minutes.
TIP: The raw meat mixture will be very moist. Don't worry about forming perfectly shaped balls. If your hands are wet, the meat will be easier to roll and less likely to stick to your hands. I roll the meatballs next to the kitchen sink, so I can keep my hands damp.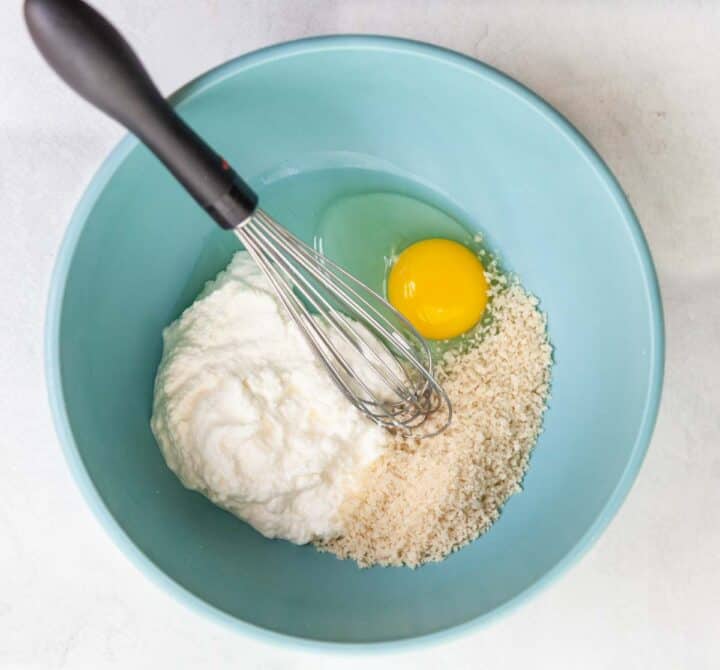 Detailed ingredient list and directions located in the recipe card below
What keeps these meatballs moist?
Just like these pork meatballs, the secret ingredient that keeps these turkey meatballs moist and flavorful is ricotta.
You'll see a lot of meatball recipes that add milk or parmesan cheese for the same reason - dairy adds fat and moisture.
You can also use ricotta to make Vesuvio pizza and Crockpot lasagna. If necessary, you can also freeze leftover ricotta. Here's my helpful guide "Can You Freeze Ricotta Cheese?"
Temperature of cooked meatballs
Turkey meatballs should reach 165 F in the middle of the meatball. I always use an instant read thermometer when making meatballs to make sure they're cooked all the way through.
I've found that 20 minutes is a reliably good cooking time for turkey meatballs that are about 1 ½-inches round.
Storage, Freezing and reheating
This recipe makes about 16 to 18 meatballs. The meatballs will stay fresh in the refrigerator for up to 5 days. You can eat them cold, or warm the turkey ricotta meatballs briefly in the microwave.
Doubling this recipe is a great idea, so that you can freeze some meatballs for a meal later in the month. To freeze, place the cooked, cooled meatballs in a Ziploc freezer bag. Remove as much air as possible from the bag.
Frozen cooked meatballs can be reheated either frozen or thawed. Frozen meatballs will just take a little longer to reheat. If you want to thaw the meatballs, put them in the refrigerator overnight.
To reheat (either frozen or thawed) put the meatballs in the oven at 375 degrees in a covered dish until warmed through (15 to 20 minutes, slightly longer for frozen meatballs). You can also simmer the meatballs gently in a covered skillet with tomato sauce or gravy with until warmed through.
Does this recipe make you hungry?
SUBSCRIBE
to the Kitchen Skip newsletter
for helpful tips, easy recipes
& good conversation
Recipes for Pasta Lovers
Print
📖 Recipe
Turkey Meatballs
Tender and flavorful turkey meatballs that are amazing with or without sauce. The secret ingredient is ricotta, which prevents the meatballs from drying out. 
Serve these turkey meatballs with pasta, mashed potatoes, rice or roasted vegetables. I also like to pack them in lunchboxes.
Author:
Prep Time:

15

Cook Time:

20

Total Time:

35 minutes

Yield:

16

to

18

meatballs

1

x
Category:

Chicken and Turkey

Method:

Bake

Cuisine:

American
1

egg

½

cup

ricotta

½

cup

panko

1 ¼

pounds

(20 ounces) ground turkey (I use 93% lean, 7% fat)

¾ teaspoon

salt

¼ teaspoon

garlic powder
Optional:

¼

cup

finely chopped herbs, like parsley or basil
Instructions
Preheat oven to 425 F
Lightly grease two large, rimmed baking sheets or cover with parchment, foil or silpat.
In a large bowl, whisk together the egg, ricotta and panko until blended.
Add the ground turkey and season with salt and garlic powder. Add the herbs, if using.
Use your hands to gently mix everything together, until the turkey and the ricotta are well combined.
Roll and shape the meatballs with your hands into approximately 18 equally sized balls that are about 1 ½ inches. The mixture will be very moist and sticky. Don't worry too much about making the meatballs perfectly round.
Tip: If your hands are slightly wet, the meatballs will be less sticky in your hands and easier to roll. I usually roll the meatballs next to the sink, with the faucet barely running so I can wet my hands a few times.
Place the meatballs on the baking sheets, evenly spaced out.
Bake 18 to 20 minutes, turning the meatballs halfway through the cooking time so both sides brown. Use an instant read thermometer to make sure the center of the meatballs reach 165 F. 
Notes
This turkey meatball recipe is very moist and turns out the best if breadcrumbs (panko) are added to hold the meatballs together.
Keywords: turkey ricotta meatballs, baked turkey meatballs, turkey meatballs