Roasted asparagus is a delicious and easy side dish that is a perfect addition to any meal. The most flavorful way to cook asparagus the oven. It's both tender and crispy, with a rich roasted flavor. 
This asparagus recipe shows you everything you need to know about how to cook asparagus. Asparagus cooks quickly, making it a healthy side dish that's easy to get on the table for family dinner.
Asparagus pairs really well with fish, like salmon and cod, and can also be served with chicken, pasta and many other dishes. Try it with Mediterranean grilled chicken or baked panko cod.  
Did you know that asparagus can also be cooked in your Instant Pot? Try balsamic glazed Instant Pot asparagus.
Jump to:
How to Pick the Best Asparagus
Choose firm (not droopy) stalks. The tips should be tight, not loose and separated.
Some stalks are very skinny, others will be quite large and fat. Which size you choose to buy is a matter of personal preference. Fatter stalks tend to hold their shape after being cooked, while skinny stalks will become soft and limp.
How to Trim and Prep Asparagus for Roasting
Asparagus should always be washed. Try filling a large bowl with water, then hold a small bunch of spears in a bundle and swish the tips in the water to release any sand nor dirt. Then, rinse briefly under running water.
After washing, make sure to pat the asparagus dry.
The bottom part of an asparagus spear is often tough and chewy. For this reason, it's best to trim off the bottom inch or so.
There are two ways to trim the bottom of asparagus: snapping the bottom off with your hands or cutting the bottom off with a knife.
Snapping off the bottom is easy and fast, because the spears have a natural breaking point. However, sometimes you end up losing more of the spear than you need to.
To make asparagus less stringy, you can use a vegetable peeler to peel a thin layer from the bottom couple inches. This removes the tough outer skin and makes asparagus less stringy and chewy.
Trim asparagus by snapping off the bottom.
Shave a thin layer off of asparagus to make it less stringy
How to Cook Asparagus
Asparagus can be oven-roasted, blanched or boiled, steamed, grilled or sautéed.
The recipe card at the bottom of this post has detailed instructions and ingredients measurements for oven-roasting asparagus.
Step 1: After trimming off the bottom, toss asparagus in a light coating of oil. Season with salt and pepper. Garlic powder is optional. Space the spears out on the sheet-pan so it's not crowded.
Step 2: Roast at 425F for 9 to 15 minutes, depending on how thick the spears are. Shake the pan once to flip the spears while they roast.
Helpful Tip: If you're grilling or roasting, you don't need as much oil as you think. Adding too much oil makes asparagus limp and oily. Try adding just 1 to 2 teaspoon of olive oil per pound of asparagus. Drizzle oil over the spears and then toss really well to coat each spear with a thin layer of olive oil before roasting.
Grilled: Use a grill basket or foil to keep the spears from falling through the grates. Lightly oil the asparagus and grill for 6 to 10 minutes until tender and nicely browned.
Boiled: Put the spears in a pot or shallow skillet with just enough water to cover, plus a generous pinch of salt. Gently simmer until just tender and still bright green, about 5 to 7 minutes depending on how thick the stalks are.
Blanched: Boil for just 2 to 3 minutes in salty water, then plunge the spears into a bowl of ice water to immediately cool.
Sautéed: Cut the spears into 2-inch pieces. Saute in oil or butter for 3 to 6 minutes until gender.
Do I Need to Blanch the Asparagus?
Blanching is a cooking method that involves boiling vegetables for just a few minutes until they're just barely tender, then plunging the vegetables into ice water to stop the cooking process. Blanching is used to give vegetables a crisp-tender texture and preserve the bright color.
To blanch asparagus, bring a pot of salted water to a boil. Or, you can use a wide saucepan filled with 1-2 inches of water. Add the asparagus spears, so they are completely submerged in water. Boil for just 2 to 3 minutes, then plunge the spears into a bowl of ice water to immediately cool.
You can blanch asparagus as a cooking method on its own, if you like fresh, bright green spears without oil. Blanched asparagus can be used in dishes like salad, omelettes and pasta. It can also be served with dip on a veggie platter.
Some cooks like to blanch asparagus before roasting or grilling the spears. Blanching cooks the asparagus, then you just need to roast or grill it for a few minutes to brown the outside. If you choose this method, be very careful not to overcook the asparagus once it's in the oven or on the grill.
What to Season Asparagus With
You don't have to choose just one of these extra flavors to season asparagus. Combining seasoning ingredients like parmesan and lemon makes asparagus extra-flavorful.
Parmesan: Add grated parmesan either before or after the asparagus is cooked. Adding it before cooking will melt the cheese, making it slightly crispy and salty. Adding it after will dust the stalks with a light, flavorful layer of parmensan.
For a vegan option, sprinkle nutritional yeast over roasted asparagus.
Feta or goat cheese: These cheeses add creamy, salty flavor to asparagus. Scatter crumbles after the asparagus is cooked.
Breadcrumbs: Panko adds delicious crunch. The best method is to toast the panko separately with olive oil or butter in a saute pan until light brown, and then sprinkle it over the cooked spears. If you try to roast asparagus in the oven with panko, the breadcrumbs might burn before the asparagus is ready.
For extra deliciousness, sprinkle parmesan and toasted panko on top!
Nuts: Toasted nuts add crunchy, nutty flavor. Slivered or sliced almonds, chopped walnuts and pine nuts are especially good.
Garlic: Saute fresh garlic with olive oil or butter and spoon it over cooked asparagus. Or, season the spears with garlic powder before cooking.
Mustard vinaigrette: Roast a large batch of asparagus then serve it at room temperature, drizzled with mustard vinaigrette. Try dill and mustard vinaigrette or a classic mustard vinaigrette. You can also drizzle it with balsamic vinegar.
Mayonnaise or dip: Dip spears of asparagus into a creamy dressing/dip, like Green Goddess or honey mustard yogurt dressing. You can also dip spears into mayonnaise that is spiked with a squeeze of lemon.
Lemon: There are several ways to add bright lemon flavor. Lay slices of lemon over or under asparagus as it roasts. Or, grate lemon zests over asparagus before or after it cooks. Or, squeeze a wedge of lemon over the cooked spears.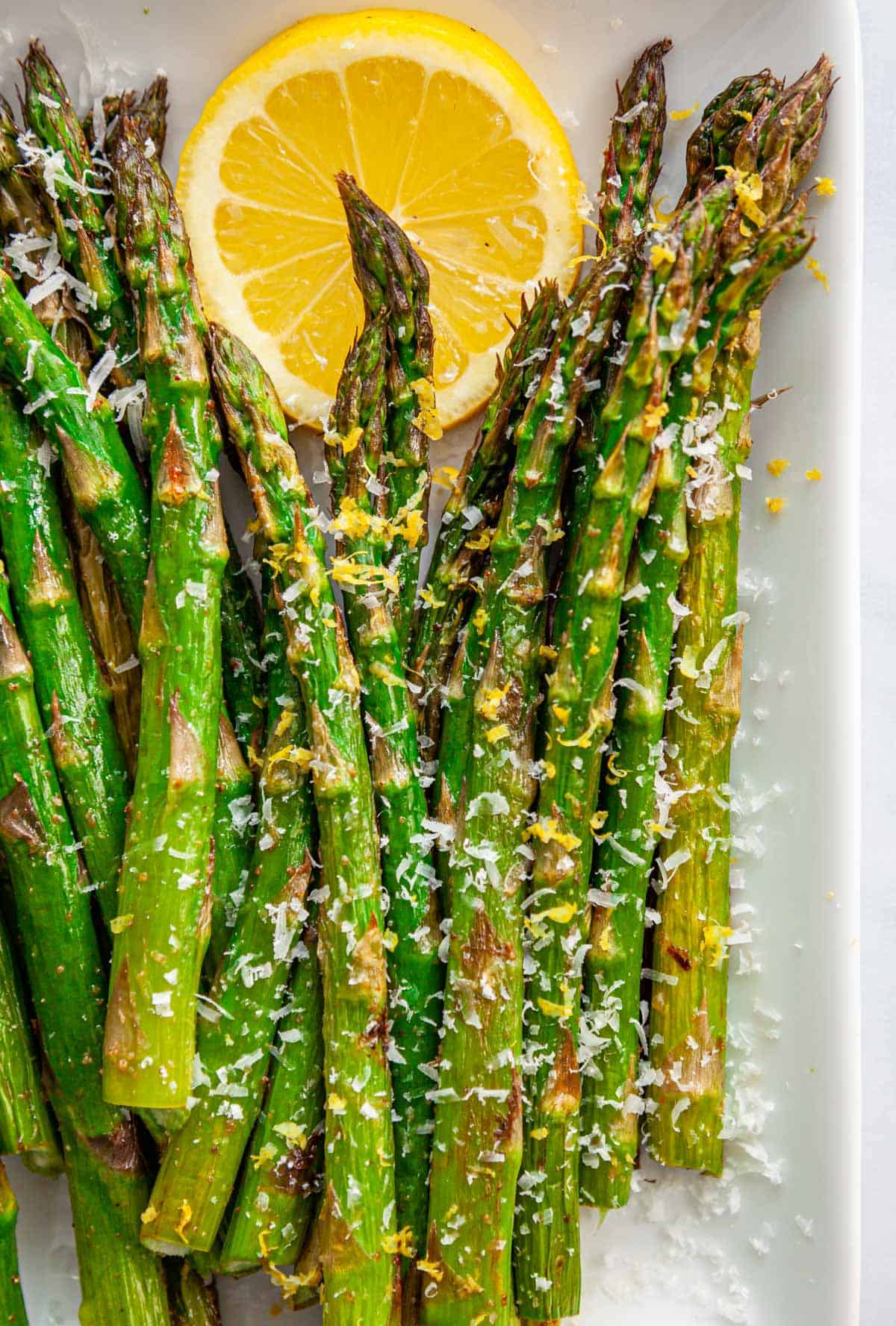 Storage Instructions
Asparagus can stay fresh for up to 5 days in your refrigerator. After that, it's likely to start getting limp or a bit dry. You can extend the life of raw asparagus by wrapping the bottom of the stalks in a damp paper towel or sitting it upright in a jar with 1 to 2 inches of water.
Cooked asparagus tastes best if eaten within 2 days, although it stays fresh up to five days. The texture will get softer if it's in the fridge too long. Even so, it can be a healthy choice when you meal prep vegetables.
FAQs
Why is my asparagus mushy?
Asparagus will get mushy when it's overcooked or when too much oil has been added to the asparagus.
Why is my asparagus stringy?
The outer peel (skin) makes asparagus stringy. To avoid this, try peeling a thin layer from asparagus spears using a vegetable peeler.
How do I know when it's perfectly cooked?
Asparagus should be tender but not mushy. Try poking the tip of knife into the spear; it should go in easily with a little bit of resistance.
What is the best time of year for asparagus?
Depending on where you live, asparagus season stretches from February to June. In many climates, asparagus is thought of as a spring vegetable. However, it's possible to buy asparagus year-round in grocery stores because it's grown in hothouses.
What is white asparagus?
White asparagus is grown underground to prevent it from turning green. Without sunlight, there is no photosynthesis or development of chlorophyll, which turns the spears green. White asparagus can be cooked the same way as green.
Can I use the convection setting on my oven to cook it?
Cooking asparagus in a convection oven makes the spears slightly more browned and the tips slightly crispier than if cooked in a regular oven. Overall, the difference isn't all that noticeable.
What to Serve with This Recipe
Does this recipe make you hungry?
SUBSCRIBE
to the Kitchen Skip newsletter
for helpful tips, easy recipes
& good conversation
Print
📖 Recipe
Oven Roasted Asparagus Recipe
There are many ways to cook asparagus, but the most flavorful method is roasting in the oven. It's tender and crispy, with a rich roasted flavor. 
This is a simple, flavor recipe for oven roasted asparagus. If you'd like to add more seasonings, there are many great ideas in the blog section above " What to Season Asparagus With." 
Roasted asparagus is a delicious and easy side dish that is a perfect addition to any meal. Try it with grilled Mediterranean chicken , pan-seared shrimp, or baked panko cod.
Author:
Prep Time:

5 minutes

Cook Time:

12 minutes

Total Time:

17 minutes

Yield:

2

to

4

servings

1

x
Category:

side dishes

Method:

roasting

Cuisine:

American

Diet:

Vegetarian
1

pound

of asparagus, trimmed

2 teaspoons

olive oil or vegetable oil

¼ teaspoon

garlic powder
Light sprinkle of salt (about ⅛ teaspoon)
Light sprinkle of black pepper (optional)
Instructions
Heat oven to 425F
Put the asparagus on a sheet pan and drizzle with olive oil. Use your hands to gently toss the asparagus really well, so that each spear is coasted in oil. Make sure the tips are coated! You can add more oil if you want, but don't add too much or the asparagus will get limp and oily as it cooks.
Season with garlic powder and salt.  
Spread the spears out so there is a little bit of space between each one. This helps the spears get crispier. 
Roast for 9 to 12 minutes, depending on the size of the spears. Shake the pan once while roasting, to move the spears around.
Skinny spears take less time to cook and fat spears might even take up to 15 minutes. You know asparagus is perfectly roasted when it's lightly browned, slightly crispy at the tips and has a tender but not mushy texture when pierced with the tip of a knife. 
Notes
To trim asparagus, you can use one of two methods:  snapping the bottom off with your hands or cutting the bottom off with a knife. Snapping off the bottom of the spears is easy and fast, because the spears have a natural breaking point. If using a knife, cut off the bottom 1 to 2 inches. 
Keywords: Easy Oven Roasted Asparagus Recipe, roasted asparagus