These pork and ricotta meatballs turn out perfectly every time. Tender and flavorful and absolutely perfect for spaghetti and meatball night.
I've always wanted a perfect meatball recipe, one that becomes a family favorite and turns spaghetti and meatball night into a classic family dinner. I didn't grow up with an Italian grandmother who could pass down a recipe (my grandmothers were of the German Midwestern variety) so when it came to meatballs, I was on my own.
In my quest for the perfect meatball, I've rolled many pounds of raw meat into many meatballs over the years but I've never found a recipe that was a keeper. Until now.
Hat's off to you, Kay Chun, for your Pork and Ricotta meatball recipe, which finally allowed me to cross "find perfect meatball" off my list.
What makes these meatballs so perfect?
Flavorful
Moist and tender
Easy to make
5 ingredients, 1 bowl
Turn out perfect every time!
What more can you ask of a meatball?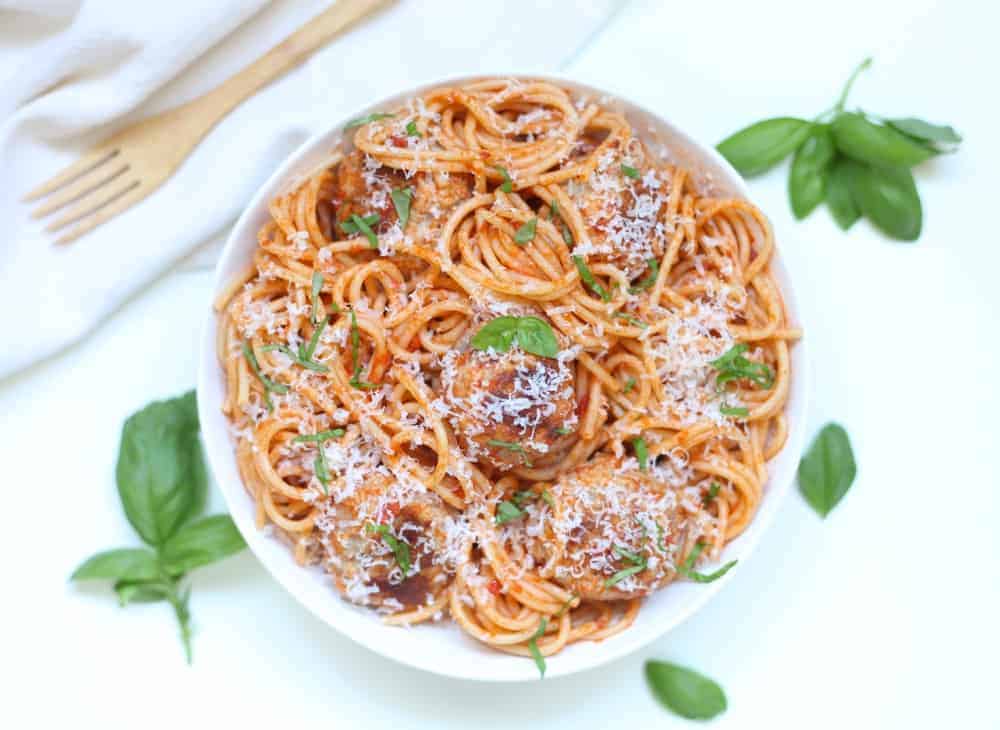 Make a Big Batch
My philosophy is that if you're going to roll meatballs, you might as well roll a lot of them at once. With that in mind, this recipe makes at least 24 meatballs so that you can serve one dinner and keep the rest in the freezer for later (I'd even seriously consider doubling the recipe, so you can stock your freezer with even more meatballs!)
Although I love these meatballs with pasta and red sauce, the versatile flavor means they taste great with mashed potatoes too. Or rice, or another type of grain, like farro or quinoa.
You can change the flavor by adding fresh herbs or spices or garlic, although I always make them plain and simple because that's how my kids like them. My husband and I love them when they're plain and simple, too.
Kay Chun's recipe adds both ricotta and grated parmesan to the meatballs; I took the parmesan out because honestly, I don't think the meatballs need it for flavor.
I prefer to grate fresh parmesan over my cooked meatballs and pasta instead.

She also suggests using ground chicken for a slightly different flavor. If that sounds good, then you should definitely try my turkey and ricotta meatballs.
Easy Meal Prep
This recipe makes at least 24 pork and ricotta meatballs, so unless you're feeding a big group you will have leftovers.
The meatballs will stay fresh in the refrigerator for up to 5 days. Pack the meatballs in lunches with cold pasta or with a grain like farro or quinoa.
Freeze some of the cooked, cooled meatballs for another meal. Meatballs can be reheated either frozen or thawed. Frozen meatballs will just take a little longer to reheat. To reheat, put the meatballs in the oven, covered with foil, at 375 degrees until warmed through (20 minutes or so) or simmer gently in tomato sauce or gravy until warmed through.
More Family Dinners You'll Love
Print
📖 Recipe
Pork and Ricotta Meatballs
These pork and ricotta meatballs turn out perfectly every time. Kay Chun describes these as "all-purpose" meatballs and she's right, they go with just about anything.
I usually serve them with pasta and red sauce, but these meatballs are also great with mashed potatoes, rice, grains or roasted vegetables. 
Prep Time:

20

Cook Time:

18 minutes

Total Time:

38 minutes

Yield:

24

meatballs

1

x
Category:

meatballs

Method:

baking

Cuisine:

American
2

large eggs

1

cup

/8

ounces

whole-milk ricotta

¾

cup

plain dry bread crumbs (I use panko)

2

pounds

ground pork

1 teaspoon

salt
Instructions
Heat oven to 425 degrees.
Lightly grease two large, rimmed baking sheets or cover with parchment.
In a large bowl, whisk the eggs. Mix in the ricotta and breadcrumbs. Make sure the egg and ricotta are completely blended together.
Add the ground pork and salt. Use your hands to gently mix everything together, until the meat and the ricotta mixture are well combined. 
Shape the meatballs into 24 to 30 equally sized balls.
My meatball making process: I put mounds of ground meat on the baking sheets (12 to 15 mounds on each baking sheet, spaced at least 1 inch apart). Then I roll all of the mounds into balls at once. The mixture will be moist and sticky. Don't worry too much about making the meatballs perfectly round.

 

Bake 18 to 20 minutes until cooked through (165 degrees in the middle). They will remain a little bit pink on the inside. 
If you want the meatballs to brown on each side, flip them over halfway through the cooking time.
The meatballs can be served immediately, or kept in the refrigerator for  up to 5 days. Often, I freeze half of the meatballs for dinner later in the month. 
Notes
You can make smaller meatballs if you like. For smaller meatballs, set the cooking timer for 12 minutes then check to see if they're ready.  (at least 165 degrees in the middle).
Can You Freeze Leftover Ricotta Cheese? Read this helpful guide to find out. 
Keywords: pork, meatballs, pasta