An easy tofu marinade with just 4 ingredients and tons of flavor. No more bland tofu! Cook the marinated tofu in a skillet or bake it in the oven.
This easy tofu marinade is my go-to tofu recipe, one that I make over and over again. The marinade is versatile, flavorful and made with just 4 ingredients.
Best of all, this marinade gives tofu tons of flavor. No more bland tofu, hooray!
Serve the tofu with white or brown rice, noodles, rice noodles, or stir-fried or roasted vegetables.
You can add also tofu to any of these recipes:
Why This Recipe Works
4 simple ingredients
No need to press the tofu beforehand
Marinate for just 15 minutes, or longer if you have time
The marinade doubles a sauce
4-Ingredient Marinade
I've been using this tofu marinade for so long that I can't remember where it originally came from (maybe Sam Sifton at the New York Times?) I love the sweet/salty/tangy flavor and I also love how easy it is. You only have to look at this recipe once to commit it to memory.
2 Tablespoons soy sauce
2 Tablespoons oil (sunflower, olive oil, or sesame oil)
2 Tablespoons balsamic vinegar
2 Tablespoons maple syrup
Step-by-Step Instructions
This easy weeknight tofu recipe involves just 3 steps:
Marinate the tofu briefly
Pan sear the tofu in a little bit of oil
Add the marinade to the pan and simmer briefly, creating a sauce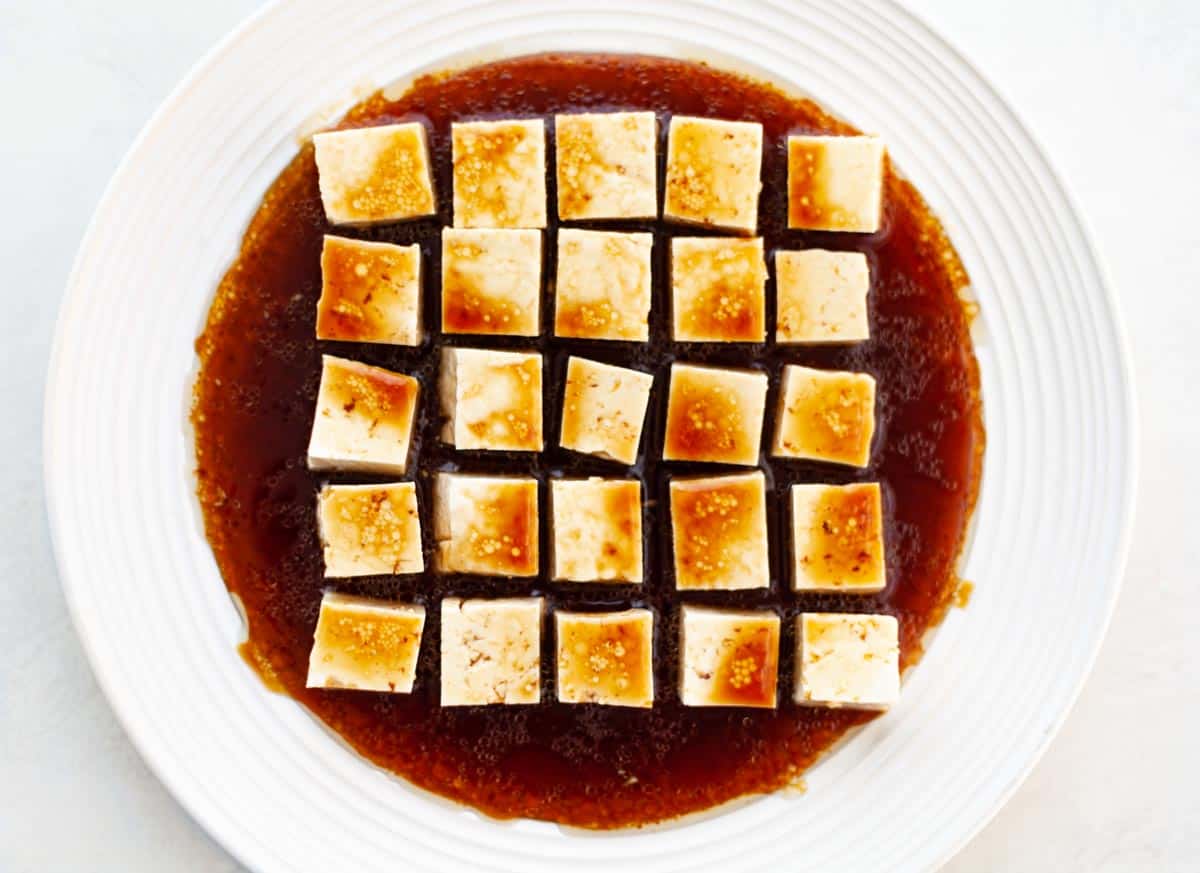 Pan-Seared or Oven-Baked Tofu
Usually, I pan sear this tofu in a skillet. It only takes a few minutes. The sugars in the marinade caramelize quickly, giving the tofu a nicely browned exterior.
You can also bake the tofu, if you prefer an easy hands-off cooking method. Baking the tofu takes about 25 minutes. The tofu doesn't get as crispy on the outside when it's baked.
Helpful Tips
Use firm or extra-firm tofu for this recipe
Here's an quick video that shows how to cut tofu into squares or cutlets
The trick to browning tofu and getting it crispy on the outside is leaving it alone in the pan. Cook tofu in a non-stick skillet with a drizzle of oil over medium or medium-high heat. Let the pieces of tofu cook for 3 minutes without touching or moving them. Then flip the pieces and cook for another 2 minutes or so.
For this recipe, keep the heat on medium. Soy sauce and maple syrup will burn if the heat gets too high.
Remove the tofu from the marinade before cooking it. Cooking the tofu in the marinade will just make it soggy. Once the tofu is cooked, you can add the remaining marinade to the pan to make a quick sauce.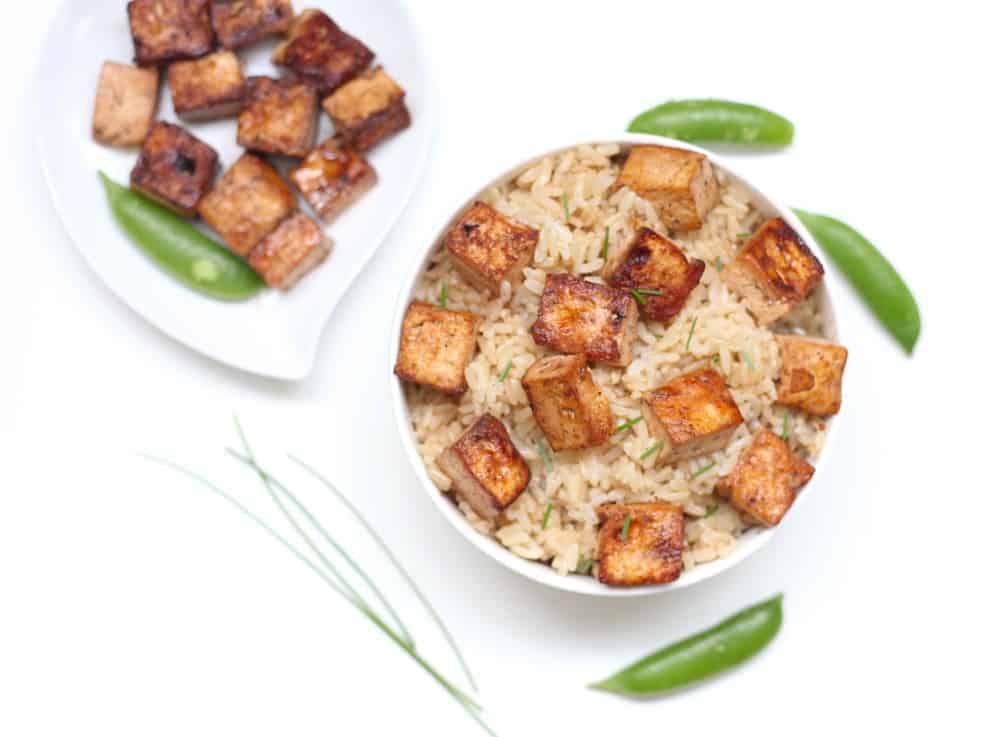 Does this recipe make you hungry?
SUBSCRIBE
to the Kitchen Skip newsletter
for helpful tips and easy recipes
Tofu FAQ
I always keep tofu in the back of my refrigerator. It stays fresh for a long time and it's perfect for those nights when you're almost out of groceries and don't know what to make for dinner.
What Type of Tofu Should I Buy?
For a recipe like this one, buy firm, extra-firm or super-firm tofu. The more firm it is, the lower the moisture content. It's easy to slice and is easy to bake or pan fry.

Medium or "regular" tofu (often just labeled as "tofu") is fairly firm and can be sliced. It has a more spongey texture that absorbs flavor well. It's good for dishes that braise tofu in a sauce.

Silken tofu has a high moisture content and custardy texture. It's often added to smoothies, blended into sauces, added to soup or used in desserts.


What Does Pressing Tofu Mean?
Pressing tofu means pressing the moisture out of the tofu so that it fries up crispier, browns better and isn't so soggy. You can buy a tofu press to do this, but most home cooks just wrap the tofu in towels and press the moisture out by placing something heavy on top of the tofu (like a plate with cans on it).

In this recipe, I skip that step. I use firm or extra-firm tofu, which naturally has less moisture. Also, since the tofu is marinating in liquid, there's no point to pressing the tofu beforehand.

If you're not marinating the tofu, then it's a good idea to press the tofu before cooking it (if you have time). My recipe for tofu schnitzel has easy step-by-step photos that show how to press moisture from tofu.
How To Make Tofu Crispy?
The trick to making tofu crispy is leaving it alone in the pan. Use a non-stick skillet over medium or medium-high heat with a light layer of oil. Cook the tofu for 3 minutes without moving it at all. Then flip the tofu and cook 2 to 3 minutes more.
Can You Eat Raw Tofu?
Yes. Tofu can be eaten raw. Cooking tofu adds flavor, but isn't necessary before eating it. You can add raw tofu to smoothies or salads or eat uncooked tofu in a flavorful sauce or marinade.
Does Tofu Go Bad?
If kept in the sealed container from the store, tofu stays fresh for months. Just keep on eye on the expiration date. Once taken out of the sealed container, it should be eaten within 3 to 5 days. If tofu has gone bad, it will have a yellow-ish color and won't smell fresh. It might also have a sour flavor.
Does Tofu Have Gluten?
According to the National Celiac Association, tofu is gluten-free. Tofu is made from soy, which is naturally gluten-free.

However, if the tofu is flavored with soy sauce (like in this recipe), keep in mind that soy sauce is not gluten-free. Tamari is a good gluten-free replacement for soy sauce.
Can I Freeze Tofu?
Yes, tofu can be frozen for several months. It's best to freeze the tofu with no liquid. You can freeze the entire block, slices or cubes in an airtight container or freezer bag. Defrost in the refrigerator.

Some cooks say that freezing tofu (even if just overnight) is an easy way to remove moisture from the tofu. It also changes the texture, so the tofu is less soggy and absorbs flavor better. When the tofu defrosts, you can immediately cook it without having to press moisture out of the tofu. I haven't tried this yet, but will let you know when I do!
More Easy Weeknight Dinners
Print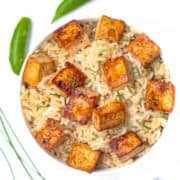 Easy Weeknight Tofu Marinade
---
Author:

Total Time:

26 minutes

Yield:

4

servings

1

x

Diet:

Vegetarian
Description
This easy tofu marinade is made with just 4 ingredients and gives tofu amazing flavor. I prefer to cook the marinated tofu in a skillet because the flavors become more caramelized, but for a more hands-off method you can also bake it in the oven.
I often serve this tofu over rice with simple veggies on the side, like steamed broccoli, raw snap peas or sauteed baby spinach. Don't forget frozen egg rolls to make it a full dinner!
This recipe was originally published July 2019, and updated on July 20, 2021
---
14

to

16

ounces

extra-firm or firm tofu

2 tablespoons

soy sauce

2 tablespoons

oil (sunflower, sesame, avocado or olive oil)

2 tablespoons

balsamic vinegar

2 tablespoons

maple syrup
---
Instructions
Place the block of tofu in your hands and give it a few gentle squeezes to release some moisture (a little bit of water will squeeze out). 
Slice tofu into small rectangles or squares about ½-inch thick (see the blog post above for a link to a "how to slice tofu" video) 
Lay the tofu pieces out on a rimmed plate or a in a flat dish (just large enough to fit the tofu in one layer)
Whisk together soy sauce, oil, balsamic vinegar and maple syrup.
Pour the marinade over the tofu.
Marinate for at least 15 minutes.  If you have time, flip the tofu once while it marinates. I often marinate the tofu and then let it sit on the counter while I prep the rest of dinner.
The tofu can be pan-seared or baked.
To Pan-Sear the Tofu: Use a wide non-stick skillet (12-inch), so the tofu isn't crowded. Heat the skillet over medium and add a drizzle of oil. Use tongs or a slotted spoon to take the tofu out of the marinade and space it evenly in the skillet (watch out for oil splattering). Cook the tofu for 3 minutes without turning or moving it. Not moving the tofu is key for getting it a little crispy. After 3 minutes, use a wide spatula or tongs to flip the tofu and cook 2 to 3 minutes more. The less you stir and flip the tofu, the more browned and crispy it will get. When the tofu is done searing, pour the remaining marinade over the tofu and let it simmer for just a few minutes until it thickens. Remove the tofu and sauce from the pan before it begins to burn. 
To Bake the Tofu: Preheat the oven to 400 F. Cover a rimmed sheet pan with parchment paper. Use tongs or a slotted spoon to take the tofu out of the marinade and space it evenly out on the sheet pan. Bake the tofu for about 25 minutes, flipping once, until browned and slightly crispy on the outside. Use the remaining marinade as a sauce to serve with the tofu.
Notes
Tofu recipes often call for pressing the liquid out of tofu by placing it under a heavy weight. I don't bother for this recipe, since I'm submerging the tofu in a liquid marinade. There's no point in pressing the moisture out, only to add moisture back in. Also, I make this recipe on busy nights when I don't want to bother pressing the tofu!
Taking the tofu out of the marinade to cook it is important. Don't pour the marinade into the pan with the tofu at the beginning of the cooking process. The marinade will just burn onto the pan and also make the tofu soggy. 
I mostly use this marinade with tofu, but it can also be used for chicken, pork, or beef.
Add even more flavor to this marinade by adding grated or finely chopped ginger and finely chopped garlic.
Prep Time:

20

Cook Time:

6 minutes

Category:

Vegetarian

Method:

saute or stir-fry

Cuisine:

Asian
Keywords: tofu, easy tofu marinade, baked tofu, skillet tofu,