An incredibly quick and easy soup that combines Instant Pot Pho broth with ramen noodles. No prep work, 7 ingredients and just 8 minutes in your pressure cooker!
Is this pho with ramen noodles?
Or ramen with pho broth?
To be honest, I'm not sure. But one thing I do know is that my kids are crazy about this soup right now.
They love the Vietnamese-inspired broth and slurping the long ramen noodles out of their bowl. I love the fragrant, flavorful broth too AND I love that this is an incredibly quick and easy dinner.
When I say "quick and easy" I'm not exaggerating. No prep work! Just combine 7 ingredients in your pressure cooker, cook on high pressure for 8 minutes, then add noodles.
So easy!
Looking for more fast, easy dinners? Try salmon sushi rice bowls!
What is Pho?
Vietnamese Pho is a richly flavorful soup that's usually the result of a longer ingredient list - including beef bones or a whole chicken - and long, slow simmering on the stove. It's served with rice noodles and often thinly sliced meat or shredded chicken, bean sprouts and fresh herbs.
Andrea Nguyen writes about the History of Pho and has both a pho cookbook and several authentic pho recipes on her blog, Viet World Kitchen.
Let's be clear - this recipe here is not authentic pho. Instead, it's a quick and easy shortcut for busy parents who need to start dinner at 6:05pm and have it on the table by 6:35.
Even so, this quick and easy pho broth is really satisfying. It brings a welcome change of flavors to the dinner table and I think your family is going to love it too!
How to Make Quick & Easy Pho Broth
Use a pressure cooker to concentrate the flavors quickly
Use store-bought broth (beef, chicken or vegetable)
Add a few key spices: cinnamon stick, cloves, star anise
A dash of fish sauce adds umami (optional, skip if vegetarian)
Ramen and Other Noodles
Ramen: My kids love long, squiggly ramen noodles. So even though Ramen is usually found in Japanese style ramen soup, we've been adding it to this pho broth.

For this recipe, I use two packages of either Top Ramen or Maruchan Ramen Soup (each about $0.35 cents). I throw away the seasoning packs that comes with the dry noodles, or I stash them in my pantry.
Rice Noodles: Pho is traditionally served with rice noodles. The noodles are called banh pho, or just look for packages of pad Thai noodles. Cook the rice noodles according to the package instructions, then add to the soup right before serving.
Capellini or Spaghetti Noodles: In a pinch, you can also use regular pasta in this soup. Quick-cooking capellini can be boiled directly in the broth (after the 8 minute cooking time) but spaghetti should be boiled separately then added to the soup.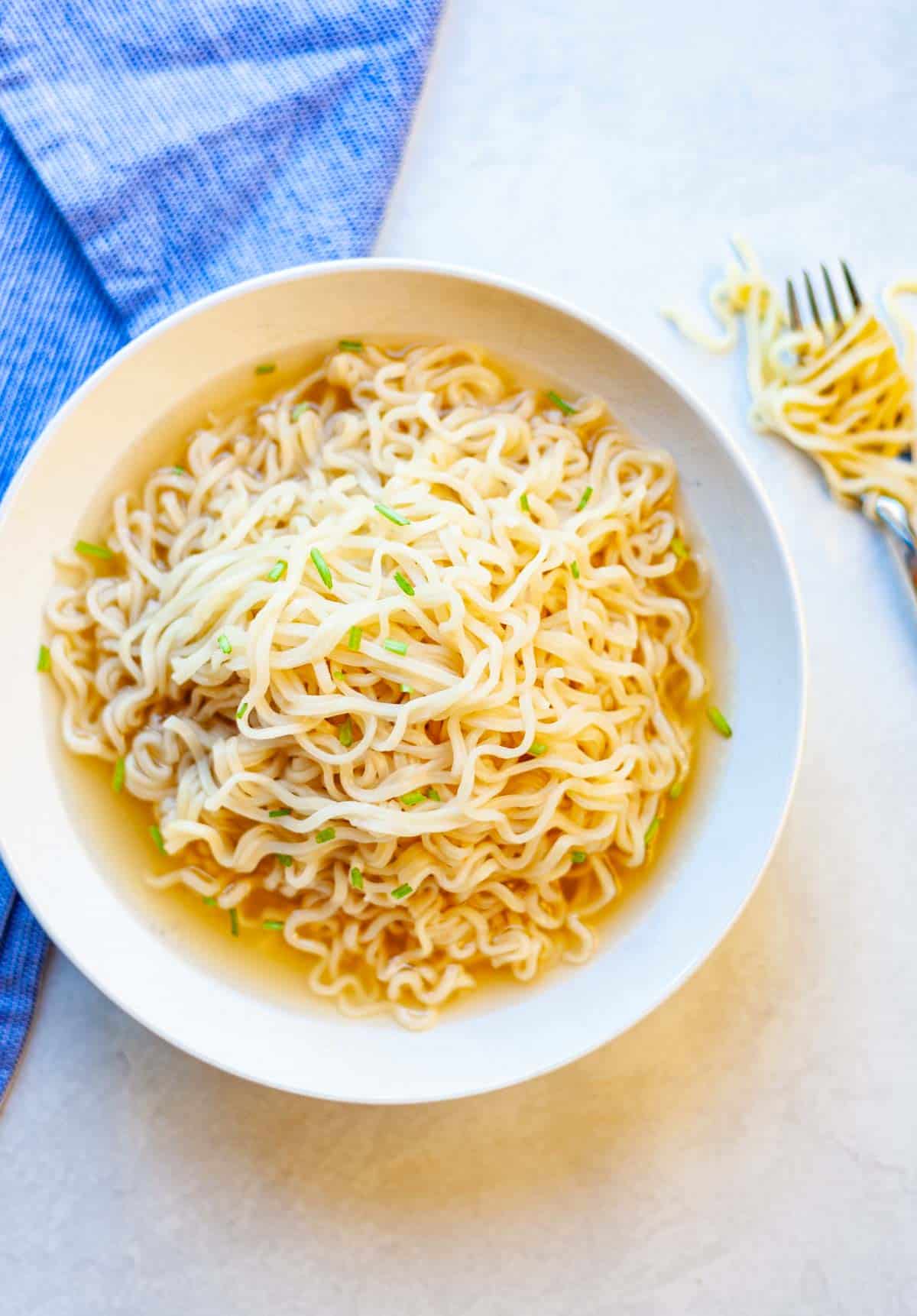 Add More Flavor
If you have more time, you can bump up the broth flavor and/or add more ingredients to your soup.
Here's how you do it:
Use homemade broth
Toast the spices before adding broth. Press Saute on the Instant Pot and toast the cinnamon, cloves and star anise for several minutes until fragrant.
Add more spices (1 more cinnamon stick, 2 more cloves, more ginger)
Add a few teaspoons of coriander seeds
Add onion, halved and thinly sliced. Saute the onion briefly before adding broth.
Garnish with cilantro, mint or basil
Garnish with slices of a spicy pepper
Garnish with sliced green onion
Add a squeeze of lime
Add Protein
If noodles aren't enough, you can add different types of protein to the soup. Add the protein after you've already cooked the broth, and simmer it for a few minutes with the noodles.
Cubes of tofu
Cooked, shredded chicken
Very thinly sliced raw beef (sirloin steak, round eye, or London broil)
What to Serve with this Soup
This recipe makes 4 full bowls of soup , but my hungry family sometimes need more for dinner.
Store-bought potstickers or dumplings are always good on the side
A rotisserie chicken can be eaten on the side or added to soup bowls
Good old grilled cheese sandwiches
More Instant Pot Soup Recipes
Print
📖 Recipe
Quick & Easy Instant Pot Pho with Ramen Noodles
An incredibly quick and easy soup that combines Instant Pot Pho broth with ramen noodles. No prep work, 7 ingredients and just 8 minutes in your pressure cooker!
Total Instant Pot Cooking Time: 10 minutes to reach pressure + 8 minutes at high pressure + quick release
Author: Jenny Meier | Kitchen Skip blog
Prep Time:

5

Cook Time:

8

Total Time:

13 minutes

Yield:

4

servings

1

x
Category:

soup

Method:

Instant Pot

Cuisine:

Asian

Diet:

Vegetarian
8 cups

broth (beef, chicken or vegetable)

1

or

2

inches of ginger, rinsed and chopped into chunks

1

cinnamon stick

2

whole cloves

1 tablespoon

fish sauce

2

3-ounce packages dried Ramen noodles* (discard seasoning packs, or save in you pantry for another meal)
*I buy Top Ramen or Maruchan. See blog post above for other noodle options. 
Instructions
Combine broth, ginger, cinnamon stick, cloves, star anise and fish sauce in the Instant Pot. 
Secure the lid, making sure the steam release valve is in the sealed position. 
Cook on high pressure for 8 minutes. 
Quick release the pressure by turning the steam release valve to venting. I lay a towel over the valve first so liquid doesn't splatter out.
Use tongs to remove the cinnamon stick, cloves, star anise and ginger pieces (or just remove them from your bowl as you eat)
Bring the broth to a simmer by pressing the Saute button
Add the ramen noodles and simmer for 3 minutes.
Notes
Fish sauce is optional, but it does add good flavor to the soup. If you're vegetarian, just skip it.
Fish sauce can also be added to individual soup bowls after the soup is cooked, for those who want it. 
Keywords: pho, instant pot pho, ramen, instant pot ramen
Does this recipe make you hungry?
SUBSCRIBE
to the Kitchen Skip newsletter
for helpful tips, easy recipes
& good conversation