Tofu schnitzel has a creamy tofu middle with a crispy, crunchy panko crust. It's a versatile vegetarian main that can be served with just about anything.
My family loves chicken schnitzel, but for a vegetarian meal this crispy tofu schnitzel is also a favorite. Tofu schnitzel can be served with just about anything - noodles, rice, grains, and any of your favorite vegetables.
Sometimes, I put tofu schnitzel between a toasted bun with mayo and lettuce for a tofu "burger." So good!
Like many families, we're happily eating more vegetarian meals these days. I still struggle, though, to come up with vegetarian meals that are satisfying for everyone at the table. My husband and I will happily eat a bowl of quinoa with chickpeas, kale and tahini sauce. My kids...not so much.
Tofu gets a thumbs up from everyone, so it's become a protein that we rely on once a week. As much as we all like it (especially my easy weeknight tofu) it's easy to fall into a tofu rut.
On the hunt for something different, I came up with this crispy tofu schnitzel. This recipe turns tofu into something new, with a mild, versatile flavor that pairs well with just about anything.
Make Vegetarian Schnitzel in 3 Easy Steps
Tofu schnitzel is a surprisingly easy weeknight meal that can be made in 3 easy steps.
Cut tofu into rectangles and press moisture out of the tofu
Dredge the tofu in flour, eggs and seasoned panko
Lightly fry in a skillet with oil, 2 to 3 minutes per side, until crispy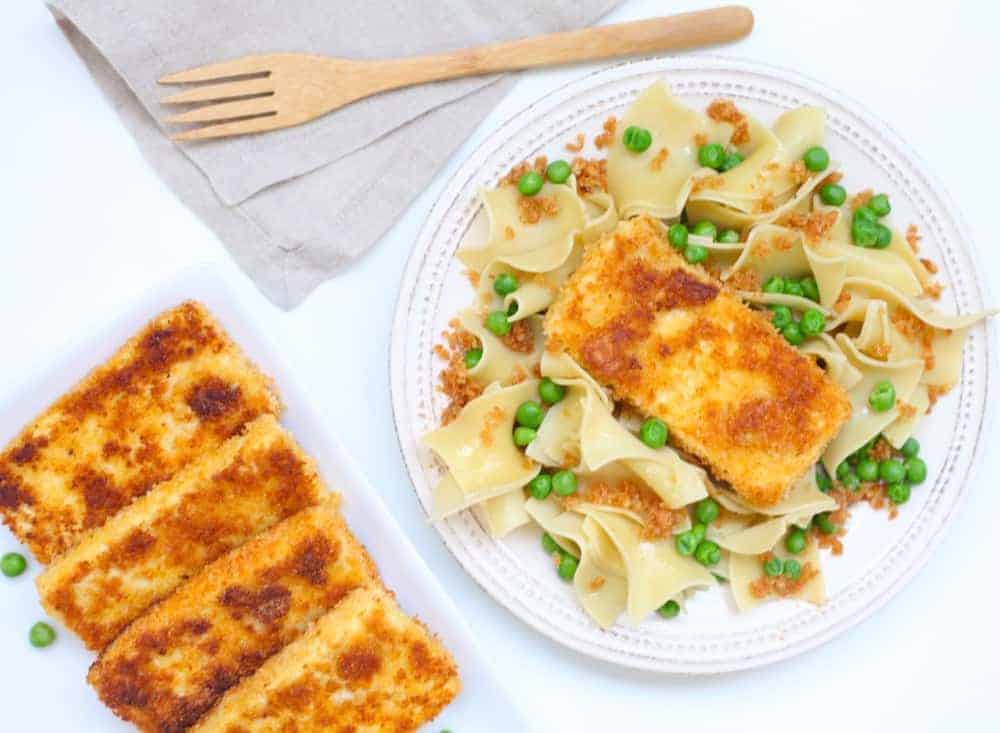 Change the Flavor
I use Lawry's seasoned salt to flavor the tofu because I always have it in my cupboard. However, you can flavor tofu schnitzel with a wide variety of herbs and spices, depending on what you crave.
*if you're not using seasoning salt for flavor, then remember to add regular salt to your seasoned panko mixture
Curry powder/Garam Masala
Cumin and/or chili powder
Coriander
Dill (fresh or dried)
Italian seasoning
Za'atar
More Vegetarian Family Dinners
Print
Crispy Tofu Schnitzel
---
Author:

Prep Time:

20

Cook Time:

15

Total Time:

35 minutes

Yield:

16

slices of tofu schnitzel

1

x

Diet:

Vegetarian
Description
This crispy tofu schnitzel is a delicious vegetarian meal that will get you out of a tofu rut. This crispy tofu schnitzel has a versatile, neutral flavor that goes well with just about anything. You can serve it with noodles, rice or grains or make a tofu schnitzel sandwich!
This recipe makes a lot of tofu schnitzel, which is great for big appetites or leftovers. You can also cut the recipe in half, which will make just 8 schnitzels.
---
2

15-ounce blocks firm tofu

½ cup

all-purpose flour 

4

eggs, whisked

1 ½

  cups panko bread crumbs

2 tablespoons

Lawry's seasoned salt (or your favorite seasoning*)

½ teaspoon

smoked paprika 

⅔ cup

avocado oil or sunflower oil, divided 
*If using a seasoning blend that doesn't contain salt, make sure to also add salt to the panko mixture
Optional:
8 ounces egg noodles 
1 cup frozen peas 
3 tablespoons salted butter
---
Instructions
Tofu will fry up crispier if it's not too moist. To press out the moisture, you will need two large rimmed sheet pans and either paper towels or two cotton dish towels.
To Press the Tofu: Line one of the sheet pans with two layers of paper towels or a dish towel. Set aside. Slice each block of tofu into 8 or 9 rectangles that are ¼ to ½-inch thick. Set the slices of tofu on the covered sheet pan in even rows. Cover the tofu with another double layer of paper towels or a dish towel. Put the second sheet pan on top to press down on the tofu. Put something heavy on the top sheet pan (like several cans of beans or tomatoes) to press the tofu down even more. Set the tofu aside to release moisture for at least 15 minutes.
Preheat oven to 275 F. If you're making egg noodles to go with the tofu, then put a large pot of salted water on to boil.
Prepare your dredging stations on three large plates or wide shallow bowls:
Bowl #1: Flour
Bowl #2: Whisked eggs
Bowl #3: Combine panko, Lawry's seasoning salt & smoked paprika
Take the top sheet pan off of the pressed tofu and set it next to your dredging station. Dredge each slice of tofu first in flour, then egg, then the panko mixture. Make sure each time to completely cover all sides of the tofu. Do this gently, so the slices of tofu don't break in half  (but don't worry if a piece breaks apart, you can still use it!) After you dredge a slice of tofu, then set it on the sheet pan.
When all of the tofu is dredged, heat a wide (12-inch) non-stick skillet over medium-high heat. Add  ⅓ cup oil. When the oil is hot and shimmering, carefully put half of the tofu slices in the pan.
Cook for 3 minutes, until the outside of the tofu is nicely browned and crispy. Use a wide spatula to flip the tofu over. Cook about 2 minutes more, adding a little more oil to the pan if needed to help the tofu get brown and crispy.
Take the tofu out of the pan and set it on one of the baking sheets. Put the baking sheet in the oven to keep the tofu schnitzel warm (you can keep the tofu warm for up to 30 minutes before dinner).
Add the remaining ⅓ cup oil to frying pan, and the remaining slices of tofu. Fry the tofu on both sides until nicely browned, turning the heat down a little if necessary to make sure it doesn't burn. Put the fried tofu on the sheet pan in the oven to stay warm.
Add the egg noodles to the pot of boiling water. Cook according to package directions. In the last minute of cooking, add the frozen peas to the boiling water. Drain the egg noodles and peas in a colander. 
In the frying pan used to cook the tofu, melt three tablespoons of salted butter. Swirl the pan as the butter melts. First the butter will foam up, then it will slowly start turning darker shades of yellow then brown. When the butter is nicely browned and smells nutty, pour it over the noodles.
Serve the tofu schnitzel with the egg noodles and peas. Sprinkle salt over the tofu if needed.  
Notes
Tofu schnitzel will stay fresh in the refrigerator for up to 5 days. However, it doesn't stay crispy and will have a softer texture when refrigerated. It's really at its best the first night when it's hot and crispy, and every bite is a combination of soft tofu and crunchy, salty breadcrumbs. 
Category:

vegetarian

Method:

lightly fry

Cuisine:

American