Perfectly cooked Instant Pot Sweet Potatoes, cubed into bite-sized pieces. These sweet potato cubes are fork-tender and creamy but still hold their shape.
These Instant Pot sweet potato cubes are easy to pierce with a fork and creamy in the middle, but hold their shape. Keep reading for detailed instructions and tips that will take all of the guess work out of steaming sweet potatoes cubes!
I use a pressure cooker to steam sweet potatoes. Steaming helps retain nutrients. Steaming is also faster and less work than roasting potatoes in the oven.
There are several ways to serve sweet potato cubes:
Meal Prep - add to salads and grain bowls throughout the week
Dinner side - serve with butter and salt
Finger food for toddlers and little kids
If you love sweet potatoes, you'll also want to try Brussels sprouts and sweet potatoes with maple-dijon dressing, or vegetable fajitas with smoky lime sour cream, or quinoa sweet potato chili.
Jump to:
Size of Cubes & Cooking Time
Size and cooking time are linked, because the cooking time for Instant Pot sweet potatoes depends on the size of the pieces you're steaming.
Size of Cubes
For this recipe, the cooking time is based on a 1x1x1 inch cube. Slightly smaller (¾-inch cubes) or slightly larger (1 ½-inch cubes) will also work.
Imperfect chunks are also fine, as long as they're roughly 1 to 1 ½-inches big.
Instead of cubes, you can also cut the sweet potato into rounds that are ½-inch thick and use the same cooking time.
Cooking Time
You might have noticed that almost every recipe for cubed sweet potatoes recommends a different cooking time. Confusing, right?
Here's why:
Different sized cubes: Smaller pieces of sweet potato need less time to cook and larger, thicker pieces need more time.
Different preferences: Some people like really soft potatoes, some like a little bit of firmness. Your ideal cooking time will depend on your own personal preference.
For 1-inch cubes, a cooking time of 5 minutes with an instant release gives you tender and creamy sweet potato cubes that are easy to pierce with a fork but hold their shape.
If you want firmer cubes, try 3 minutes. If you want really soft cubes that can be easily mashed or pureed, try 8 minutes.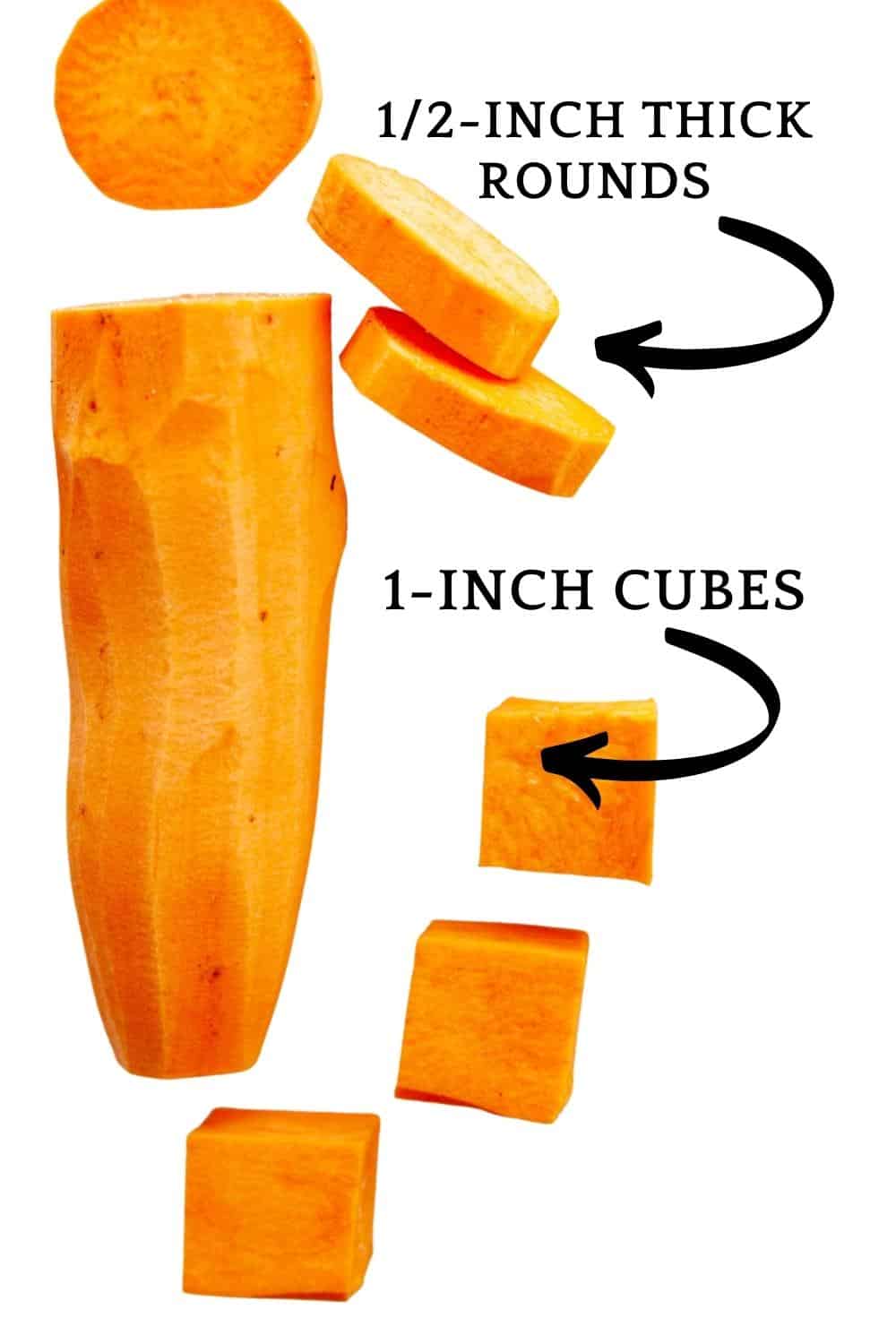 How to Cut a Sweet Potato
There are many different shapes that sweet potatoes can be cut into. All of them are great for either baking or steaming. Because each type of cut yields a different size, how you cut the potato will determine how long it needs to cook.
Perfectly shaped cubes: If you want perfect cubes, you'll need to cut sweet potatoes the same way that a chef in a restaurant does. Here is a video tutorial for cutting perfectly cubes
These cubes look great and they cook evenly because every piece is the same size. However, I rarely cut potatoes using this method because you'll end up with scraps that you'll either have to throw away, compost, or cook using another method.
Chunks: By "chunks" I mean less perfect cubes. You can cut large or small chunks. Here's a quick video tutorial that show how to quickly and easily cut a sweet potato. This is how most home chefs will cut a potato. It's fast and practical. Try as hard as you can to make most of the chunks the same size so they cook evenly.
Rounds: Simply slice a whole sweet potato into rounds. Try to make each round the same thickness.
Half Moons: Cut a sweet potato in half lengthwise, then lay it flat and slice half-moon pieces.
Wedges and Fries: The North Carolina Sweet Potato Commission has a video that shows how to cut wedges and fries.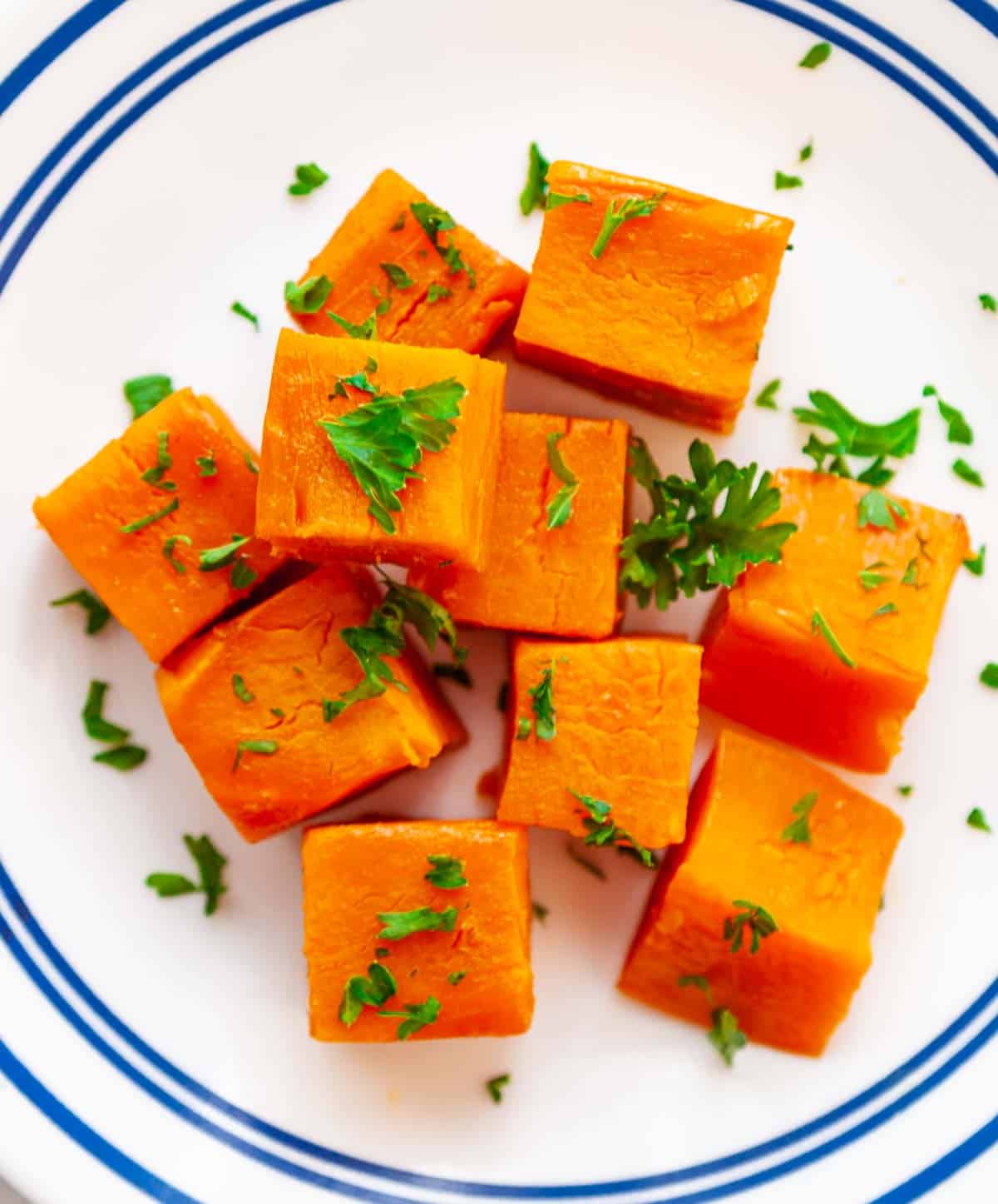 3 Tips for Instant Pot Steaming
Always add 1 cup water: This is enough water to steam food in a pressure cooker. The amount of water also affects how long it takes for the Instant Pot to reach pressure, which determines the total steaming time. If you add more or less than 1 cup water your sweet potatoes might be slightly under or over cooked.

Use a steamer basket or trivet: This lifts the food slightly above the water. The food will steam more evenly and won't get soggy and waterlogged. I really prefer a steamer basket because it makes it really easy to lift the food in and out of the pressure cooker.

Error on the side of undercooking, not overcooking: When using an Instant Pot to steam vegetables, it's better to error on the side of undercooking rather than overcooking. If the potato chunks aren't as soft as you like, it's easy to fix.
Option 1: Set the lid back on the pot and let the potato steam in the residual heat for a few minutes.
Option 2: Secure the lid again and press "manual" to cook the potatoes for 1 or 2 more minutes.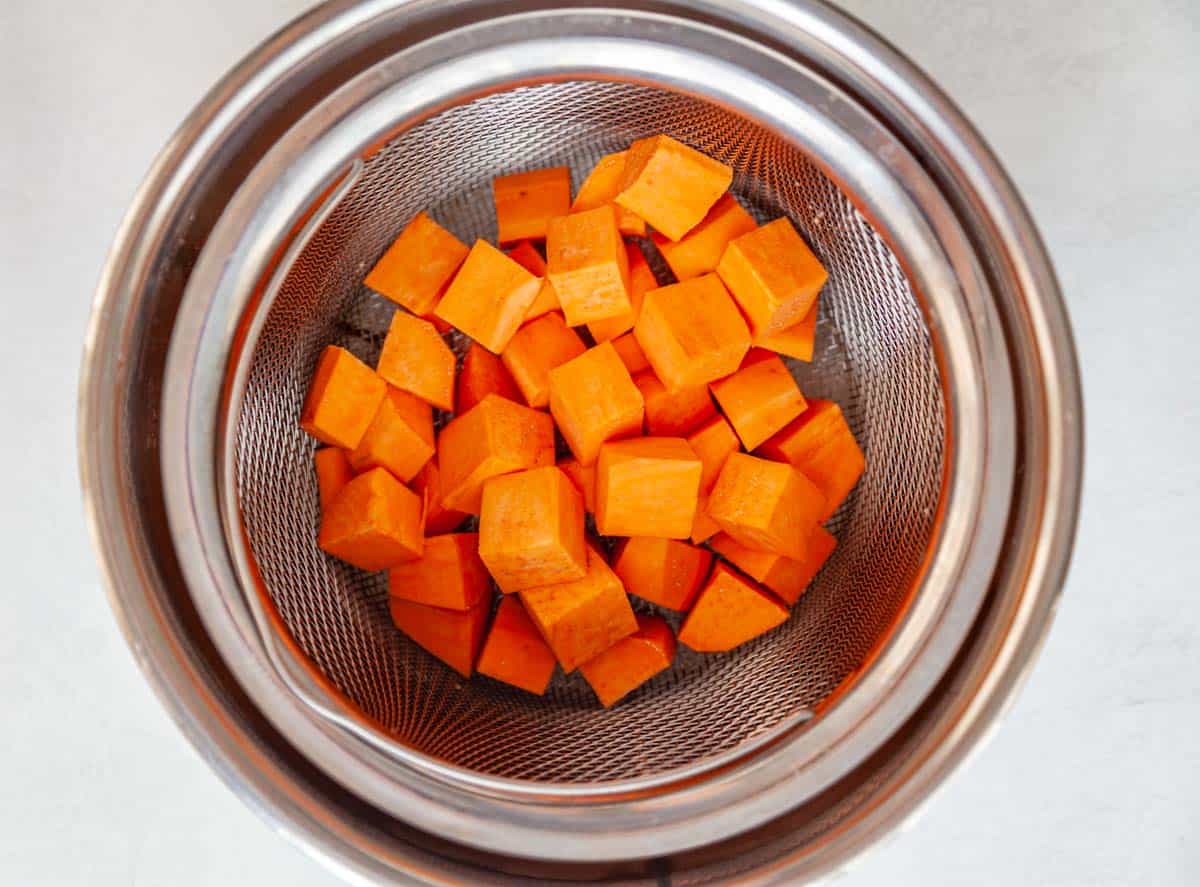 White Sweet Potato vs Orange
Although there are many varieties of sweet potato, there are two types you'll see most often in American grocery stores.
One is pale white/cream on both the outside and inside.
The other has darker orange/brown skin and a vibrant orange interior. Orange sweet potatoes are often called Garnet, Jewel or Beauregard potatoes.
The main difference is that the white sweet potato is drier and starchier. It won't have a creamy texture like an orange sweet potato. It also tastes a little less sweet.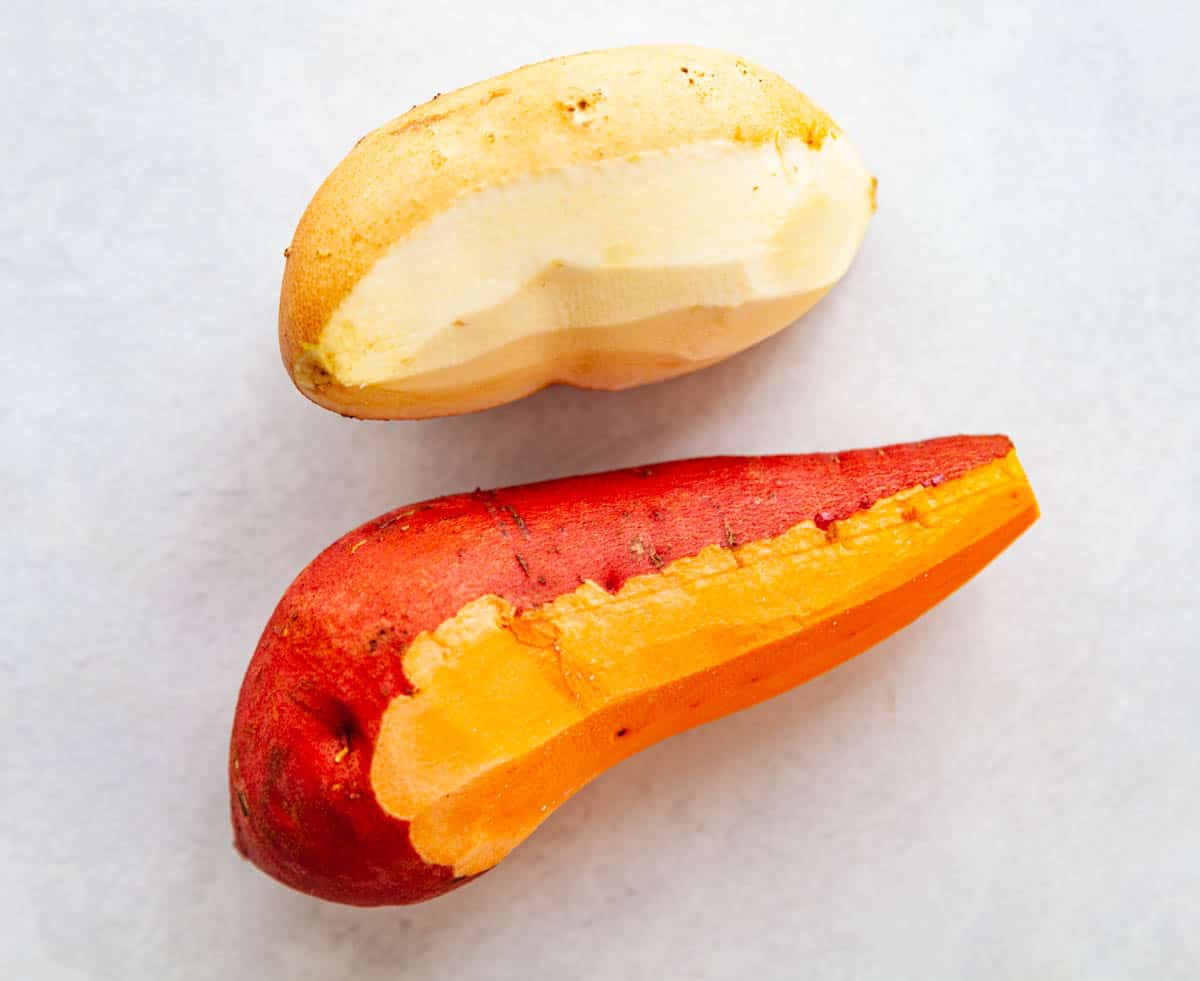 FAQs About Sweet Potatoes
Are sweet potatoes a fruit or a vegetable?
Sweet potatoes are root vegetables.
How long can I store them raw?
Raw sweet potatoes don't keep as long as regular potatoes. If kept in a cool, dry location (like a pantry or cellar) you can store raw sweet potatoes for about 2 weeks. After that, they might start to soften and rot. Don't store raw sweet potatoes in the refrigerator.
How long do steamed sweet potatoes stay fresh?
After steaming sweet potato cubes, they should be stored in the refrigerator and eaten within 5 days for the best flavor and texture.
Can I freeze cooked, cubed sweet potatoes?
Yes, although sometimes the texture of defrosted sweet potato cubes is a bit soft and mushy. Place cooled sweet potato cubes in a freezer bag, removing as much air as possible. They can be frozen up to 3 months. To defrost, put in the refrigerator overnight or add directly to a simmering soup or stew.
Can I roast the potato chunks after steaming?
It doesn't work very well. The chunks of potato will just burn around the edges, rather than getting crispy.
What are Korean sweet potatoes?
There are several varieties of Korean sweet potatoes. One popular variety has purple skin and a pale interior and is sometimes called a chestnut potato because of its flavor. Mykoreankitchen.com has a recipe for candied Korean sweet potato.
What are Japanese sweet potatoes?
Japanese sweet potatoes have purple/magenta skin and white interior. Okonomi Kitchen has a recipe for baked Japanese sweet potatoes.
Yams vs Sweet Potatoes
Yams and sweet potatoes are two entirely different root vegetables. Although in American grocery stores, they are often labeled incorrectly or sold as the same thing. Yams have a brownish/beige exterior and are starchier than sweet potatoes. Food & Wine has an interesting article about how the confusion over yams and sweet potatoes goes all the way back to the Trans-Atlantic slave trade.
More Instant Pot Vegetables


Print
📖 Recipe
Instant Pot Sweet Potatoes, Cubed
The most important thing to know about steamed Instant Pot sweet potato cubes is that the size of the cubes (or chunks) determines the cooking time.
For 1x1x1 inch cubes or ½-inch thick rounds, 5 minutes will give you a soft texture that is easily pierced with a fork but the pieces still hold their shape. 
If you want a firmer texture, try 3 minutes. If you want a very soft texture, try 8 minutes.
Remember, it's best to error on the side of undercooking the sweet potatoes, because you can always secure the lid again and cook the potatoes for a few more minutes. 
Author:
Prep Time:

5

Cook Time:

5

Total Time:

20 minutes

Yield:

4

to

6

servings

1

x
Category:

Side Dishes

Method:

Instant Pot

Cuisine:

American

Diet:

Vegan
4

to

8

sweet potatoes (about

2

to

4

pounds), cut into 1-inch cubes* (peeled or unpeeled)

1

cup

water
*Slightly smaller or larger cubes are okay, such as ¾-inch cubes or 1 ½-inch cubes. You don't have to cut precise cubes. The most important thing is that all of the chunks are about the same size. See the blog post above for links to videos that show how to cut sweet potato cubes. 
Instructions
Add the water to the Instant Pot insert.
Place a steamer basket over the water.
Secure the lid.
Press Manual to program the Instant Pot to cook for 5 minutes on high pressure.
Quick release the pressure by manually moving the steam release valve to Venting (use caution -  hot steam!)
Notes
This recipe was tested in a 6-quart Instant Pot. 
Instead of cubes or chunks, you can also cook rounds of sweet potato that are ½-inch thick using this cooking time and method. 
If the sweet potato is not as soft as you'd like, then either set the lid back on the pot and let the potatoes steam longer in the residual heat or secure the lid and cook the potatoes for 1 to 3 more minutes. 
These potatoes are soft enough to mash with a fork, but if you want really soft sweet potato cubes then increase the cooking time to 8 minutes. 
Using a steamer basket yields the best results because it keeps the potatoes from getting waterlogged and soggy. 
Keywords: Instant Pot sweet potatoes cubed, steamed sweet potatoes, Instant Pot sweet potatoes,
Does this recipe make you hungry?
SUBSCRIBE
to the Kitchen Skip newsletter
for helpful tips, easy recipes
& good conversation