These vegetarian (and vegan!) Instant Pot collard greens have a cooking time of just 4 minutes. Collard greens cooked in a pressure cooker are just as flavorful & tender as greens that have braised for hours.
Collard greens can be a a quick and easy side dish if, that is, you cook them in a pressure cooker. I love cooking collard greens in my Instant Pot, and I think you will too!
Collard greens are often simmered for hours, to make the leaves tender and flavorful. But a pressure cooker will do the same thing in a fraction of the time.
Pressure cooker collard greens are tender and flavorful, even without meat. In this recipe for vegetarian collard greens, a squeeze of lemon juice brightens the flavor and richness is added with onion, garlic, olive oil and just a little bit of tomato paste.
Collard greens can turn into a main course, if served over rice with an egg on top. Or, mix the greens into a bowl with barley and tofu.
Ingredients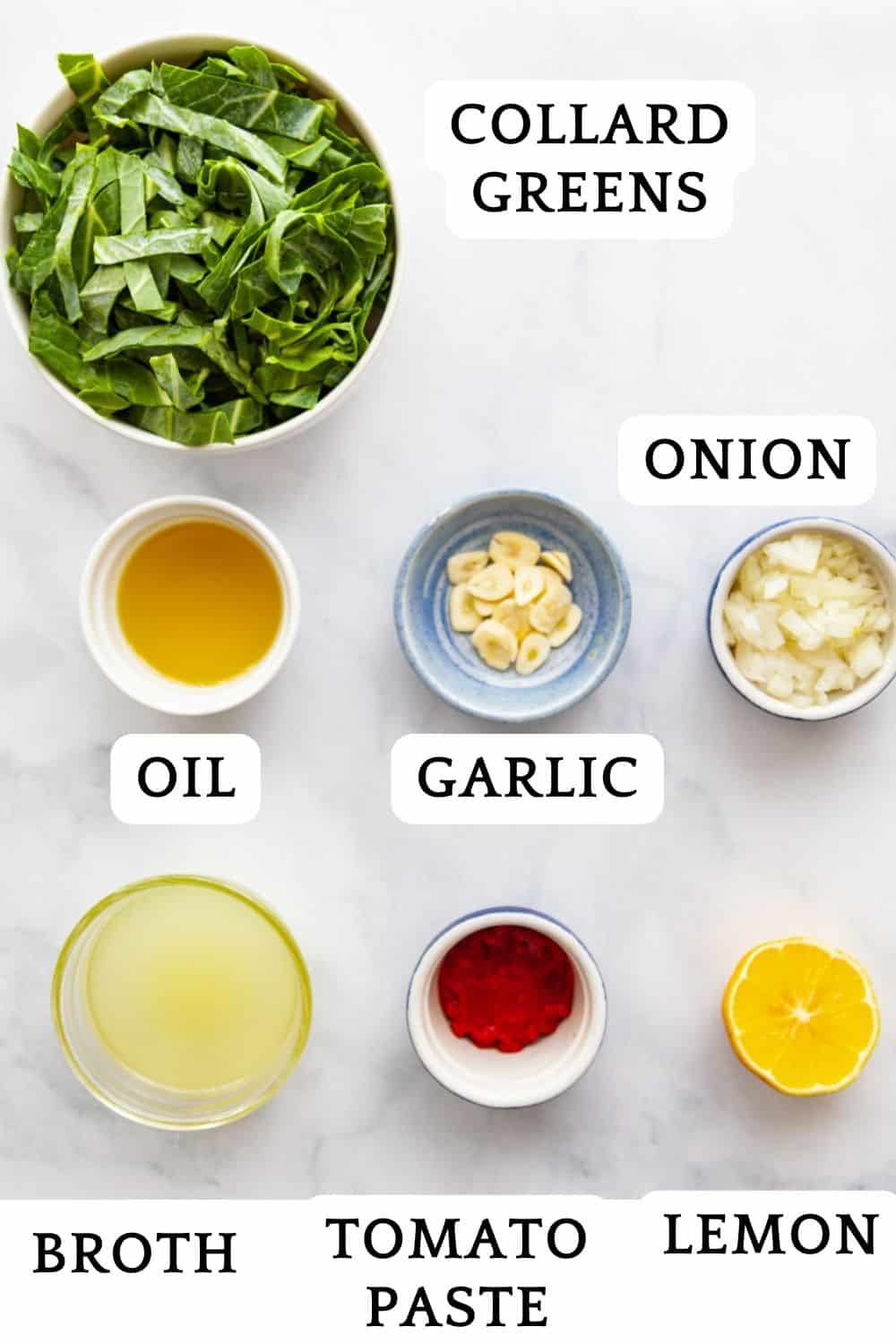 Recipe Variations and Add-ins
Smoked paprika: This spice add smokey flavor to greens and is a flavorful substitution if you're not adding meat. Try adding ½ teaspoon.
Red pepper flakes: If you like it spicy, add a pinch of red pepper flakes.
Maple syrup: If you don't like the bitter flavor of greens, add a teaspoon or more of maple syrup.
How to Clean & Cut Collard Greens
Collards tend to have dirt clinging the leaves, so make sure to rinse the greens well. I don't bother drying the leaves because the moisture helps steam and soften the leaves as they cook.
Tear or cut the leaves from the stems
Put the leaves in a bowl of water (I use the bowl of my salad spinner) and soak and swish the leaves for a minute or two
Stack the leaves up in a pile (about 6 at a time) then roll the leaves up like a cigar. Use a sharp knife to slice the rolled leaves into thin strips
You can watch a video about how to cut collard greens from Itsavegworldafterall.com
Can I Eat the Stems?
The stems of collard greens (and kale) are edible, but are usually too tough and chewy to be enjoyable. I always tear the leaves from the stems before cooking collards.
However, if you don't want to discard the stems, then patiently cooking them will make the stems less tough and fibrous.
Blanch (briefly boil) the long stems to soften
Cut the stems into thin, small pieces
Saute gently or add the stems a slow simmered soup
How to Make Instant Pot Collard Greens: Step-by-Step Instructions
After washing and cutting the greens, this recipe can be made in 4 easy steps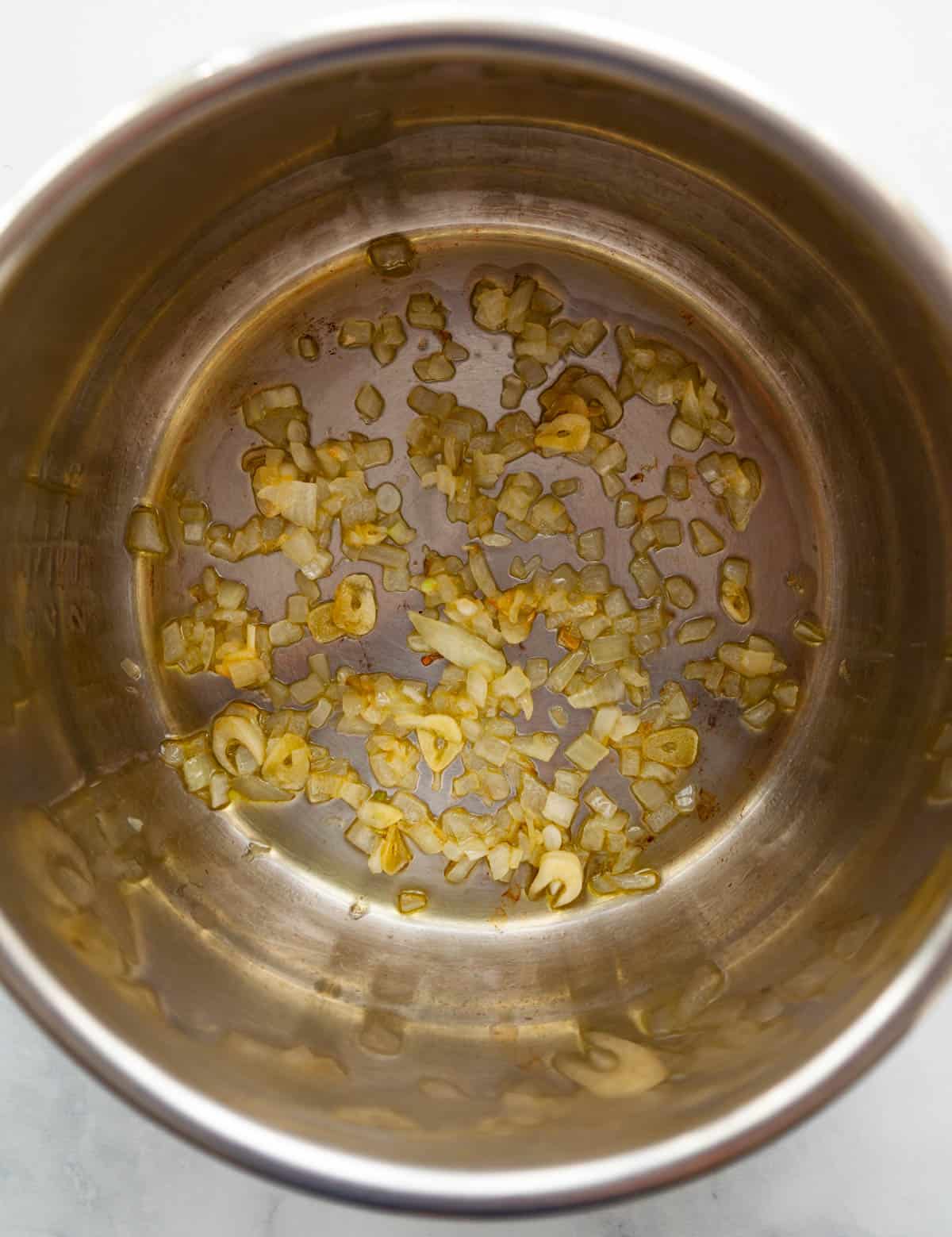 Step 1: Saute onion and garlic in oil.
Step 2: Add tomato paste, vegetable broth and a pinch of salt. Simmer 1 minute.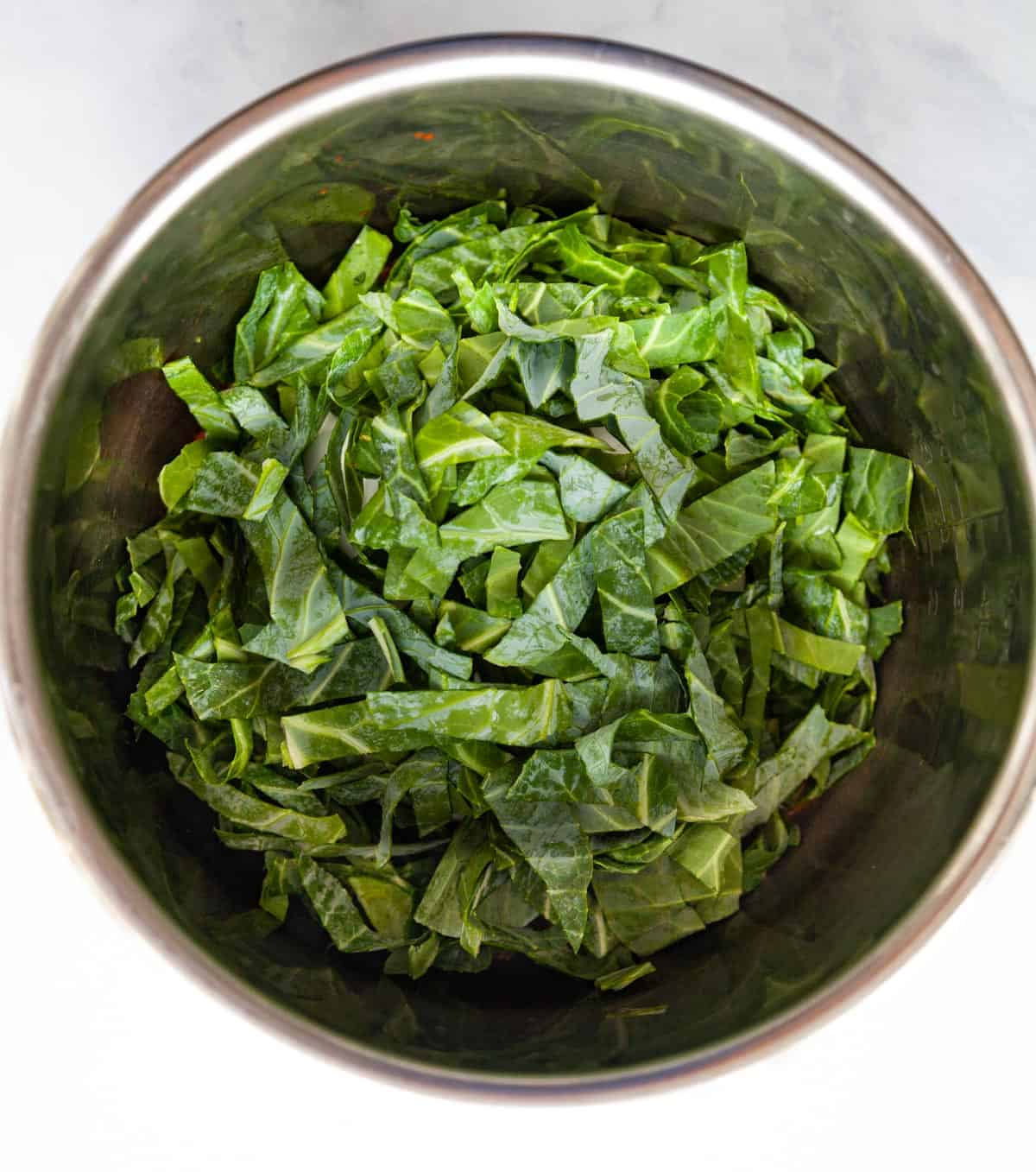 Step 3: Add the chopped greens. They can just be stacked up in the pot.
Step 4: Cook on high pressure 4 minutes, with a quick release. Finish with a squeeze of lemon.
Why Add Vinegar or Lemon to Greens?
Vinegar is sometimes added to collard greens during the slow braising process on the stove. The acidity of the vinegar helps soften the greens. Vinegar isn't necessary when cooking collard greens in a pressure cooker.
Instead, I usually add a drizzle of apple cider vinegar or squeeze of lemon at the end of the cooking process, simply to add more flavor.
Expert Tips
Make sure to wash the greens well.
Don't burn the garlic. Burnt garlic has a bitter flavor.
Add a squeeze of lemon before eating. It helps to boost the flavor.
Serving Suggestions
I really like collard greens served with Instant Pot Turmeric Coconut Rice. You can also serve greens with a side dish like Instant pot black eyed peas.
These greens are also a delicious side dish with meat, such as cider braised pork, Instant Pot pork butt, Instant Pot pork adobo or Instant Pot jerk chicken.
Storage and Reheating
Cooked collard greens will stay fresh for up to 5 days in the refrigerator. To reheat, simply use the microwave. Or, you can heat collard greens gently in a saute pan.
FAQ
What are collard greens?
Collards are cruciferous vegetables, in the same Brassicaceae family as cauliflower, cabbage, broccoli, kale, turnip greens, mustard greens and bok choy. They have the same pleasantly bitter flavor that other dark leafy greens, like kale, have.
Is this recipe vegan?
Yes, this is a vegan collard greens recipe. The ingredients are collard greens, garlic, onion, olive oil, vegetable broth, tomato paste and lemon juice.
Are collard greens healthy?
The health benefits of collard greens are many, especially if you're not adding pork and eating vegetarian or vegan collard greens. Collard greens are a good source of vitamin A, vitamin K, vitamin C, calcium and iron.
Can I add Pork to this recipe?
Made as a true Southern dish, collard greens usually have pork added. If you're not vegetarian, there's no denying that the smoky flavor of pork is delicious (and traditional) with collard greens.

This recipe doesn't cook long enough to add ham hocks. However, you can add pork by first sauteing small pieces of bacon in the Instant Pot, then adding the onion and garlic.
More Pressure Cooker Vegetables
Print
📖 Recipe
Instant Pot Collard Greens (vegetarian)
These vegetarian (and vegan!) Instant Pot collard greens cook for just 4 minutes. They're as flavorful & tender as greens that have braised for hours.
Total Instant Pot Cooking Time: About 5 minutes to reach pressure + 4 minutes on high pressure + quick release
Author:
Prep Time:

10

Cook Time:

4

Total Time:

14 minutes

Yield:

4

servings

1

x
Category:

side dish

Method:

Instant Pot

Cuisine:

American

Diet:

Vegan
2 tablespoons

olive oil

½

an onion, finely chopped

2

garlic cloves, finely chopped or thinly sliced

½

cup

vegetable broth

1 tablespoon

tomato paste

2

large bunches* collard greens, stemmed, leaves sliced into 1-inch wide ribbons (see photos in blog post)

1 teaspoon

lemon juice (or more to taste)
Salt, to taste
*About 16 stems, total
Instructions
Press the Instant Pot Saute button (see note below about adjusting the saute heat)
Add the olive oil. When the oil is hot, add the onion and garlic. Saute for about 3 minutes, until the onion has softened.
Add broth, tomato paste and a pinch of salt. Mix well and bring to a simmer for 1 minute.
Turn off the saute function and add the collard greens. The leaves can pile up high on top of the broth and onion mixture; no need to mix them in.  Secure the lid, making sure the steam release valve is in the sealed position.
Cook on high pressure for 4 minutes.
When the cooking time is done, use a quick release to instantly release the pressure.
Stir the collard greens really well so that the greens are covered with the tomato and onion mixture.
Add a squeeze of lemon before serving. 
Notes
How to Adjust the Instant Pot Saute Heat: There are 3 levels of heat when you saute in the Instant Pot: More, Normal and Less. I often find that the setting for "More" heat is too hot, and whatever I'm sauteing burns to the bottom of the pot.  To adjust the saute heat,  first press the Saute button, then press the "Adjust" button to move the red light under "Normal" or "Less."
I always keep a tube of tomato paste in my refrigerator, making it easy to add small amounts of tomato paste to recipes. 
If you like spicy greens, then add a pinch or red pepper flakes or black pepper to the greens. If you'd like your vegetarian greens to have a smoky flavor, add a ½ teaspoon of smoked paprika. 
If you're not vegetarian, then chicken broth can be used in place of vegetable broth. 
This recipe was test in a 6-quart Instant Pot.
Cooked collard greens will stay fresh for up to 5 days in the refrigerator. 
Keywords: collard greens, instant pot collard greens, greens
Does this recipe make you hungry?
SUBSCRIBE
to the Kitchen Skip newsletter
for helpful tips, easy recipes
& good conversation