Creamy chicken paprika is an easy one-skillet version of traditional chicken paprikash, with all the same flavors that make the dish special. Chicken is braised with onions and bell pepper in a creamy sauce that's wonderful over pasta or rice.
This creamy chicken paprika recipe is a simpler version of Hungarian chicken paprikash. It's creamy and comforting, the type of dinner that makes you feel all cozy and satisfied.
The vibrant red color come from the spice paprika. Paprikash is traditionally made with chicken (usually legs) and onions that are braised in chicken stock. Sour cream (or creme fraiche) is whisked in at the end to thicken the stock into a flavorful sauce.
It's often served with small dumplings called Nokedli or egg noodles. It's also delicious over mashed potatoes, rice or whole grains (like buckwheat).
What makes this recipe quick, easy and flavorful?
One-skillet dinner
Made with boneless, skinless thighs or breasts (no browning necessary)
Flavored with a combination of sweet and smoky paprika
Braises in about 20 minutes
No flour necessary to thicken the sauce
Try rich and creamy creme fraiche instead of sour cream
Ingredients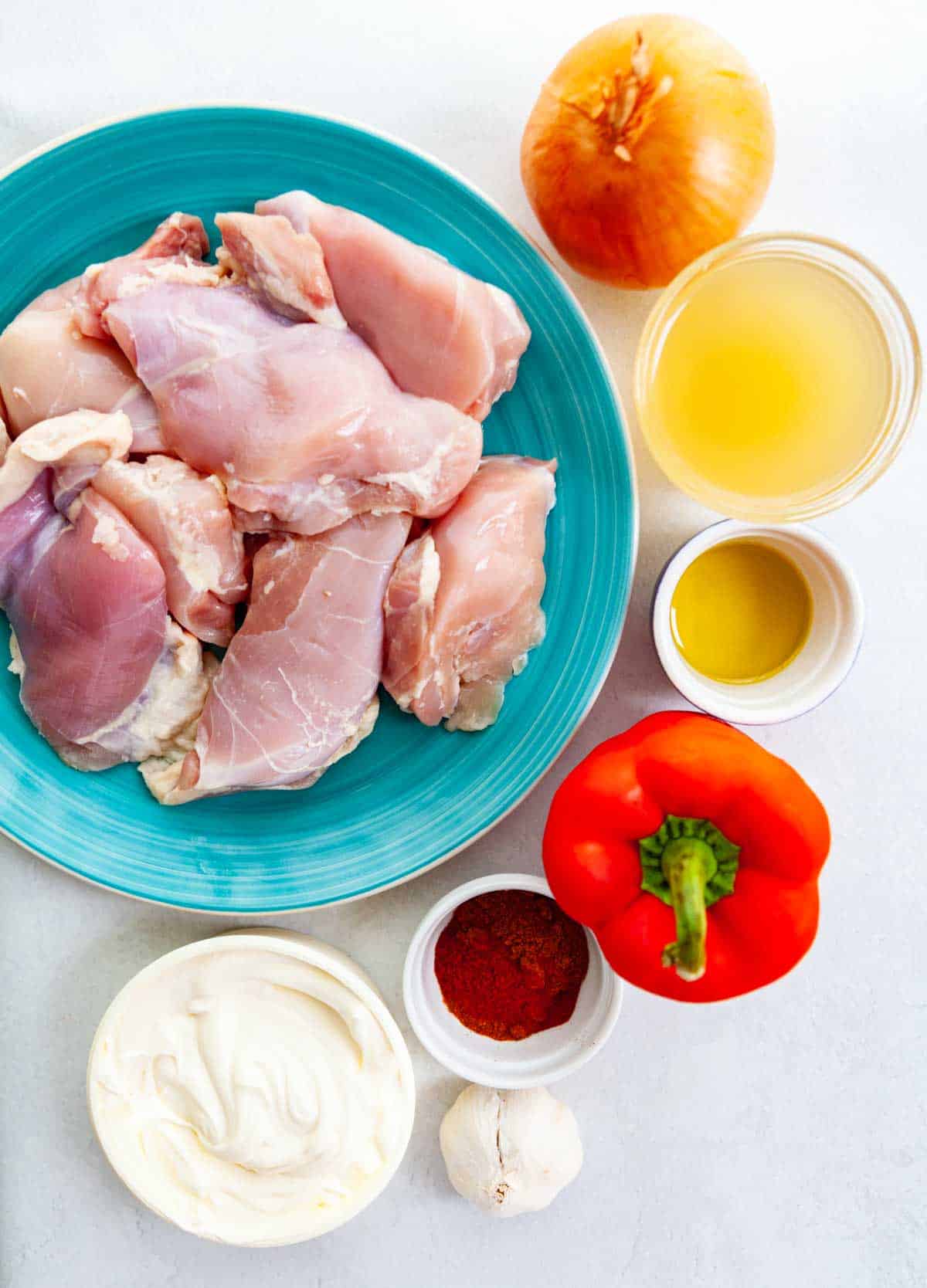 Chicken thighs
Chicken broth
Olive oil
Onion and garlic
Red bell pepper
Paprika
Creme fraiche
*see recipe card for ingredient amounts
Ingredient substitutions & variations
Sour cream: I prefer making creamy chicken paprika by whisking creme fraiche into the broth instead of sour cream. Creme fraiche is cultured cream that's thick, rich and very creamy. It has a higher fat content than sour cream, which means it doesn't curdle when added to hot liquid.
Boneless, skinless chicken thighs: I use boneless, skinless thighs in this recipe because they're easy to cook and flavorful. But you can use chicken breasts or bone-in, skin on thighs or legs. If the pieces have skin, you'll want to brown the chicken in the skillet first, then set the chicken aside while sauteeing the onion and bell pepper. Cooking time for breasts and bone-in thighs are included in the recipe card below.
Make it vegetarian: Substitute sliced mushrooms for the chicken, and make this dish vegetarian. Add the mushrooms after the onion and bell pepper have cooked and saute the mushrooms until soft and lightly browned. Add vegetable stock (only ½ cup) and simmer briefly before turning off the heat and whisking in the creme fraiche. No need to put the skillet in the oven!
White wine: A splash of white wine is optional, but does help boost the flavor.
Paprika: Paprika is a spice made by grinding dried red peppers. Most paprika found in grocery stores is very mild. Finding a high quality, flavorful jar of paprika usually means buying from a specialty store or spice company. Paprika also goes stale faster than other spices. It's likely that the jar in your spice drawer needs to be replaced!
This dish is named after the spice paprika, is so it's difficult to recommend an alternative. You really can't make creamy chicken paprika without paprika. However, in general, substitutes for paprika can include aleppo pepper, chipotle chile powder or cayenne (for hot paprika).
What does paprika taste like?
Paprika is made from different types of red peppers that have been dried and ground into powder. So the flavor is similar to both mild and spicy red peppers. But the flavor of paprika really depends on which style. It also depends on where it's from. The flavor of Hungarian paprika can be slightly different from the flavor of Spanish paprika. Most paprika found in grocery stores has a mild flavor without much complexity.
Sweet paprika: This is what you'll find in most grocery stores. It's usually just labeled as "paprika." It's mild and very faintly sweet in the same way that a red bell pepper is sweet, with some earthiness thrown in.
Hot paprika: This style has a peppery, spicy and sometime slightly bitter kick to it. It's usually added to recipes in smaller amount than sweet paprika.
Half-sharp or bittersweet: A blend of sweet, spicy and earthy flavors, usually not as spicy as full-on hot paprika.
Smoked paprika: Smoked paprika is made from sweet red pepper pods that have been dried and smoked over a fire, then ground into a fine powder. It has a strong, smoky flavor and is used in recipes like vegetarian fajitas, vegetarian chili, and rubs for meat like cider-braised pork.
Hungarian: Paprika from Hungary comes in all the styles above, plus more. If you buy any style of Hungarian paprika instead of generic grocery-store paprika, you'll notice more flavor, sweetness, pungency and complexity.
Spanish: Also called pimentón, most of the Spanish paprika found in the US has a smokey quality and can be sweet or hot.
Step-by-step instructions
Step 1: Saute onion, bell pepper and garlic in olive oil.
Step 2: Add white wine (optional) and simmer 1 minute. Then add chicken broth, paprika and salt.
Step 3: Add chicken thighs. Lightly coat with olive oil, salt and pepper. Bring broth to a simmer and slide the skillet into a 425 F oven
Step 4: Braise until chicken is cooked, about 18 minutes
Step 5: Remove the chicken to slice, and whisk in creme fraiche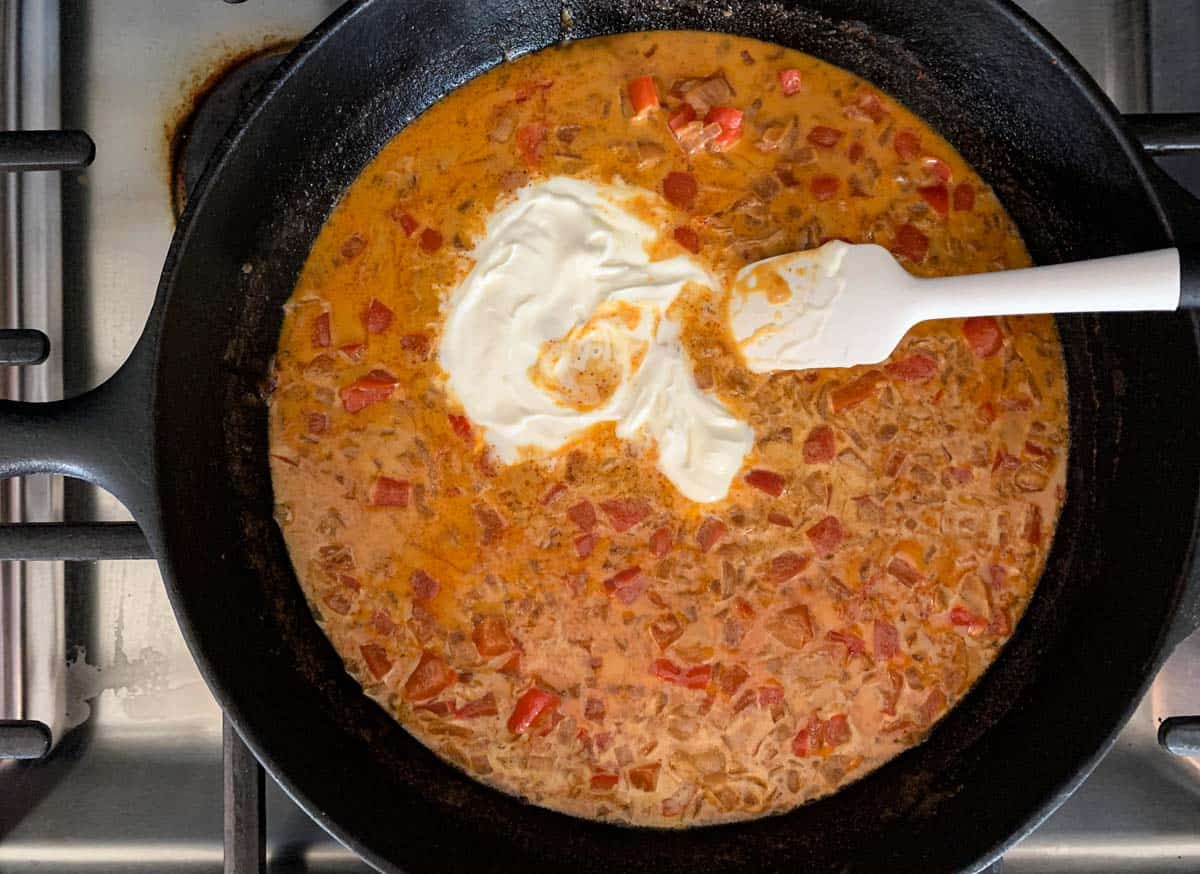 Step 6: Return the sliced chicken to the skillet. Add salt if needed.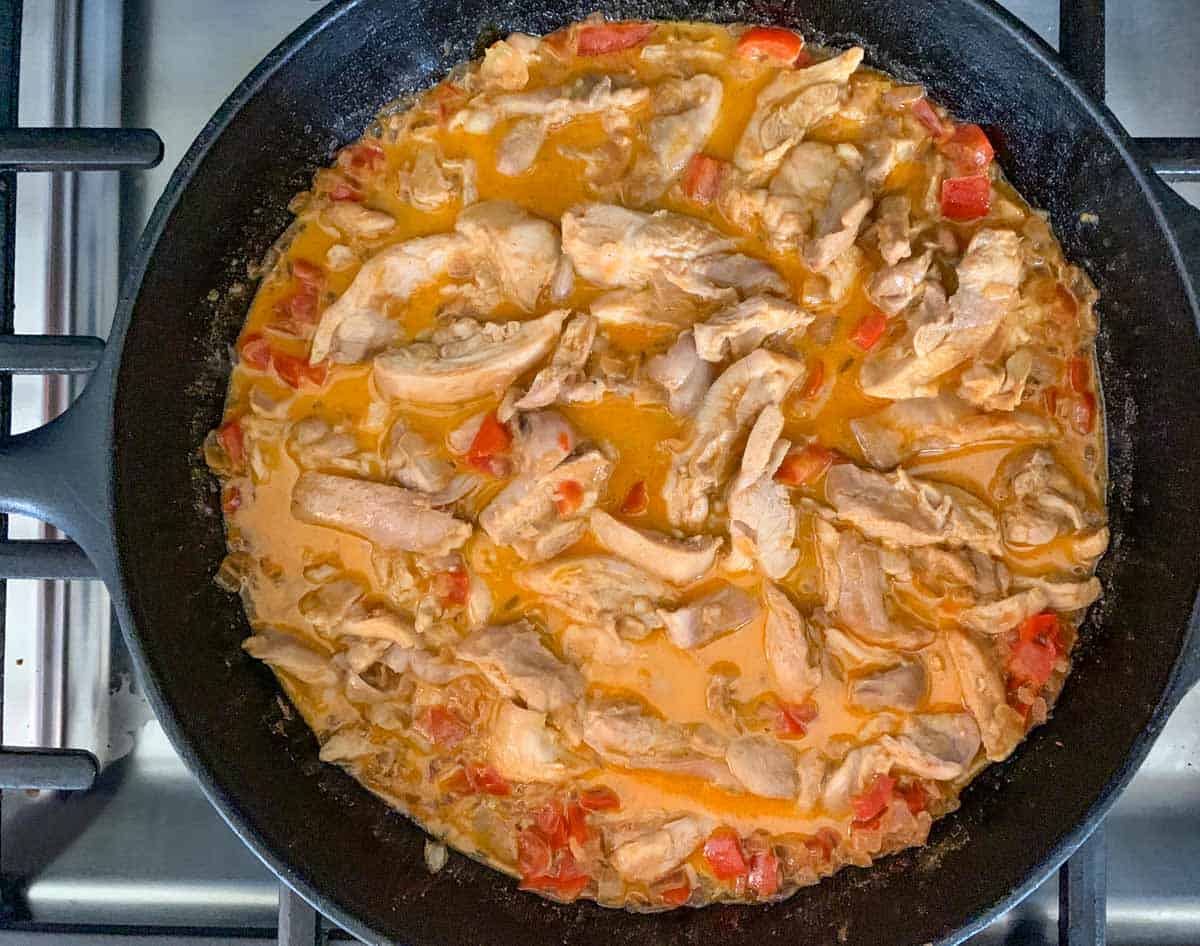 Step 7: Serve over egg noodles, rice, whole grains or mashed potatoes
Does this recipe make you hungry?
SUBSCRIBE
to the Kitchen Skip newsletter
for helpful tips, easy recipes
& good conversation
More recipes that use creme fraiche
Print
📖 Recipe
Creamy Chicken Paprika
Creamy chicken paprika is an easy one-skillet version of traditional chicken paprikash, with all the same flavors that make the dish special. 
Author: Jenny Meier | Kitchen Skip blog
Prep Time:

20

Cook Time:

18

Total Time:

38 minutes

Yield:

4

to

6

servings

1

x
Category:

chicken

Method:

braise

Cuisine:

Hungarian
1

to

2

pounds

boneless, skinless chicken thighs

2 tablespoons

olive oil

1

onion, finely chopped or thinly sliced

1

red bell pepper, finely chopped or thinly sliced

2

garlic cloves, finely chopped

¼

cup

dry white wine (optional)

2 tablespoons

sweet paprika

½ teaspoon

smoked paprika

¼ teaspoon

salt

¾

cup

chicken broth

½

cup

creme fraiche or full-fat sour cream
Instructions
Heat oven to 425 F
In a wide oven-proof skillet (12-inches), warm the olive oil over medium heat
Add the onion and bell pepper. Cook until the onion is soft, 7 to 10 minutes. 
Add the garlic. Cook a few minutes more. 
Add a splash of white wine (optional) and simmer for 1 minute or slightly less
Add the chicken broth, paprika and salt.
Add the chicken thighs to the skillet. Drizzle olive oil over the thighs and season generously with salt and pepper. 
Bring the broth to a simmer.
Slide the pan into the oven and bake until the chicken is cooked, 15 to 18 minutes. 
Remove the chicken from the skillet, and slice on a cutting board. Taste, and add more salt if needed.
Whisk the sour cream or creme fraiche into the sauce, a little bit at a time. Creme fraiche won't curdle, but if the broth is too hot, or you add too much sour cream at once, it might curdle. Low fat or non-fat sour cream will curdle in hot liquid, so make sure to use full-fat. 
Return the sliced chicken to the skillet. Serve the chicken and creamy sauce over pasta, grains like farro, rice or mashed potatoes. 
Notes
This recipe can also be made with chicken breasts or bone-in, skin-on thighs.
Breasts: Medium-sized (6 to 8 ounces) need 18 to 25 minutes in the oven and larger breasts can take close to 30 minutes. If the breasts are large, it's better to cut them diagonally lengthwise to make two smaller breasts that will cook faster. 
Bone-in, skin on thighs: Brown the pieces in a drizzle of oil in a skillet over medium-high heat, then set aside. Add the chicken back to the skillet and braise for 35 to 40 minutes in the oven. 
Sweet paprika is the type of regular paprika you see in grocery stores. Smoked paprika will be labeled as "smoked" on the label. 
Keywords: creamy chicken paprika, chicken paprikash, types of paprika, one-skillet creamy chicken, creamy chicken and noodles