Made from canned white beans and orzo pasta in a tomato-based broth, slow cooker white bean and tomato soup is an easy, satisfying vegetarian dinner.
This is a simple, healthy Crockpot vegetarian meal that's made (mostly) from opening cans and boxes in your pantry.
Main Ingredients
Canned white beans
Canned tomatoes
Tomato paste
Broth (or water)
Orzo
Plus the requisite trio of onion/garlic/carrot, and a dash of Italian seasoning, parsley, salt and pepper.
Easy, right?
Slow cooker white bean & tomato soup with orzo is a a simple, tummy-warming vegetarian soup. The white beans are soft and creamy. The orzo is plump and flavorful. I love this soup with parmesan cheese grated on top and a crumble of salty crackers.
If you're looking for a really easy stovetop recipe, try easy tomato soup.
Is Orzo a Pasta or Rice?
Orzo is pasta that is shaped like rice. In this recipe, the orzo is added to the slow cooker in the last 15 minutes of cooking.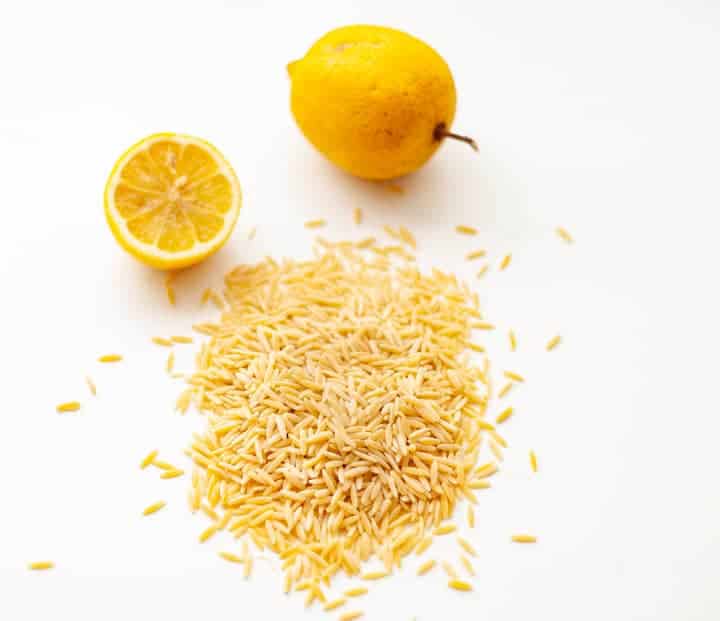 When the orzo is cooked, add a squeeze of lemon to the soup, plus salt and pepper to adjust the seasoning.
Can I use Dried White Beans in this Recipe?
I don't recommend dried white beans for this soup recipe. Canned white beans work better. You can pre-cook dried white beans and then use them for this soup - here's a recipe for Instant Pot white beans.

Acidic ingredients such as tomatoes, wine, lemon juice or vinegar can prevent dried bean softening while they cook. Acid prevents the starch within the bean from swelling. For this reason, I don't use dried beans in recipes that also contain tomatoes.
How Do You Add More Flavor to Soup?
Use homemade vegetable broth or chicken broth. This really is a game changer.
Salt! Don't be shy about adding salt. Especially if you're just using water (not broth) as the base. Add some salt before the soup cooks, then add more when the soup is done.
A few inches of Parmigiano Reggiano cheese rind can be added while the soup is cooking to add more flavor
A spoonful of Better Than Bouillon is a secret ingredient and flavor booster. Add it at the very end of the cooking, to adjust the flavor.
Add a drizzle of lemon or vinegar (try red wine vinegar or apple cider vinegar) when the soup is done
Soup is usually more flavorful the next day. Plan to make soup the day before you're serving it for dinner.
Always serve soup with toppings that add flavor, like fresh herbs, grated cheese, sour cream, salty crackers, red pepper flakes or black pepper
More Favorite Soup Recipes
Print
📖 Recipe
Slow Cooker White Bean & Tomato Soup with Orzo
Made from canned white beans and tomatoes, plus broth and seasonings, this is an easy slow cooker soup to throw together. The orzo is added in the last 15 minutes of cooking. 
Finish the bowls of soup with a squeeze of lemon, grated parmesan cheese, and fresh herbs. I like serving this white bean soup with crunchy, salty crackers on the side. 
Author:
Prep Time:

15 minutes

Cook Time:

6 to 8 hours

Total Time:

8 hours 15 minutes

Yield:

8

servings

1

x
Category:

Soup

Method:

Slow Cooker

Cuisine:

American

Diet:

Vegan
1

small onion, finely chopped (or

two

shallots)

4

garlic cloves, peeled and smashed with your palm 

2

carrots, chopped into

¼

-inch pieces 

¼ cup

olive oil 

2 tablespoons

tomato paste

1

14.5-ounce can diced tomatoes with juice 

2

cans white beans, drained and rinsed (cannellini, navy or great northern)

9 cups

water or vegetable or chicken broth (or a combination of water and broth)*

¼ cup

chopped fresh parsley (or just throw several wholes sprigs in)

1 ½ teaspoon

Italian seasoning

1 teaspoon

salt, pulse more to taste

¼ teaspoon

black pepper

¾ cup

uncooked orzo pasta
A squeeze of lemon
Optional: One cup frozen spinach or kale
Instructions
*This recipe adds an extra cup of water/broth (9 cups instead of 8) because when you add orzo pasta at the end, it will absorb some of the liquid. I find that using only 8 cups of water/broth makes the soup too thick. If you prefer a thicker soup with less broth, then jut add 7 or 8 cups of liquid.
Recipe Tip: Some slow cooker recipes require sauteing the onion and garlic before adding them to the crock pot. This is because slow cookers don't always fully cook onion, and sauteing also helps boost the flavor of onion and garlic. You can do this if you like, but I find that simply microwaving the onion and garlic achieves nearly the same results and is quicker and easier.  
Either saute onion, garlic and carrots in olive oil for 5 to 7 minutes (to soften and lightly brown) or combine onion, garlic and carrots with olive oil in a microwave safe bowl and microwave for 3 to 5 minutes, stopping to stir once or twice, until the onion is soft. 
Add onion, garlic and carrots to the slow cooker along with the next 8 ingredients: tomato paste, tomatoes, beans, broth/water, Italian seasoning, parsley, salt and pepper. Mix well. 
Secure the lid and program the slow cooker to cook on low for 6 to 8 hours or high for 4 hours. 
In the last 15 to 20 minutes of cooking, add the orzo. 
Stir the soup well to make sure the orzo is cooked. If adding frozen greens, stir the greens in now. 
Add a squeeze of lemon and more salt to taste. If you used water instead of broth, you'll definitely need to add more salt. 
This soup keeps well in the refrigerator for up to 5 days. The orzo will continue to absorb a little water and the soup will get thicker. You might want to add more water and seasoning to soup each time it's reheated. 
You can also freeze the soup in a Ziploc freezer bag.  When reheating, add more water to the soup if it's too thick. 
Notes
This recipe is made in a 6-quart slow cooker. 
This soup is ready to eat after 6 hours on low, but if you leave it in the slow cooker for 8 hours, the flavors get a little bit richer. Do what works best for you schedule!
Keywords: white bean soup, white bean and tomato soup, bean and orzo soup, orzo soup, slow cooker soup