If you're looking for an alternative to peanut oil, these are the 5 best peanut oil substitutes. These oils have a similar flavor and high smoking point and can be used in recipes that call for peanut oil.
Peanut oil is a mild-flavored oil with a high smoke point - meaning it can be used to cook at high temperatures. It is mainly used for deep-frying, sautéeing and stir-fry dishes. It is also used in salad dressing because it has a neutral flavor.
Most peanut oil you'll see at the grocery store is refined. However, you can also buy unrefined peanut oil. Refined and unrefined peanut oil are different products.
To learn more about how oils are refined, check out this handy chart about choosing the right cooking oil and learn about the difference between naturally and industrially refined oils, cold-pressed and expeller pressed oils.
Unrefined peanut oil has the flavor of peanuts and a lower smoke point. It is usually more expensive. Like roasted peanut oil, it is generally used to add a nutty flavor to food or salad dressing and drizzled on after food has been cooked.
Refined peanut oil has been processed to make it more shelf-stable and heat-stable. This process also diminishes the flavor, giving refined peanut oil a very neutral flavor.
Therefore, the best substitutes for refined peanut oil are oils that are also refined and have a high smoke point and neutral flavor.
1. Canola Oil
Widely available and inexpensive, canola oil is an excellent choice and a great substitute for peanut oil. It has a neutral flavor, making it a good option for salad dressing. The smoke point of canola oil is around 400º F, which is slightly lower than peanut oil but still high enough to use for deep frying or stir-frying.
2. Safflower Oil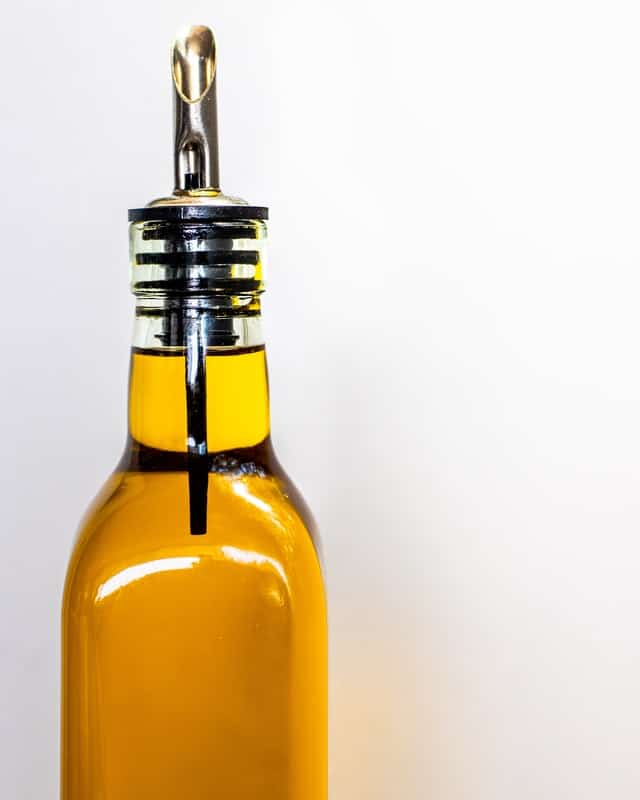 Safflower oil is also a good choice. Made from the seeds of the safflower plant, refined safflower oil has a very high smoke point (510º F) and almost no detectable flavor. It's a good oil for deep-frying or high heat cooking. However, It is usually more expensive than peanut oil.
3. Sunflower Oil
Sunflower oil is easy to find in stores and fairly affordable, making it a great option. It has a neutral flavor, making a good option for most recipes. Its smoke point is around 440º F.
4. Refined, Light or Blended Olive Oil
Refined, or light, olive oil is different than extra virgin olive oil. Refined olive oil undergoes additional processing that usually involves high heat and/or chemicals that diminish the flavor and odor of the olive oil.
Sometimes, extra virgin olive oil is blended back in to add flavor. You can also find refined olive oil that is blended with canola or other vegetable oils.
The neutral flavor and fairly high smoke point (around 460º F) of light olive oil can make refined/light olive oil a fine substitute for peanut oil.
5. Corn Oil
Corn oil is a type of vegetable oil. Very affordable and easy to find, corn oil is also a good alternative to peanut oil. Corn oil has a neutral taste. It can be used with high heat and the smoke point is the same as peanut oil (450º F).
Other Oils
Rice bran oil, avocado oil and grape seed oil are also fine substitutes for peanut oil. All three have high smoke points. Rice bran and grape seed oil have neutral flavors, while avocado has a stronger flavor and more buttery texture. You can use all 3 of these oils to make salad dressings.
However, they are all quite a bit more expensive. This makes these oils less ideal substitutes, especially if you are using them in larger amounts for deep-frying.
Curious about other oil substitutes? Read about the best substitutes for sesame oil.
Frequently Asked Questions about Peanut Oil
How is it made?
Peanut oil is simply an oil that is pressed out of peanuts. Machines are used to crush and press nuts and seeds to expel oil.
Does peanut oil go bad?
If unopened and kept in a cool, dark place (like a pantry or basement) refined peanut oil has a long shelf life and can last up to a year or more. Once opened and exposed to heat and light, however, it will eventually go rancid, usually within 4 to 6 months (rancid peanut oil will have a rancid odor). You can extend the shelf life of peanut oil by keeping it in the refrigerator.
What is groundnut oil?
Groundnut is the English name for peanut oil.
What is a smoke point?
Every type of fat has a smoke point. A smoke point is the temperature at which the fat will start to burn and smoke. If you've ever heated olive oil in a very hot pan for too long and seen smoke, that's a good example of a smoke point.

The more refined/processed an oil is, the higher the smoke point. If an oil is unrefined or cold-pressed, it's likely to have a lower smoke point.

Because peanut oil has a high smoke point, it works very well for deep frying and other high-heat cooking methods.

Seriouseats.com has a handy smoke point index chart.
What happens when oil is too hot and starts to smoke?
When heated too high, oil can turn bitter. Also, the burnt aroma can affect the flavor of food. Burning oil is also a fire hazard.

If oil starts to smoke, immediately remove it from the heat source and let it cool. In most cases, it's best to throw out the oil and start cooking again with fresh oil.
Can I buy unrefined peanut oil?
Many oils are sold in both refined and unrefined versions. The refined versions are more highly processed and will have a milder flavor and higher smoke point. The unrefined versions will have a stronger flavor and lower smoke point.

Unrefined peanut oil can be bought in many stores and will be labeled as unrefined.

And, keep in mind that not all refined oils are equal. To learn more, read this article about Choosing the Right Cooking Oil.
What about roasted peanut oil?
Roasted peanut oil is made from peanuts that were roasted before the oil is pressed out. This gives the oil a nuttier, stronger flavor. Roasted peanut oil is generally used to add flavor to food once it has been cooked, or to briefly saute food.

Good substitutes for roasted peanut oil are oils that have a strong flavor. This includes nut oils like walnut oil, or sesame oil, hempseed oil and pumpkin seed oil.
What temperature does oil need to be for deep frying?
Oil is usually heated between 350 and 375 for deep frying.
What are the health benefits of peanut oil?
According to The American Heart Association, peanut oil "contains more better-for-you fats and less saturated fat." Also, "peanut oil stays liquid at room temperature, and is healthier than solid fats (like butter, shortening, lard and hard stick margarine).

According to The Food Lover's Companion food dictionary, peanut oil is about 50 percent monounsaturated fats and 30 percent polyunsaturated fats.

Peanut oil contains a small amount of vitamin E and is rich in omega-6 fatty acids.
Does this recipe make you hungry?
SUBSCRIBE
to the Kitchen Skip newsletter
for helpful tips, easy recipes
& good conversation