In this magical recipe for one-pot spaghetti with tomatoes and kale, starchy pasta water creates a flavorful "sauce" for the noodles. This easy and fast dinner recipe is made using frozen kale or frozen spinach.
This one-pot method for cooking spaghetti is brilliant in every way. It's easy, fast and will make the most flavorful spaghetti you've ever eaten.
That's a big statement, so let me clarify. This isn't red sauce and meatballs spaghetti. That's a whole different category. This is a simple bowl of pasta tossed with olive oil, garlic, tomatoes and kale. But something truly magical happens when everything is cooked together in one-pot.
The pasta water is absorbed by the noodles, creating a starchy "sauce" with amazing flavor. Honestly, you have to try this recipe yourself to understand why it's so good. There's something magical about watching a few simple ingredients come together quickly into such a delicious meal.
My family loves the flavor of this pasta with kale and tomatoes. And I love how easy and fast this recipe is!
I use the same one-pot pasta method to cook penne pasta with frozen vegetables.
Ingredients & Equipment
Spaghetti: I've only tested this recipe using spaghetti noodles, but it should also work with other long noodles like fettuccine or linguine.
Frozen Kale or Frozen Spinach: Look for frozen "chopped" spinach or kale, which easily blends into the pasta. For this recipe, frozen greens have a better texture than fresh greens.
Tomatoes: I like using cherry tomatoes, sliced in half. You can also chop whole tomatoes into small, bite-sized pieces.
Parmesan: Optional, but really delicious!
Olive oil, garlic and salt: Pantry basics that are needed for the recipe
Equipment: You'll need either a Dutch oven or deep skillet with a lid. The cooking vessel you choose should be wide enough to fit dry spaghetti noodles. I find that using my Dutch oven works the best.
Step-by-Step Instructions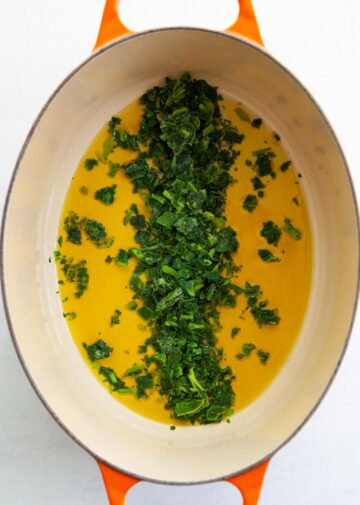 Step 1: Warm olive oil and frozen chopped kale or spinach
Step 2: Add halved cherry tomatoes and garlic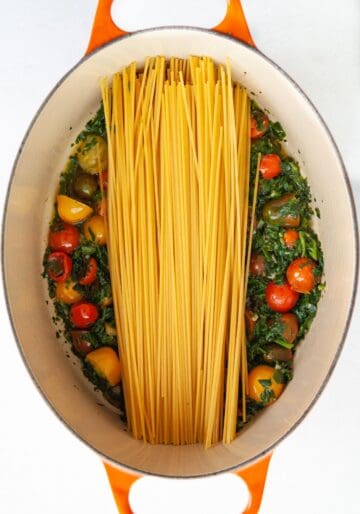 Step 3: Add 16 ounces spaghetti
Step 4: Add 4 ¼ cups boiling water. Simmer the spaghetti for about 8 minutes, moving the pasta around with tongs so it doesn't clump together.
Step 5: When the noodles are tender and most of the water has been absorbed, sprinkle parmesan cheese on top. Put a lid on the pot and let the pasta with kale and tomatoes rest for a few minutes before serving.

For detailed instructions and specific ingredient amounts, see the recipe card below
One-Pot Spaghetti Variations
After making this recipe once, you'll start thinking about variations you'd like to try in the future.
Add a can of drained chickpeas or white beans
Add lots of fresh herbs before serving
Add red pepper flakes for heat
Add frozen corn
Add sliced, pre-cooked sausage
More Pasta Recipes
Print
📖 Recipe
One-Pot Spaghetti with Tomatoes and Kale
In this magical recipe for one-pot pasta with kale and tomatoes, starchy pasta water creates a flavorful "sauce" for the noodles. This is a quick, easy and really flavorful pasta dish. 
This recipe was updated 5/23/2022
This recipe was adapted from the New York Times recipe for One-Pot Spaghetti with Cherry Tomatoes and Kale.
Author:
Prep Time:

5

Cook Time:

15

Total Time:

20 minutes

Yield:

4

to 6

1

x
Category:

pasta

Method:

simmer

Cuisine:

Italian

Diet:

Vegetarian
2 tablespoons

olive oil

2

cups

frozen chopped spinach or chopped frozen kale

3

garlic cloves, finely chopped

1

pound

cherry tomatoes, halved, or regular tomatoes, chopped

1 teaspoon

salt, plus more to taste

16

ounces

spaghetti

½

cup

grated parmesan, plus more to taste
Instructions
In a small pot or teapot, bring 4 ¼ cups water to a boil.
In a Dutch oven or a wide, deep skillet with a lid (it should be wide enough for dried spaghetti to lie flat) warm the olive oil over medium heat and add the frozen spinach/kale. Saute the spinach/kale until it's no longer frozen, about 2 minutes.
Add the garlic and tomatoes, and saute about 1 minute more. 
Add the spaghetti (do not break the noodles). It's okay if the noodles are stacked mostly in the middle of the skillet or Dutch oven. (see photos in the blog post above)
Carefully pour the boiling water into the skillet. Add the salt.  Keeping the heat on medium, bring the water back to a boil. 
Set a timer for 6 minutes. Continue to rapidly simmer the pasta over medium heat, using tongs to frequently move the spaghetti around so it doesn't stick together in clumps as it cooks. For quite awhile, it won't look like anything is happening, but trust me, the noodles will slowly start absorbing the water as they cook.
After 6 minutes, taste a noodle. The spaghetti should be getting tender but still fairly firm (al dente).  Simmer another 1 to 2 minutes, moving the pasta around with tongs frequently, until the pasta is tender but not mushy and most of the water is absorbed.
Turn off the heat. Sprinkle parmesan cheese over the pasta and let it sit with a lid for 2 to 3 minutes.
Most of the liquid should be completely absorbed when you lift the lid. If the noodles don't seem completely cooked, put the lid back on for a minute or two.
Stir really well with tongs before serving. Add salt and more parmesan to taste if needed. 
When you transfer the spaghetti to a serving bowl, use a spatula to scrape the bottom of the skillet so that all of the flavorful, starchy "sauce" comes out with the noodles. 
Notes
The thickness of the spaghetti noodles affects the total cooking time. Thin spaghetti noodles will cook faster than thicker noodles. 
Keywords: one-pot spaghetti, spaghetti, kale, tomatoes, One pot pasta kale, Kale cherry tomato pasta, Tomato and kale pasta, pasta with kale and tomatoes