Spaghetti squash chicken parm is an easy recipe for baked chicken parmesan with roasted spaghetti squash and a cheesy, crispy topping.
Here's what's for dinner tonight: Roasted spaghetti squash and chicken breast smothered in a crispy, cheesy topping of melted parmesan, mozzarella, panko and tomato sauce. Lots of garlic, of course, and fresh basil add even more Italian flavor to this cozy winter dinner.
Traditional chicken parm is fried, but this easy recipe for baked chicken parmesan goes straight into the oven. Canned tomatoes (or marinara sauce) and chicken breast are drizzled with olive oil, topped with panko, parmesan, mozzarella and garlic - and into the oven it goes.
The cheese gets crispy around the edges and stays soft and melty in the middle of the pan. Yes, this chicken is hard to resist!
The spaghetti squash is baked separately and then stuffed with the same cheese and panko mixture and baked again. This might just be my new favorite way to serve spaghetti squash!
Jump to:
Make This Recipe in 5 Easy Steps
Give the spaghetti squash a head start, roasting the halves for 45 minutes
Mix together parmesan, mozzarella, panko, garlic and Italian seasoning
Top pre-baked spaghetti squash with cheese & panko
Top chicken breasts and canned tomatoes (or marinara) with cheese & panko
Put the spaghetti squash back in the oven with the chicken, bake for 25 minutes
To finish the recipe, bake the squash and chicken for 25 minutes.
And finally, sit down with your glass of wine and a plate of Italian comfort food. It's not traditional chicken parm, but it's delicious nonetheless!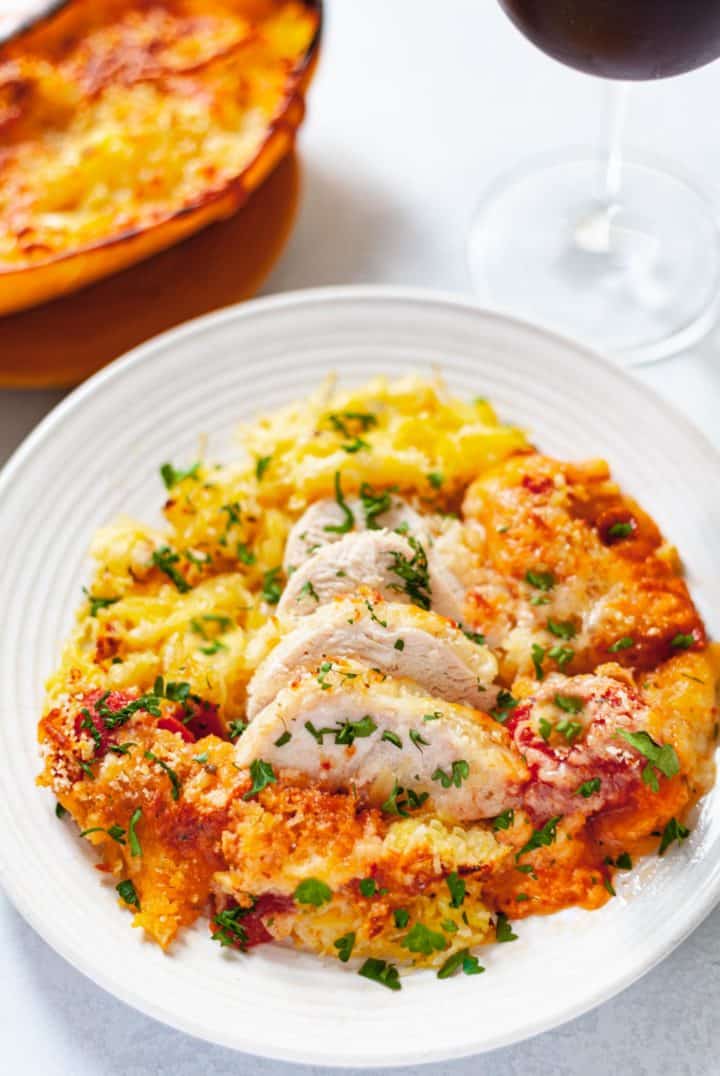 While this recipe is easy, it isn't super quick. Cooking spaghetti squash takes time. I prefer roasting spaghetti squash, so it browns and caramelizes and develops a richer, sweeter flavor. There are faster methods, however, if time is of the essence.
For all of these methods, carefully cut the squash in half lengthwise and scoop out the seeds first. After the squash is cooked, use a fork to pull the strands apart, forming long spaghetti-like "noodles."
How to Cook Spaghetti Squash
Roasting: Roast halves brushed with oil or butter, cut side down on a sheet pan for 45 to 60 minutes at 450 F, until tender and nicely browned.
Instant Pot: Pour 1 cup water in the Instant Pot. Put in the steam rack and set the squash halves on the rack, cut side down. Pierce the skin several times with a fork. Cook on high pressure for 10 to 12 minutes, with an instant release.
Microwave: Put halves in a microwave-safe dish, cut side down, with 1-inch of water. Pierce the skin several times with a fork. Microwave for about 20 minutes, until tender.
More Chicken Dinners
Print
📖 Recipe
Spaghetti Squash Chicken Parm Recipe
---
Author:

Prep Time:

25

Cook Time:

1 hour 10 minutes

Total Time:

1 hour 35 minutes

Yield:

6

servings

1

x
Description
Spaghetti squash chicken parm is an easy recipe for baked chicken parmesan with roasted spaghetti squash and a cheesy, crispy topping.
Note that the first step of this recipe is roasting the spaghetti squash, which takes about 45 minutes. 
This spaghetti squash recipe is adapted from Ali Slagle's Baked Spaghetti Squash
---
2

spaghetti squash, halved lengthwise and seeded

¼ cup

olive oil, plus more to brush on spaghetti squash

1 cup

grated parmesan cheese or a parmesan/romano blend

16 ounce

bag grated/shredded mozzarella

1 ¼ cup

panko

2 teaspoons

finely chopped garlic

1 tablespoon

Italian seasoning (or dried thyme or oregano)

1

28-ounce can whole peeled tomatoes OR

2 cups

of your favorite marinara/pasta sauce

4

boneless, skinless chicken breasts (

6

to

8

ounces each)
Fresh basil, for garnish
---
Instructions
Heat oven to 450 F
Spray a sheet-pan with non-stick spray or cover with parchment
Brush each cut side of spaghetti squash with olive oil (about 1 tablespoon for each squash half) and season with salt and pepper.
Place squash, cut side down, on the sheet-pan. Set the timer for 45 minutes. 
In a bowl, mix together parmesan, ¾ of the bag of mozzarella, panko, garlic and Italian seasoning. Set aside. 
If using canned whole tomatoes, use a slotted spoon to take the whole tomatoes out of the can, leaving behind all of the juice. Slice each canned tomato in half crosswise, letting the liquid spill out. Place the tomatoes in a 9x13 pan. If using marinara sauce instead of whole tomatoes, spread the marinara sauce in the pan. 
Nestle the chicken breasts in the pan with the tomatoes or marinara sauce. Drizzle the entire pan with ¼ cup olive oil and season chicken breasts generously with salt. 
Sprinkle 2 cups of the cheese & panko mixture over the chicken and tomatoes. 
Take the squash out of the oven when the timer goes off. Check to make sure it's done - nicely browned, with tender strands. 
Use a fork to pull and scrape the squash into long, thin strands, keeping the strands in the squash skin. The squash will be hot, so you might need to wear an oven mitt on the hand that is holding the squash. 
Mix about 1 cup of the cheese and panko mixture into each squash half, so it's blended in with the squash strands. Drizzle the top of each squash lightly with olive oil. 
If you have any leftover cheese & panko, scatter it over the pan of chicken. 
Put the pan of squash and the pan of chicken into the oven.
Bake for 20 to 25 minutes. Each pan should be browned and the cheese melted and bubbly. I often bake the spaghetti squash for 20 minutes, and leave the chicken in for 25 minutes. 
When the timer goes off, check the chicken breasts for doneness - use a cooking thermometer to check for 165 F in the thickest part. 
Top the pan of chicken with fresh basil before serving the chicken with the spaghetti squash. 
Notes
If using canned tomatoes, you can freeze the remaining tomato juice in the can for a future recipe that calls for tomato sauce
Category:

Chicken

Method:

Bake

Cuisine:

Italian American
Keywords: chicken parm, baked chicken parmesan, spaghetti squash,