Almond pesto has a delicious nutty flavor from roasted slivered almonds blended with fresh basil leaves, parmesan, garlic and olive oil.
Even though I love pesto made with pine nuts, I rarely use pine nuts anymore when I make pesto. Those little nuts are expensive!
Lately, I've been making lots of pesto without pine nuts and turning to almond pesto instead.
I love the nutty flavor of almond pesto! I use dry roasted, slivered almonds which have an extra toasty, nutty flavor.
Almonds also give pesto more texture, because it's hard to grind them up as fine and smooth as pine nuts.
5 Ingredients
You only need 5 ingredients to make this pesto: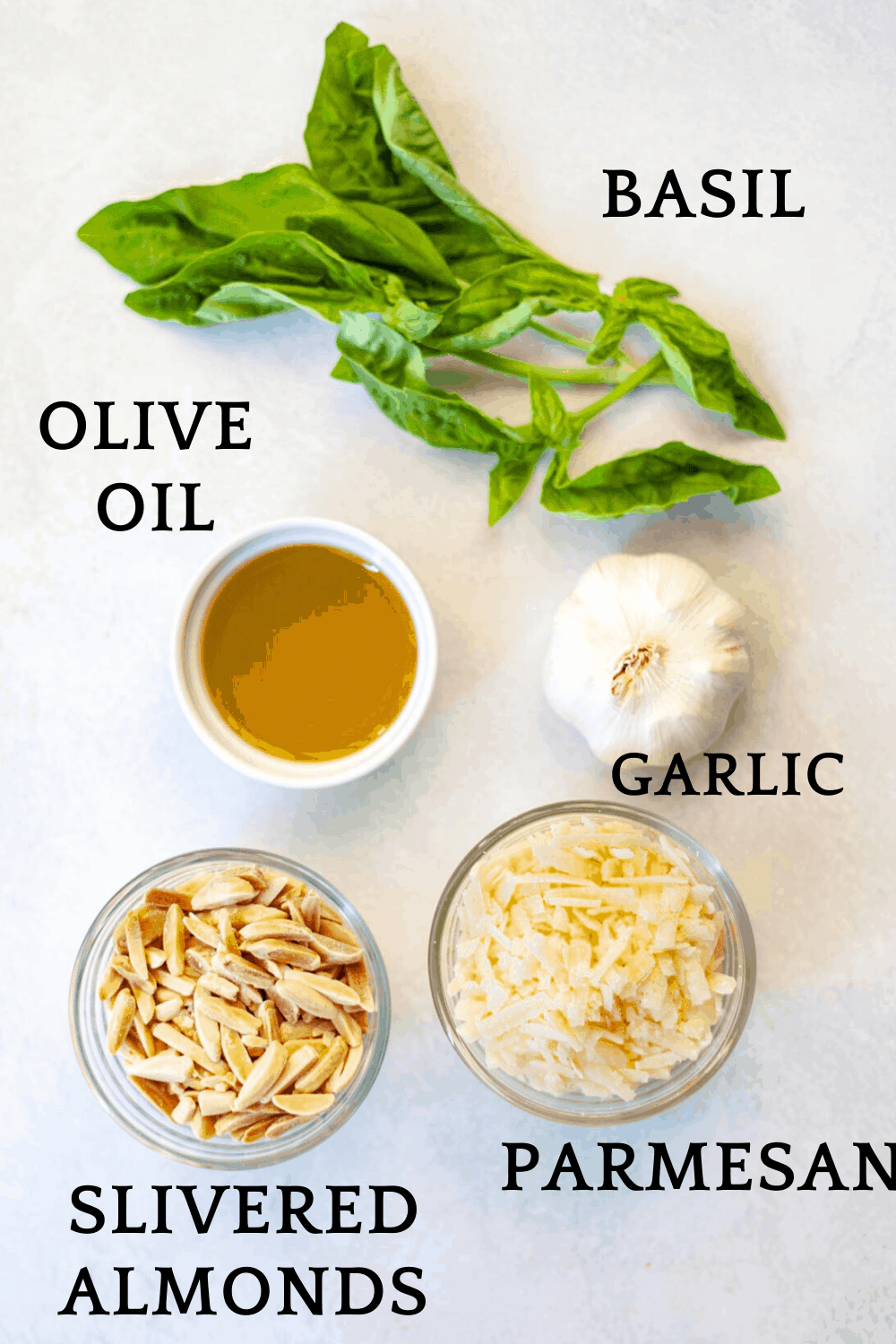 How to Make Pesto in a Food Processor
Almond basil pesto can be made in two easy steps:
Step 1: Blend almonds, garlic cloves and grated parmesan cheese until finely ground
Step 2: Add basil and drizzle in olive oil while the blade is running
Pesto Recipes Without Pine Nuts
There are several reasons why I like using dry roasted, slivered almonds instead of pine nuts when I make basil pesto.
Almonds are more affordable than pine nuts
I find it easier to use up leftover almonds, so they never go to waste
Dry roasted, slivered almonds have a rich, nutty flavor that gives pesto more flavor
Almonds don't blend up quite as fine as pine nuts, which gives pesto more texture
Pesto can also be made with walnuts - try Shrimp Linquine with Arugula Walnut Pesto. Cashews are another popular nut to use in pesto recipes.
Looking for nut-free pesto? Try using sunflower seeds or pumpkin seeds in place of nuts.
How to Serve Pesto
We all know that pesto & pasta is a perfect combination. I love meals like Tuna Pesto Pasta. I also like to serve pesto with a sliced baguette for an easy appetizer or simple summer dinner.
All Your Questions About Pesto Answered
How Long Does Almond Pesto Last?
Pesto tastes best within a day or two of being made. However, it's perfectly safe to eat refrigerated pesto within 5 to 7 days of making it.
Can I Freeze Pesto?
Yes. This is especially helpful if you're making large batches of pesto during the summer. You can freeze pesto in jars or ice cube trays. Or, you can freeze it in a slab on a sheet pan, like this clever method used by The Kitchn.
How to Keep Pesto Green
Contact with air quickly turns bright green pesto into a less appetizing dark greenish/brown color. It's almost impossible to completely avoid oxidation, but there are a few ways that you can encourage pesto to stay green.

1. Blend the basil leaves into the pesto right before serving.
2. Add a small handful of spinach leaves, which add bright green color but don't affect the flavor all that much (or try a batch of spinach pesto).
3. Add a squeeze of lemon to the pesto.
4. Pour a layer of olive oil (about ½-inch) over the bowl of pesto when you refrigerate it, to create a barrier that keeps the pesto from oxidizing.
5. Cover the pesto with plastic wrap, pressing it directly onto surface.

Can I Make Vegan Pesto?
To make vegan almond pesto, just leave out the cheese and add more dry roasted, slivered almonds (about 1 cup). Roasted, slivered almonds add rich flavor and texture to the pesto, so you might not even miss the cheese.

A spoonful of cashew butter can also make vegan pesto creamy without adding cheese.
Can I Use Whole Almonds in This Recipe?
I find that slivered almonds are easier to blend into pesto than whole almonds. I also like slivered almonds because the skin is removed.
Pros and Cons of Using a Food Processor to Make Pesto
Traditional Italian pesto is made by hand using a mortar and pestle. A food processor makes the job faster and easier, especially if you're making a big batch. However, the texture is different; thicker and smoother than pesto made in a mortar.
How Do I Blend Pesto Into Pasta?
It can be hard to evenly blend pesto into pasta. These two tips help make it easier:

1. Add liquid as you mix in the pesto. If possible, use ½ cup or so of the water that was used to boil the pasta. This water contains starch from the pasta, and starch helps sauce stick to noodles. However, regular warm water will work in a pinch.
2. Add more olive oil, or butter. Olive oil will thin out the pesto and make it easier to toss with noodles. A pat of butter added to the warm noodles at the same time as the pesto also help coat the noodles.
Pasta Recipes You'll Love
Does this recipe make you hungry?
SUBSCRIBE
to the Kitchen Skip newsletter
for helpful tips, easy recipes
& good conversation
Print
📖 Recipe
Almond Pesto
Almond pesto has a delicious nutty flavor from toasted slivered almonds blended with fresh basil leaves, parmesan, garlic and olive oil. 
Author: Jenny Meier | Kitchen Skip blog
Prep Time:

15

Total Time:

15 minutes

Yield:

1 ½

to

2

cups

1

x
Category:

Pasta

Method:

Blend

Cuisine:

Italian American

Diet:

Vegetarian
¼

to

1

cup

dry roasted, unsalted slivered almonds (*see notes below about the amount of almonds)

1

cup

grated parmesan cheese (I often use less expensive Grana Padano)

1

or 2 cloves garlic (depending on how much you like garlic)
A large bunch of fresh basil leaves (120 grams/4 ounces)**

¾

cup

extra virgin olive oil
Salt, to taste
**Trader Joe's sells 4 ounce plastic containers of basil. A "large" bunch of basil is enough to almost fill the food processor bowl to the top when the basil leaves are loosely piled on top of the blended almonds and parmesan. 
Instructions
In a food processor, blend the almonds, grated cheese and garlic until very finely ground.
Add the basil.
With the blade running, slowly pour in the olive oil while blending the basil leaves. Process the pesto until it reaches a consistency you like. You can make it thicker with more texture, or blend it longer for a smoother texture. You'll need to stop and scrape down the sides a few times.
Add salt to taste. 
Notes
How Many Almonds Should You Add? Traditional pesto usually adds only a tablespoon or two of nuts. I tend to like more when I'm making almond pesto. You can decide what you like. If you're making this pesto for the first time, start with ½ cup slivered almonds and see how you like it. 
Make It How You Like It: Don't worry too much about following the ingredient amounts exactly. You can add a little less cheese, or more olive oil, and more or less basil and the pesto will still be delicious. 
Keywords: almond pesto, basil pesto, pesto