This isn't so much a recipe as it is a strategy. It's my favorite way to cook lots of vegetables at once so they're ready and waiting when I need to throw together a quick dinner or lunch. When I meal prep vegetables it not only makes life easier, it also means we're eating a lot more vegetables over the course of a week.
In about one hour, I can meal prep 6 different vegetables by simultaneously using three cooking methods:
Roast most vegetables, lightly seasoned with olive oil and salt
Saute dark leafy greens, like kale and Swiss chard
Steam sweet potatoes or squash in my Instant Pot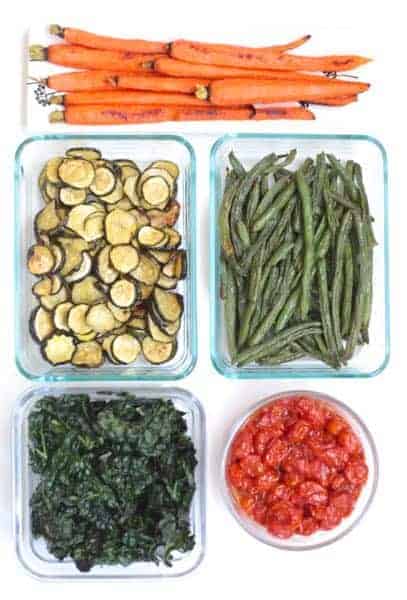 STEP 1: Gather Vegetables
Sometimes, meal prepping vegetables just means looking through my kitchen to see what I have on hand. Other times, I plan ahead and make a shopping list.

This is my standard shopping list for meal prepping vegetables:
Cherry tomatoes (8 to 12 ounces)
Green beans (12 to 16 ounces)
Zucchini (4 to 6)
Carrots (6 to 8 large carrots)
Sweet potatoes (2 to 4) or acorn or butternut squash (1)
Kale or Swiss chard (1 bunch)
Vegetables that are also easy to meal prep include broccoli or cauliflower, yellow potatoes, asparagus, beets and bell peppers
The real trick to meal prepping vegetables is cooking enough veggies to make it worthwhile but not so many that you can't eat them all. Start with the amounts above, then adjust quantities based on how much your family eats.
STEP 2: Prep Vegetables
Cherry tomatoes and green beans = No prep necessary, just wash them
Zucchini and carrots = Wash and slice into ¼ to ½- inch pieces. Sometimes, instead of cutting carrots into small pieces I just slice whole carrots in half lengthwise.
Kale and Swiss chard= Tear leaves from stems, wash leaves in salad spinner (I discard kale stems, but usually slice up the Swiss chard stems and saute them)
Sweet potatoes = Wash then poke a few holes in the skin
Acorn or butternut squash = Wash, cut in half, scoop out seeds
STEP 3: Cook Vegetables
I roast, saute, and Instant Pot at the same time. Here's how it happens:
Next, add 1 cup water the the Instant pot and place sweet potatoes or squash on the steamer trivet. Close and lock lid, valve set to sealing. Use manual mode to cook on high pressure for the cooking time below. Let the pressure release naturally when done.
Sweet potatoes = 20 minutes
Butternut squash = 8 minutes
Acorn squash = 5 minutes
Next, put the tomatoes, green beans, zucchini and carrots on sheet pans.

Sheet Pans: I own four Vollrath half-sized sheet pans that I use almost daily for cooking everything from vegetables to cookies to meat. I've had the sheet-pans for years and they're durable and long-lasting. They're perfect for roasting lots of veggies at once.
I like to keep each type of vegetable on a separate sheet pan or put two vegetables on separate sides of one sheet pan so they can roast for different amounts of time if necessary. I usually put parchment paper under the veggies on the sheet pan (optional, but makes clean-up easier).
Once cherry tomatoes, zucchini, green beans, carrots are spread out on sheet pans, I toss them in a generous amount of olive oil (or avocado oil) and salt. Put the sheet pans in the oven.
I set the timer for 25 minutes. I might peek once at the veggies, but otherwise leave them alone. After 25 minutes, I stir the vegetables and then check in on them every 5 to 8 minutes until they're done. "Done" is a personal preference. For me, "done" is nicely browned and fork-tender. Some veggies I like a little less cooked, some I love when they turn really brown and soft.Total roasting time for all vegetables is usually between 25 to 40 minutes.
While the veggies roast, I warm a drizzle of olive and a minced garlic clove in a large saute pan. I add the kale or Swiss chard and saute for about 5 minutes, until completely wilted. You can cook the leaves longer if you like them more tender.
Step 4: Eat!
I keep the cooked vegetables in glass food storage containers in the refrigerator. I mostly use Pyrex food storage containers. I dole out some of the veggies to my kids on their dinner plates, and my husband and I throw the veggies into salads, grain bowls and pasta throughout the week.
I also like layering vegetables on a slice of wheat toast with either smoked salmon, avocado or feta cheese for breakfast.
I don't meal prep vegetables every week. That would be great, but it's just not realistic for me right now. It might not be realistic for you either. Just do the best you can.

When I can't meal prep vegetables, I stock my kitchen with frozen peas, corn, green beans and kale, raw carrots and cucumbers and pre-cut broccoli. I buy bags of pre-washed arugula or baby spinach to get in dark leafy greens. These are all quick and easy vegetables that keep well in the freezer and refrigerator and are easy to serve on busy weekdays.
Recipes for Vegetable Lovers