An easy and accurate recipe that answers all of your questions about cooking Instant Pot black beans.
Cooking beans is one of the tasks that a pressure cooker does best. I really love Instant Pot black beans!
You can make a big batch of beans for meal prep (and even store portions of beans in the freezer) or a smaller batch of beans for recipes like quick and easy turkey chili, brown rice and quinoa burritos, or Instant Pot vegetarian chili.
Why Use A Pressure Cooker for Black Beans?
No more soaking beans overnight!
No more peering anxiously into a simmering pot on the stove!
Instead, just combine beans and water in the pressure cooker, program the cooking time and walk away. It really is that easy to make Instant Pot black beans.
I've found that cooking black beans in my Instant Pot also increases the odds that the beans will cook evenly and turn out tender and flavorful.
But I know you've got questions, because when I first started cooking dried beans, I had questions too. Dried beans are intimidating. Especially when every recipe for "perfect" Instant Pot black beans is slightly (or wildly) different. I know, because I've read all the recipes too. It's confusing when each one swears by a completely different cooking time.
I've taken everything I've learned and combined it here, answering all your questions about Instant Pot black beans.
Ok, Seriously, How Long Should I Cook Black Beans in a Pressure Cooker?
I've found that 25 to 35 minutes on high pressure with a natural release is the ideal cooking time for un-soaked Instant Pot black beans. Personally, I usually cook them for 30 minutes. The beans mostly hold their shape but have a soft texture in the middle without being mushy.
To find your sweet spot in this time frame, so that your black beans have exactly the texture that you personally love, you might have to cook a few batches.
Here's a guide to get you started:
Less than 25 minutes: In my experience, this leaves the beans a little too firm and undercooked.
25 minutes: Most of the beans are tender-firm, but some might be slightly undercooked. The beans hold their shape really well. If you know the beans will be cooked again in another recipe (like chili) this texture could be ideal.
30 minutes: Soft, tender beans that still mostly hold their shape, although a few have started to split open. Perfect for a side dish of beans.
More than 30 minutes: Softer, creamier beans.
Keep in mind that there is rarely an exact cooking time that works perfectly for everyone. The freshness of the beans and the size of the beans can vary, and the quality of beans can vary depending on the brand. So your black beans might take longer or shorter to cook than my black beans.
(See the FAQ below for more reasons why beans might turn out undercooked)
The cooking time for black beans is the same when cooking both small and large batches of beans. However, if you're cooking a larger batch of beans it might take the Instant Pot longer to reach pressure before the cooking time starts.
Frequently Asked Questions About Instant Pot Black Beans
Can I Just Use Bean/Chili Mode Instead of Manually Programming the Instant Pot?
On my Instant Pot, Bean/Chili Mode automatically cooks for 30 minutes at high pressure. If this cooking time works for you, great! Use the Bean/Chili mode.

If you want to program a more specific cooking time, like 27 minutes or 32 minutes, then it's easier to press the Manual button and program in the exact cooking time that you prefer for black beans.
1 Cup Dried Beans Equals How Much Cooked?
1 cup dried beans (8 ounces) will make 2 to 3 cups cooked beans.
What is the Black Bean to Water Ratio?
To pressure cook the beans, use a 3:1 ratio, 3 cups water for every 1 cup dried beans.

You don't have to measure the water exactly. Just add enough water to cover the beans by at least 1-inch. Error on the side of adding too much water, because you can always just strain it off after the beans are cooked. If the Instant Pot doesn't have enough water in it, the beans will burn to the bottom.
Do I Need More Than Just Water and Black Beans in the Pot?
Nope. Anything else added is extra for flavor. However, beans cooked in just water are rather bland. Read the seasoning section below for ways to add more flavor to the beans.

Personally, I always add salt because it gives the beans more flavor. When cooking beans, I add ½ teaspoon salt for every 3 cups water
Should I Soak Black Beans Before Cooking?
Soaking black beans in water before cooking them is optional. The main benefit of soaking is that it shortens the cooking time. Some people also feel that pre-soaking beans makes them easier to digest.

A pressure cooker is such a hands-off and relatively fast cooking method, that pre-soaking is less necessary. I rarely pre-soak black beans before cooking them in my Instant Pot.
How Long to Soak Black Beans?
To soak beans, put the beans in a large bowl (they expand in size as they soak) and add enough cold water so there's about 2-inches of water above the beans. For more flavor and to soften the bean skins, add 1 tablespoon of salt for every pound of beans.

Soak the beans for a minimum of 6 hours and up to 12 hours before draining, rinsing and cooking. The longer the soaking time, the shorter the cooking time.
What About Quick Soak Black Beans?
Quick soaking is a shortcut if you don't have time to soak beans overnight. To quick soak black beans, put beans in a pot and cover with enough water so there's 2-inches of water above the beans. Bring to a full boil then turn off the heat. Let the beans soak for an hour. Drain, rinse, then cook.
Why Are My Cooked Black Beans Hard and Tough?
If your beans turn out inedibly tough and hard, there are several possible reasons.

Age and Quality: The texture and flavor of legumes is always affected by the quality of the beans and how old they are. Dried beans should be fine for up to 2 years, so getting "old" beans shouldn't happen too often. However, I've noticed some grocery store brands to be of lower quality in flavor and texture than heirloom beans like Rancho Gordo.

Acidity: When acidity is added to the cooking pot, it can make beans tough. Acidity also causes beans to cook more slowly, so you'll need to use a longer cooking time. Tomatoes, vinegar, lemon and wine are common culprits.

Not Enough Liquid: If there's not enough liquid in the pot and the beans aren't covered, they won't cook evenly.

Hard water: The more minerals in your tap water, the longer the beans will take to cook.

Altitude: If you live at a high altitude, you might have to make adjustments to the cooking time.
Can I Freeze Cooked Black Beans?
Yes. If you make a big batch, simply freeze the beans in a Ziploc bag, removing as much air as possible. You can drain and rinse the beans or freeze them in the bean broth. Beans will keep for several months in the freezer.

You can freeze smaller portions to replace the use of canned beans. About 1 ½ cups cooked beans equals a 15-oz can of beans.
How To Make Black Beans From a Can
If you don't have time to cook dried beans, it's very convenient to buy black beans in a can. Black beans from a can are cooked and ready to eat. You can eat them cold in salads or add the canned beans to any recipe that you are cooking.
In most cases, you'll want to drain and rinse canned beans before adding them to a recipe.
Canned black beans are used in recipes like Quinoa Sweet Potato Chili, Spaghetti Squash Tacos, and Vegetarian Fajitas with Smoky Lime Sour Cream.
If you've cooked a batch of dried beans, then keep in mind that about 1 ½ cups of your cooked beans equals a 15-oz can of beans.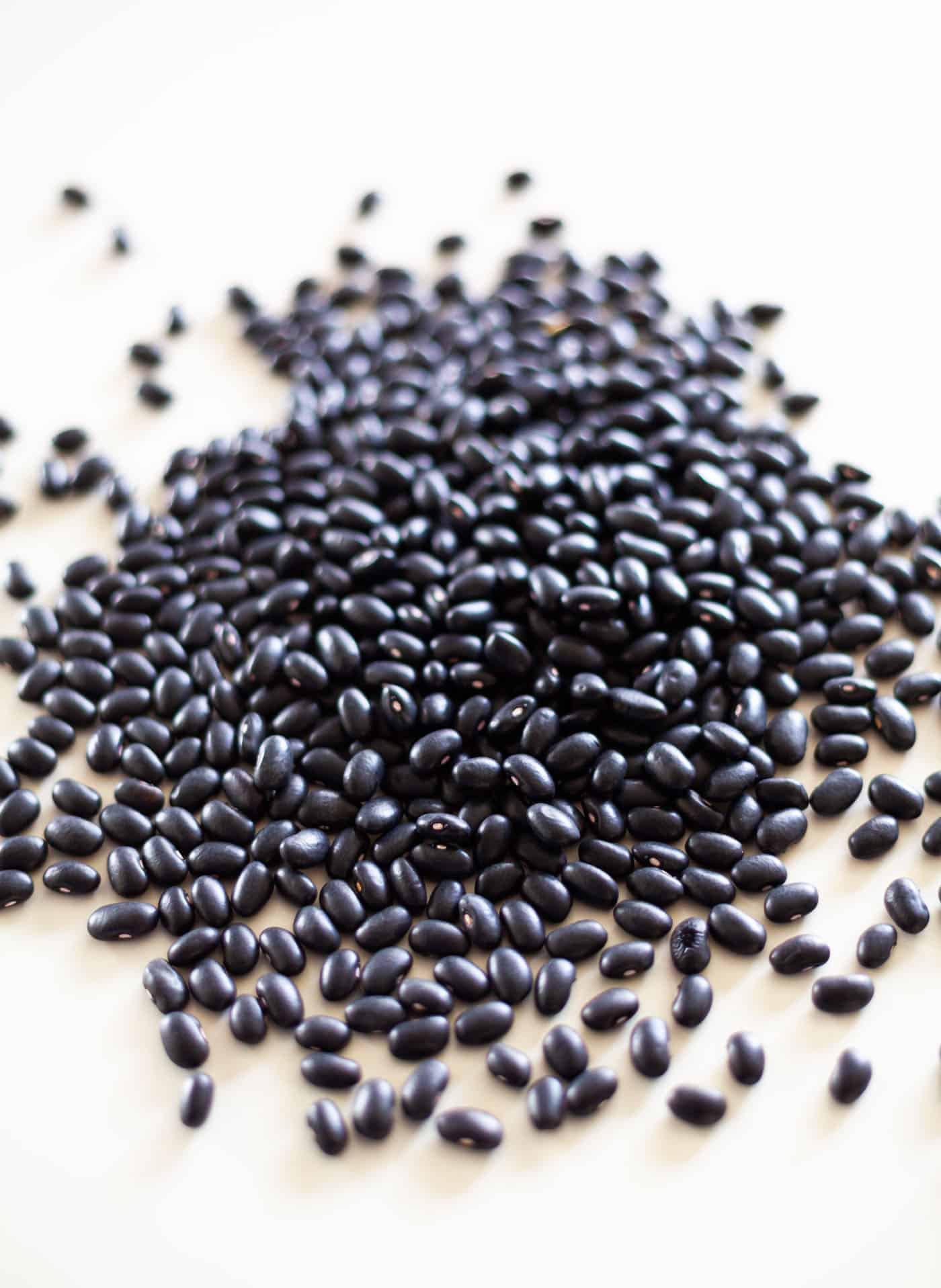 Adding More Flavor
While you can cook beans with just water, there are many types of additional ingredients that will add more flavor.
Salt! I always add salt before cooking and haven't found that it negatively affects the texture of the beans. It just adds much needed flavor.
Use broth instead of salted water
Saute veggies (onion, carrot, celery, garlic) before adding beans and water
Add a tablespoon or two of olive oil
Add whole, peeled garlic cloves
Add raw onion or shallot, cut into quarters
Add bay leaf, a few teaspoons of dried spices, or sprigs or fresh herbs
Add strips of uncooked bacon or a ham hock to the pot
More Easy Meal Prep
In addition to black beans, you can easily cooked dried white beans, pinto beans or red lentils.
You can also meal prep Instant Pot Quinoa, farro, or barley.
More Bean Recipes
Print
Instant Pot Black Beans
---
Author:

Total Time:

35 minutes

Yield:

3 cups

cooked beans

1

x

Diet:

Vegetarian
Description
This simple, straightforward recipe for un-soaked Instant Pot black beans is a great starting point for cooking black beans. You can adjust the cooking time slightly, either more or less, based what texture you like best. 
Use these beans in any recipe to replace canned beans. 
Double this recipe for a bigger batch of cooked beans - just stick with the ratio of about 3 cups water for every 1 cup/8 ounces dried black beans. 
Total Instant Pot Cooking Time: 10 minutes to reach pressure + 30 minutes cooking time + natural release
---
1 cup

dried black beans (about

8 ounces

)

3 cups

water

½ teaspoon

salt 

Optional flavor enhancers: Olive oil, garlic cloves, onion, bay leaf, fresh herbs, dried spices, bacon or ham hock
---
Instructions
Rinse the beans with water. 
Combine beans, water and salt in the Instant Pot.
Add any additional seasonings you want (optional)
Secure the lid, making sure the steam valve is in the sealed position.
Cook on high pressure 25 to 35 minutes by pressing the Manual button and programing the cooking time. Choose a cooking time within this range based on the texture you want.
25 minutes = Fairly firm
30 minutes = tender, beans mostly hold their shape but some split
30 + minutes = softer and creamier beans
Let the pressure release naturally
You'll have cooking liquid left in the pot when the beans are done. I often serve the beans with a little bit of liquid to keep them moist. You can strain the liquid from the beans if you're using the beans in a recipe, but consider keeping the bean broth to use as a flavorful base for soup. 
Notes
If your beans don't seem cooked enough you can always secure the lid back on the Instant Pot and cook the beans for a few more minutes, as long as there is still liquid in the pot.  
When cooking beans (and grains) it's recommended that the Instant Pot is never filled more than half full. Beans and grains need room to expand as they cook. 
This recipe was tested in a 6-quart Instant Pot. 
Prep Time:

5

Cook Time:

30

Category:

Side Dish

Method:

Instant Pot

Cuisine:

American
Keywords: instant pot black beans, black beans, Instant Pot
Does this recipe make you hungry?
SUBSCRIBE
to the Kitchen Skip newsletter
for helpful tips and easy recipes