Lightly sweetened with honey and flavored with coconut, vanilla, cherries & cinnamon, these tahini granola bars are a wholesome and yummy treat.
Once upon a time, I almost started a granola bar business. But do you know how many granola bars you have to sell to make a very, very modest living?
A lot. Really, a lot.

After a year of perfecting my granola bar recipes, I still couldn't get the math to work in my favor. So at the last minute, I decided that becoming a granola bar goddess was not my destiny.
This recipe for tahini granola bars is from those days when I was perfecting batch after batch of granola. These bars are a little sweet and a little salty with a texture that's chewy in the middle and crumbly around the edges. Oats are baked into the bars with a gloriously rich mixture of tahini, honey, coconut, coconut oil, olive oil, vanilla, cherries and cinnamon.
Tahini granola bars are also nut-free. If you're looking for nut-free granola bar recipes, you can also try my nut-free granola bars made with sunflower butter.
Why This Recipes Works
Tahini adds rich flavor and keeps the bars from tasting overly sweet
The bars are lightly sweetened with honey - no refined sugar
These baked bars hold together well when cut
The bars have a blend of healthy fats - olive oil, coconut oil, flax and hemp
How Do You Get Granola Bars to Stick Together?
Good question! It's frustrating when granola bar don't stick together. To help baked granola bars stick together, you need to use the right combination of ingredients.
1. Use Enough Sweetener
Sugar is the magic binder that holds granola bars together. It's tempting to use less sugar so that granola bars will be healthier, but then it's more likely that your bars won't stick together.
You don't have to use refined sugar. In fact, liquid sweeteners - like honey or syrup - help bars stick together even better because they add both sugar and moisture.
Dried, pureed fruit (liked dates) can also be used to sweeten granola bars, but it doesn't work as well in baked bars. If you want to use date paste, you'll have better luck making no-bake granola bars.
2. Add Enough Fat
Butter or oil supplies the fat that helps hold baked bars together. Nut and seed butters (like tahini) also add fat. The trick is adding just the right amount; if too much fat if added the bars will be too tender and fall apart.
Butter adds rich, delicious flavor to granola bars. You can also use a lighter, neutral oil like sunflower oil. For these bars, I opted for healthier (but stronger flavored) coconut oil and olive oil.
3. Add An Extra Binder
In this recipe, I also add oat flour to bars, which helps bind them together. Oat flour is simply rolled oats that have been blended into a flour-like texture. You can buy oat flour or make it at home by blending oats in a food processor.
Egg white can also bind bars together, especially if the bars contain lots of nuts and seeds.
Baking Tips That Hold Granola Bars Together
In addition to the right ingredients, you also need a few baking tips that will keep the bars from falling apart.
Use the right sized pan - Thick bars tend to crumble and fall apart in the middle. Try to keep the bar less than 1-inch thick.
Line the pan with parchment - Lining the pan with parchment lets you lift the bars out of the pan after they're baked, making it easier to cut the bars.
Press the bars like you mean it: Don't gently pat bars into a pan. Press with all of your might. I like to use a wide off-set spatula to press bars down. You can also use a lightly oiled glass jar to press bars into a pan.
Chill - The bars need to cool completely before being cut. This usually takes a minimum of 1 hour, but longer is better. I like to put the bars in the refrigerator to chill before I cut them.
Use a long knife - A long chef's knife or serrated bread knife works best for cutting bars.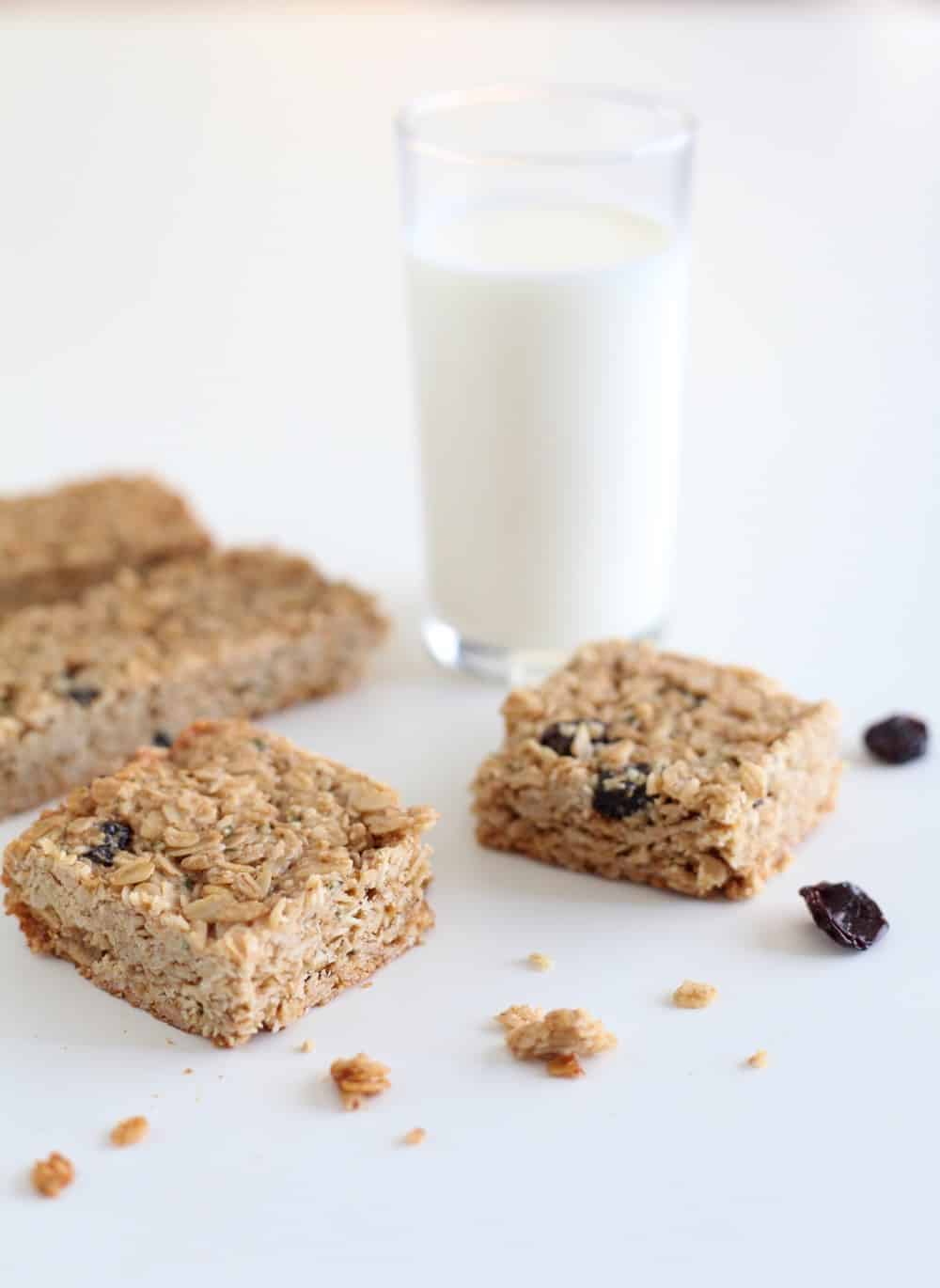 What is Tahini?
The only ingredient in tahini is hulled white sesame seeds, which have been ground into a smooth, creamy consistency. If you've ever eaten a sesame seed, that's what tahini taste like too - nutty, earthy and slightly bitter.
Tahini does not need to be refrigerated. It can be stored in a cool pantry after opening the jar. Make sure to stir tahini well before using, as the oil tends to separate and rise to the top.
More Tasty Treats
Does this recipe make you hungry?
SUBSCRIBE
to the Kitchen Skip newsletter
for helpful tips, easy recipes
& good conversation
Print
📖 Recipe
Tahini Granola Bars
Lightly sweetened with honey and flavored with coconut, vanilla, cherries and cinnamon, these bars are a wholesome and yummy treat.
I like to keep these bars in the refrigerator, so the texture stays firm. 
Author:
Prep Time:

15

Cook Time:

25

Total Time:

40 minutes

Yield:

16

bars

1

x
Category:

Snacks, Treats & Little Things

Method:

baking

Cuisine:

American

Diet:

Vegetarian
4 cups

rolled oats (also called old fashioned oats)

½ cup

oat flour* 

½ cup

unsweetened shredded coconut

½ cup

dried cherries (ideally unsweetened; this is my favorite brand)

¼ cup

raw shelled hemp seed (hemp hearts)

2 tablespoons

ground flax seed

1 ½ teaspoon

kosher salt (or

¾ teaspoon

table salt)

1 teaspoon

cinnamon

⅔ cup

tahini

½ cup

honey

⅓ cup

coconut oil

¼ cup

extra virgin olive oil

1 teaspoon

vanilla
*You can buy oat flour, or make oat flour by putting oats in a food processor and blending them into a smooth flour
Instructions
Preheat oven to 350 F
In a large bowl, mix together oats, oat flour, shredded coconut, cherries, hemp, flax, salt and cinnamon
In a medium bowl, whisk together tahini, honey, coconut oil, olive oil and vanilla until thick, smooth and well combined.  
Pour the tahini mixture over the oats. Mix really well with a spatula until the oats are completely coated.
Cut a large rectangle of parchment paper to line the bottom of a 9x13 baking pan, leaving several inches of overhang on two sides (the overhang of paper will make it easier to lift the bars out of the pan after baking).
 Dump the oats on top of the parchment and into the pan, using a spatula to smooth the oats out evenly. It's really important to press the oats down as firmly as possible, so that the bars hold together. You can use your hands to do this, but the easiest way is to use a wide off-set spatula to press down the oats. You can also use a glass jar to press down. 
Bake the bars for about 25 minutes, until the edges are lightly browned and you smell a sweet, toasted aroma in the air.
Keep the bars in the pan to cool completely before cutting. If the bars aren't completely cool, they are likely to crumble and fall apart when you cut them. I let the bars cool in the pan on the counter for about 20 minutes, then I put the pan in the refrigerator and let the bars cool and harden for a couple of hours before cutting them into squares or bars.
Use the parchment overhang to lift the cooled bars out of the pan. Use a long knife to cut the bars.
Notes
Tahini granola bars stay fresh at room temperature for about a week, although bars left out on the counter have a much softer texture than if you refrigerate the bars (which I prefer to do.) Refrigerated bars will stay fresh for  2 weeks or more. You can also keep the bars in the freezer.
I prefer unsweetened tart dried cherries with no added sugar, but they're hard to find at grocery stores. My favorite brand is Brownwood Acres unsweetened tart dried cherries, which I order from Amazon.
You can use dark chocolate chips instead of (or in addition to) dried cherries.
If you like the flavor of cardamom, you can add ¼ teaspoon to these bars
Keywords: granola bars, tahini, tahini granola bars, baked granola bar