Maple syrup coffee is easy to make at home, either hot or iced. Rich coffee (or espresso) is swirled with maple flavor and fall-spiced cream that's lightly sweetened with maple syrup.
Where I live in Los Angeles, we don't exactly have fall weather. Which is why I absolutely love recipes like maple syrup in coffee that bring autumn vibes into my life!
If you've also been craving cozy autumn flavors, then this coffee is for you!
To make maple coffee, a combination of maple flavoring and maple syrup are swirled into a rich and creamy cup of coffee topped with a light sprinkle of cinnamon or pumpkin spice.
You can control how sweet the coffee tastes. Perfect for coffee lovers who don't want a sugary drink!
If you're looking for more cozy beverages, try cinnamon tea, winter elixir, or garlic, ginger and lemon tea.
Jump to:
How to Add Maple Flavor to Coffee
There are three ways to add maple flavor to coffee:
Maple flavoring syrup with sweetener
Maple flavoring, unsweetened or lightly sweetened
Pure maple syrup

Maple flavoring with sweetener: This is the most common way to add maple flavor. If you buy maple coffee or a maple latte at a coffee shop, it's most likely flavored with maple flavoring syrup. The Torani brand is commonly used by coffee shops.
The ingredients in maple flavoring syrup aren't all that different from maple-flavored syrup that is used for pancakes (like Log Cabin Maple Syrup.)The maple flavor doesn't come from real maple syrup. It comes from natural and/or artificial flavor chemicals that are created in a food lab.
Maple flavoring syrup combines sugar and/or corn syrup with maple flavor, plus preservatives. This type of maple flavoring definitely adds maple flavor, but it's also quite sweet.
Maple flavoring, unsweetened or lightly sweetened: You can also buy maple flavor in the baking aisle of grocery stores (or order it online). One brand I like is Frontier Co-op. This maple flavoring is lightly sweetened with sugar and maple syrup.
If you're also going to add pure maple syrup to your coffee, then you can add this type of maple flavoring without adding a lot of sweetness.
Maple syrup: Pure maple syrup naturally sweetens coffee and also adds subtle maple flavor. It won't add as much maple flavor as a maple flavoring product will.
Rather than adding maple syrup directly to coffee, I like to sweeten milk with maple syrup, then top my mug with maple-sweetened foamed milk.
Recipe Ingredients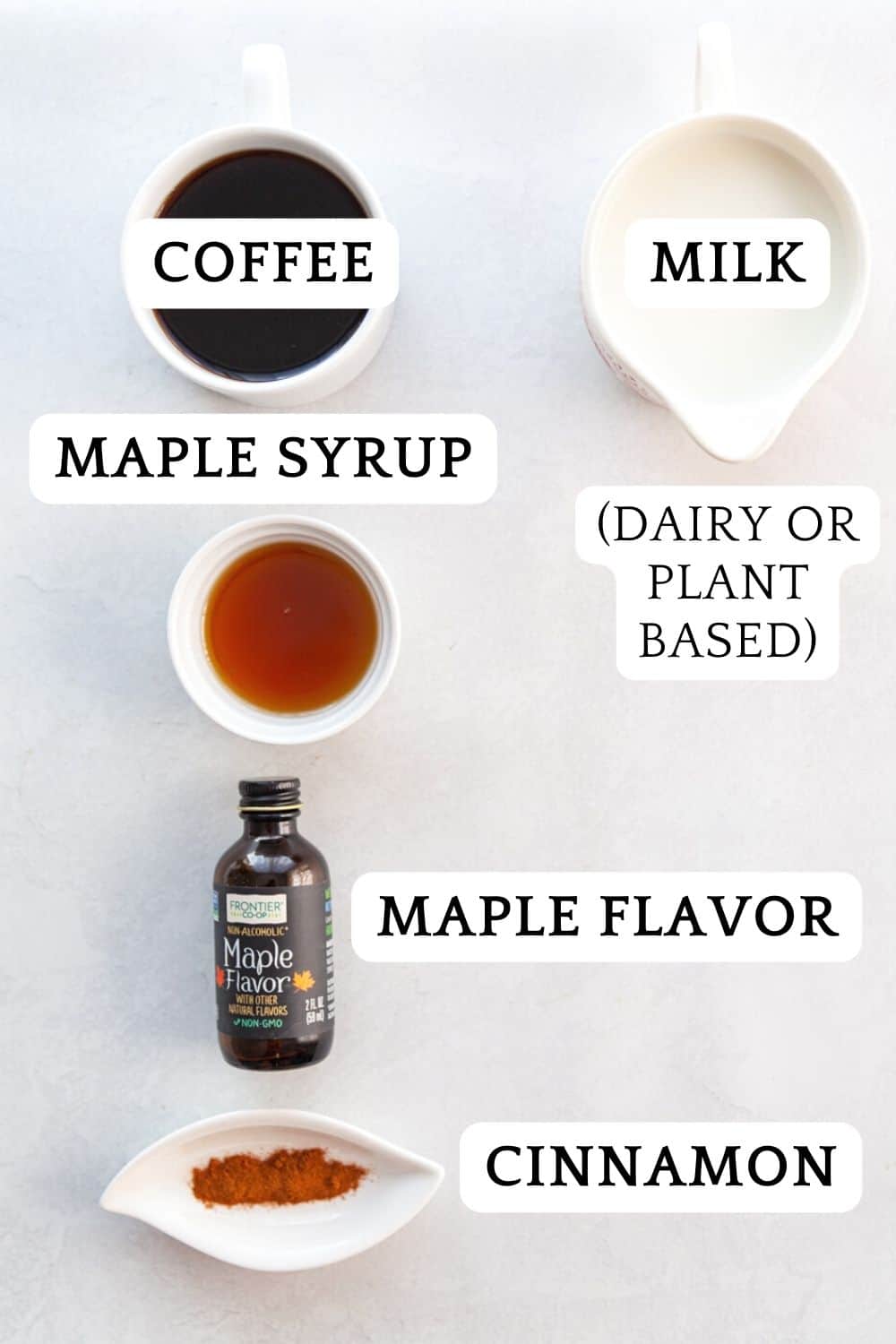 Coffee: Brew the coffee however you like. It can be hot coffee or iced. You can also use 2 shots of espresso and make a maple latte.
Milk: Add milk, cream or half and half - are all delicious! You can also use any type of plant-based or nut-based milk, just buy an unsweetened version.
Maple syrup: Use real maple syrup, with no added ingredients
Maple flavoring: This will add more maple flavor than just maple syrup will. You can buy maple flavoring in the baking aisle of some grocery stores or online.
A substitute for maple syrup and maple flavoring: Instead of adding pure maple syrup and maple flavoring separately, you can just use sweetened maple flavoring syrup, such as the The Torani brand. This type of syrup is quite sweet though, so you won't have has much control over the sweetness of your drink.
Where Does Maple Syrup Come From?
Pure maple syrup comes from trees, it's that simple! Sap is tapped from a maple tree and then boiled into a concentrated syrup.
Here's a fun video about a family that makes their own maple syrup as a hobby. Or, you can watch a video about the Maple Guild in Vermont that shows how maple syrup is made on a large scale.
Maple Syrup Grades
All grades of real maple syrup have only one ingredient: maple syrup.
As of 2022, labels should start indicating that real syrup comes in 4 different grades that are differentiated by color. Previously, syrup was graded either "A" or "B" which was little bit confusing, since "B" actually had more flavor.
Now, the four grades of syrup are all "A" but have descriptors added. Color is the main descriptor because color indicates flavor. The darker the syrup, the stronger the flavor.
All 4 grades of syrup are made the same way. It's just that syrup made from tree sap collected early in the season has a lighter color than syrup made from sap collected late in the season.
4 grades of maple syrup
Grade A | Golden Color and Delicate Taste: Lighter color, with a light maple flavor that's enough flavor for waffles and pancakes.
Grade A | Amber Color and Rich Flavor: A darker color and stronger flavor. Can be used for breakfast foods and for baking and cooking.
Grade A | Dark Color and Robust Flavor: Strong and pleasant maple flavor, for those who really like maple. This use to be sold as grade "B".
Grade A | Very Dark and Strong Flavor: Very strong, closer to molasses.
Honey vs Maple Syrup
Both honey and syrup will add noticeable flavor to your coffee.
Maple syrup has a distinctive maple and caramel flavor that can't be found in other sweeteners.
Honey is known for having a sweeter, more floral flavor.
Honey and maple syrup are both liquid sweeteners. However, syrup is thinner and not as thick as honey. This makes it easier for maple syrup to dissolve into both hot and iced coffee.
Honey will dissolve into hot beverages if the drink is mixed or shaken well, but in cold beverages honey clumps and thickens, making it harder to mix in.
FAQ About Syrup and This Recipe
Is maple syrup vegan?
Yes. Real maple syrup is made from tree sap and is vegan.
Is maple syrup gluten-free?
Yes. Real maple syrup is gluten-free.
How long does maple syrup last?
Opened bottles of real maple syrup should be kept in the refrigerator.

According to the USDA, maple syrup lasts about 1 year. Opened bottles should be kept in the refrigerator and unopened bottles can be kept in the pantry.

According to some maple syrup producers, opened maple syrup it lasts closer to 2 years. If maple syrup does go bad, you'll notice a thin layer of mold on the top.
What are the best maple syrup substitutes?
There really isn't a sweetener that's exactly like maple syrup! It's a unique product straight from nature.

In terms of flavor, molasses is the closest to maple syrup but it has a much stronger flavor.

For baking, you'll need to take into account the flavor, sweetness and moisture content if you want to use a substitute for maple syrup. King Arthur Baking has a guide for baking with liquid sweeteners.


What is the easiest way to froth milk?
I love my Nespresso milk frother, but they've gotten really expensive since I bought mine years ago. There are many other brands of electric milk steamers out there.

You can also lightly froth milk by pouring milk in a glass jar, heating the milk in the microwave, and then shaking the jar vigorously. It won't make thick, creamy foam but it will make light, airy foam.

Can I make a maple latte using this recipe?
Yes, just use 2 shots of espresso in place of coffee and add more milk. Or, you can brew really strong coffee and add more milk.
More Recipes That Use Maple Syrup
Does this recipe make you hungry?
SUBSCRIBE
to the Kitchen Skip newsletter
for helpful tips, easy recipes
& good conversation
Print
📖 Recipe
Maple Syrup Coffee
Maple syrup coffee is easy to make at home, either hot or iced. Rich coffee (or espresso) is swirled with maple flavor and cream that's spiced with cinnamon or pumpkin spice & lightly sweetened with maple syrup. 
Author: Jenny - Kitchen Skip
Prep Time:

5

Total Time:

5 minutes

Yield:

1 cup

of coffee

1

x
Category:

Snacks, Treats & Little Things

Method:

brew

Cuisine:

American

Diet:

Vegetarian
1

mug/8 ounces strongly brewed coffee (hot or iced)

1 ½ teaspoons

maple flavor

¼

cup

cream, milk, half and half or unsweetened plant-based milk

1 teaspoon

pure maple syrup (or more, for a sweeter flavor)

⅛ teaspoon

(a pinch) pumpkin spice or cinnamon
Instructions
Pour the brewed coffee into a mug.
Add the maple flavor and mix well. 
In a milk frother or a glass jar with a lid, combine the milk of your choice, maple syrup and a pinch of pumpkin spice or cinnamon.
If using a frother, froth the milk. 
If using a glass jar, put the jar in the microwave without a lid for 30 seconds, or until the milk is heated. 
Seal the lid on the jar and shake really well for 30 to 60 seconds until frothy. You'll need to wrap the jar in a towel because it will be hot. 
Pour the foamed milk over the coffee. 
Add another sprinkle of pumpkin spice or cinnamon to finish your mug of maple coffee. You can also add a drizzle of maple syrup, if you like. 
Notes
If making iced coffee, just combine all ingredients in a glass or jar and mix or shake well. Some milk frothers can froth cold milk, if you want to do that instead. 
For a latte, use ½ to ¾ cup of milk and substitute 2 shots of espresso for the coffee. 
Keywords: maple coffee, maple syrup coffee, maple latte