No-bake, easy nut free granola bars made from oats, sunflower butter, cinnamon and vanilla. Lightly sweetened with honey or maple syrup. Then add what you like - chocolate, dried fruit, sunflower seeds or coconut.
These homemade nut-free granola bars are so easy to make! And so dang good. Fair warning - you might find yourself sneaking little bites of these granola bars multiple times a day.
Stash them in the refrigerator or pantry for grab-and-go breakfasts, school lunches and afternoon snacks. You can make them more dessert-like (chocolate!) or more breakfast-like (dried fruit!)
These are thick, chewy granola bars with a rich texture. They're not overly sweet, but will definitely satisfy your cravings for a yummy treat.
Why This Recipe Works
Made with simple, easy-to-find ingredients
Sweetened with honey or maple syrup - no refined sugar
Bars stick together well
Easy to make, just mix and chill
6 Simple No-Bake Ingredients
These no-bake bars are made with a base of sunflower seed butter, oats, honey or maple syrup, vanilla, cinnamon and salt.
Then, add what you like - chocolate, dried fruit, sunflower seeds, pumpkin seeds or coconut.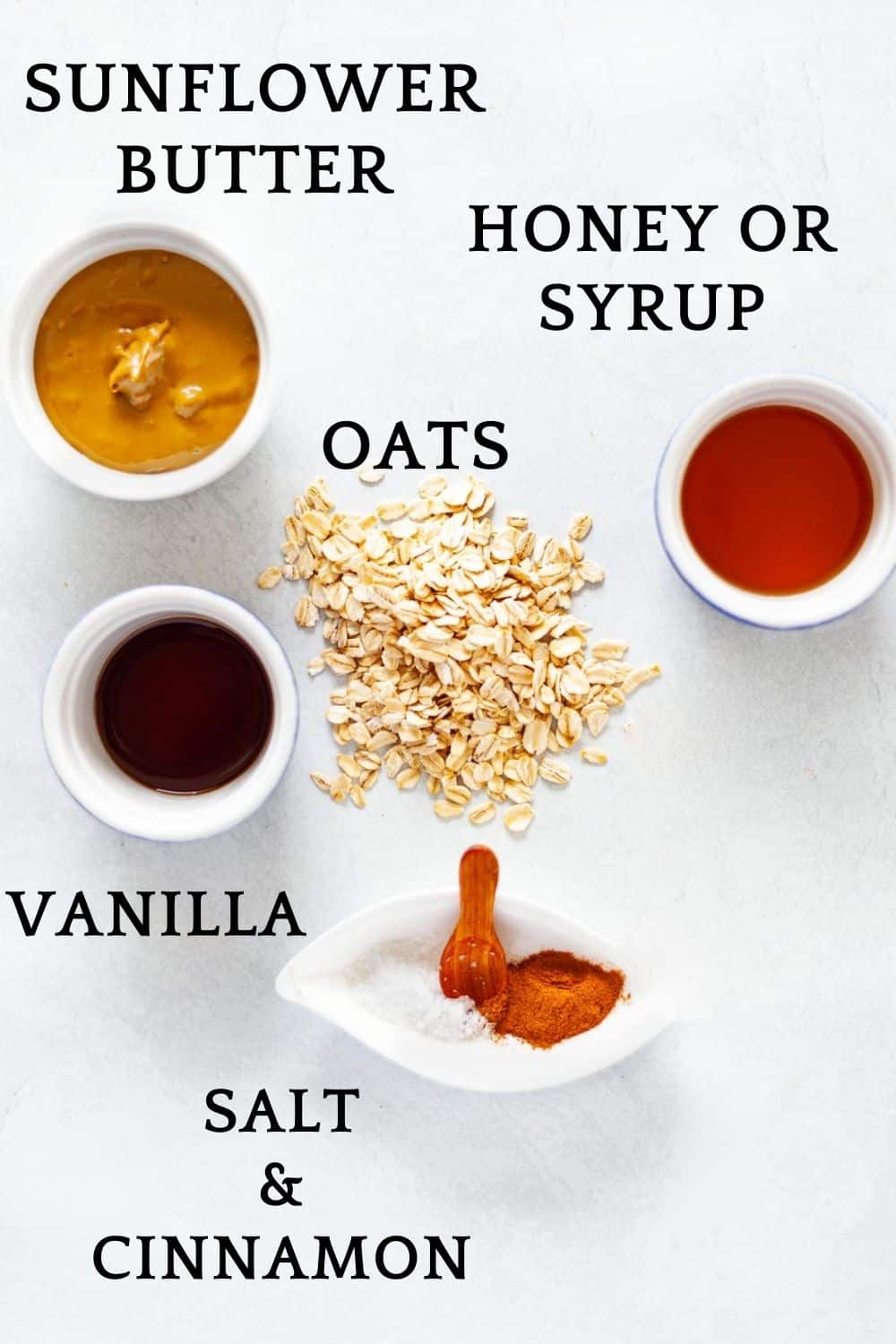 Ingredient Substitutions & Additions
Sunflower Seed Butter: Use sunflower seed butter with no added ingredients such as sugar or oil. The ingredient list should only say "roasted sunflower seeds" (and maybe salt). If you don't need a nut-free granola bar, then you can substitute peanut butter or almond butter (or try my chia bars made with almond butter).
Honey or Pure Maple Syrup: Use either one to sweeten the bars. Honey has a more distinct flavor and will make the bars taste slightly sweeter. It also holds the bars together better. Maple syrup add a lovely, subtle maple flavor and is less sweet. Bars made with maple syrup will still hold together well, but are a little stickier.
Oats: Only use rolled oats, also called old fashioned oats. Don't substitute steel cut oats or quick oats, which don't have the right texture for these bars.
Chocolate Chips: Optional, but so good in these bars! Use either dark or milk chocolate.
Dried Fruit: You can add dried fruit instead of - or in addition to - chocolate chips. Your choice! I don't usually add dried fruit but if I did, dried cherries would be my first choice.
Sunflower seeds: I like the nut-free crunch that roasted sunflower seeds add, but this is an optional ingredient. You can just skip it, or substitute pumpkin seeds. If you don't need nut-free bars, then you can add chopped nuts instead.
Coconut: Completely optional, use unsweetened if you do add it
Cinnamon: Optional, only add it if you like cinnamon
Vanilla: Optional, but who doesn't love vanilla?
Step-By-Step Instructions
Combine oats, cinnamon and other dry add-ins, like chocolate chips and sunflower seeds.
2. Combine sunflower butter, vanilla, honey or maple syrup, and salt. Warm in the microwave for 30 seconds and mix well.
3. Mix wet and dry ingredients together. Line an 8x8 pan with parchment & add the granola bar mixture. Fold the ends of the parchment over the bars (so your hands don't stick when you press down) and press the bars down firmly and evenly.

Tip: Pressing down on the bars with the bottom of a glass can help pack the bars in tightly.

Why Add Sunflower Butter?
Sunflower butter adds a rich, toasted flavor to these nut-free granola bars that balances out the sweetness. It also adds protein and nutrients and gives the bars more heft, so they're more satisfying as a snack or quick breakfast.
I use sunflower butter that is unsweetened and has no added sugar or oil. Just pure sunflower seeds.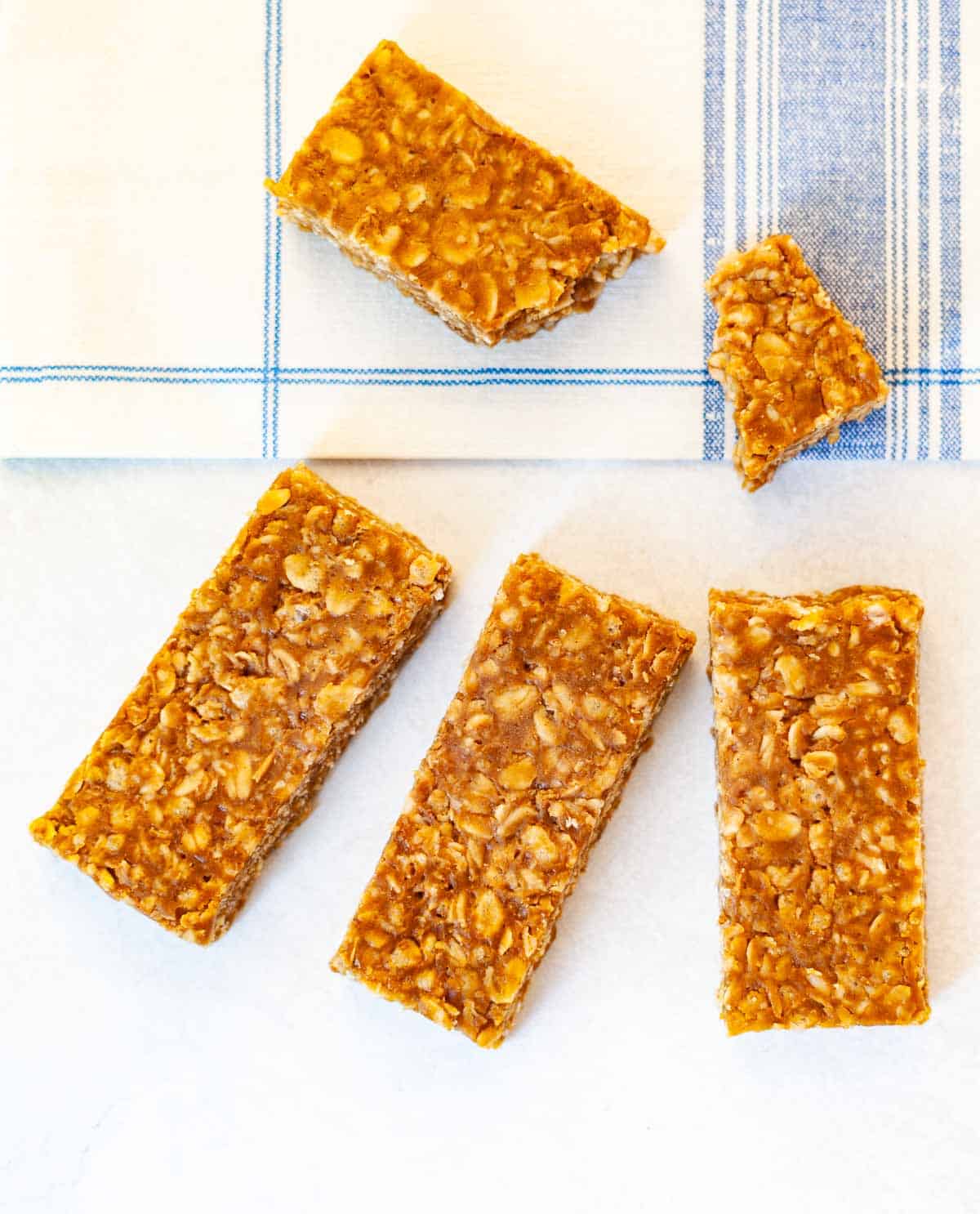 How to Toast Oats
These bars can be made with either raw un-toasted oats or toasted oats.
By raw un-toasted oats, I mean that you can just use the oats straight out of the box or bag. They have a softer, chewier texture and the flavor will be mild.
By toasted, I mean toasting the oats in the oven for about 10 minutes until lightly browned, then add them to the mix. Toasted oats have a more pronounced flavor and the texture is more firm and almost crunchy.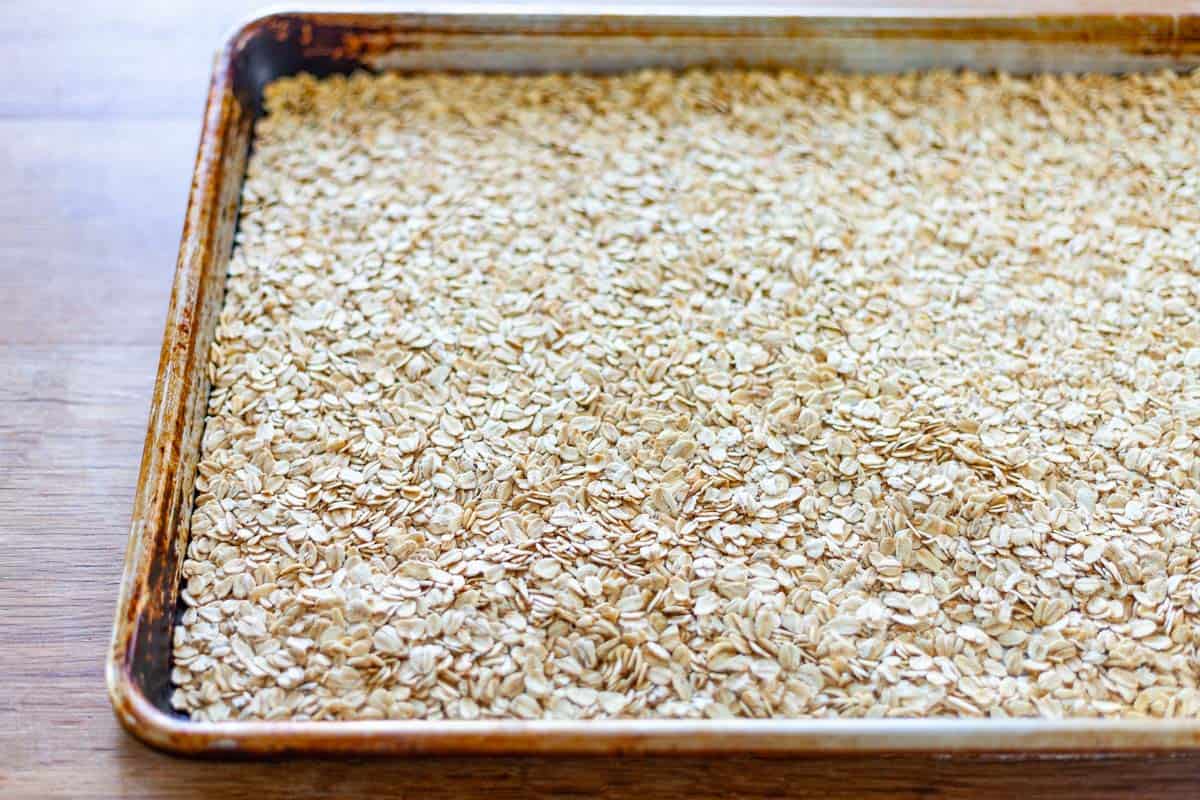 Does this recipe make you hungry?
SUBSCRIBE
to the Kitchen Skip newsletter
for helpful tips, easy recipes
& good conversation
FAQs About No-Bake Nut Free Granola Bars
Which Ingredients Help No-Bake Granola Bars to Stick Together?
Sugar and moisture hold no-bake bars together, which is why liquid sweeteners work so well for no-bake bars. Sweeteners like honey, maple syrup and brown rice syrup are moist and help bars stick together well. Moist dried fruit, like date paste, also works well.

I add ½ cup honey or maple syrup to these bars, which insures that the bars hold together well. You can try adding less sweetener, but I can't guarantee that the bars will stick together.

If granulated sugar is added to no-bake bars, it's usually added in addition to a liquid sweetener and it needs to be heated/melted first. This is usually done by combining the granulated sugar with honey or syrup (and possibly some butter or oil) and heating it gently on the stove.

Should I Use Honey or Maple Syrup?
Honey is thicker and holds bars together better. It also has a sweeter, more distinct flavor (which could be a plus or minus, depending on how much you like honey). I often use maple syrup simply because I prefer the flavor, even though it makes the bars a little bit more moist and sticky.
What Else Helps Bars Hold Together?
Pressing the bars very, very firmly into the pan is key. The bars should be smooth and firmly packed into the pan. An offset spatula works really well if the pan is large enough. For smaller pans of bars, pressing the bottom of a glass jar down on the bars helps put more pressure on the granola bars and packs them in firmly.

Chilling no-bake granola bars in the refrigerator for at least an hour after they are made is also essential for the bars to hold together.

Also, don't make the bars too thick. Thick bars are often crumbly in the middle and won't hold together as well. For this recipe, an 8x8 square pan is the right size, but you could use something slightly larger for thinner bars.
What's the Best Way to Cut Bars?
Bars are easiest to cut when chilled for at least an hour, then lifted out of the pan first. This is why most recipes suggest putting parchment paper under the bars, so you can use the parchment as a sling to lift the bars out of the pan. Use a long knife, like a chef's knife or serrated bread knife, to cut granola bars.
Old Fashioned or Quick Oats?
Old fashioned oats bind together better and make bars with better texture than quick oats.
How Do I Make Granola Bars Last Longer?
How long homemade granola bars stay fresh depends on the recipe. In most cases, homemade granola bars stay fresh and yummy for about 5 to 7 days in your pantry, for several weeks in the refrigerator and months in the freezer.

Store granola bars in an airtight container or bag. Wrap stickier bars in parchment or wax paper to keep them from sticking to each other.
How Do I Freeze Granola Bars?
I freeze granola bars in a large Ziploc freezer bag or freezer safe container. If you're worried about the bars sticking together, you can add a layer of parchment or wax paper between each layer of bars. I don't bother wrapping each bar individually.

However, If you're freezing granola bars for longer than 1 month, you can wrap each bar in a double layer of plastic wrap or wax paper to prevent freezer burn, then put the bars in a freezer bag or container.

Granola bars defrost quickly (usually within an hour) once taken out of the freezer.
Print
📖 Recipe
Nut Free Granola Bars
No-bake, easy nut-free granola bars made from a base of oats, sunflower butter, cinnamon and vanilla. Lightly sweetened with honey or maple syrup. Then add what you like - chocolate, dried fruit, sunflower seeds or coconut. You'll love the thick, rich texture of these bars!
Author:
Prep Time:

15

Total Time:

15 minutes

Yield:

8

to

12

bars

1

x
Category:

Snacks, Treats & Little Things

Method:

no-bake

Cuisine:

American

Diet:

Vegetarian
2 ½

cups

rolled oats (also called old fashioned oats)

½

cup

chocolate chips (or dried fruit)

½

cup

roasted, salted sunflower seeds (or pumpkin seeds or coconut)

½ teaspoon

cinnamon

1

cup

sunflower seed butter (unsweetened, no oil added)

½

cup

honey or pure maple syrup

1 teaspoon

vanilla

⅛ teaspoon

salt
Instructions
In a medium bowl, combine oats, chocolate chips, sunflower seeds and cinnamon. 
In a smaller microwave safe bowl, combine sunflower seed butter, honey or maple syrup, vanilla and salt
Microwave the bowl of sunflower seed butter for 35 seconds, then mix really well to combine the ingredients until smooth.
Pour the warm sunflower butter mixture over the oats.
Mix really, really well until the oats are completely covered. The wet ingredients will be thick, so it will take a little bit of strength to mix everything together completely.  Don't leave any bare oats! As you mix, the chocolate chips will melt into the mixture, giving the bars a chocolatey flavor. 
Line an 8x8 square pan with parchment paper. The parchment needs to be long enough to hang over two edges of the pan so that you can fold the paper up and over the bars (the parchment should be about 20 inches long).
Drop the batter into the 8x8 pan and use a spatula to smooth it out as best you can.
Fold the edges of the parchment up and over the bars (see blog post above for step-by-step photos). As you press the bars down, the parchment will keep your fingers from sticking to the batter. 
Press down on the parchment paper to smooth the granola bars out firmly and evenly. Use your hands, but also press down on the bars with a glass or a jar which makes it easier to put firm pressure on the batter. Pressing firmly is very important because it helps the bars hold together. 
Refrigerate the bars for at least 1 hour, then cut into squares or rectangles. 
These bars can be stored in the refrigerator (several weeks) or pantry (1 week). Personally, I prefer the texture of refrigerated bars, but you might like the softer texture of bars at room temperature. 
To keep the bars fresh longer, store them in the freezer. The bars defrost quickly for snacks and school lunches. 
Notes
Toasting Oats: Toasting the oats before making the bars is optional. Toasted oats have a more pronounced flavor and the texture is more firm (less chewy than raw oats). To toast oats, heat the oven to 350 F. Spread the oats out evenly on a large sheet pan. Bake 10 to 12 minutes, until very lightly browned. 
Honey or maple syrup is the glue that holds these bars together. You can try using less than ½ cup, but I can't guarantee that the bars will hold together as well. 
Keywords: nut free granola bar, sunflower seed butter, no-bake granola bars,
More Treats and Snacks