The best way to cook kielbasa and sauerkraut is in a skillet. Why? Because it's fast and easy! Only one dish gets dirty and it's easy to turn sauerkraut, kielbasa, caramelized onion and a splash of cider into delicious and flavorful comfort food.
Sauerkraut and kielbasa is classic Polish comfort food that's also found in other Eastern European countries. It's a simple but really flavorful meal that combines savory sausage and sour cabbage into a hearty family dinner.
My German grandma often made something similar, although she usually included potatoes. I often serve roasted potatoes as a side dish for this meal, but my family also really likes buttered Instant Pot egg noodles.
At my house, egg noodles turn sausage and sauerkraut into a more kid-friendly meal.
Other side dishes for this recipe include slices of good bread with cheese and mustard or Instant Pot mashed potatoes.
Also, my bowl of kielbasa and sauerkraut always has a dollop of sour cream on top!
If you like kielbasa, another dinner that you'll love is sheet-pan kielbasa, cabbage and potatoes with dill vinaigrette.
Jump to:
Ingredients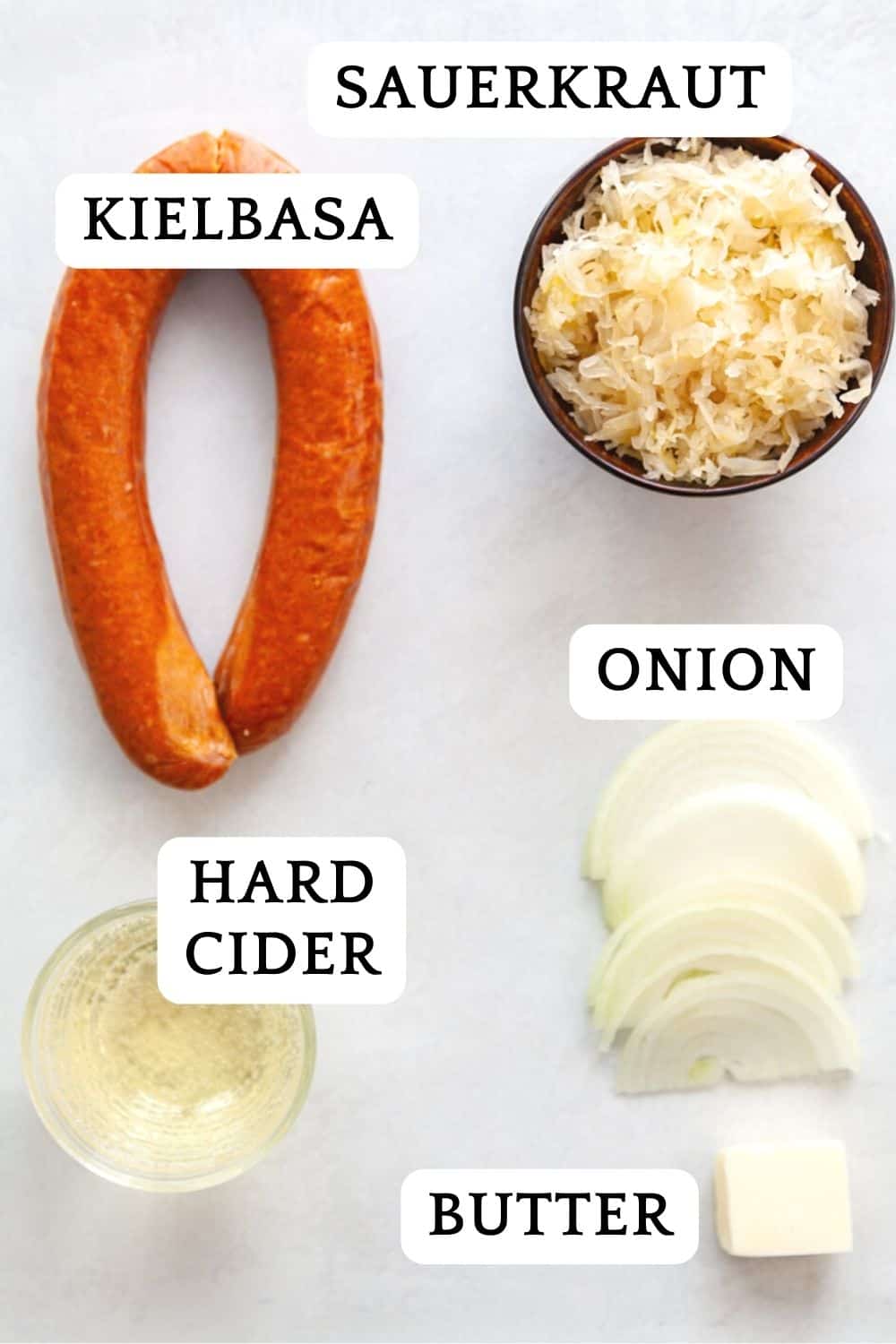 Kielbasa - Use your favorite brand, whether it's made from pork or turkey. Every brand has a different flavor; some are very smoky, some are slightly sweet and some are spicy.
Sauerkraut - Sauerkraut is shredded and fermented cabbage. For this recipe, I buy a large jar (32 ounces) of pasteurized sauerkraut. It is more affordable and can be slightly less pungent and tangy than raw sauerkraut, which is usually found in the refrigerated section of the grocery store. You can use either pasteurized or raw; It's best to use a brand that you've tried before and like because the flavor of the sauerkraut is a huge part of this dish.
Onion - Not all recipes for sauerkraut and kielbasa add onion. However, I always add onion. Caramelized onion adds more flavor to the dish and balances out the sour flavor of the sauerkraut.
Butter - This is a recipe that needs salted butter; olive oil just won't do! Using oil just makes the dish seem greasy, but butter adds rich, salty flavor that is perfect with cabbage.
Hard Cider - Adding a splash of hard cider is optional, but I like the touch of fruity sweetness that it brings to the dish. The leftover hard cider is also the perfect beverage to pair with this meal! You can substitute regular apple cider if you like, which is sweeter than hard cider. Some recipes add a spoonful of brown sugar instead.
Step-by-Step Instructions
Step 1: Saute sliced kielbasa. Remove from the skillet and set aside.
Step 2: Saute onion in butter.
Step 3: Add hard cider and simmer rapidly for 2 minutes.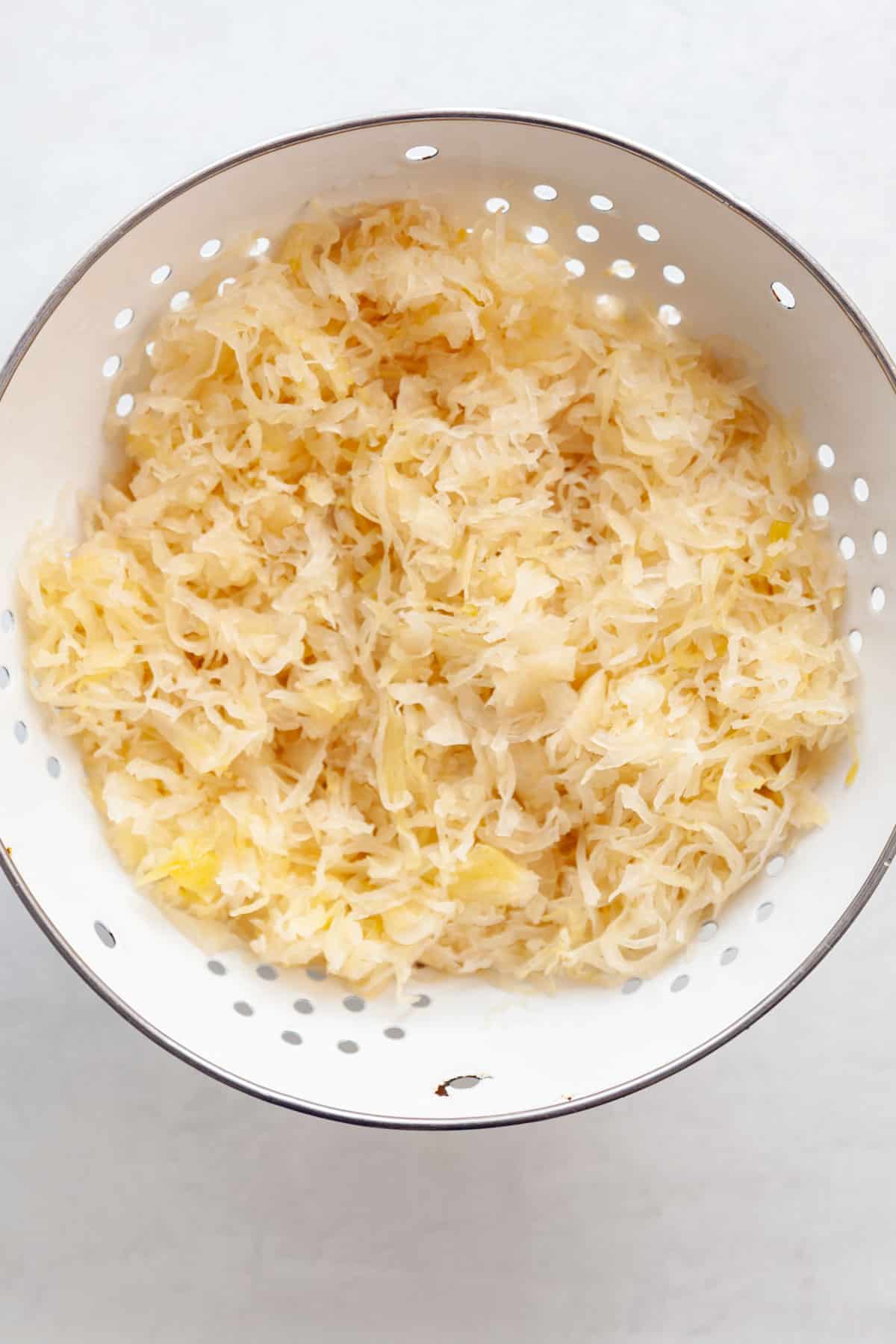 Step 4: Drain the jar of sauerkraut. If you'd like to mellow the sour flavor, rinse it in cold water then squeeze out excess moisture.
Step 5: Mix the sauerkraut into the skillet. Saute for a few minutes to cook off moisture.
Step 6: Add the kielbasa back to the skillet. Cook 5 minutes more to reheat the sausage. Done!
Hint: Fresh dill or parsley is a perfect garnish for this dish!
Variations
There are several different ingredients you can add to change the flavor of this dish.
Sauté thinly sliced apple with the onions
Sauté grated carrot with the onion
Add caraway seeds
Add poppy seeds
Add red pepper flakes for spice
Melt Swiss cheese over the top of the dish before serving
Storage
This recipe will keep well in the refrigerator for 3 to 5 days. It tastes best when served warm. To re-heat, use the microwave or gently re-heat in a skillet on the stove.
FAQ
Do I have to use kielbasa?
You can actually use any type of pre-cooked sausage for this recipe.
What exactly is kielbasa?
In Polish, the word "kielbasa" simply means sausage. So there are actually many types of kielbasa, not just the type of pre-cooked kielbasa that is sold most often in American grocery stores. For more information, read my recipe How to Cook Kielbasa.
Is kielbasa already cooked?
In American grocery stores you'll almost exclusively find pre-cooked kielbasa. For food safety reasons, it's recommended that kielbasa always be heated before serving. On some kielbasa packages you'll see the simple instructions, "Heat and Eat."
What's the difference between raw and pasteurized sauerkraut?
Sauerkraut means "sour cabbage" and is made by fermenting cabbage. It's often thought of as an Eastern European or German invention, but food historians have evidence that fermented cabbage was first made in China and then made its way to Europe.

Raw sauerkraut has healthy probiotic bacteria. Pasteurized has been heat-treated and is shelf-stable. The flavor is usually similar, but raw often has a tangier, bolder flavor.
Do I have to slice the kielbasa?
I like to slice the kielbasa because it's easier to eat, especially for kids. It also heats up faster. However, you can cut it into larger 3-inch pieces if you like.
Does this recipe make you hungry?
SUBSCRIBE
to the Kitchen Skip newsletter
for helpful tips, easy recipes
& good conversation
More hearty family dinner recipes
Print
📖 Recipe
Kielbasa and Sauerkraut Recipe
The best and easiest way to cook kielbasa and sauerkraut is in a skillet. Only one dish gets dirty and the combination of sauerkraut, kielbasa, caramelized onion and a splash of cider is delicious and flavorful comfort food. 
I like to serve this dish with sour cream and egg noodles on the side. You can also serve it with roasted or mashed potatoes. 
Author:
Prep Time:

10 minutes

Cook Time:

25 minutes

Total Time:

35 minutes

Yield:

4

to

6

servings

1

x
Category:

beef and pork

Method:

skillet

Cuisine:

Polish
2

kielbasa* (12 to 16 ounces each), cut into

¼

-inch slices

2 tablespoons

salted butter, divided

1

onion, thinly sliced

½

cup

hard cider
One

28

-

ounce

or 32-ounce jar of sauerkraut, drained and rinsed with cold water. Squeeze out excess moisture.
Optional: chopped fresh dill or parsley for garnish
*You can also make this recipe using just one kielbasa. I like cooking two because you get a nice balance of sausage and sauerkraut. Cooking only one kielbasa means you'll have quite a bit more cabbage than kielbasa. 
Instructions
In a 12-inch (or slightly larger) skillet or saute pan, melt 1 tablespoon of butter over medium- high heat. 
Add the kielbasa slices. Cook the slices until nicely browned on each side, 4 to 5 minutes total. If the sausage starts to get too brown, turn the heat down to medium.
Take the sausage out of the skillet and set aside. 
Add the remaining tablespoon of butter. Add the onion. Saute until the onion is soft and deeply browned, about 10 minutes total. For the first 5 minutes cook the onion over medium heat, then turn the heat down to low so the onion can caramelize without burning.
Turn the heat up to medium-high and add the cider. Simmer 2 minutes. 
Add sauerkraut. Mix really well to combine the sauerkraut and onion. Cook for about 5 minutes. 
Add the kielbasa back to the skillet. Cook for a few minutes more to heat the sausage, stirring several times. 
Serve immediately, with fresh herbs on top.
Notes
Regular apple cider can be substituted for the hard cider. Or you can skip this ingredient completely. 
Rinsing the sauerkraut in cold water is optional, but it mellows the sour flavor. 
Oven-Baked Instructions
There is no need to brown the sausage first. Just combine all of the ingredients in a casserole dish. Cover with foil. Bake for 45 minutes. 
Keywords: kielbasa and sauerkraut, kielbasa recipe,