Crockpot beef and broccoli is a truly flavorful crockpot meal. Tender beef and broccoli slow cook in a savory and slightly sweet sauce with garlic and ginger. An easy and super-satisfying crockpot dinner!
This is a homemade meal that's healthier than take-out and requires hardly any effort to cook.
Tender beef and broccoli are slow cooked in savory sauce with just a hint of sweetness. The sauce is made from soy sauce, beef broth, sesame oil, and a drizzle of balsamic vinegar and maple syrup (or brown sugar.) Plus plenty of garlic and ginger and green onions for garnish.
What do I love about this recipe? The beef is tender and the broccoli is perfectly cooked, not mushy! The secret? Add the broccoli in the last 30 minutes of cooking, while you set the table and round up your kids!
How to Make Slow Cooker Beef and Broccoli
Thinly slice beef and add it to your slow cooker with garlic and ginger, soy sauce, beef broth, sesame oil, balsamic vinegar and a spoonful of brown sugar or maple syrup. (I also add carrots)
Cook on low for about 3 to 4 hours, until meat is tender
Add broccoli, and cornstarch to thicken the sauce
Slow cook 30 minutes more
As you've probably noticed, I also add carrots. So technically this is slow cooker beef, broccoli and carrots. Carrots add color and bulk up the meal with more veggie power.
This is a "quick" slow cooker meal, one that is best put in the Crockpot at midday. It's perfect for weekends, or for people who work from home and can get a jump-start on dinner prep.
Although this is a simple recipe, you probably have lots of questions. Such as...
What Cut of Beef Should I Buy?
The cut of beef you buy for Crockpot beef and broccoli depends on what's available at the store and how much you want to spend. Below are three great options.
Whatever type of meat you use, it should be sliced thinly, ideally about ¼-inch thick and 2 inches long. Slice the meat across the grain.
Cooking Tip - Putting meat in the freezer for 20 minutes before slicing makes the meat firmer and easier to slice
Sirloin: This is my favorite cut for beef and broccoli and what I recommend. When sliced, it cooks well in a slow cooker. It has a nice balance of tenderness and flavor and isn't outrageously expensive. Sirloin tip is often more affordable than top sirloin.
Chuck roast: This cut can be slightly tougher and chewier, so make sure to slice it thin. Chuck roast may take a little longer than sirloin to become tender.
Flank steak: Flavorful and tender, this cut soaks up marinades and sauces well. However, this cut has less fat and tends to dry out faster in the slow cooker, so start checking for doneness after 2 hours. Use flank steak if you have to, but I really prefer it for grilling and searing, not slow cooking.
Can I Add More Vegetables?
In addition to broccoli, you can add carrots and/or sliced bell peppers to this recipe at the beginning of the cooking time.
Also, you can change the ratio of beef and vegetables, using only ½ to 1 pound of meat, and adding more vegetables.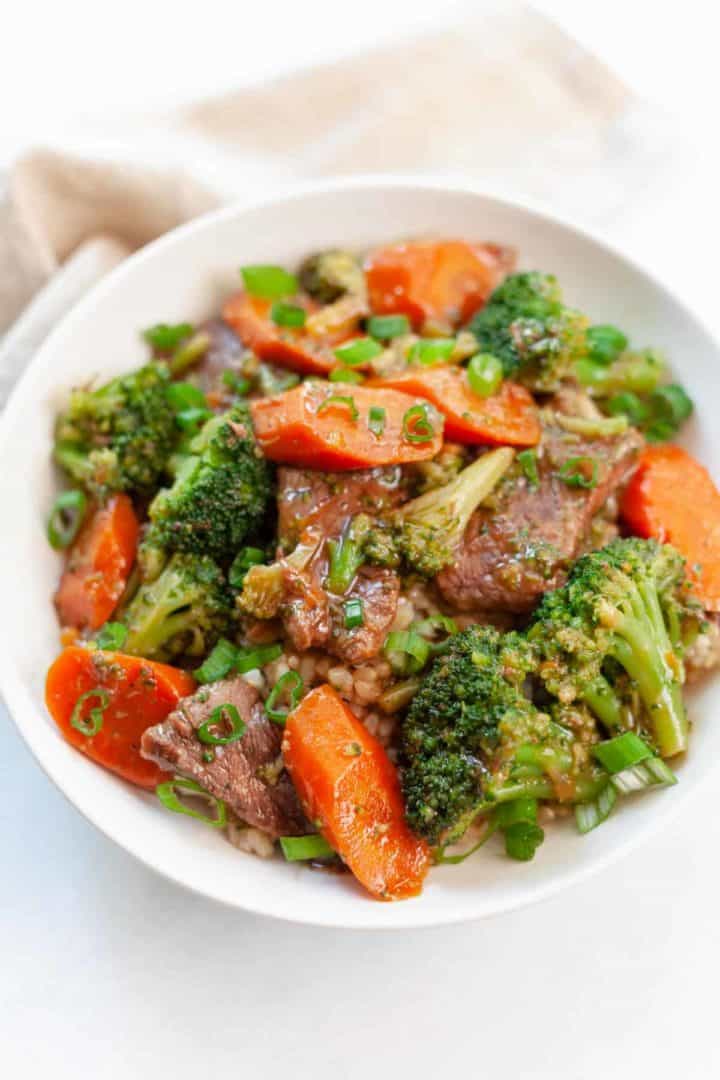 Can I Use Frozen Broccoli?
Yes, follow the same recipe instructions but use a 16-ounce bag of frozen broccoli instead of fresh broccoli. You don't need to defrost frozen broccoli before adding it.
Keep in mind...I've used frozen broccoli before, and the recipe turns out pretty well. However, I prefer fresh broccoli. Frozen broccoli makes the dish more watery, which dilutes the flavor a little bit and makes the sauce thinner. Frozen broccoli also has a softer texture. Fresh broccoli becomes tender in the Crockpot but maintains a toothsome crunch.
If you're looking for more broccoli recipes, start with the basics by making Instant Pot steamed broccoli or learn how to boil broccoli.
You can also try broccolini slaw with honey mustard yogurt dressing or sheet-pan soy sauce chicken and broccoli or rice noodles with roasted broccoli.
Do I Have to Use Cornstarch?
Cornstarch is used to thicken the sauce. A thicker, silkier sauce clings to the meat and vegetables better and makes this dish taste more like take-out beef and broccoli from a restaurant. You can skip the cornstarch if you want, but the dish won't be quite the same.
Do I Have to Add Sugar?
Beef and broccoli can be sweetened slightly with either brown sugar or maple syrup. I use less sweetener than most beef and broccoli recipes, but I still add brown sugar or maple syrup because it gives the dish a delicious sweet and salty balance of flavor.
What To Serve with Beef and Broccoli
White or brown rice is an easy side side dish that turns this recipe into a full meal. You can also serve beef and broccoli over grains like barley or quinoa. Sometimes, I serve beef and broccoli over angel hair pasta.
Can I Keep this Meal in the Slow Cooker Longer?
This is a "quick" slow cooker meal that's ready in about 4 hours. Leaving beef and broccoli in the slow cooker longer risks overcooking and you'll end up with tough meat and mushy broccoli.
If you need to hold this meal a little longer in the slow cooker, make sure to turn the heat to "warm" or turn the slow cooker off entirely.
Does this recipe make you hungry?
SUBSCRIBE
to the Kitchen Skip newsletter
for helpful tips, easy recipes
& good conversation
Time-Saving Tips
Use a bag of baby carrots, instead of cutting carrots yourself (keep in mind, they are thicker and will still have a slight crunch after 3 to 4 hours in the slow cooker)
Buy broccoli florets, instead of cutting the broccoli yourself
Did you know you can mince garlic in a garlic press WITHOUT removing the peel? Try it!
Be sure to Pin this recipe for later and follow Kitchen Skip on Pinterest
Print
📖 Recipe
Slow Cooker Beef and Broccoli
Slow cooker beef and broccoli is a Crockpot meal with tons of flavor! Tender beef and broccoli cook in a yummy sweet and salty sauce with garlic and ginger. Serve over rice, your favorite whole grain (like barley), or noodles. 
Depending on the cut of meat used, this recipe takes between 3.5 to 5 hours in a slow cooker. The meat is cooked first, and the broccoli is added in the last 30 to 45 minutes. 
Author: Jenny Meier | Kitchen Skip blog
Prep Time:

20 minutes

Cook Time:

3.5 to 4.5 hours

Total Time:

5 hours

Yield:

6

servings

1

x
Category:

beef

Method:

Slow Cooker

Cuisine:

Asian American

Diet:

Gluten Free
1

to

1 ½

  pounds sirloin tip, sliced about ¼-inch thick and 2 inches long (or use flank steak or chuck roast)

4

to

6

carrots, sliced into ½-inch pieces or 1 small (

14

to

16

ounce) bag of baby carrots

4

cloves garlic, finely chopped 

2

-inches fresh ginger, peeled and finely chopped or thinly sliced (about

1 tablespoon

)

¾ cup

beef broth 

½ cup

soy sauce or gluten-free tamari

2 tablespoons

maple syrup or brown sugar

1 tablespoon

toasted sesame oil 

2 teaspoons

balsamic vinegar

¼ teaspoon

black pepper 

3 tablespoons

cornstarch 

1

large or 2 smaller heads of broccoli, cut into florets (or one

16 ounce

bag of broccoli florets)
Optional: Green onions, for garnish
Instructions
Combine the steak, carrots, garlic, ginger, beef broth, soy sauce, sugar/syrup, sesame oil, balsamic vinegar and black pepper in the slow cooker. Mix well to coat the meat. 
Secure the lid and cook on low until the meat is tender, about 3.5 to 4 hours
When the meat is tender, remove ¼ cup of the broth from the slow cooker. In a bowl, whisk the broth with the cornstarch. Pour the cornstarch and broth "slurry" back into the slow cooker and gently mix. 
Add the broccoli. Gently mix to coat the broccoli in sauce. 
Secure the lid and cook for another 30 to 45 minutes, or until the broccoli is cooked to your liking. After 30 minutes, the broccoli will be tender but still have a slight crunch to it. Tip: This is a good time to start cooking rice or noodles for a side dish
Season the beef and broccoli with salt and pepper if needed. Garnish with chopped green onion. Serve over rice or your favorite grain.
Notes
I use a 6-quart slow cooker for this recipe. 
The "low" and "high" settings on slow cookers tend to vary in how much heat they put out, which is why most slow cooker recipes give an approximate, not an exact, cooking time.  
Keywords: beef and broccoli, slow cooker beef and broccoli