Your family will love this easy butter bean recipe, made with melted pizza cheese, baby spinach, tomato and garlic.
This simple one skillet dinner layers large, creamy butter beans with a garlicky tomato sauce, pizza cheese, baby spinach and fresh basil - it's a comforting vegetarian meal that's easy to slide into your dinner rotation because it's made from just a few ingredients.
I like to serve this meal with garlic bread to scoop up the beans, and arugula salad on the side.
Ingredients
Canned butter beans
Tomato paste
Garlic
Olive oil
Grated cheese
Baby Spinach
Fresh herbs for garnish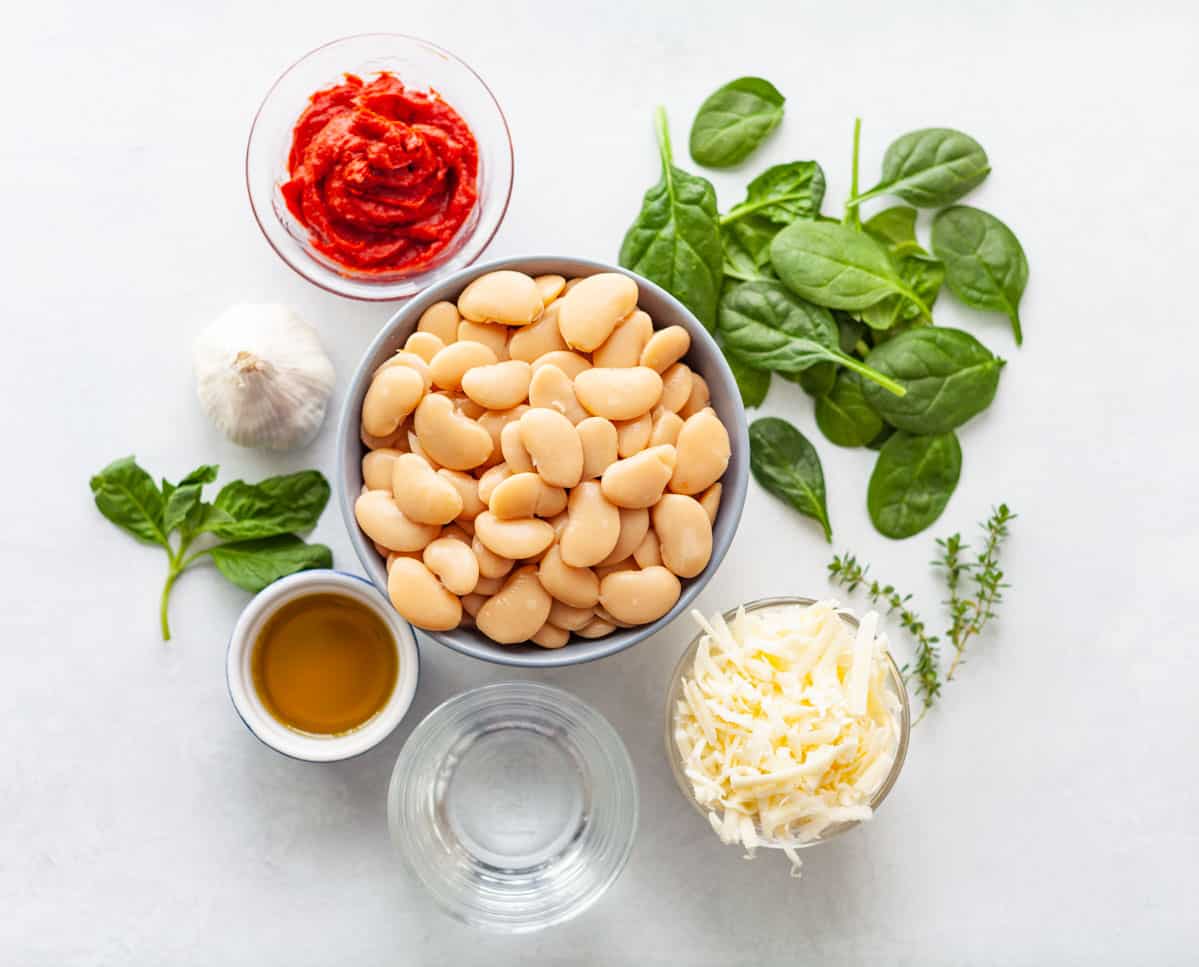 Even though melted cheese plays a starring role, it's not actually the main star of this dish. That honor belongs to butter beans.
If you don't know about butter beans, let me introduce you.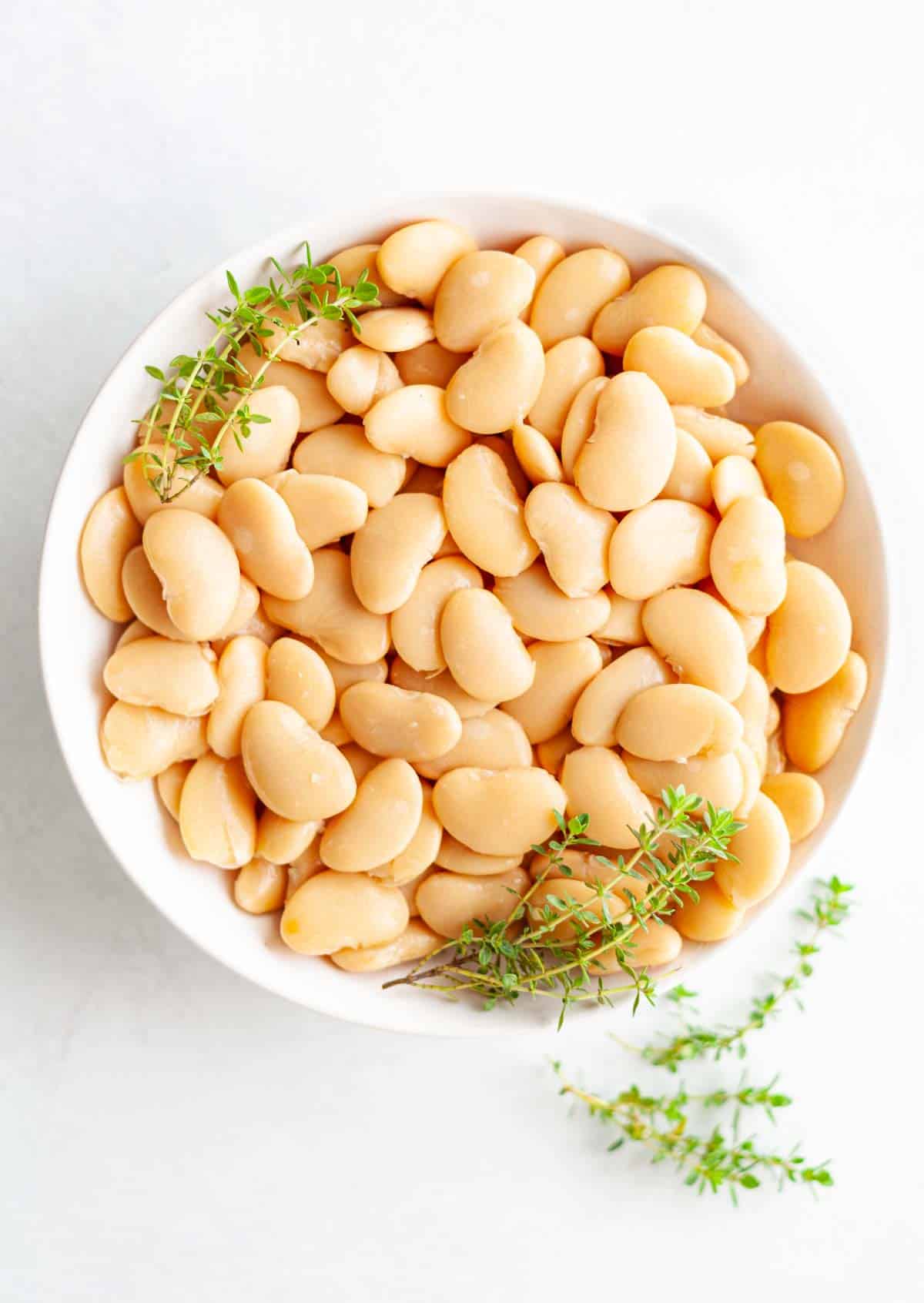 What Are Butter Beans?
Butter beans are large white beans. They have a wide, flat shape and an outer skin that is thick enough to hold the bean together and give it a slightly firm and sturdy texture. Butter beans don't dissolve into a dish. They hold their shape, which makes them perfect for baked dishes like this one, or slow-cooked dishes like stew.
But when you bite into a butter bean, the middle is soft and creamy and buttery. It has a mild flavor that pairs well with just about anything. As far as beans go, they are incredibly satisfying.
I use canned butter beans in this recipe, which should be easy to find at the grocery store.
Are Lima Beans and Butter Beans the Same?
There is great debate on the internet about whether or not lima beans and butter beans are the same thing. People are so passionate on both sides of the issue that I'm hesitant to enter the debate. But here we go....
I fall into the "yes" camp - butter beans and lima beans are the same thing. Varieties of lima beans that are larger in size are called butter beans when they are sold dried or canned.
There are different varieties of lima beans. The baby lima, which is smaller and bright green, is most commonly thought of as a lima bean. When cooked fresh from the garden, they often have a chalkier texture than larger, varieties of lima beans do.
Larger varieties of lima beans include the Fordhook and King of the Garden. These varieties range in color from light green to off-white or cream colored. Presumably, these are the varieties of lima bean which are is sold canned at the grocery store and labeled as butter beans. My trusty "Food Lover's Companion" book states that dried lima beans are called butter beans in the South.
White Bean Substitutions - Corona & Gigante
This recipe is best when large white beans are used. You can use smaller white beans in a pinch (like Great Northern or Cannellini) but the dish doesn't turn out as well. Smaller beans tend to get a bit mushy and get lost under the cheese.
There are other varieties of large white beans that are very similar to canned butter beans and have the same wide flat shape and creamy inner texture of canned butter beans. These beans are most commonly sold dried, so you'll have to cook them before making this recipe.
Christmas Beans or Calico Beans: These are purple or speckled lima beans
Greek or Spanish Gigante Beans: As far as I can tell, these "giant" white beans are the same as butter beans. Gigante beans are also a larger variety of lima bean, one that is native to Greece and the Mediterranean area.
Corona Beans: A European variety that's even larger than dried lima beans

Pizza Cheese
I like a combination of Asiago and Mozzarella for this dish. The Asiago brings sharp, bold flavor and the mozzarella is mild and melty. Many stores sell bags of grated "Pizza Cheese" that you can use, or you can grate your own.
Types of cheese that work well in this recipe:
Mozzarella
Asiago
Fontina
Provolone
Gruyere
Gouda
Monterey Jack
Step-by-Step Instructions
This one-skillet dinner is made in just a few easy steps.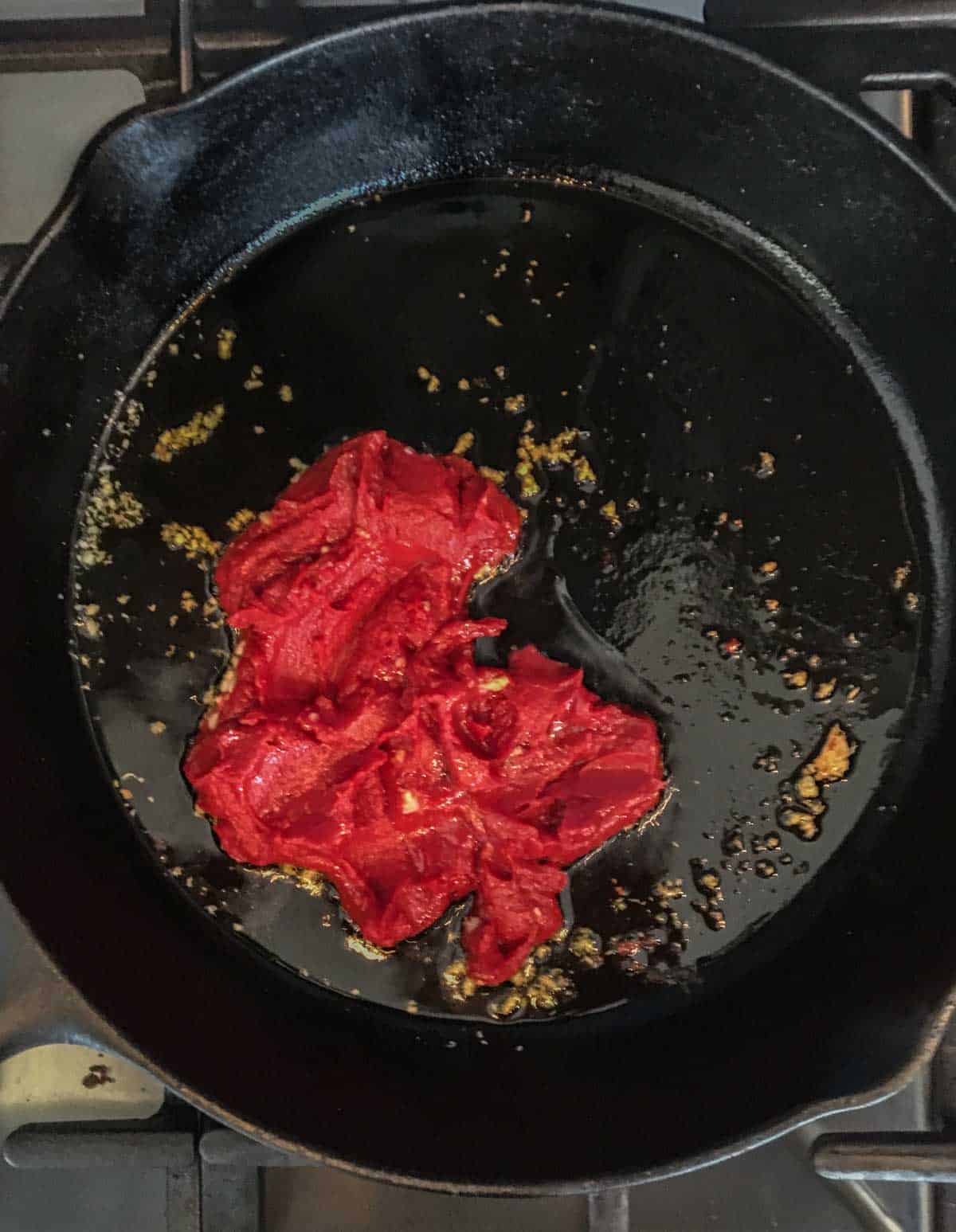 Skillet Dinners
I mostly use my 12-inch cast iron skillet for one-skillet dinners like this one. I love that I can start the recipe on the stove, then move it straight into the oven. Easy skillet dinners include Greek Chicken Pasta, or Barley with Eggs and Spinach, and Shrimp and Feta Garlic Bread or Chickpeas and Spinach.
More Bean Recipes
Print
📖 Recipe
Skillet Butter Bean Recipe with Pizza Cheese & Spinach
Your family will love this easy one-skillet butter bean recipe, made with pizza cheese, baby spinach, tomato and garlic. 
I like to serve this one-skillet dinner with garlic bread or toasted baguette and arugula salad on the side.  
Author:
Prep Time:

10

Cook Time:

15

Total Time:

25 minutes

Yield:

4

to

6

servings

1

x
Category:

30 Minutes Meals

Method:

baked

Cuisine:

Italian American

Diet:

Vegetarian
¼ cup

olive oil 

4

large garlic cloves, minced

6 oz

can tomato paste

½ cup

water

2

16-ounce cans butter beans, drained and rinsed

2

handfuls baby spinach

8 ounce

bag grated Pizza cheese or

3

to

4

cups grated cheese, such as Asiago, low-moisture Mozzarella or other Italian cheese 
Fresh basil, oregano or thyme for garnish
Serve with garlic bread or toasted baguette 
Instructions
Heat oven to 475 F. 
Heat olive oil over medium heat in a 10 to 12 inch ovenproof skillet 
Add garlic, cook for 30 seconds
Add tomato paste. Cook for 1 minute more, stirring almost constantly so the garlic doesn't burn. 
Add the water and bring to a boil, stirring to blend the water in with the oil and tomato paste. 
Add the beans, spinach and HALF of the cheese. Mix well. 
Top with the remaining cheese. 
Bake for about 10 minutes until the cheese is completely melted and the tomato sauce is bubbly.
Snip fresh herbs over the butter beans before serving with garlic bread, or your favorite toasted bread
Keywords: butter beans, butter bean recipe, baked white beans, pizza cheese, pizza beans
Does this recipe make you hungry?
SUBSCRIBE
to the Kitchen Skip newsletter
for helpful tips, easy recipes
& good conversation