This isn't just a recipe. It's a friendly reminder that BLTs are an easy, delicious dinner! You can serve BLTs for dinner any time of year, but they're especially good in summer when tomatoes are at their best.
Salty bacon, crisp lettuce, tangy tomatoes and creamy mayo on your favorite toasted bread. Yum! BLTS are a full dinner, although suggestions for what to eat with BLTs are included below.
If you're a fan of bacon (who isn't?) then you'll also want to try recipes for a turkey bacon sandwich (with egg) and a BLT chicken salad with creme fraiche dressing.
Jump to:
Ingredients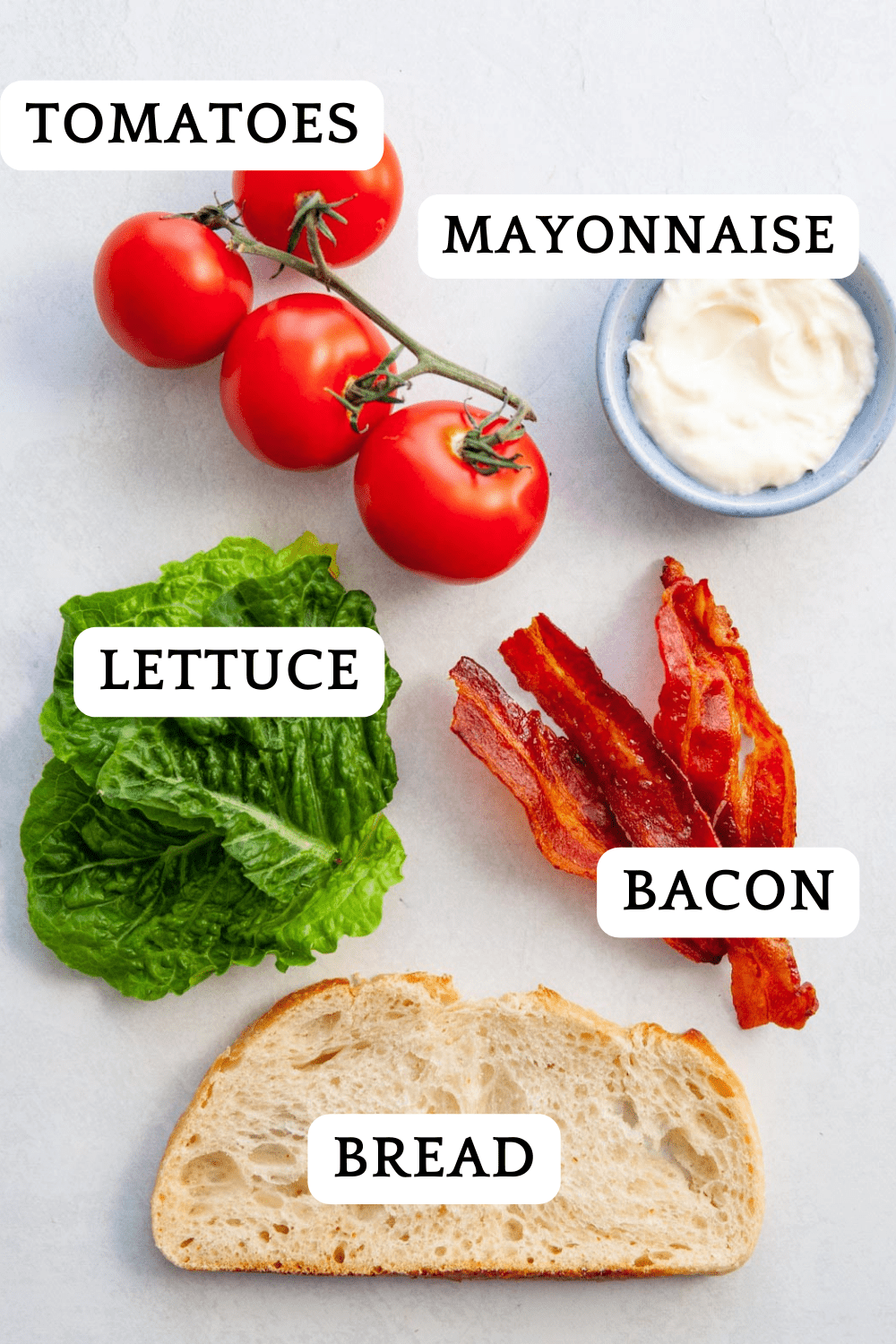 Step-by-Step Instructions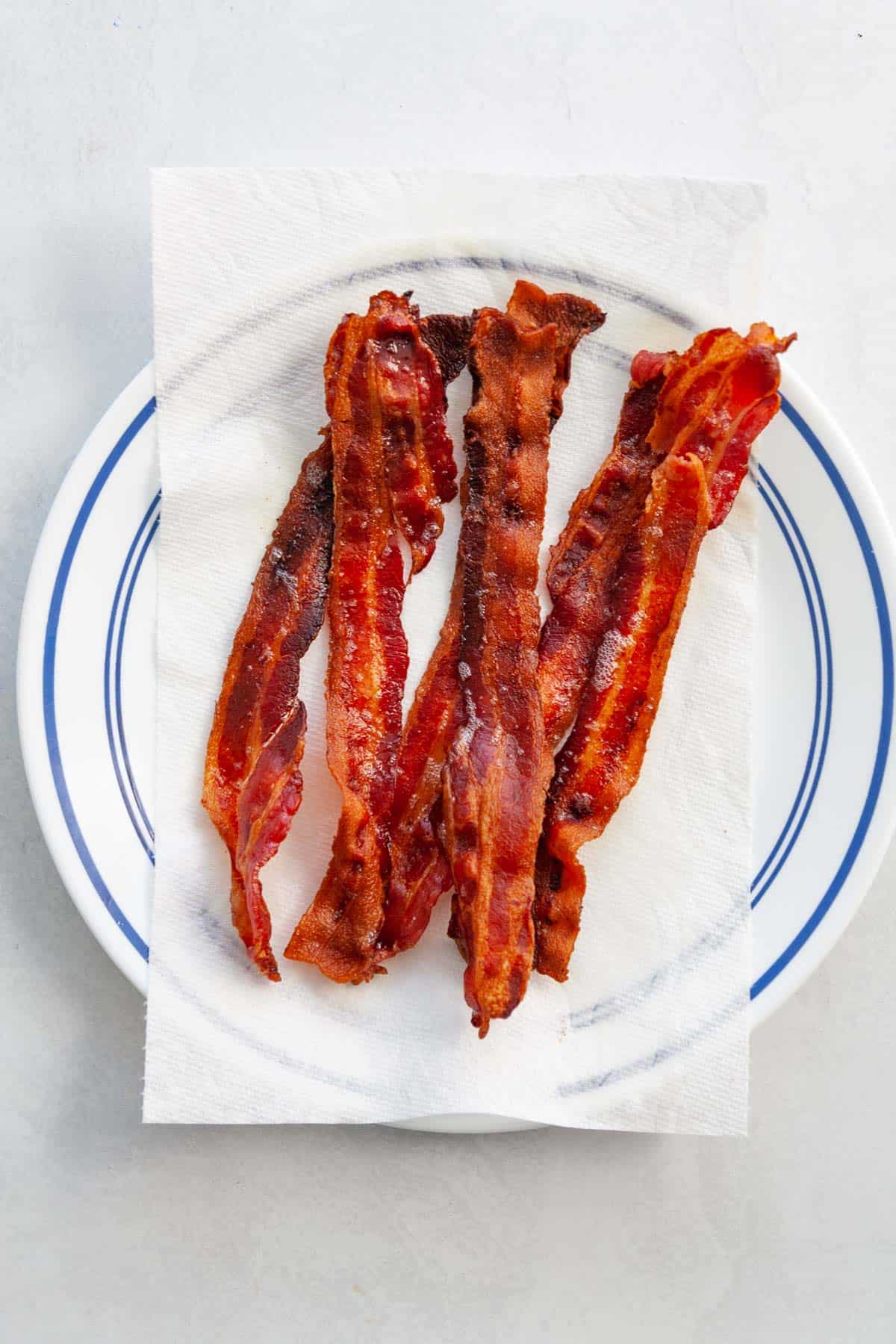 Step 1: Cook the bacon. This recipe cooks bacon the easiest way, in an oven.
Step 2: Toast your favorite bread, let it cool slightly, and spread mayonnaise over the bread.
Step 3: Layer lettuce and tomato on the bread.
Step 4: Add bacon. As much as you like!
How to Cook Bacon in the Oven
The oven is the easiest way to cook bacon. Less mess and less hands-on cooking. Also, it's easier to cook a big batch at once.
If you're using turkey bacon, check out this recipe that explains how to cook turkey bacon.
Line two or three rimmed sheet-pans with aluminum foil or parchment.
Lay the bacon out on the sheet-pans, with a little space between each slice.
If you want extra-crispy bacon, set baking racks on top the sheet-pans and lay the bacon on the racks, slightly elevated above the pan so air can circulate.
Put the pans in the oven (no need to preheat). Set the temp to 425F.
Bake 10 to 25 minutes, until desired crispiness is reached. The cooking time has a wide range because everyone's oven cooks differently and some people like soft bacon while others like it very crispy!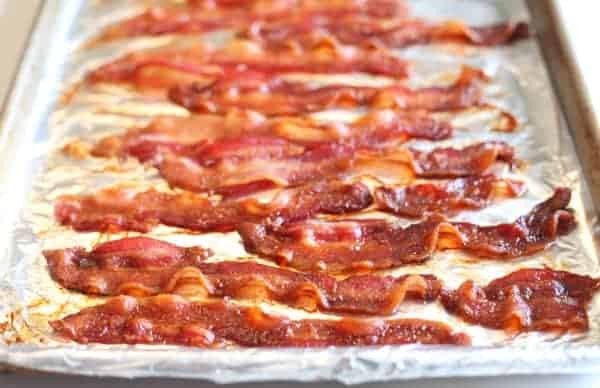 Tips and Tricks
You don't need to preheat the oven for bacon. Put the sheet-pans of bacon in the oven, then turn on the heat to 425 F. Starting bacon in a cold oven helps it cook and render fat slowly, which some chefs say makes bacon crispier.
For the crispiest bacon, set the bacon on a rack: Place a baking rack on the foil-lined sheet-pan, then place the bacon on the rack to bake. This circulates air under and around the bacon, making it crispier. You can use this trick for regular bacon and turkey bacon.
BLT Variations
There's absolutely nothing wrong with a simple BLT made from bacon, lettuce and tomato. But this sandwich has lots of irresistible variations!
Add avocado (BLTA)
Use arugula instead of iceberg or Romaine lettuce
Add sprouts
Add cheese (cheddar, smoked cheddar, pepper jack, gouda, gruyere). If you'd like the cheese melted, spread mayonnaise on a slice of toasted bread then add a slice of cheese. Heat the bread under a broiler until the cheese is melted, then add the rest of your BLT ingredients.
Add a fried egg or scrambled egg
Make a BLT salad instead of a sandwich! Toss chopped lettuce, tomato, crumbled bacon and croutons in a bowl. Add avocado if you want. Top with a creamy dressing like kefir dressing (similar to Ranch dressing) or Green Goddess dressing.
Make a BLT lettuce wrap. Lay a large romaine lettuce leaf out flat. Spread mayonnaise over the leaf. Add bacon and sliced tomato, then gently fold or roll the leaf up.
BLT Sides
There are lots of side dishes that go with BLTs. If you're wondering what to eat with BLTs, try one of these suggestions
Potato chips
French fries or sweet potato fries
Potato salad
Coleslaw of broccolini slaw
Pasta salad
Corn on the cob
Watermelon or fruit salad
Sliced fresh cucumbers or pickles
FAQ
How can I use all of the grease from cooked bacon?
After bacon cooks, the sheet-pan or skillet will have a nice layer of bacon fat that can be used for cooking. Tilt the sheet-pan or skillet and pour the warm bacon fat into a small bowl or glass jar. Cover, and store in the refrigerator for up to 3 months. You can scoop out the flavorful, rendered fat and use it to saute anything!
How long does cooked bacon keep in the fridge?
According to the USDAs "bacon and food safety" page, you can safely store leftover cooked bacon in the fridge for 4 to 5 days.
How can I re-heat cooked bacon?
The easiest way is to microwave the cooked bacon for about 10 seconds.
How do I defrost frozen bacon?
A slow thawing overnight in the refrigerator is the safest way to defrost frozen bacon. After defrosting bacon by this method, it will be safe in the refrigerator for 7 days before cooking (according to the USDA).

If you need a fast method, you can defrost frozen bacon in the microwave (take it out of the packaging first) or submerge a sealed leak-proof package of bacon in cold water. If either of these methods is used, the bacon should be cooked immediately. Holding defrosted, partially cooked food is not recommended by the USDA because any bacteria present needs to be killed by heat.
Can I cook the bacon on the stovetop or in the microwave?
You can, but it's a lot messier. Cooking bacon in the oven is the easiest method.
More Easy Dinner Recipes
Does this recipe make you hungry?
SUBSCRIBE
to the Kitchen Skip newsletter
for helpful tips, easy recipes
& good conversation
Print
📖 Recipe
BLTs for Dinner Recipe
You can serve BLTs for dinner any time of year, but they're especially good in summer when tomatoes are at their best. 
See the blog post above for suggestions of what to serve with BLTs.
Author:
Prep Time:

10

Cook Time:

20 minutes

Total Time:

30 minutes

Yield:

6

sandwiches

1

x
Category:

30 Minutes Meals

Method:

Bake

Cuisine:

American
One or

two

12-ounce packages of bacon (depending on how much your family loves bacon)

2

hearts of romaine lettuce, or a small head of iceberg lettuce, leaves washed and separated

2

to

4

large, ripe tomatoes, sliced
Mayonnaise

2

slices of your favorite bread for each sandwich (

12

slices total for

6

sandwiches)
Instructions
Line 2 or more large rimmed sheet-pans with foil or parchment (for easier clean-up)
Place the strips of bacon directly on the sheet pans, with a little space between each slice. Or, for crispier bacon, set the bacon on racks on top of the sheet-pans. 
Place sheet pans of bacon in the oven and set the heat at 425F. Set the timer for 10 minutes.
After 10 minutes, check the bacon and rotate the pans, so the back of the pan is turned to the front of the oven. Continue cooking bacon until it's as crispy as you like. It usually needs a total cooking time of 15 to 20 minutes. 
Transfer bacon to a plate lined with paper towels to soak up grease before serving. (optional)
Toast the bread slices in a toaster.
Spread mayonnaise on each slice.
Layer cooked bacon, lettuce and tomato on the BLT sandwich. Enjoy!
Notes
Add other ingredients to the sandwiches if you want, like avocado, sprouts, arugula, cheese, pickled jalapenos, red onion, etc..
Any type of sliced bread can be used for BLTs. Sourdough and white bread are popular choices. Whole wheat bread is delicious too. 
Keywords: BLTs for dinner, BLT, BLTA, what to serve with BLTs