Crispy, crunchy roasted frozen cauliflower with garlicky breadcrumbs is an easy, fast & flavorful vegetable side dish for dinner.
The beauty of roasted frozen cauliflower florets is that there's no mess and no chopping involved. Just pull a bag of frozen cauliflower out of the freezer, dump it on a sheet-pan and your vegetable side dish is halfway prepared.
I sometimes steam frozen veggies or use my Instant Pot to make Instant Pot frozen broccoli. Another great way to use frozen veggies is making pasta with frozen vegetables.
One thing you'll love about roasting frozen cauliflower is that it gives the cauliflower a browned exterior that's extra tasty.
Frozen vegetables don't have to be soggy! They can be browned, crispy around the edges and really flavorful, just follow this easy recipe to see for yourself.
I found frozen rainbow cauliflower at Trader Joe's, which adds fun color to what is often a very beige dish. But even if you use regular frozen cauliflower, this recipe is a keeper for busy weeknights.
Why this recipe works
A convection oven roasts frozen cauliflower so that it's crispy & browned, not soggy
Panko breadcrumbs add more crunchy texture
Garlic powder is an easy way to add garlicky flavor
Pro Tip: Use a convection oven to roast frozen veggies
Using the convection setting on your oven is essential for giving frozen vegetables a browned, slightly crispy exterior. The cauliflower and breadcrumbs won't brown as well if the regular "bake" setting is used.
What are convection bake and roast?
A convection oven has a "convection" setting that circulates hot air with fans to promote faster cooking and deeper browning. Convection is most often used for roasting meat, but it can also be used for vegetables, baked goods and casseroles. Some ovens have two convection settings: Convection bake and convection roast.

Convection bake is best for muffins, cookies, cakes and casseroles. Mainly, foods that have a loose or liquid structure or batter that becomes more firm during the cooking process. Convection bake will lightly brown and crisp up the top of these foods as they bake.
Convection roast is used when the oven temperature is higher (above 375 degrees) and the food is more solid (like meat and vegetables). It works especially well if the food has an outer layer of fat, like a pork roast or skin-on chicken. Convection roast creates an outer crust that is deeply browned and has a crispier texture.
Ingredients & substitutions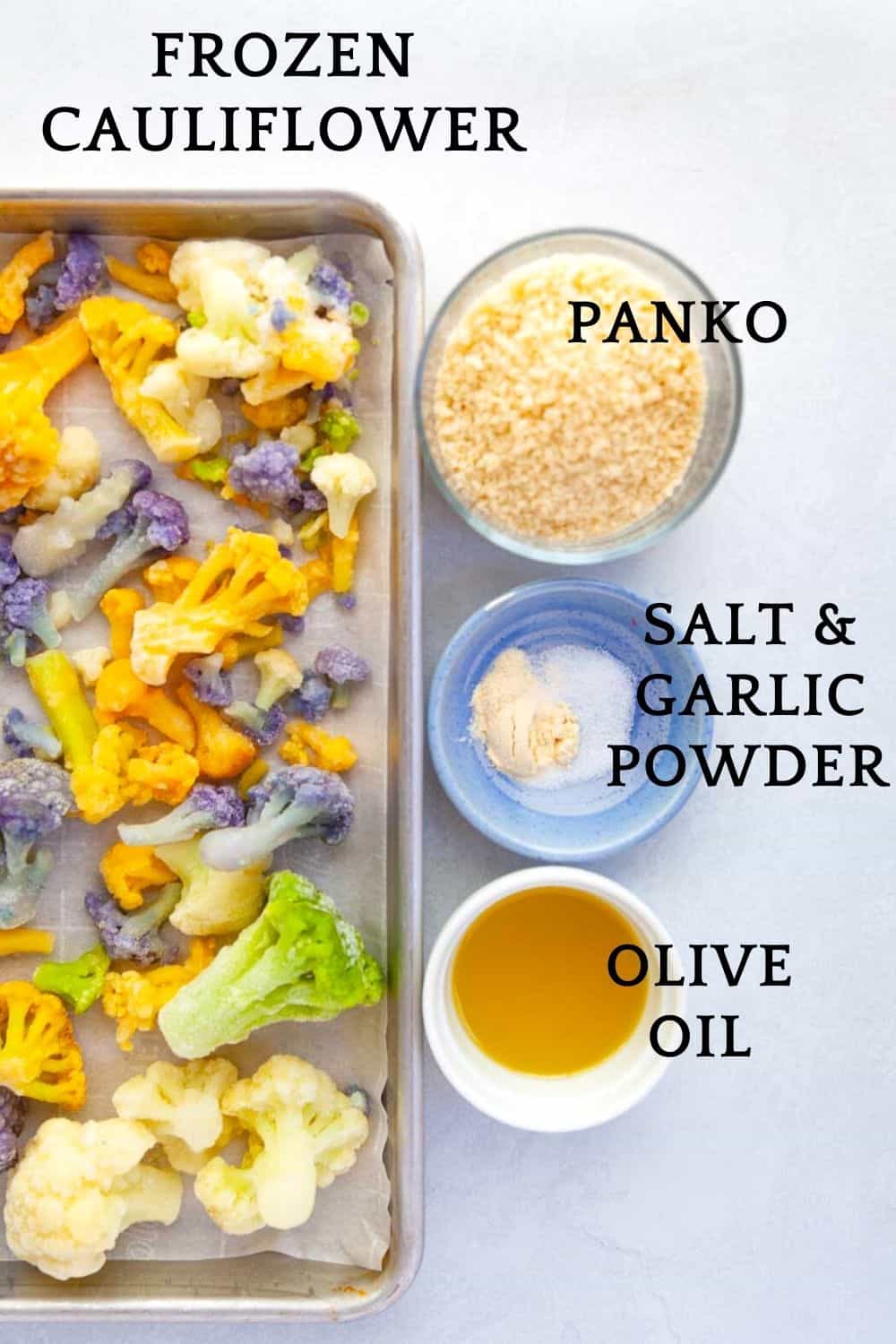 Frozen Cauliflower: Regular or rainbow florets. You can substitute frozen broccoli.
Panko: Stick with panko breadcrumbs. "Regular" store-bought breadcrumbs are smaller and less crunchy. You can use leftover panko to make baked panko cod, crispy tofu schnitzel or meatballs.
Olive Oil: Sunflower, canola or avocado oil can be used instead of olive oil
Garlic powder: Cloves of fresh garlic might burn on the sheet-pan, so garlic powder is a convenient substitute for this recipe. You can add more flavor with more spices, such as curry powder, paprika, Italian seasoning or lemon pepper.
Looking for a cauliflower dish with protein? Try sheet-pan honey mustard chicken and cauliflower. (uses fresh cauliflower)
Step-by-Step instructions
Spread frozen cauliflower out on a sheet-pan. Line the pan with parchment to prevent sticking.
2. Toss the cauliflower lightly in olive oil
3. Sprinkle panko breadcrumbs, garlic powder and salt evenly over the pan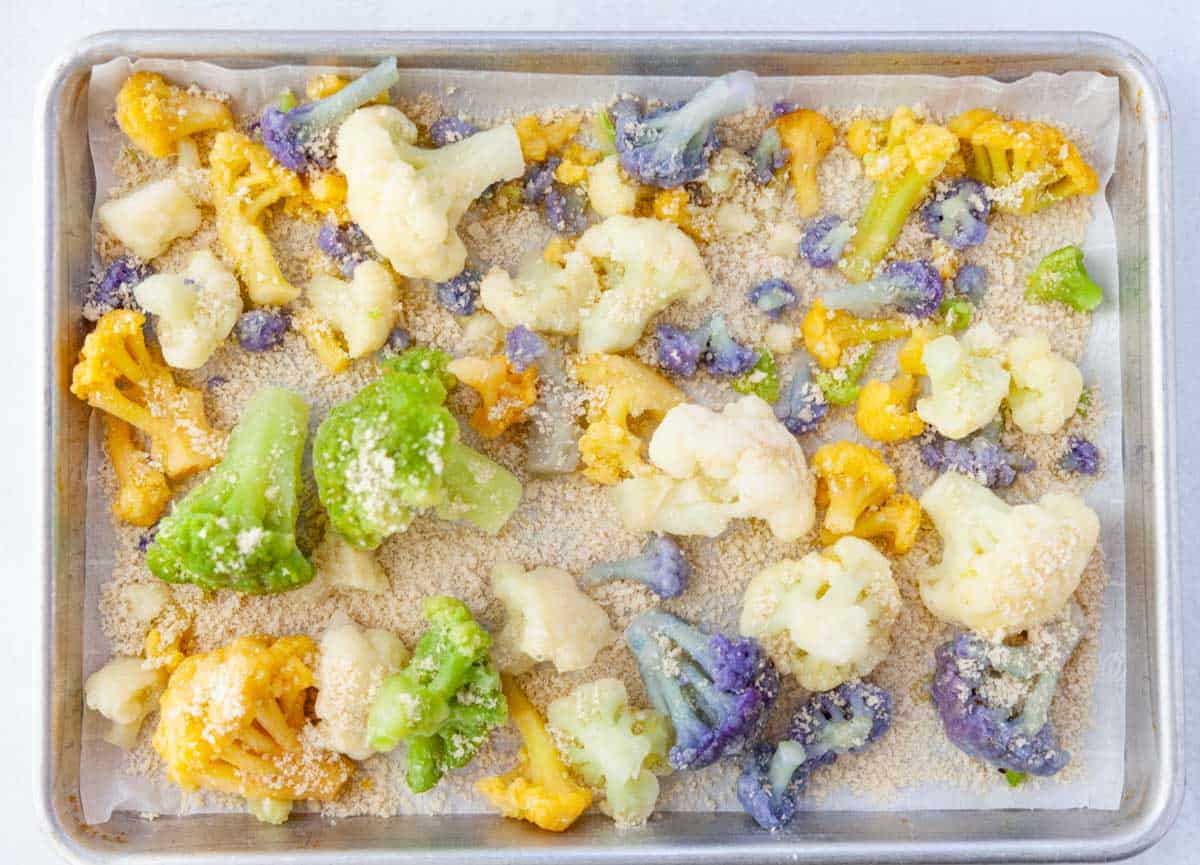 4. Use the "convection roast" setting at 425 degrees. Roast 20 to 30 minutes without mixing, until the cauliflower and breadcrumbs are browned to your liking. Drizzle more olive oil if the cauliflower or breadcrumbs seem dry while roasting.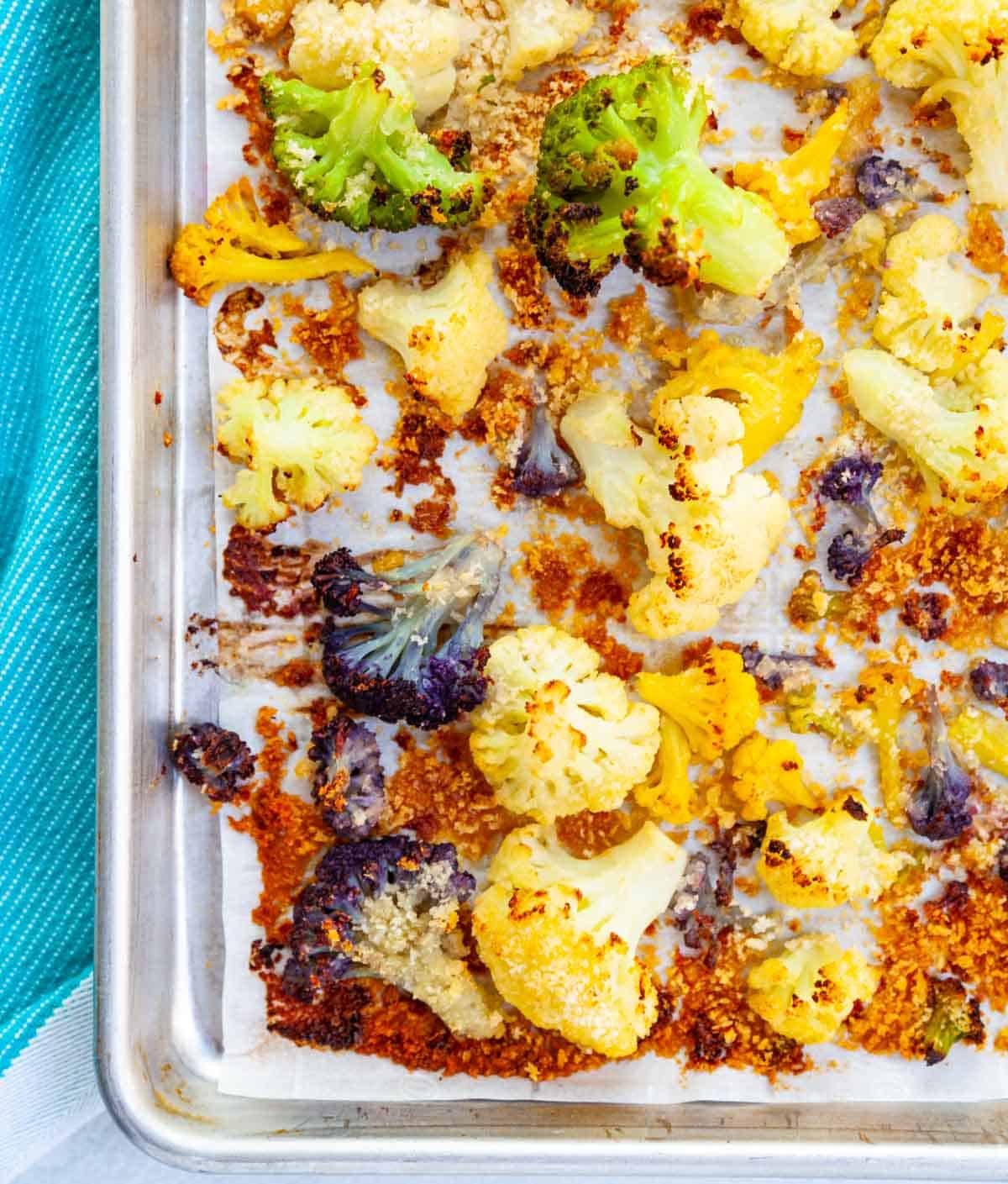 Does this recipe make you hungry?
SUBSCRIBE
to the Kitchen Skip newsletter
for helpful tips, easy recipes
& good conversation
FAQs about roasted frozen cauliflower
Can I use fresh cauliflower instead?
If fresh cauliflower is substituted, make sure to use small florets. Larger fresh cauliflower florets will take longer to roast, and by the time they're ready the breadcrumbs will have burned.

What is panko?
Panko is Japanese-style breadcrumbs. Panko breadcrumbs are larger and crunchier than "regular" store-bought breadcrumbs. Panko comes in white or whole wheat, and either can be used for this recipe. Panko can be found in most grocery stores.
Can I use regular breadcrumbs instead of panko?
Panko works better, because the crumbs are bigger and crunchier.
Can I skip the breadcrumbs?
Yes, you can make this exact recipe without breadcrumbs.
Can I add cheese to this?
If you'd like to add grated cheese to the roasted cauliflower, I'd do it in the last 10 minutes of cooking. Parmesan blends in fairly well with the breadcrumbs. A softer cheese, like cheddar, melts completely into a soft, cheesy cover.
Can I roast other frozen veggies using this method?
Yes, you can roast other types of frozen veggies by lightly coating them in olive oil, adding seasoning, and cooking at 425 degrees using convection roast. Panko is optional. Keep in mind that the cooking time will vary a little bit depending on the type of frozen vegetable.
More veggie side dishes
Print
📖 Recipe
Crispy Roasted Frozen Cauliflower with Garlicky Breadcrumbs
Crispy, crunchy roasted frozen cauliflower with garlicky breadcrumbs is an easy, fast & flavorful vegetable side dish for dinner. 
To make a main dish, toss the cauliflower and breadcrumbs with pasta and top with parmesan cheese. 
Author:
Prep Time:

5

Cook Time:

25

Total Time:

30 minutes

Yield:

4

to

6

servings

1

x
Category:

side dishes

Method:

roasting

Cuisine:

American

Diet:

Vegan
2

bags frozen cauliflower florets (

32 ounces

)

2 tablespoons

olive oil, plus more as needed

½

cup

panko (Japanese-style breadcrumbs)

1 teaspoon

garlic powder

¼ teaspoon

salt, plus more to taste after the cauliflower is cooked
Instructions
Heat oven to 425 degrees CONVECTION ROAST. 
Line a rimmed baking sheet with parchment (otherwise, the panko and frozen cauliflower will stick to the pan)
On the baking sheet, toss the cauliflower with 2 tablespoons of olive oil
In a small bowl, mix together the panko, garlic powder and salt. 
Sprinkle the panko and seasonings evenly over the pan, covering the cauliflower and letting some of the panko cover the pan. 
Roast for 15 minutes without mixing or turning the frozen cauliflower, then drizzle another tablespoon or so of olive oil over the cauliflower and panko if the pan seems dry (don't mix).
Roast at least another 5 minutes, for a total cooking time of 20 minutes, or until cauliflower is browned to your liking. I often keep the pan in the oven for closer to 30 minutes, as long as the breadcrumbs aren't getting too dark.  
Notes
You can make this recipe without the panko and garlic powder. Just toss frozen cauliflower in a light coating of olive oil and salt, and roast at 425 degrees CONVECTION ROAST for 20 to 30 minutes. 
A convection oven will often have two settings, "convection bake" and "convection roast." For this recipe, use convection roast if it's an option on your oven. 
Storage: This dish will stay fresh for up to 5 days in the refrigerator, but it really tastes best and has the best texture the day it is made. 
Keywords: frozen roasted cauliflower, frozen cauliflower, frozen roasted veggies