Use this recipe to make vegetarian split pea soup or pea soup with ham. Either way, this a classic and comforting recipe for Crock Pot split pea soup. This delicious soup couldn't be easier when it's made in a slow cooker, but don't worry, Instant Pot instructions are also included!
It there anything better than having the delicious aroma of a cooked dinner greet you when you open the front door?
Thank you slow cooker!

Crock Pot split pea soup is a simple classic. It's a thick and hearty soup with a naturally creamy texture, and can be made vegetarian (or vegan) or with ham.

About 10 minutes of prep (depending on how fast you chop an onion) is all it takes and this Crock Pot split pea soup is good to go.
The cooking time in a slow cooker on low heat is 8 to 10 hours or about 6 hours on high. This is a perfect recipe for those days when you'll be out of the house all day.
A pressure cooker is also a great way to cook split pea soup. The recipe card below also includes instructions for Instant Pot Split Pea Soup.
Looking for more vegetarian soups? Try Slow Cooker White Bean and Tomato Soup with Orzo or Instant Pot vegetable stew. You might also like Instant Pot mushroom and barley soup.
Jump to:
Ingredients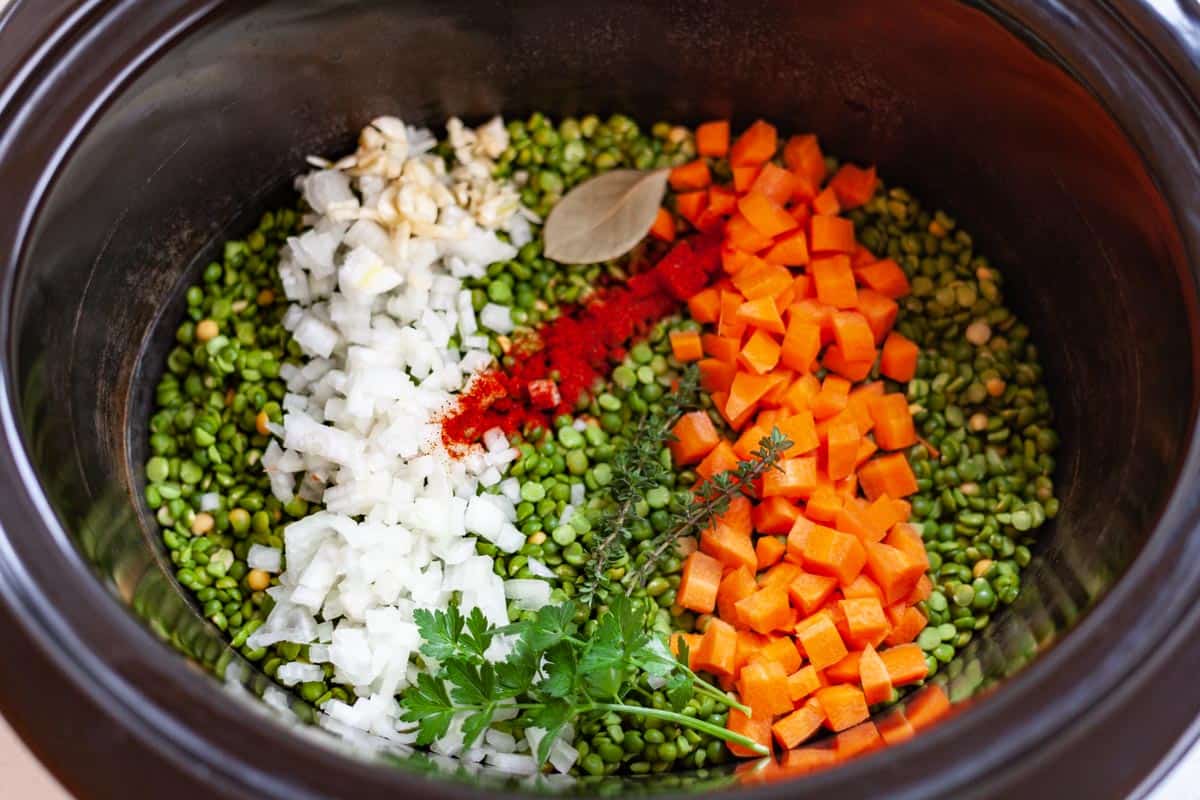 Water + Broth: I use a combination of water and either vegetable broth or chicken broth. This gives the soup flavor, but keeps it from being too salty. If necessary, you can use only water and just add more salt for flavor.
Onion, Carrot & Celery: This trio adds flavor and texture. You can cut the carrot very small so it becomes very soft and dissolves into the soup, or you can cut larger pieces that will hold their shape.
Parsley and Thyme: I like both herbs for flavor, but you can add just one if necessary.

Smoked Paprika: Adds a subtle, smoky flavor. For a stronger flavor, use liquid smoke.

Split Peas: Either green or yellow split peas can be used.
Add Ham or Bacon
I really love the smoky flavor of ham as a contrast to the naturally sweet flavor of green split peas. There are several ways to add pork to soup.
Ham hocks: Pork Ham hocks are found in the meat section at many grocery stores. They keep well in the freezer if you want to stock up. A ham hock is a roundish piece of bone with skin, fat, collagen and a little meat. Most importantly, ham hocks are smoked and give any type of soup a smoky, meaty flavor.
Smoked ham hocks are cooked and ready to eat. They're usually added to slow cooked recipes, like soup and stew. During the cooking process, a ham hock adds a subtle, meaty flavor to the dish.
After the dish is cooked, you can slice the smoked ham off the bone so it's easier to eat. Some ham hocks have quite a bit of meat on them and some have very little. Whether or not you want to eat the skin, or remove and discard it, is up to you.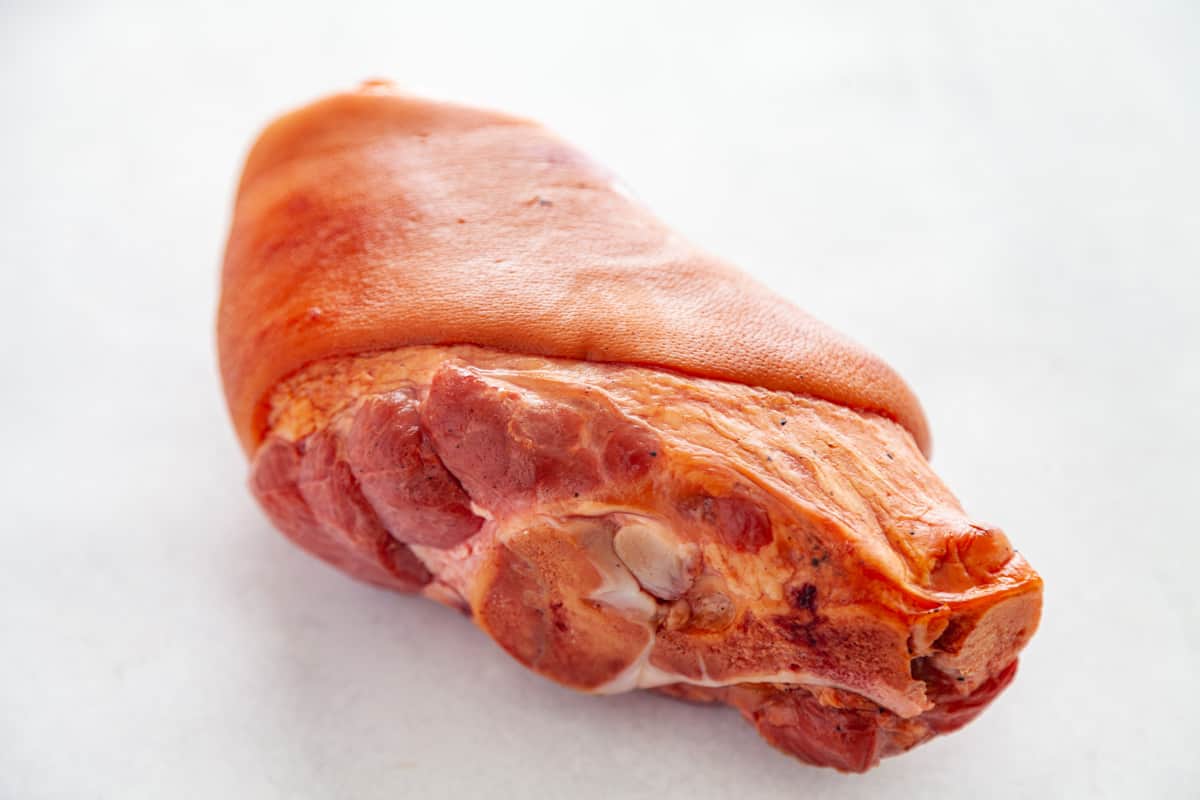 Leftover Ham Bone: If you've recently served a spiral ham or holiday ham, save the bone to add flavor to split pea soup. If the bone still has meat on it, all the better!
Leftover Ham: You can chop up slices of leftover ham or have your grocery store deli slice a thick piece of ham that you can cut into small cubes. I usually add some diced ham before the soup cooks and save some to add as garnish after its cooked.
Bacon: I only add cooked bacon to this soup as a garnish after the soup is ready. I find that cooked bacon doesn't add much flavor to the soup while it cooks, and adding raw bacon to a Crock Pot recipe results in flabby, fatty strips of bacon that don't enhance the soup.
Pro Tip: An easy way to cook bacon is in the oven. Line 2 rimmed sheet pans with foil or parchment for easier cleanup. Spread out strips of bacon. Put the bacon in the oven and turn the heat to 400 F (I don't bother pre-heating). Cook the bacon for 15 to 25 minutes, until it reaches your desired crispiness.
Make it Vegetarian
This soup can be a hearty vegetarian (or vegan) meal. A pinch of paprika, fresh parsley and thyme and a bay leaf add flavor. I also like a teaspoon of liquid smoke to replace the savory flavor of ham.
What to Serve with Pea Soup
Let's be honest, this isn't the most beautiful soup you'll ever serve! A few garnishes really add something visually to each bowl of soup, and the flavor gets even better.
Crumbled, cooked bacon or vegetarian "meat" crumbles
Swiss cheese, grated or cut into small cubes
Croutons
Crusty bread
Finely chopped fresh herbs
Chopped scallion
Chopped fresh herbs, like parsley
A swirl of chili onion crunch
Frequently Asked Questions About Split Peas
What are Split Peas?
Split peas are peas that have been dried and split in half, so that they cook faster.
What is the Difference Between Yellow Split Peas and Green Split Peas?
Yellow peas are meant to be dried and are always sold as dried peas. They are a different variety than green peas, which can be eaten fresh or dried.

The flavor of dried split green peas and yellow peas is very similar and a matter of personal preference. Other than a slight flavor difference, yellow and green split peas are very similar.
Can I Use Yellow Split Peas in this Recipe?
Yes, you could use yellow split peas in place of green split peas to make split pea soup.
Split Peas vs Lentils
Peas and lentils are different varieties of legumes.

Yellow lentils and yellow split peas are two different types of legumes, but are often used interchangeably in recipes. Yellow split peas usually need to cook slightly longer (10+ minutes) than yellow lentils.
What Are Split Peas Good For?
When cooked, split peas break down quickly and don't hold their shape so they are mainly used in soup and stew recipes.
Do I need an immersion blender to puree the soup?
No, unless you want it silky smooth. Split peas break down very quickly when cooked, giving this soup a smooth texture. If you want the pieces of carrot and onion completely blended in, you could use an immersion blender after the soup is cooked.
Does this recipe make you hungry?
SUBSCRIBE
to the Kitchen Skip newsletter
for helpful tips, easy recipes
& good conversation
More Slow Cooker Recipes
Print
📖 Recipe
Crockpot Split Pea Soup
Make vegetarian split pea soup or add ham - either way this a classic and comforting recipe for Crock Pot Split Pea Soup. Instructions for Instant Pot pea soup are also included. 
Author:
Prep Time:

10

Cook Time:

6 hours

Total Time:

6 hours

Yield:

6

to

8

servings

1

x
Category:

soup

Method:

slow cooker

Cuisine:

American

Diet:

Vegetarian
1

small yellow onion (or

half of a

larger onion) finely chopped

2

carrots, chopped into a small or medium dice (about

1 cup

)

2

celery stalks, chopped into a small or medium dice

2

cloves garlic, finely chopped

4

sprigs fresh parsley

2 teaspoons

fresh or dried thyme or

2 teaspoons

Herbes de Provence

1 teaspoon

smoked or regular paprika

½ teaspoon

salt, plus more to taste

1

bay leaf

4

cups

low-sodium vegetable or chicken broth

4

cups

water

1

pound

dried green or yellow split peas, rinsed
Optional (choose one)
1

ham hock
Leftover meaty ham bone from a bone-in smoked ham

2

cups

diced ham

1 tsp

liquid smoke (for vegetarian soup)
Instructions
Combine all ingredients in your slow cooker. Mix well. 
Cook on LOW 8 to 10 hours or HIGH 5 to 6 hours. 
Add more water or broth to adjust the texture of the cooked soup, thinning it out if desired
Season with salt and black pepper. 
Notes
Instant Pot Split Pea Soup Instructions
Add a drizzle of oil to the Instant Pot. Press the saute button and add the onion, carrot and celery. Saute until the onion is soft and lightly browned, 5 to 7 minutes. 
Add garlic, parsley, thyme, paprika, salt and bay leaf. Mix well. 
Add 3 cups broth
Add 3 cups water 
Add split peas and mix well. If using a ham hock, ham bone, or cubed ham add it now. 
Secure the lid. Press the cancel button to stop the saute function, then press the Manual button and program the Instant Pot to cook on high pressure for 15 minutes. When the cooking time is done, let the pressure release naturally or at least for 15 minutes. 
Mix the soup well and add more salt if necessary. 
Using a total of 6 cups of liquid makes a fairly thick Instant Pot pea soup. If you like a thinner consistency, add a total of 7 or 8 cups liquid.  
Total Instant Pot Cooking Time: 15 minutes to reach pressure + 15 minutes to cook + 15 minutes or so for a natural release
Store bought broth has quite a bit of salt, so I prefer using low sodium broth for this soup especially if I'm adding ham of any kind. You can then adjust the salt level after the soup is cooked. 
This pea soup can also be made using only water. Just add a generous amount of salt after the soup is cooked to up the flavor.  
This soup keeps well in the refrigerator for 4 or 5 days. When reheating you'll  need to add more liquid, as the soup gets very thick once it cools. You can reheat split pea soup over low heat on the stove, or in the microwave. 
You can also freeze split pea soup, for up to 6 months. Defrost in the refrigerator overnight. Add more water or broth as necessary to adjust the consistency. 
Keywords: crock pot split pea soup, Instant Pot split pea soup, ham hocks, green split peas, pea soup, split pea soup, ham and pea soup, slow cooker split pea soup
Does this recipe make you hungry?
SUBSCRIBE
to the Kitchen Skip newsletter
for helpful tips, easy recipes
& good conversation